Year 1
Corfe and Lulworth
TERM 6
Week 6
We have continued our work on learning about the countries of the UK, in particular Scotland and Wales. We have learnt about each and written postcards as if we had visited them. We made our own Loch Ness monsters out of clay and made a display about the countries we had visited. In Maths, we have been looking at money totals and giving change by finding the difference. We have also been looking at telling the time, learning the months of the year and identifying 3D shapes. We finished the week with our mothers and carers picnic which as usual was a great success. Next week we will be collecting in all home reading books for auditing and therefore wont be sending any new ones out. Please send in your child's reading books and have a hunt around for any extras that might be under the sofa, etc, at home. There will be no homework next week.
Week 5
What a busy Enterprise Week this has been for Y1. We have been learning how to run a small enterprise: for example, thinking about the best way to market our popcorn sale and coming up with an advertisement in assembly and posters put up around the school. We also found out where our product (popping corn) came from and examined the process from plant to plate. Many of the children were genuinely surprised to find that popcorn came from a plant. On Friday, the children got to make the popcorn and flavour it ready for the sale. They were very excited to sell their finished product. We will total up all the profits and let the children decide on a treat that they would like to spend it on.
Week 4
This week we've been writing postcards and letters from our imaginary visits to London and The Giant's Causeway! We learned about these places by exploring them in our Inquiry lessons. We even created out own Giant's Causeways using 2D shapes. We are trying to find out the best places to go on holiday in the UK. In Maths, some of us have been learning to measure and record time. We've been challenging each other to complete timed activities. In Science, we've been learning about baby animals and how they change as they grow. Now we're really looking forward to our Enterprise Week from 3 to 7 July!
Week 3
This week we have been celebrating poetry by reading and reciting lots of traditional rhymes. We practised some clapping rhymes too and made-up our own actions to help us remember the words. We performed our favourite poems in a whole school assembly on Friday. It was brilliant and we loved watching all the year groups perform their favourites too. In Maths, some of us have been learning multiplication by grouping and we've even been applying our learning to solve tricky word problems. Some of us have been familiarising ourselves with money and using it in different contexts. In Science, we learned about pets and what makes a good pet. We even designed our own perfect pets, with all the best features. In Inquiry, we've been learning about the different countries that make up the UK. We made our own giant maps with jigsaw pieces and matched the correct symbols and flags to each of the countries.
Week 2
In Maths, we have been looking at measures and positional language as well as revising our number work and simple addition and subtraction. In English this week, we have been looking at traditional poems and rhymes with finger and clapping rhymes such as Two Little Dicky Birds and a Sailor Went to Sea. In our Inquiry, we have been looking at differences between living in the town and countryside and furthering our understanding of the countries that make up the United Kingdom.
Week 1
We kicked off our brand new topic 'Where can I go on Holiday?' this week by having a holiday themed WOW Day. The children made passports, then took a flight on Castle Airlines to Spain; taking off and landing with their seat belts fastened and luggage stowed. In English this week, we have mainly been preparing for our phonics tests next week by brushing up on some last minute phonics and using it to help our reading. In Maths we have been working on money, telling the time, 3D shapes and quarters of numbers. For our Inquiry this week, we have looked at what countries make up the UK, and in Science we have worked on understanding what the terms herbivores, carnivores and omnivores mean.
TERM 5
Week 4
This week we were lucky enough to have a visit from a school nurse who taught us all about how to keep our teeth strong and healthy. In English we've been learning to recite and perform poetry using actions and loud, clear voices. We even had a go at writing a few lines ourselves. In Science we were looking at deciduous and evergreen trees, identifying them by their leaves. In PE we worked on our collaborative skills with partners, creating sequences of movement. We're really looking forward to our Sports and Activities week next week, don't forget your trainers!
Week 2
In English we looked closely at the characters in Jack and the Beanstalk, describing them using adjectives and writing in full sentences joined with 'and.' We also retold the story of Jack and the Beanstalk to become really familiar with it as well as reading and listening to a range of other traditional tales. In Maths, we have been learning to present and understand data using our knowledge of number as well as telling the time and counting in 2s, 5ss and 10ss. This week we have also been busy rehearsing for our class assembly which went off without a hitch on Friday morning. Thank you to all the people who were able to attend, it was superb to have such a big audience.
Week 1
This week we kicked off our new Inquiry learning all about how Keynsham has changed. We looked at maps of the area and designed our own parks using symbols and a key. In Science we have begun learning about plants. We have named and labelled plants and dissected fruit and vegetables to allow us to take a closer look and sketch what we could see. In English, we began our topic on Traditional Tales, looking in particular at Jack and the Beanstalk but listening to a variety and trying to identify common themes in them. In Maths we have been looking at halves of shapes and numbers and telling the time, we have also been problem solving with our knowledge of place value.
TERM 4
Week 7
The children loved making their boats in DT and wrote the instructions for someone else to follow in English this week. It was clear to see massive progress from the last time they wrote instructions in Term 1. A big thank you to everyone for helping us collect the materials needed for the boats. In Maths a focus has been 2D and 3D shapes, telling the time and subtraction. In Science this week the children built houses out of delicious treats to see which teams of builders could make something sturdy enough to withstand the big bad wolf. The children have also had a marble jar party and golden ticket treat to celebrate all their effort at the end of a very productive term. Thank you for all your support and we hope you have a very happy Easter. The Year 1 teaching team.
Week 6
Another busy week has come to an end in Year 1. We started the week with Science day, which enthused the children, many were heard to say 'I love Science.' The Year 1 children participated in four different activities ranging from a nature 'Spring' walk, to floating and sinking, mixing liquids, and melting. In English the children have been reviewing their understanding of instructional texts and have read and written a set of instructions to do with making a boat. Next week, they will use recycled materials to make their own boats. Please do send in more items to help us with this project which is happening on Tuesday. In Maths we have been looking at capacity and measuring volume; we have also reviewed addition strategies and telling the time to o'clock and half-past the hour. We also learnt about germs and Louis Pasteur.
Next week, the children have earned a marble jar party which will be on Tuesday afternoon.
Week 5
In English this week we have finished writing the story of the Three Little Pigs. We have been checking our marking ladders to make sure we have included capital letters and full stops, are spacing our work and using neat cursive or joined handwriting. The final stories were excellent! Next week we begin a two week unit on Instructional Writing. In Maths, we have been continuing to look at measures and weighing, as well as using pictures to help us add and subtract. We have also revised the names of 2D and 3D shapes. For Inquiry this week we learnt about boats and considered what materials would be best suited to making our own. We have designed our own boats and are now collecting materials such as cartons, bottles, tubs, etc that could be useful for making the finished products. Please could parents save anything they think might be suitable for this project from household packaging and send it in with the children next week. Finally for Science, we have built houses like the three little pigs and considered which materials were most suitable and why for building. Have a lovely mother's day weekend.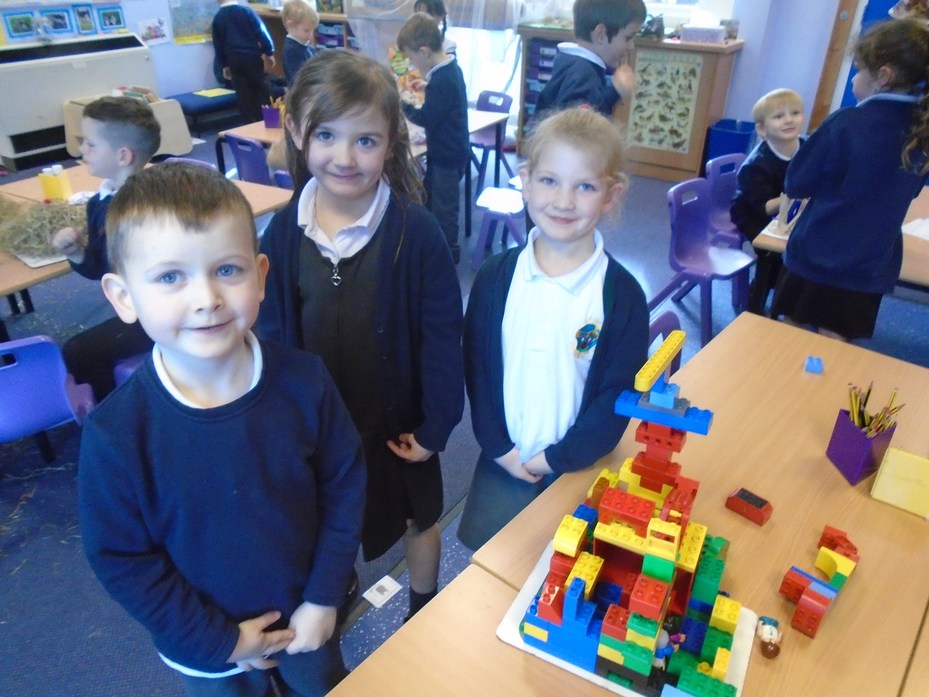 Week 4
In English this week we've been learning the repeated phrases in The Three Little Pigs off by heart. We've also been using adjectives in our writing to describe the characters and settings. In science we were making bar charts and investigating materials around the school. We heard the story of King Midas and the Golden Touch and imagined a world where everything was made of the same material, ie jelly or bubble wrap - this made us all giggle. In DT we've begun designing our own boats and in Inquiry we learned about Alexander Graham Bell and his famous invention; the telephone. We made our own telephones from paper cups and string; they worked brilliantly and we were able to 'call' each other across the playground. Thanks to everyone who came to parents evening this week, it's been lovely sharing our successes with you all.
Week 3
This week we've been learning the story of the Three Little Pigs. We role-played the tale, put on our own puppet shows and hot-seated the characters. In maths we've begun to investigate ways of measuring heights and lengths. In science we've been learning about magnets and experimenting with different materials to see whether they are magnetic. We've also continued with our inquiry topic; learning about Charles Macintosh and his famous invention - the waterproof coat! We've been testing other fabrics to see if we could find alternative waterproof materials for our own designs.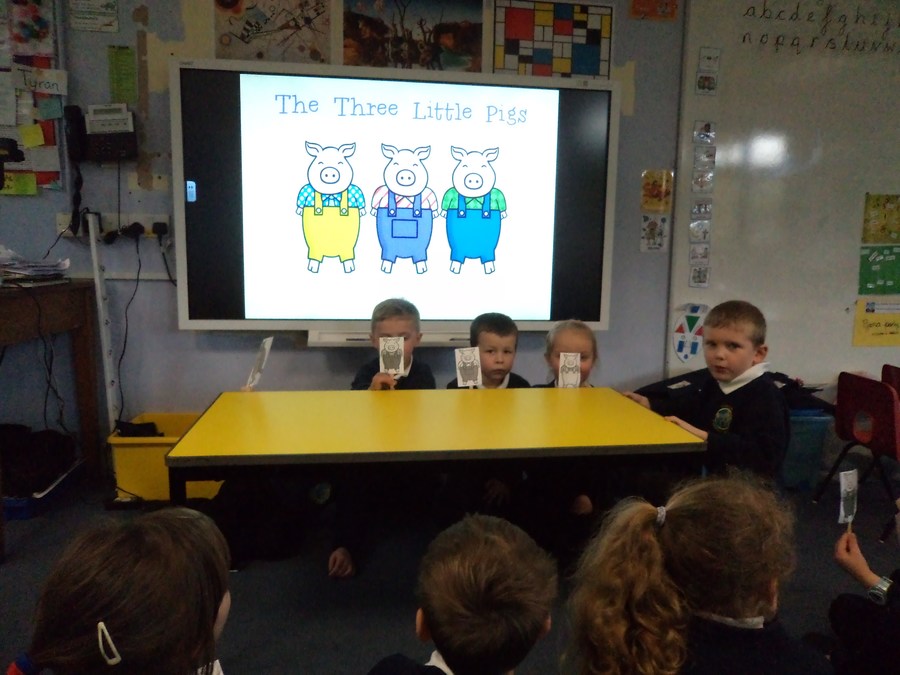 Week 2
Following on from our educational visit to the M-Shed last week we have continued to explore the work of famous inventors. In Science we investigated properties of the materials they used and made up our own songs about them! We leaned all about the inventor of Lego and got very soggy testing materials to see which ones could float and which would sink. At the beginning of the week we began learning about reviews and practised reviewing several stories and short films in preparation for World Book Day. Everyone looked fantastic in their costumes and had a great time sharing and celebrating their favourite stories and genres. We are all proper authors now too as we each contributed to creating our own class book for the library.
Week 1
The new term kicked off with a trip to the M-Shed in Bristol where, as well as looking around the museum, we took part in workshops about famous Bristolians: Princess Campbell, Hannah More, John Cabot, Joseph Fry and Isambard Kingdom Brunel. This launched our brand new Inquiry, 'What have inventors done for me?'. The children had a great time and in time-honoured trip tradition identified the coach journey and lunch as their favourite parts! Many thanks to the parents who gave up their time to come and help us on the trip.
In English, we have been learning about recounts and we have orally recounted and then written a recount of our trip. Maths this week we have been working on addition by counting along a number and using number bonds to 10 to solve addition number bonds to 20.
For Inquiry, we looked at different inventors and considered how their inventions have transformed the world we live in. The children have generated a lot of questions that they would like to ask about inventors and inventing. In Science, we investigated and grouped different materials.
Next week we will celebrate World Book Day on Thursday 2nd March with lots of fun activities. We would like the children to bring in a favourite book to review and share with their friends. Please can children dress up as a book character for this day. We suggest a theme of Julia Donaldson characters but this is not essential, any character dress up will be appreciated. (Julia's books include Stick Man, The Gruffalo and Gruffalo's Child, Fox's Socks, One Ted fell out of Bed, Room on the Broom, Tabby McTat and a whole load more - there are loads of characters to choose from).
TERM 3
Week 6
This week we have been writing our information texts; Corfe chose to write theirs about the weather, whilst Lulworth decided to do information about snakes. The children enjoyed writing interesting facts about these topics. In Science we've been revisiting day and night, using globes and torches to compare where it is day and night in different continents at the same time. We also learned about shadows and noticed how ours changed and moved throughout the day because of the earth's rotation. In Maths some of us have been doing addition, whilst others have been learning about doubling. For our last week of this Inquiry we learned about primary colours and the work of Mondrian, making our own collages in his style.
Week 5
After completing our fiction work last week, we have turned our attention to non-fiction to learn more about information texts. We have learnt to tell the difference between fiction and non-fiction and also identify and use some of the features of such texts like, such as contents pages, indexes, captions and headings. Next week we plan to try to write a simple explanation text to tie into our work on seasons and weather in Science. For Maths this week the children have learnt more about place value, representing two digit numbers with apparatus and pictures, they have also practised halving and solving related problems. On Monday we had a visit from a wheelchair basketball coach and the children enjoyed working together as a team to play a little wheelchair basketball themselves. For Inquiry this week, we studied the work of the artist Piet Mondrian and his use of blocks of primary colours. We have imitated or created works of art like this ourselves.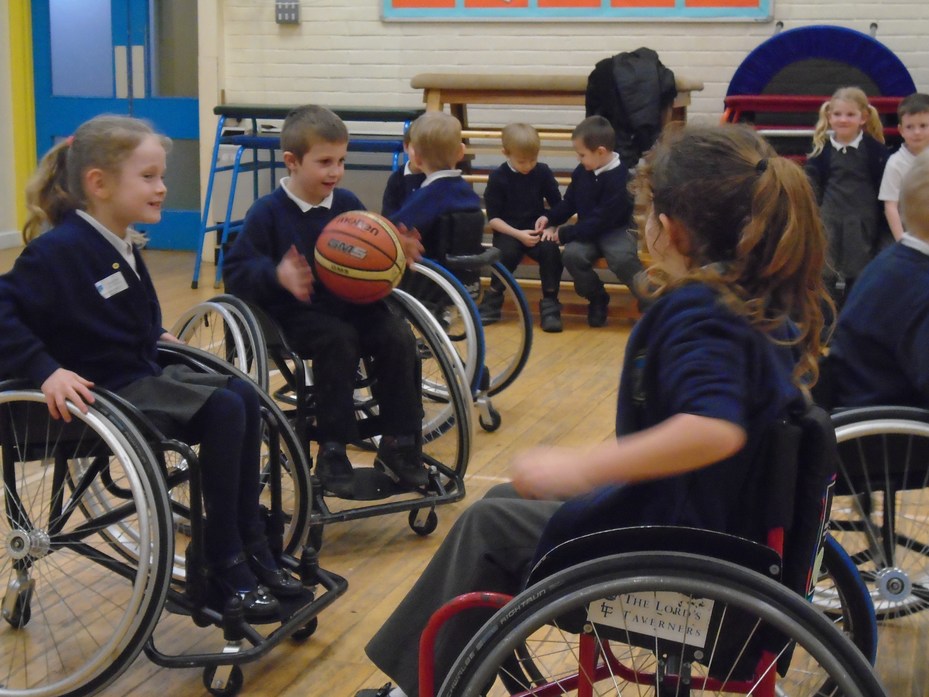 Week 4
We have completed writing our versions of 'The Fire Children' this week and the children have worked hard to ensure they have met their writing targets. In Maths this week we have been learning about tens and ones and using apparatus to help us represent two digit numbers. Our Inquiry work has seen us learn more about great artists such as Rousseau and Picasso and we have produced pieces of art in the style of each. In Science, we learnt about day and night and the reasons for them. We also reviewed our learning on the four seasons and looked at how day length varies in each.
Week 3
In English this week we've began to innovate on the legend of 'The Fire Children' and plan to write our own stories next week. In Maths some of us have been practising counting in 2s and problem solving using our new skill. In Science we've looked more at the weather and how it affects our lives. In Inquiry we have been exploring the work of Henri Rousseau. He was an amazing artist who painted pictures of beautiful jungles and wild animals without ever having visited such places. We created our own masterpieces in his style. We've also been coding with Bee-bots and having exciting Ignite PE sessions - we have enjoyed both of these very much!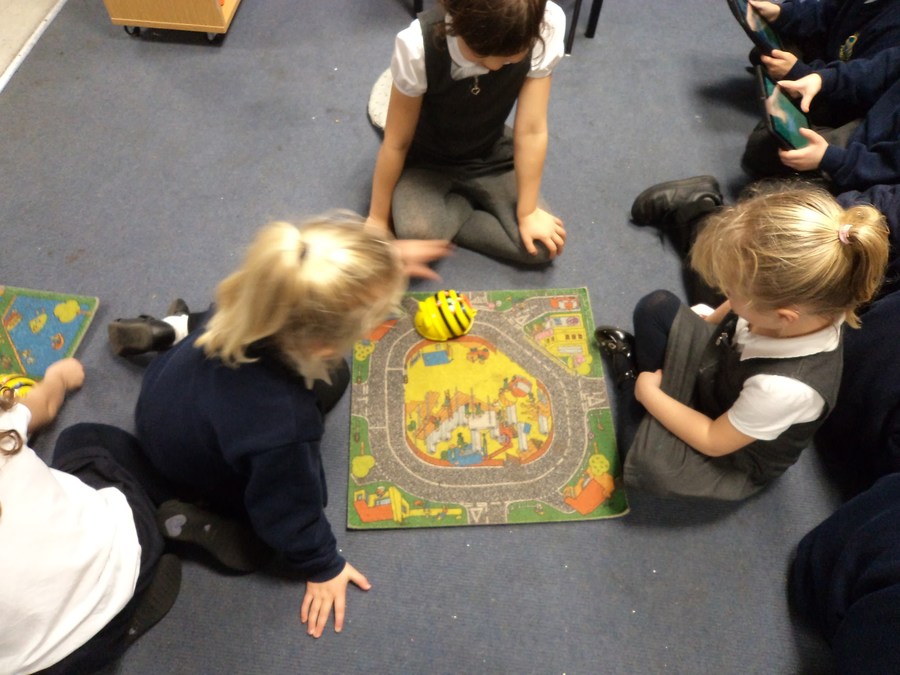 Week 2
This week we were introduced to the legend of The Fire Children; our new story for this term. The legend comes from Africa, so we learned more about some of their cultures. We investigated the lives of the children who live there and how they compare to our own. We created our own actions to help us remember and retell the story, then explored the characters and settings in more detail throughout the week. We had our amazing arty WOW Day and got really messy, creating our own masterpieces. We were influenced by the work of Monet and created our own mini waterlily ponds. We also sculpted some jelly fish from a variety of materials. In Science we've begun studying the weather and looking at seasons and how they change throughout the year.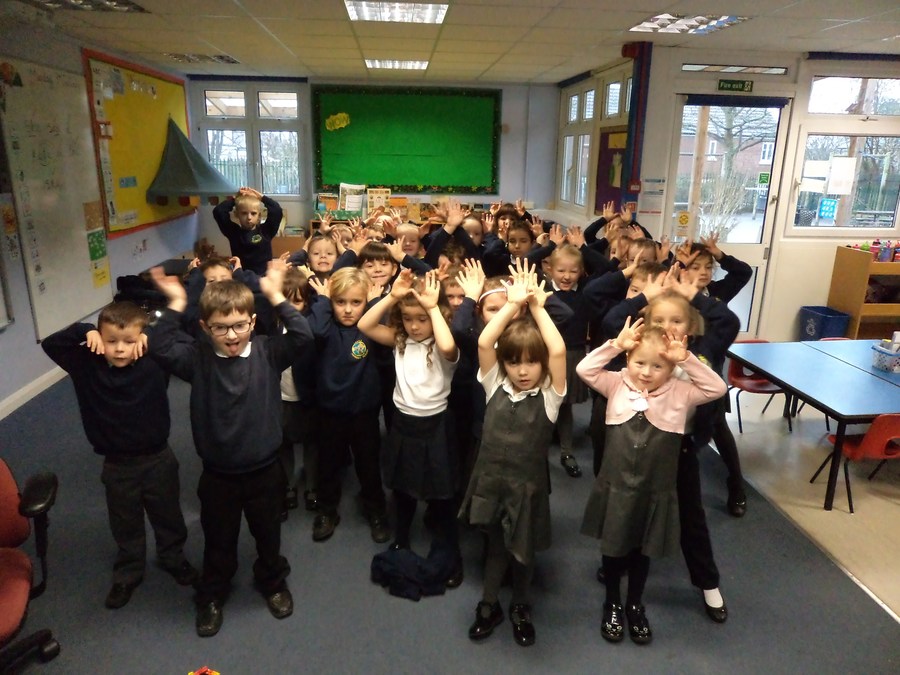 Week 1
Our first week back and we hit the ground running! We've been reminding ourselves of some of the skills we learned before Christmas in English by writing thank you letters to Father Christmas. We were introduced to our new Inquiry question; 'How do I become a great artist?'. We shared and discussed everything we already know about art and artists and brainstormed some questions we'd like answered during this term. In Maths, some of us have been exploring money and telling the time to the hour, whilst others have continued to extend our counting skills using Numicon.
TERM 2
Week 5
In Maths this week some of us have been practising doubling, whilst others have begun to understand how subtraction is the inverse of addition. In English we have started a new poetry unit and have been reading, reciting and writing a variety poems about wriggly earthworms! Our Science was focused on hearing and sound, we played lots of sound detective games and learned about how sound travels to our brains through our ears. We also practised our art skills this week, by looking at the work of Charles Rennie Mackintosh; sketching roses in his style and experimenting with tone. We've even managed to squeeze in a few more rehearsals for 'The Sleepy Shepherd' and let Year watch one of our rehearsals for Reception ... they loved it!
Week 4
In English this week we have been learning how to write invitations and make lists in preparation for our end-of-term Marble Jar Reward which will be a Christmas Party. In Science we experimented with the sense of taste. In inquiry we compared the way we celebrate Christmas in Europe with how people in Asia celebrate Diwali. Surprisingly we found lots of things these celebrations have in common! We've also started practising for our Nativity play 'The Sleepy Shepherd.' Year 1 will be performing the songs for this and our singing voices are dazzling teachers and pupils across the school already.
Week 3
This week, we have learnt about a celebration that happens around this time of year, called Diwali, 'The Festival of Light.' We learnt about how this festival is celebrated in India and around the world with special meals, fireworks and lights. We read the story of Rama and Sita, made our own Rangoli patterns using salt and Diva lamps out of saltdough. In English we wrote up last week's innovated stories in our best cursive handwriting. These are going to be made into a special book for our reading corner. In maths some of us have been practising and perfecting counting forwards and backwards, more/less and ordering numbers, whilst others have been deepening their understanding of addition. In Science we continued to learn about our senses; exploring and testing our sense of smell.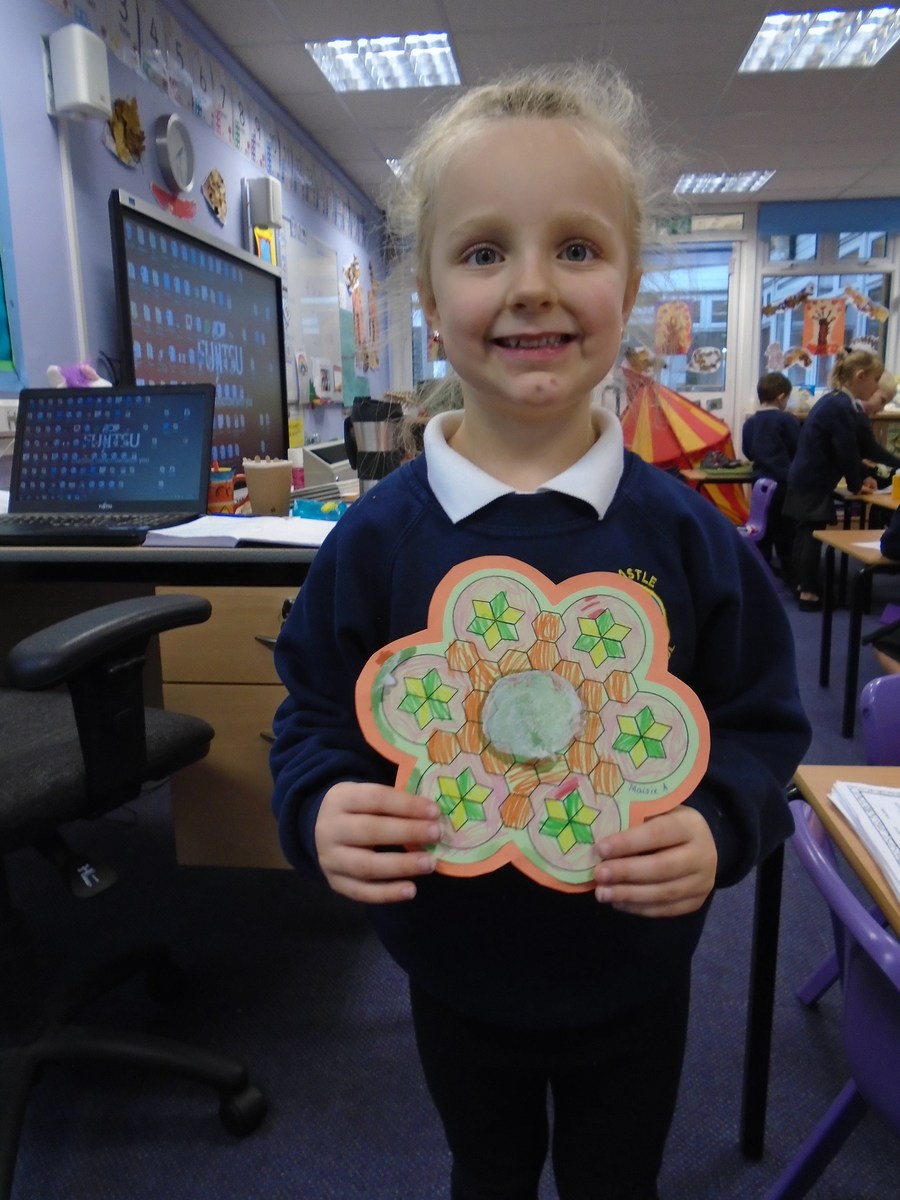 Week 2
The week began with a bang as our autumn festival WOW Day kicked off our brand new Inquiry 'What is a Celebration?'. We went on an autumn celebration hunt. We gathered leaves and went on an autumnal hunt around the school grounds. The leaves were used to create autumnal pictures of trees and animals. In Maths this week, we continued our learning of subtraction. The children are showing signs of real progress and, on Thursday, completed the subtraction challenge. Each class had to complete 208 subtraction questions correctly using number lines and counters to check our answers. In English we began to innovate The Little Polar Bear; rewriting each section of the story with brand new Arctic animals and adding exciting adjectives to make it more interesting. In Science, we learnt more about the sense of touch; carrying out an experiment to find out which parts of our bodies were more sensitive than others.
Week 1
The first week back of Term 2 was, as usual, very busy and productive. We began reading 'The Little Polar Bear,' which we will be using for our storywriting inspiration for the next few weeks. The children have been learning the story with actions to help them recall the key parts. They have mapped the story into a beginning, middle and end. In Maths, we began to look at subtraction for the first time this year. The children have been using counters to subtract and are beginning to answer number sentences. They have also learnt about odd and even numbers and practised the rhyme '0, 2, 4, 6, 8 even numbers on a plate: 1, 3, 5, 7, 9 odd numbers on a line'. In Science, we've been investigating the five senses. We went on a senses scavenger hunt and later explored this further, with feely bags and smell pots.
TERM 1
Week 7
At the end of a busy term the children were really excited to attend the grand opening of Castle Primary School's very first pop up Dinosaur Museum, which was speedily installed in the shared area between the Y1 classrooms by curators Reburn and Carter. The children were so proud to see their amazing homework projects displayed. Many thanks to all the parents/carers for their support with these wonderful projects.
In Maths this week we have been practising our addition using Numicon and rehearsing our number bonds to 10. We have reviewed our Inquiry learning and the children have made fact posters about the things they have learnt. In art this week we had a go at making dinosaur skeletons using cotton buds. In English, we have been consolidating our learning about instructions and wrote up our final piece in our best handwriting.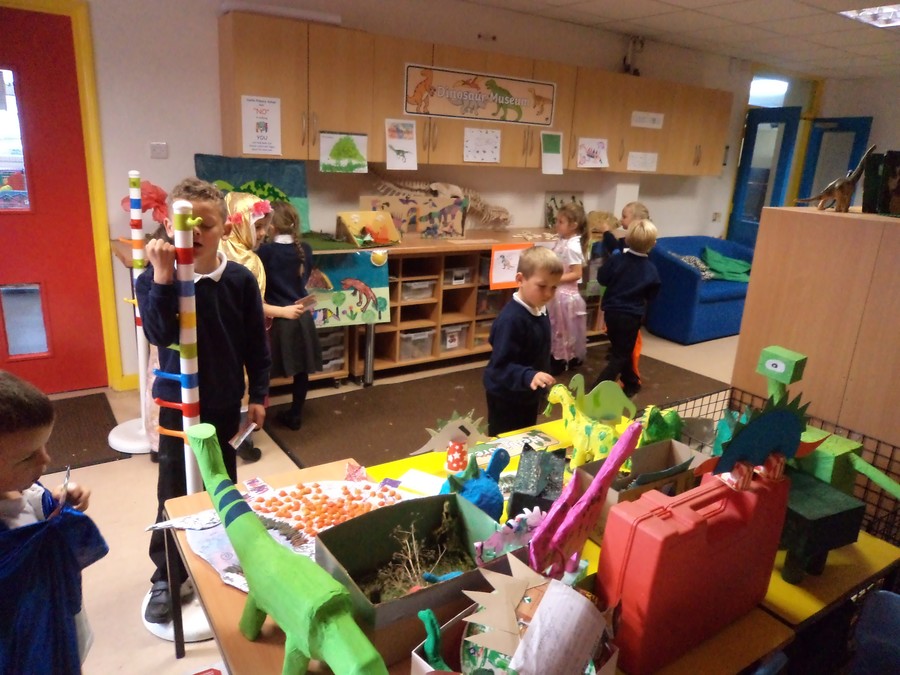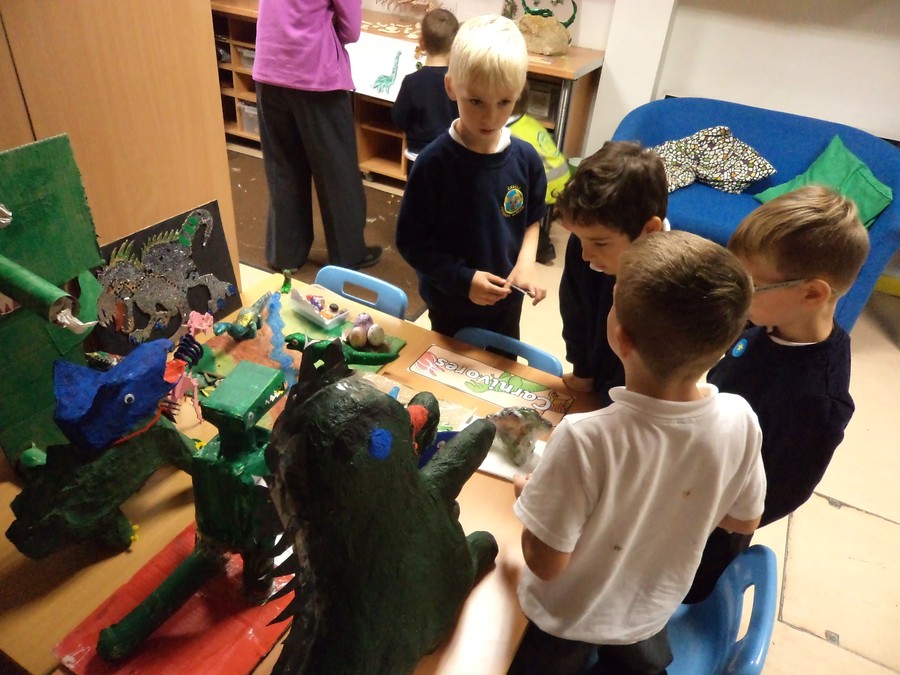 Week 6
This week we've been investigating minibeasts in Science. We went on a minibeast hunt around the school and found lots of crazy creepy crawlies. We learned lots about their habitats and used this knowledge to build our own minibeast hotels. In Maths we began exploring the concept of addition for the first time; using objects to construct out own number sentences. In Literacy we have continued with our instruction writing. We each made our own paper plate diplodocus and wrote instructions to help others to do the same.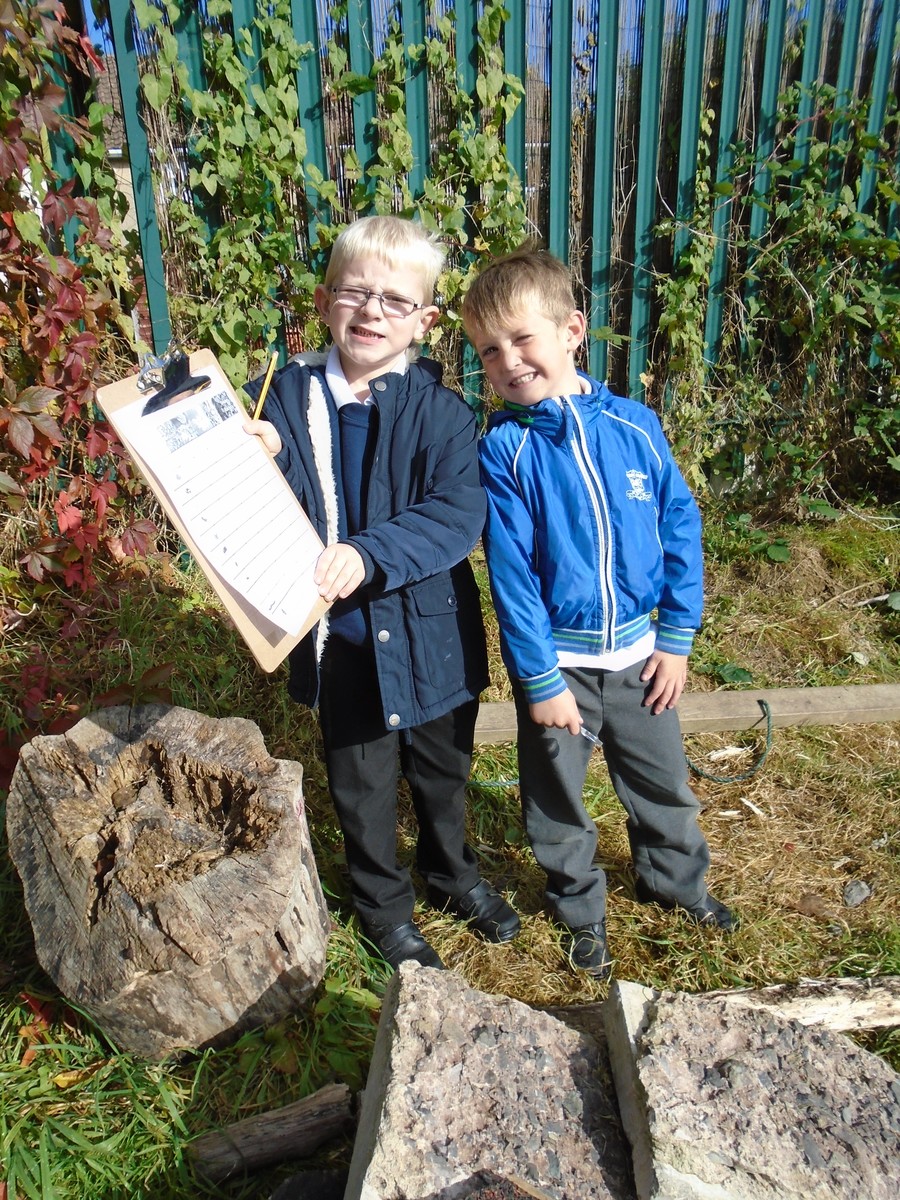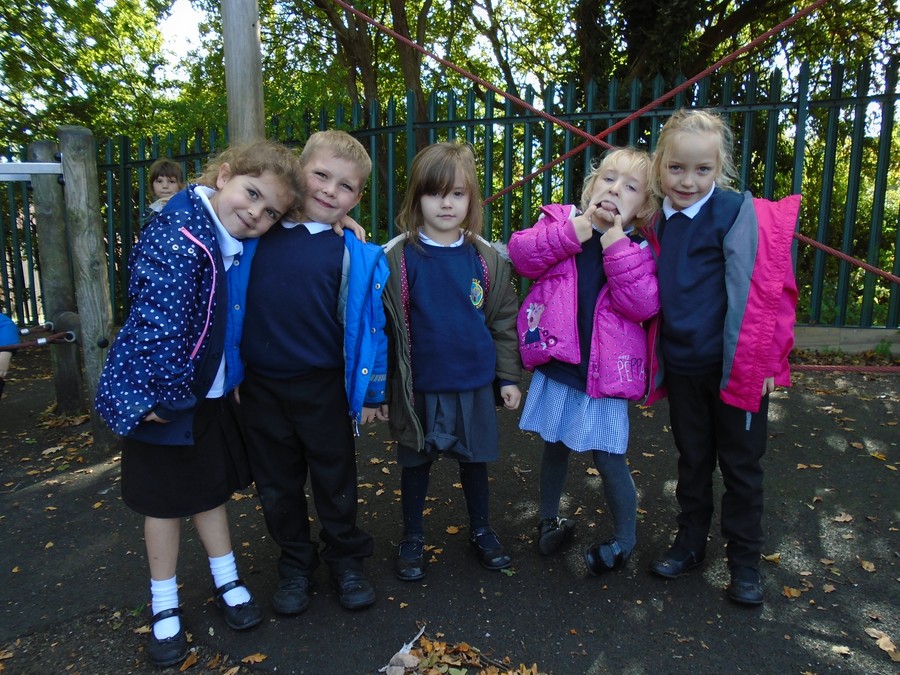 Week 5
The days are getting shorter, but this week we've bathed in the late summer sunshine. We dazzled Miss Reburn and Mr Carter with our beautiful singing voices in maths, as we have been learning songs to help us count in twos. We even went out into the playground to practise counting in twos using hopscotch and special marches. In Miss Reburn's book talk lessons we've been exploring non-fiction books and learning about pets (our favourite was the one-legged hamster!), whilst in Mr Carter's class we've been looking at strategies for tackling words we don't know. We made colourful, sparkly, decorated, funny, googly-eyed dinosaur door hangers to display in our classroom. Now we are experts at this, we have started learning how to write instructions so we can teach other children how to do the same. In our Computing lesson we learned how to turn computers on, log-in and log-off. We've also started learning to understand timelines and where dinosaurs and we feature on them.
Week 4
This week we took Harry and his bucket full of dinosaurs out on our own adventures. We used what we'd learnt about story structure over the last three weeks; choosing our own setting to innovate our stories. Afterwards, we edited them and included more adjectives to make them even more exciting. In Maths this week we learnt about the = sign and the mathematical language of more/less, most/least, and fewer. We practised finding 1 more and less or 2 more/less than numbers to 20. In Science we started learning about animal characteristics and how we can categorise them in this way; we noticed that we must be mammals because we have hair!
Week 3
This week we have been working hard; planning our very own Harry and the Bucketful of Dinosaurs stories. We've thought carefully about different settings we could take our dinosaurs to and used adjectives to describe them. In Maths we have been learning how to read and write number words and exploring sequencing in other ways, ie dominoes. In our Science lessons we have been learning about different parts of the body, comparing our own to those of some dinosaurs. We even used computers to help us to label these.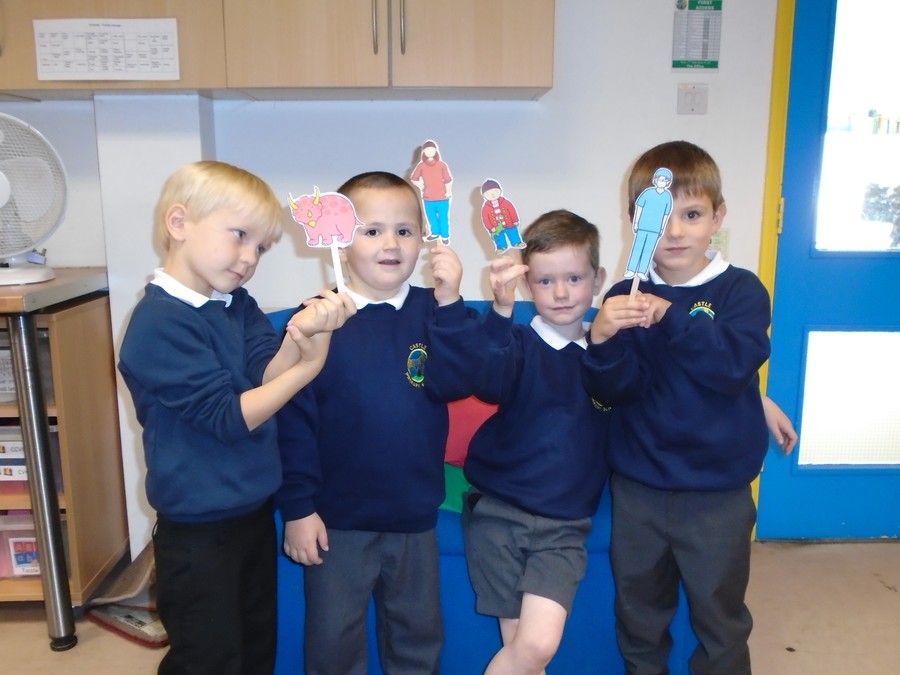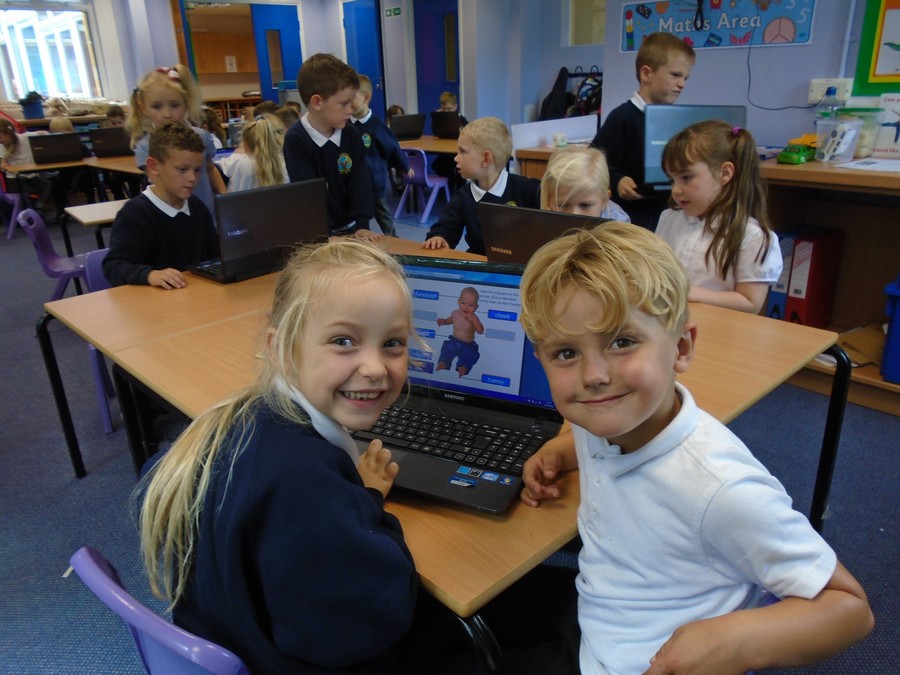 Week 2
This week in Year 1 we have been enjoying the late summer weather. Lots of sunny playtimes and a big summer lightning storm on Monday! In class we have continued our work around the book 'Harry and the Bucketful of Dinosaurs': looking at speech bubbles, adjectives and also practising our letter formation and pencil grip. We are working towards planning our own story based on Harry and the Dinosaurs. In Maths this week, we have been looking at numbers 0-20 and doing lots of counting practise, we have also learnt about number words. Next week, we will look at one more and one less. We have continued our dinosaur silhouette pictures, which have allowed us to practise not only our paint brush skills, but also how to control a pair of scissors to cut out the shapes. Thanks to all the parents/carers who attended our Back to School Night and for all the reading you have been helping with at home.
Week 1
Well, what a busy week we've had! We are all very proud of ourselves and have really enjoyed our first week in Year 1 at "the best school ever." This term, with the help of Andy and his prehistoric adventures, we are learning all about dinosaurs and what makes them different from us. For example, we now know they lived more than 65 million years ago! We really enjoyed our WOW Day, when we went on a fossil hunt and stumbled upon an enormous dinosaur nest full of eggs! Mrs Harris took them away for inspection and they hatched all over her desk! She wasn't very pleased… Since then, we've been very busy making our own salt dough fossils and paper mache dinosaur eggs. It was very messy, but we loved it. We've read lots of stories, such as Harry and the Dinosaurs and done a little bit of writing about dinosaurs too. We've also been counting up to 20 and practising our phonics. We've already earned lots of marbles and if we fill the jar we'll be rewarded with a special treat at the end of term.