Term 3
Week 2
Brrrrr… it's an icy week in Kendal – the polar bears and penguins have taken over!
We discovered some of our numerals had frozen solid! We used the magnifying glasses to try and work out which ones might be stuck then had great fun using various tools to crush, crumble and chip away at the surrounding ice to see if we were right. We've been risking frozen fingers on the Funky Finger's (fine motor) table too by threading laces in and out of snowflakes.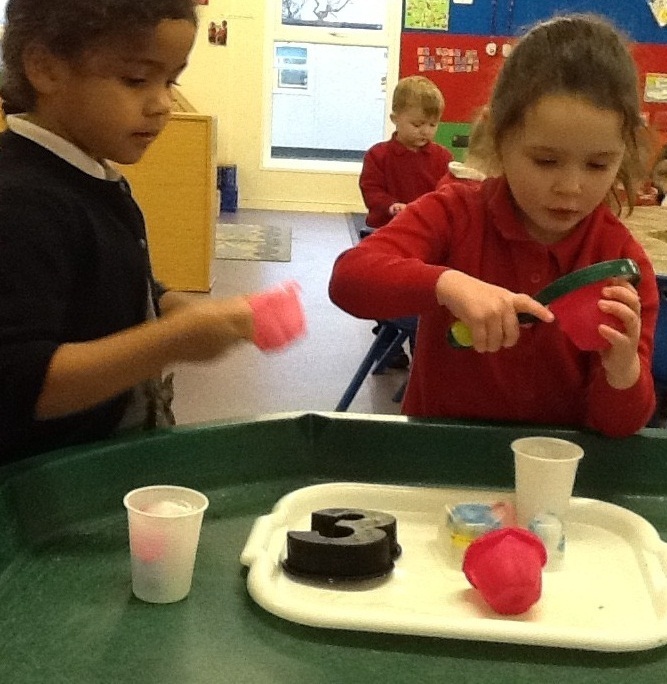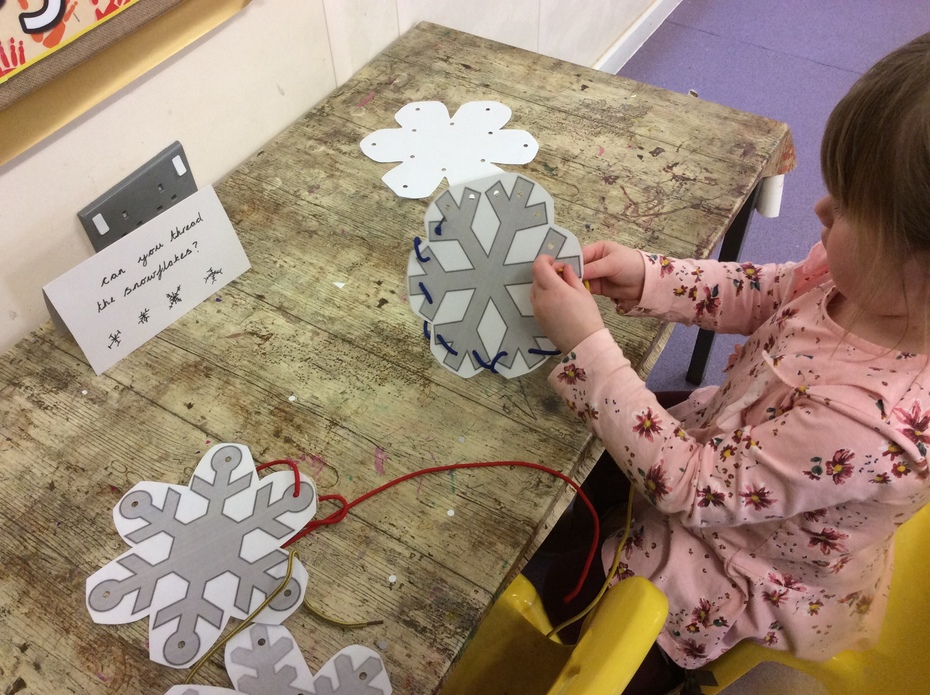 We used our winter themed playdough mats to inspire our malleable play too. We rolled balls of 'snow', flattening some into snowflakes using the rolling pins and other tools such as knives and cutters, and even made some 3D snowmen.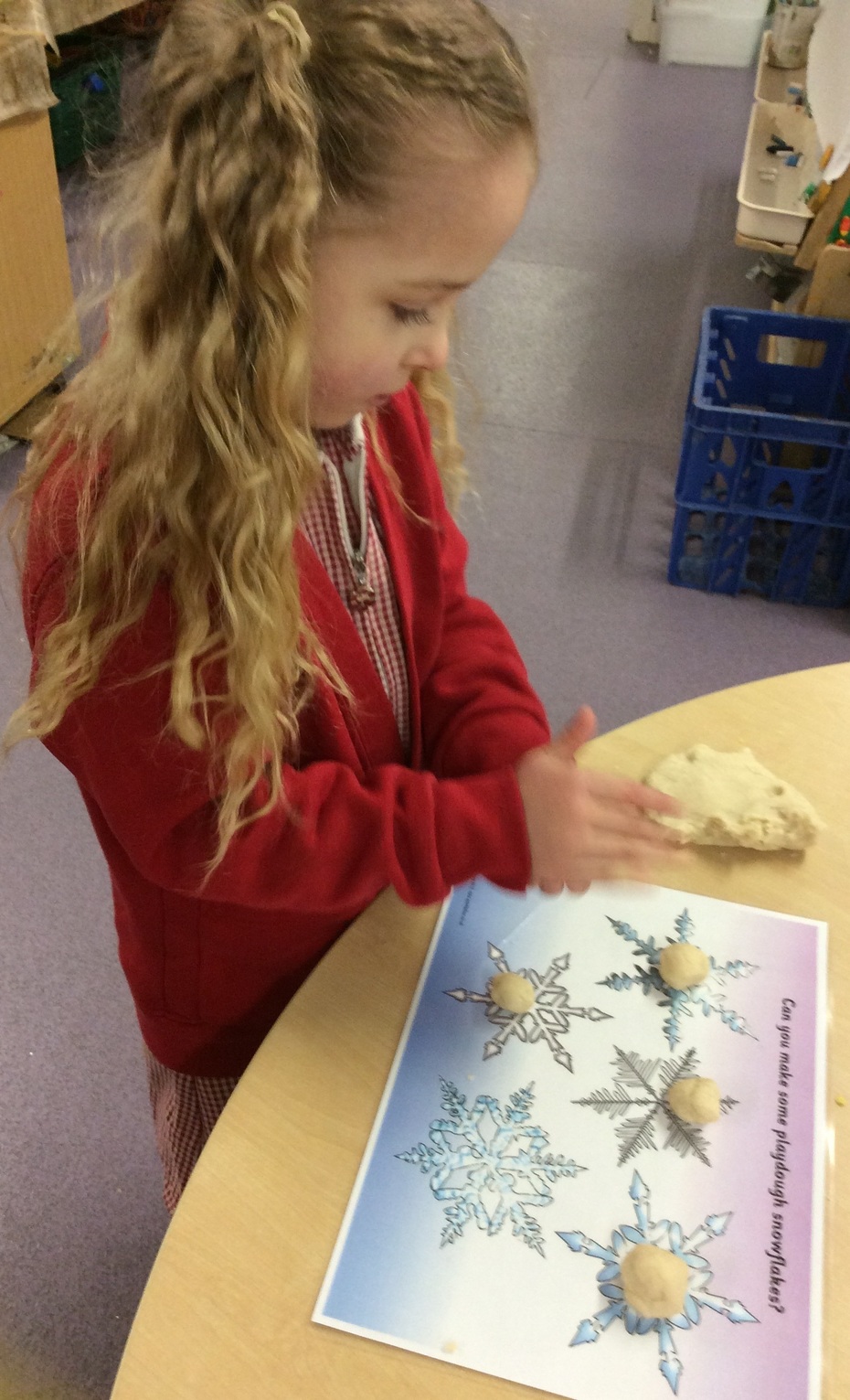 We've been introduced to weights and measures this week too; using some icy pebbles to discover that the scales move as we pour and fill. We'll be looking at this more in-depth next week. We've also been exploring positional language through games in class, as well as looking at position and direction in our Tuesday PE time. This week we had to move figures in and around the castle listening out for key words such as on, in, behind and next to.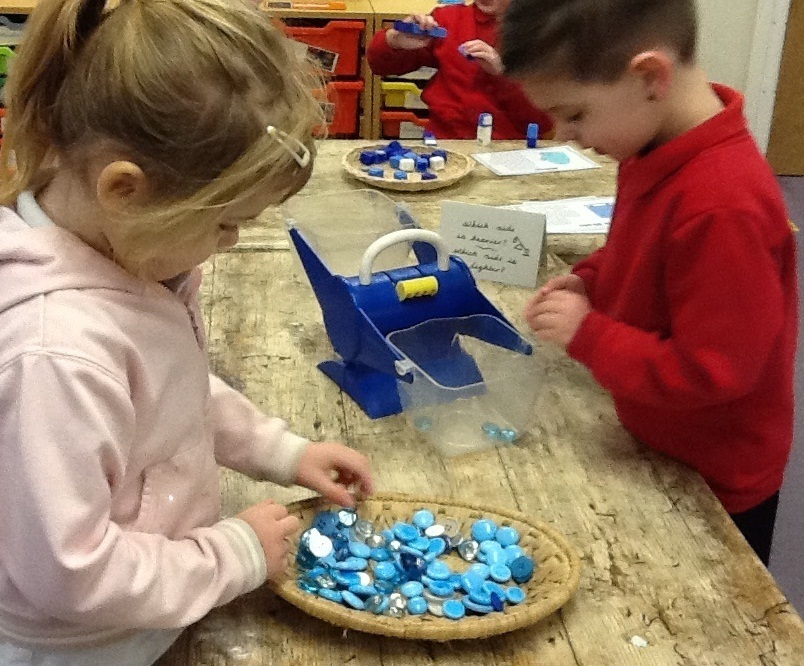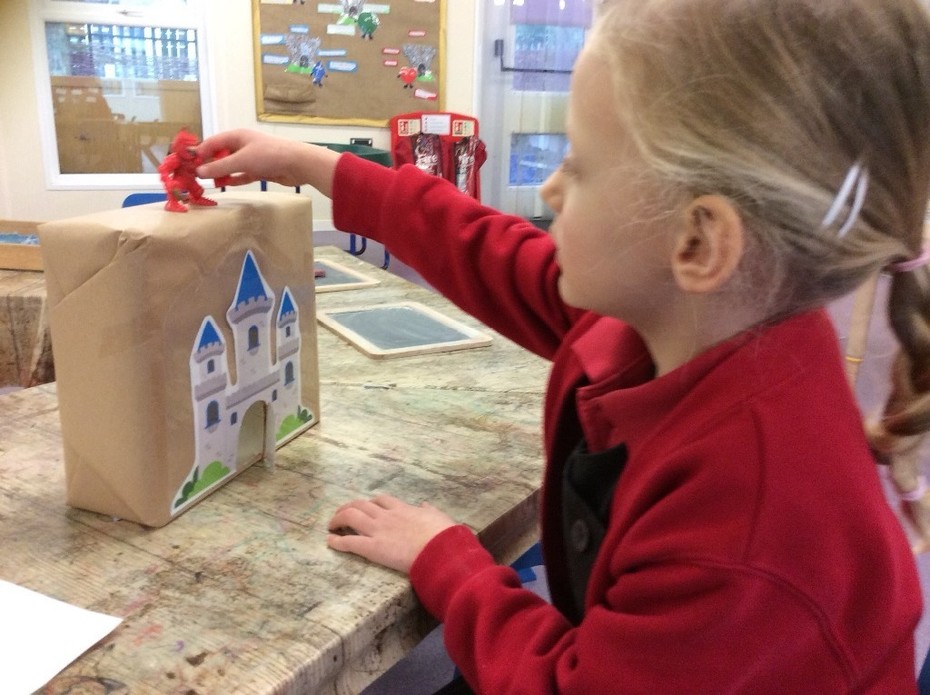 Our 'dark' tent has been pitched in the role play area and we've been taking it in turns to explore the various lights and LEDs in groups of 4. Its brought on lots of talk about the stars and space!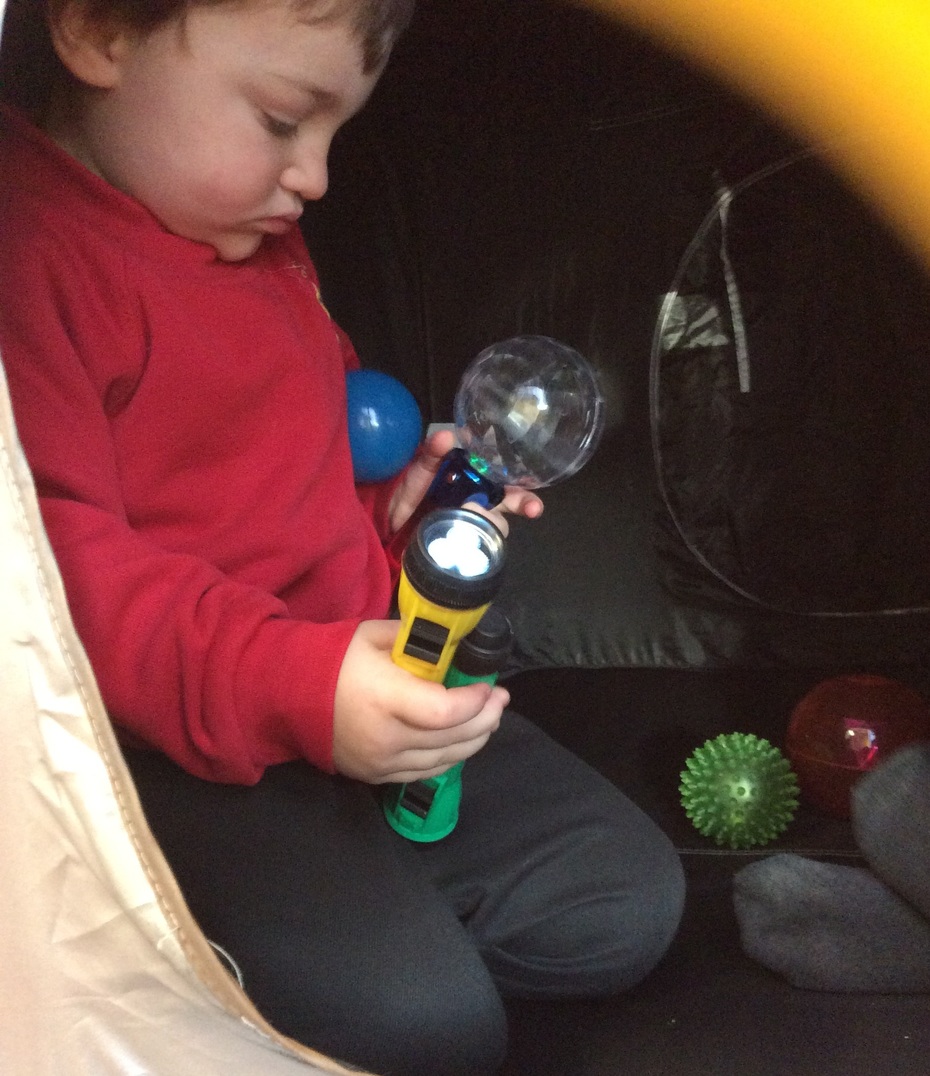 The 2s have been exploring malleable materials too. We've been inspired by our home corner and have been 'baking' cakes. We've used various tools to help us such as the cake moulds, cutters and rolling pins.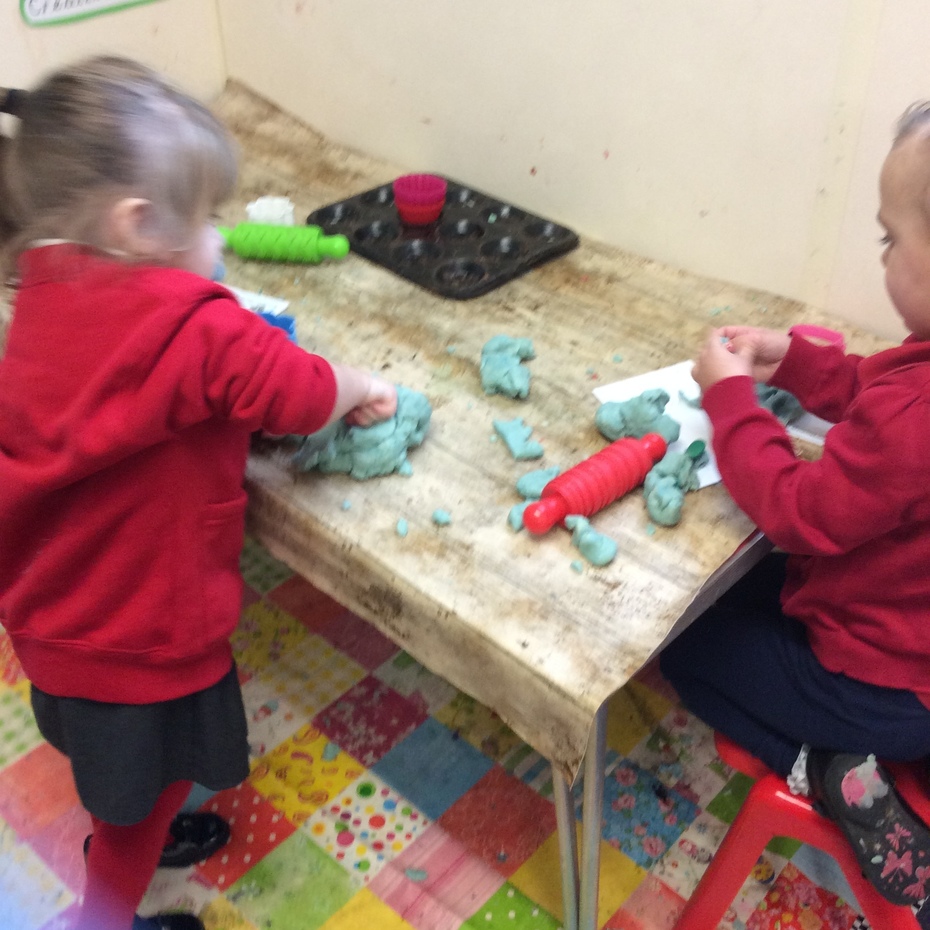 We've been developing our role play too; combining our interests to create shared and collaborative experiences; we've been doctors, nurses, mummies and daddies!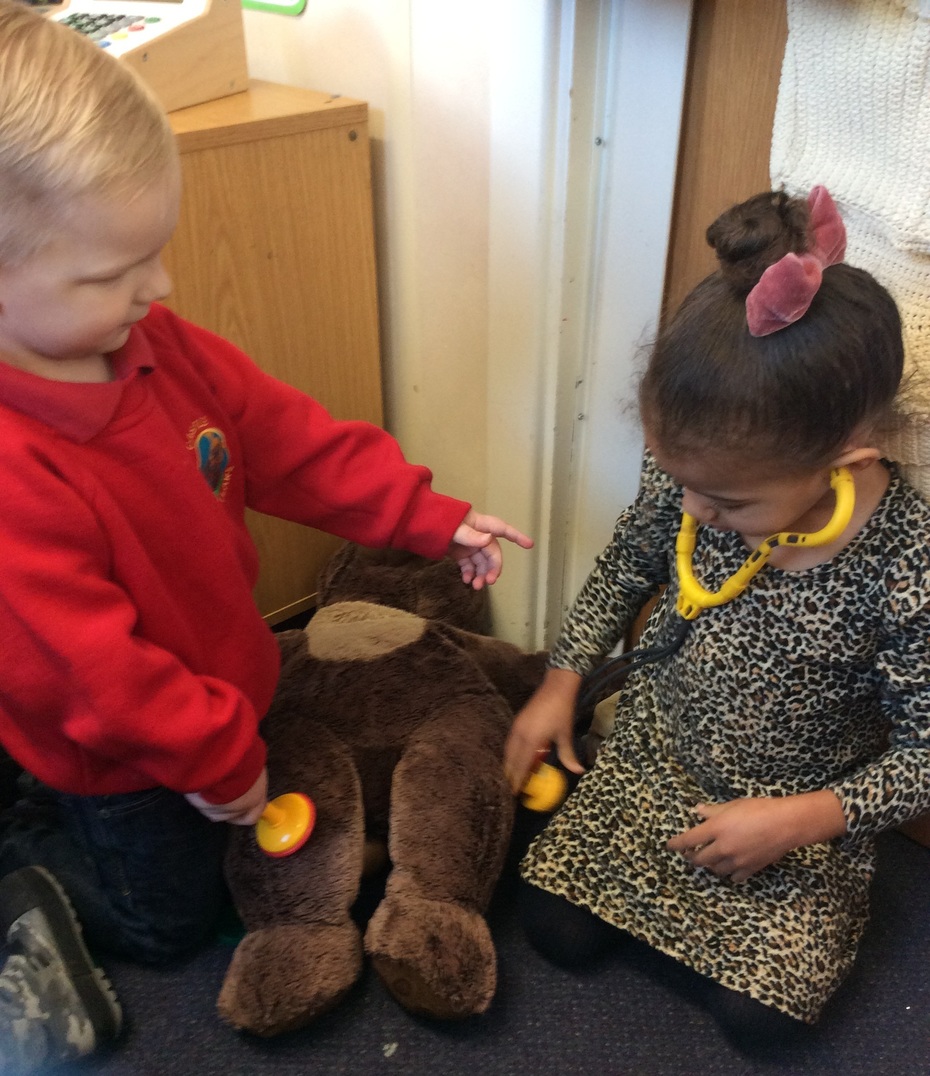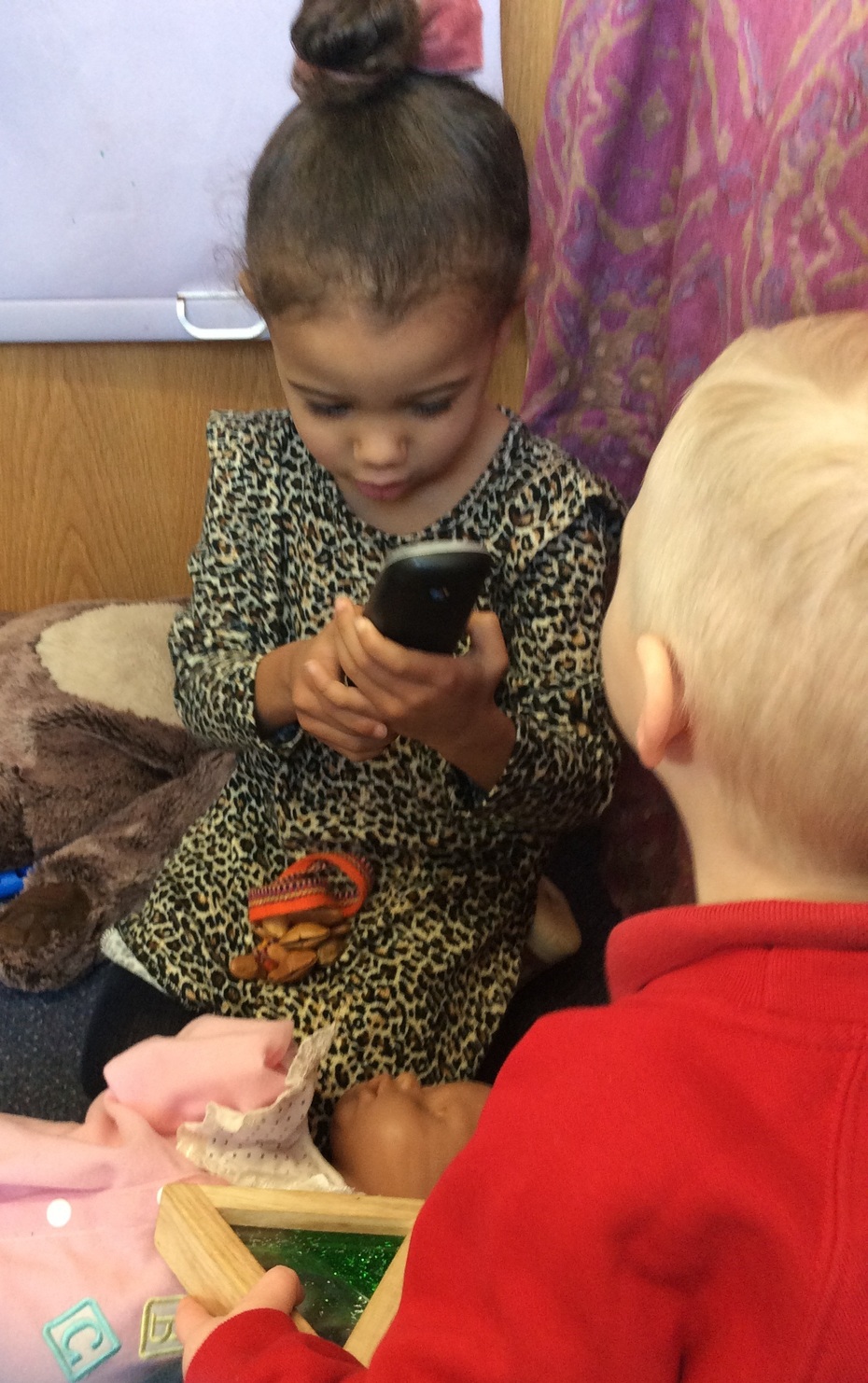 Outside, we've had fun with the balls and tubes, creating (with our grown up's help!) some lovely runs and pathways. We've used lot of different balls and tubes and developed our vocabulary by talking about shapes, size and speed.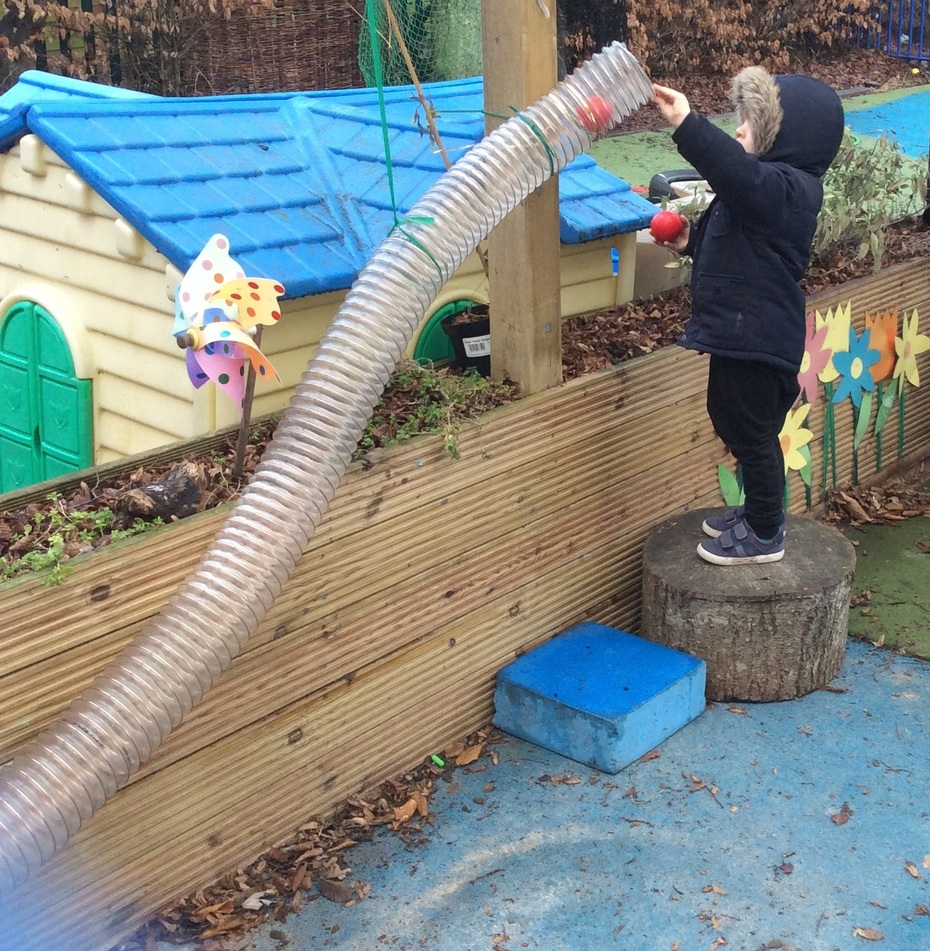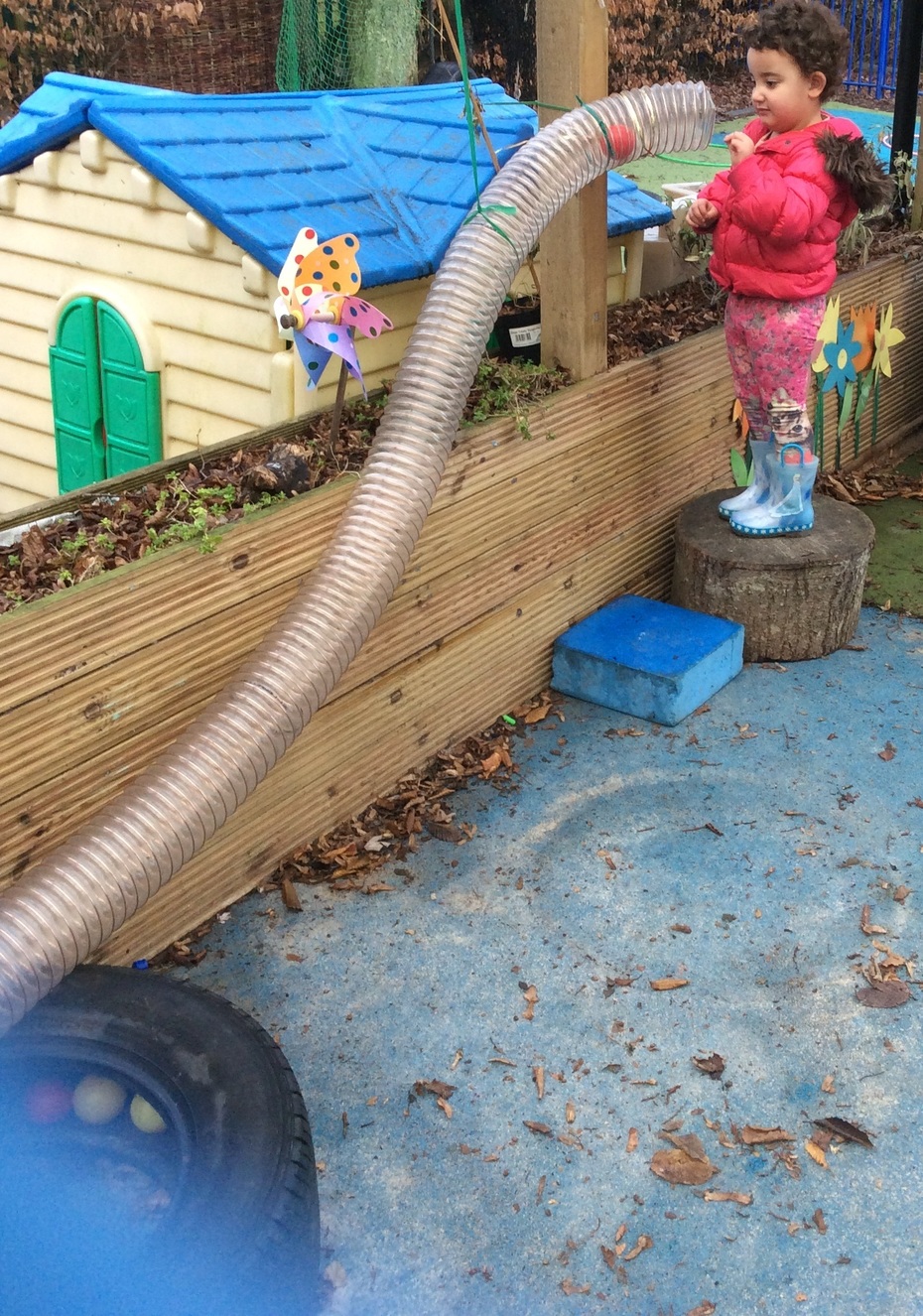 Week 1
Happy New Year!
In Kendal this week we have been recounting our 'holiday happenings' in our journals. We talked about what we did, where we did it and which special person may have visited and left some wonderful presents behind!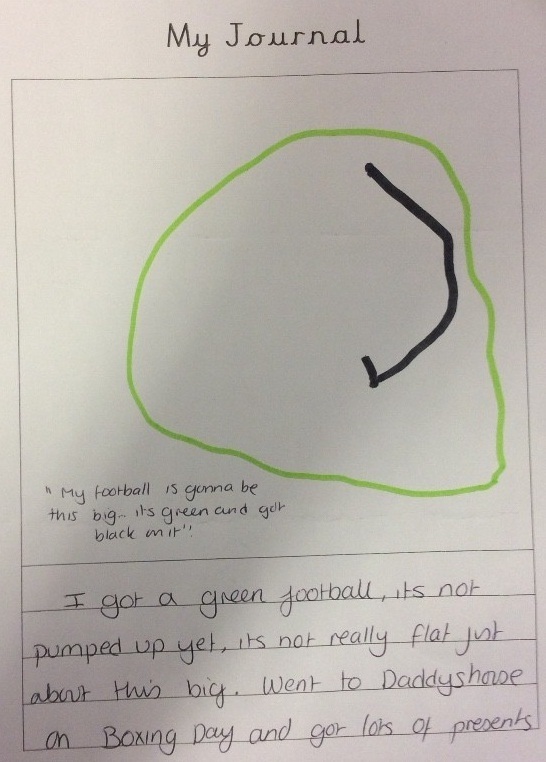 We've also been talking about New Year after many of us saw and heard fireworks celebrating the beginning of 2018 recently. We made our own fireworks using colour by number instructions; we had to identify the numeral and use our 'key' to determine which colour to use to decorate that part of the design.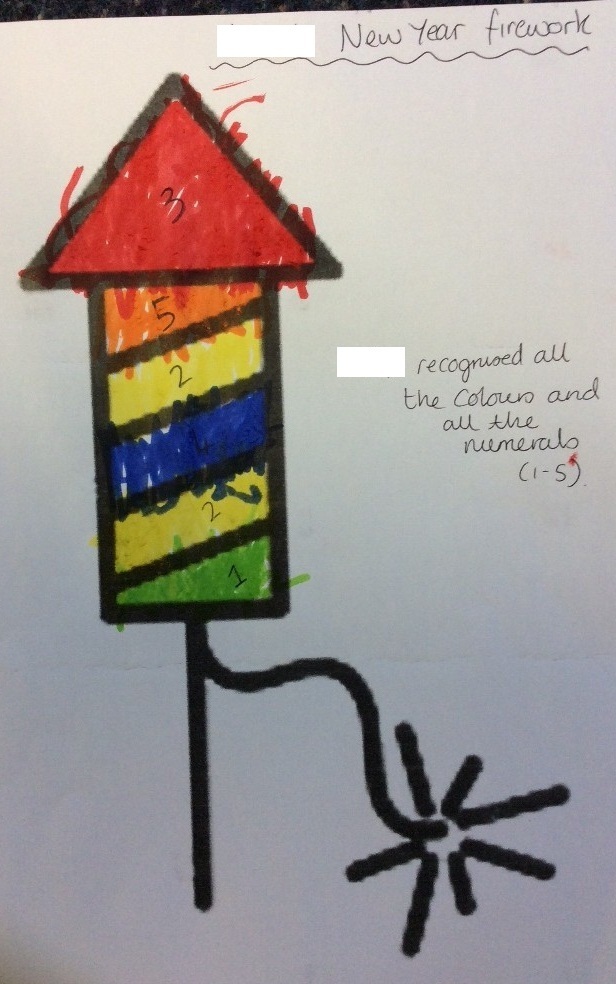 With an adult's help, we were all able to match up the numerals on the key to the numerals on the firework – they looked much more exciting once we'd finished!
After two weeks away from our peers we were all so happy to see each other again! We joined up with our buddies and made sure that they were feeling happy and healthy. After so much Christmas chocolate we were all glad of some checkups!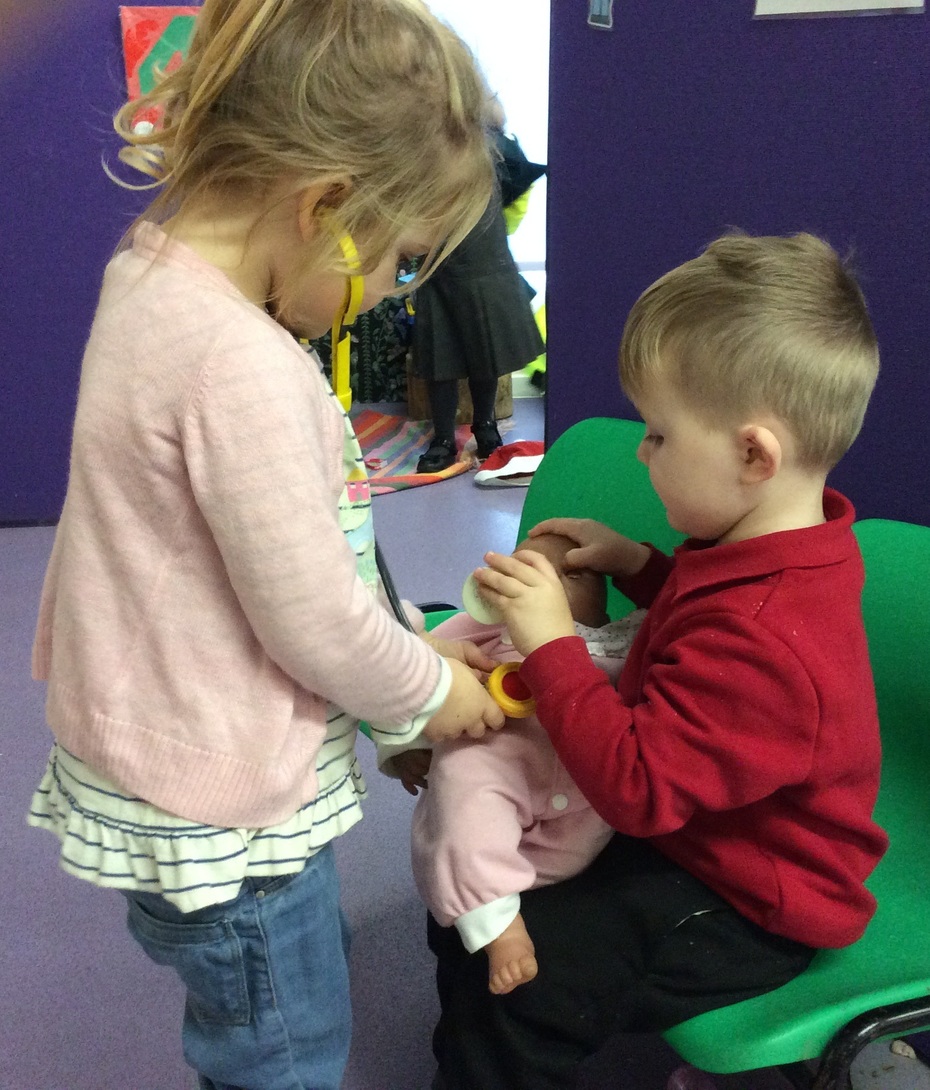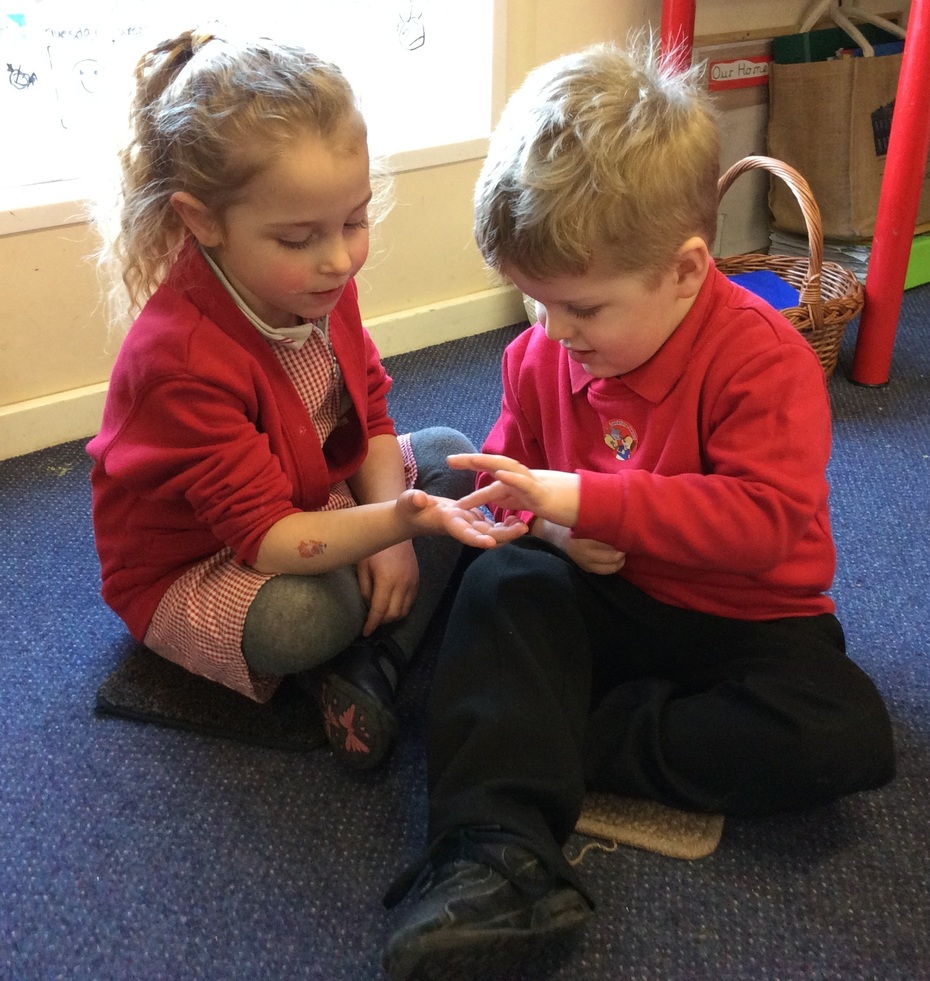 We've been in build-mode this week as well, working in teams to create huge structures with different size blocks… some of them were taller than us!
The 2s have been welcoming new friends and introducing them to our room and routine. We've all been expressing our interests; choosing resources that we enjoy and sharing them with our new buddies.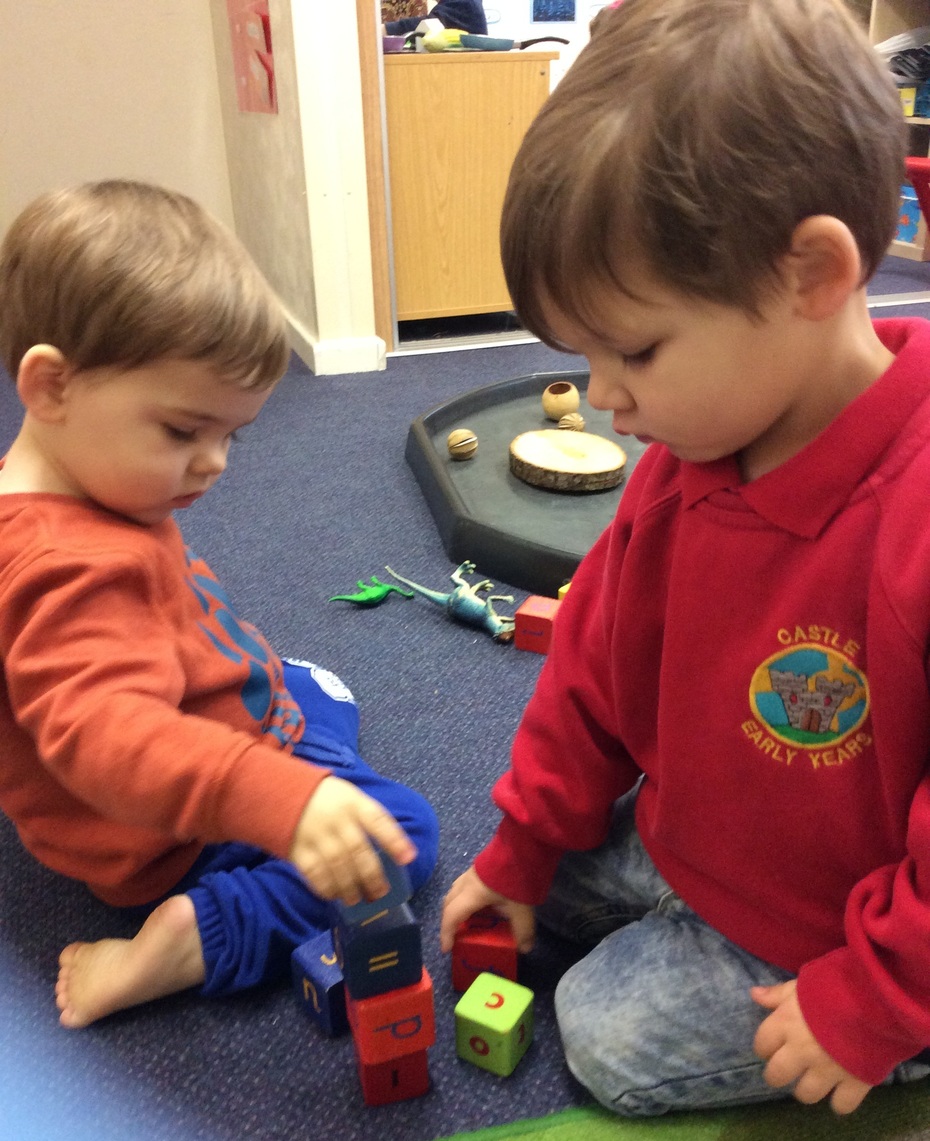 We've been doing a lot of songs, rhymes and stories to help us leave our worries at the door, build our confidence and get vocal. We're all doing so well!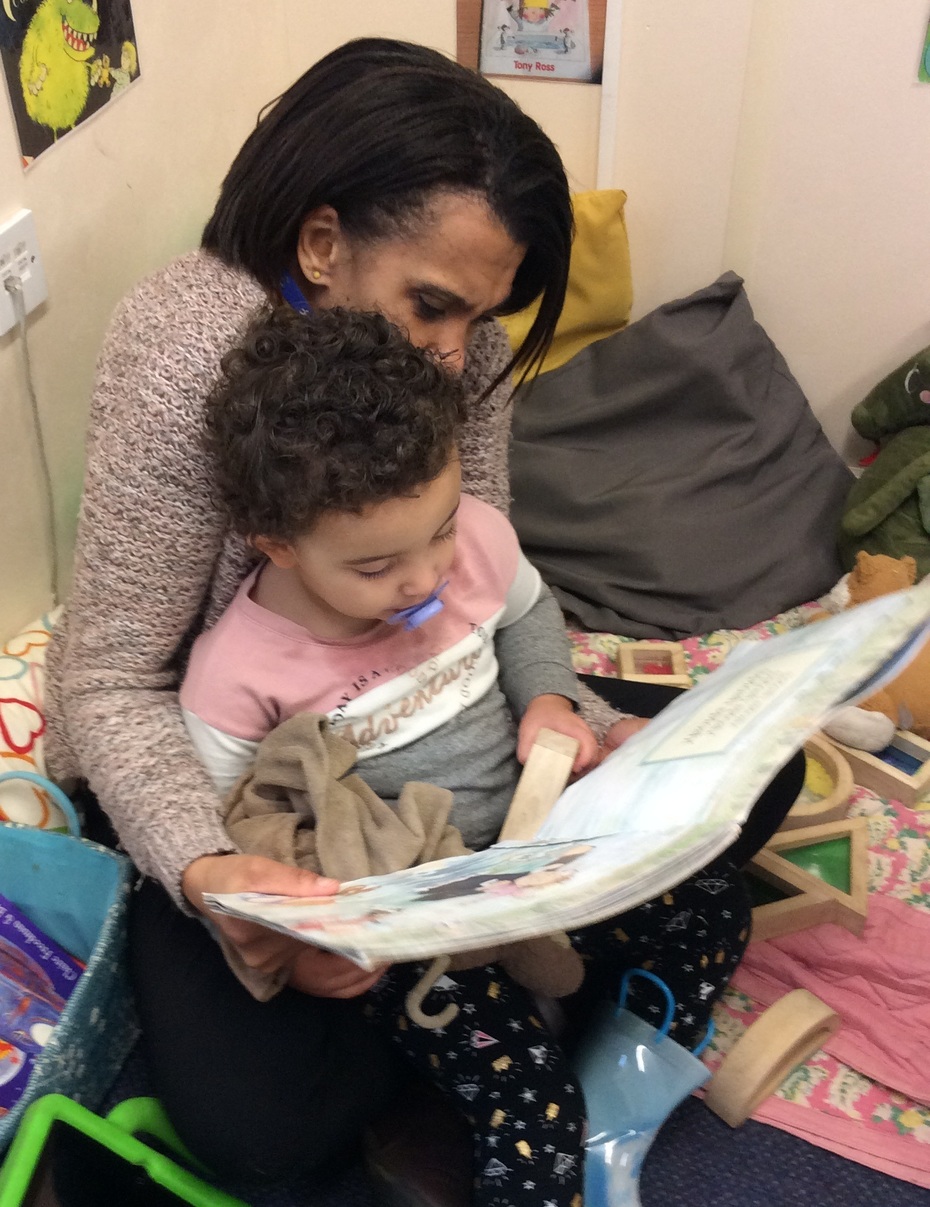 See you next week!
Term 2
Week 7
This final week has been the busiest by far and it has flown by!
Its been share and share alike in the Early Years as we were invited to see the Reception Nativity. It was amazing and we loved singing along to all the familiar songs. We then responded in kind by practising our own nativity for them to be dazzled by!
Wednesday was our busiest, most important day as not only was it Christmas dinner - delicious! - but it was 'grand performance' day in both the Toddler and Preschool room. We wore our costumes and Christmas jumpers with pride and sang our hearts out for all of our special people - our Nursery adults were all very proud of us!
On this final day of term, we had a visit from someone very special....Father Christmas popped by to give us a Ho Ho Ho, make sure we were still on his 'good' list, and to deliver us a present to share as a class! We're very excited about our new Hungry Hippos game and cant wait to play!(Special Thanks to the Friends of Castle School for making his visit possible).
As we've worked so hard all term, we finished the week with a DVD as our end of year treat. We love Minions in Kendal!
From all of the Nursery staff, we want to wish all of our children and families a safe and happy holiday. We're looking forward to hearing all about your festivities when you return in the New Year. Merry Christmas!
Week 6
As we say hello to December we're also excited to officially say hello again to the Christmas season! We've dusted off the tree and polished the baubles and now Kendal is looking very festive!
This week we've been building a snowman using the numeric and dotted dice. We had to roll and then match the result with the corresponding key so that we could add all the accessories. There were many dapper looking snowman when we were finished!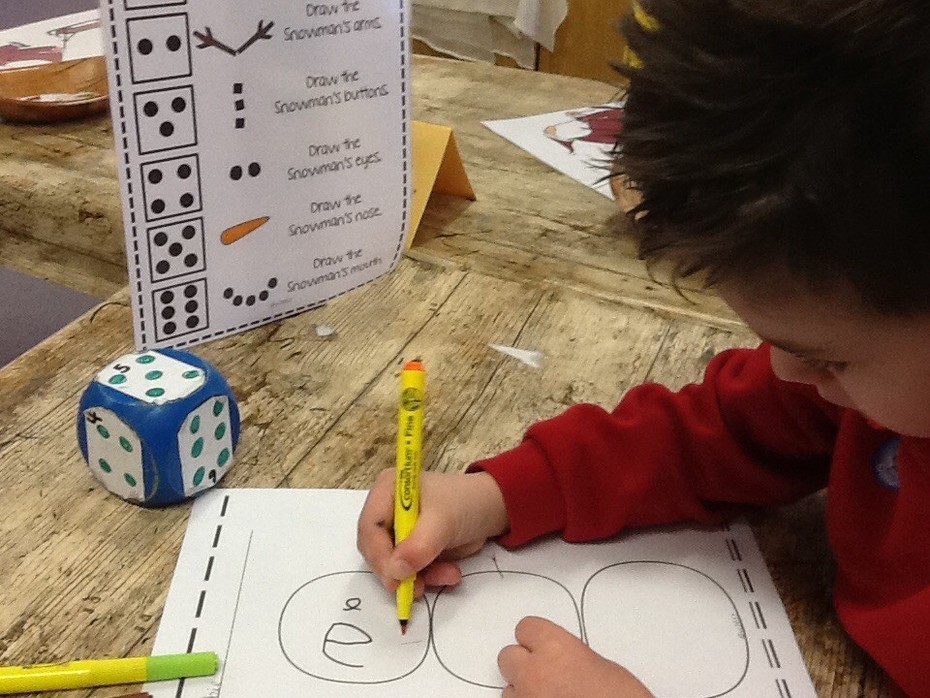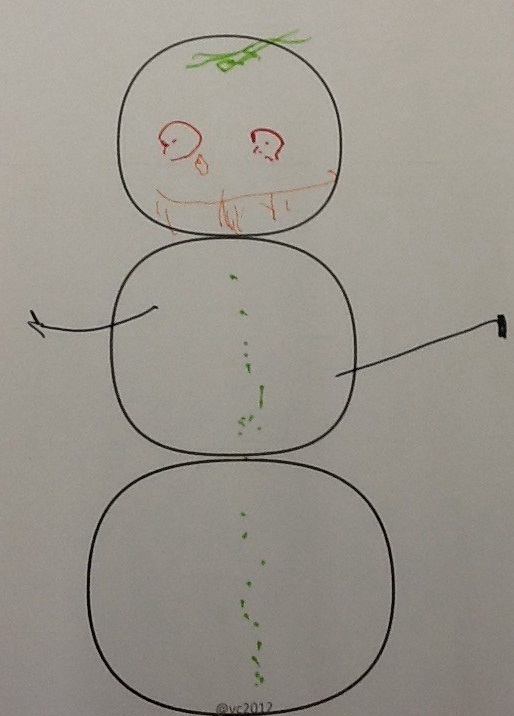 We've also been using our counting skills to see how many presents we can fit onto Father Christmas's sleigh. We needed to add the presents one by one, stacking them up however we could without them falling off! We made piles and towers of presents for him to deliver!
After more than the recommended 24 hours of drying time (and a quick blast in the oven to boot!), our saltdough ornaments were finally ready to decorate! We used lots of glue, glitter and Christmas colours to really make them sparkle – they'll look amazing on our trees at home!
We used the leftover cinnamon in our playdough – it smelled amazing! We used the Christmas cutters and gems to make some festive creations.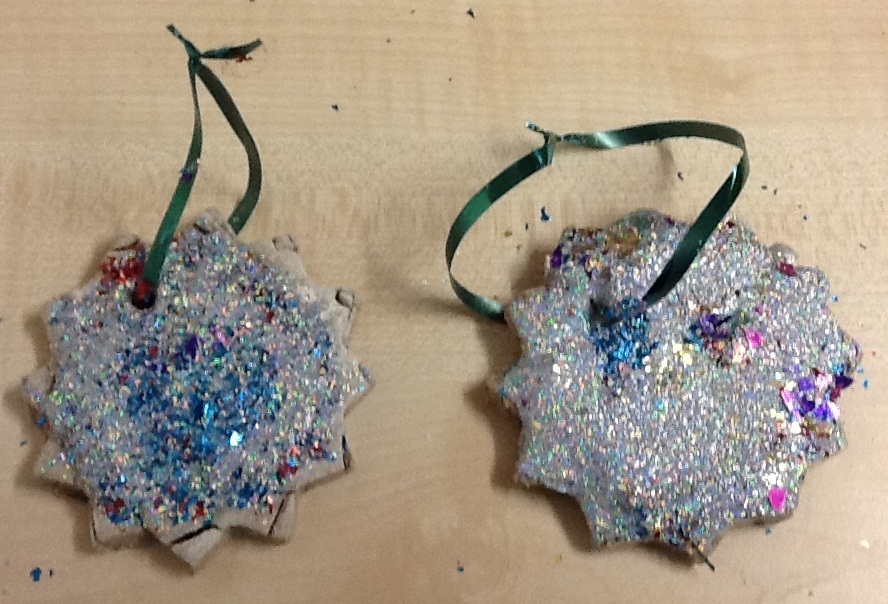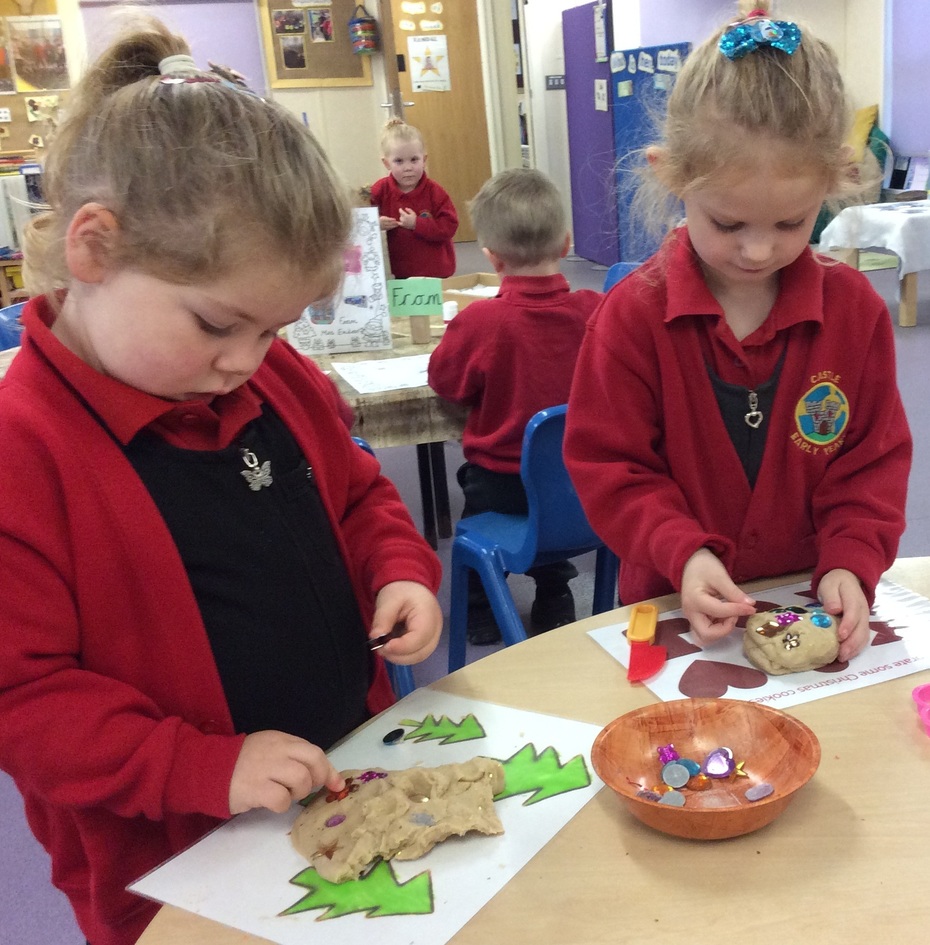 We've been really getting to grips with our fine motor skills this week. Using tweezers we've been racing against the sandtimer to pick up and place pompoms on the Christmas tree and bauble. We used the bigger tweezers on the real baubles and decorations as well; some of the baubles were very interesting shapes and all different sizes so they were quite tricky to pick up!
The 2s have been exploring colours, blocks and marks – with a Christmas twist of course! We've used sponges and stampers to paint and then decorate a big Christmas tree for the toddler room – it looks so festive!
We've also made calendars using shape cutters dipped in paint – we talked about the colours we'd chosen and the names of the shapes.
Its been a bit of a Santa's grotto in toddlers as well as we took on the role of Father Christmas' helpful elves. We wrapped up presents (various boxes!) to put under our class tree.
See you next week for our Nursery Christmas performances!
Week 5
We've had a snowball fight in Kendal this week! Though the frost has been settling on all our cars before Nursery and we had to wrap up warm, we hadn't seen any snow so we decided to pretend. We played in pairs; each of us trying to defending our snow forts as we rolled a dice and counting the dots to see how many snowballs we could 'throw' at our partners fort. After a few turns, we counted how many snowballs had damaged our forts altogether to see who came out victorious. We shook hands at the end though with a cheery "good game, good game" to show there were no hard feelings – as long as we have fun it doesn't matter who the winner is!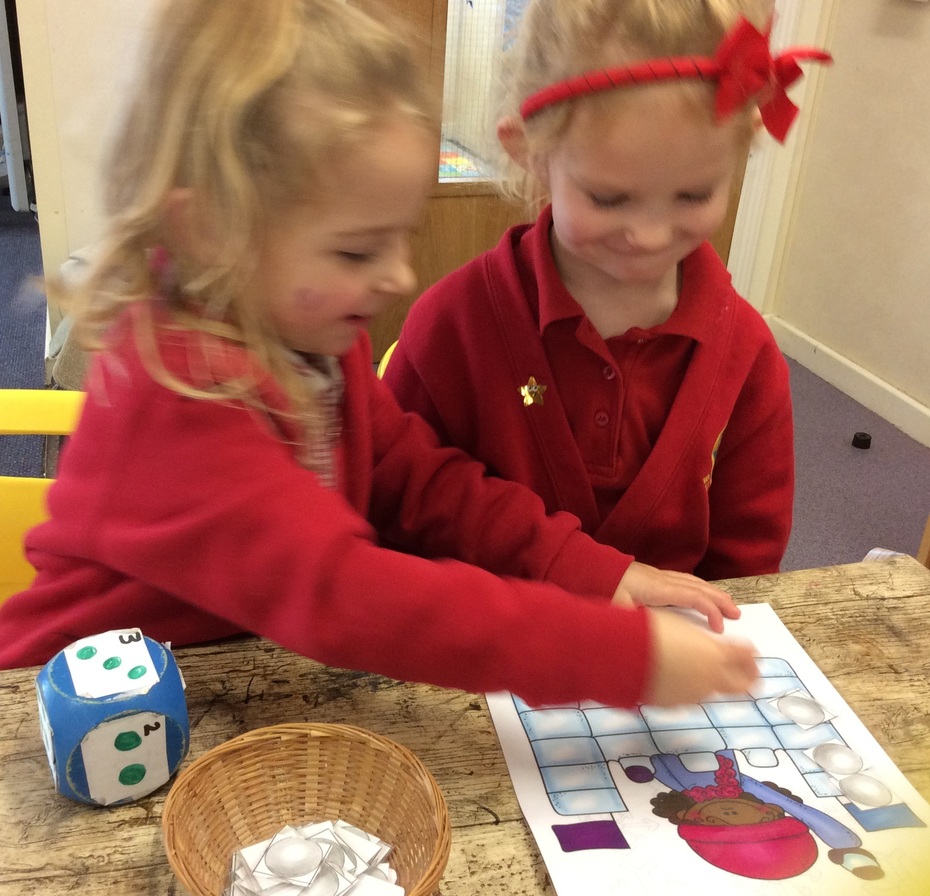 We've been feigning cold in the winter small world too. We used our winter animal figurines, cotton wool, tinfoil and other blue, white and silver material to create a pretend world for our toy people to explore. We used the same winter animals as prompts to help develop our descriptive language. We played a game of 'describe and find it' where we had to talk about one of the animals - its special features and habits – to help our friends guess which animal we were thinking of.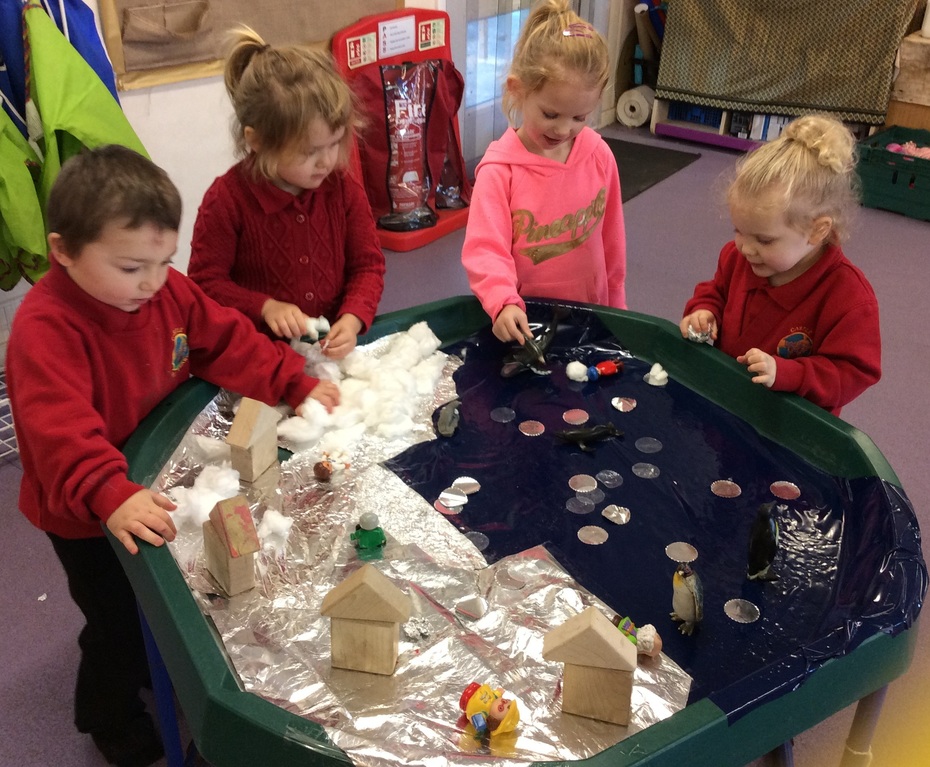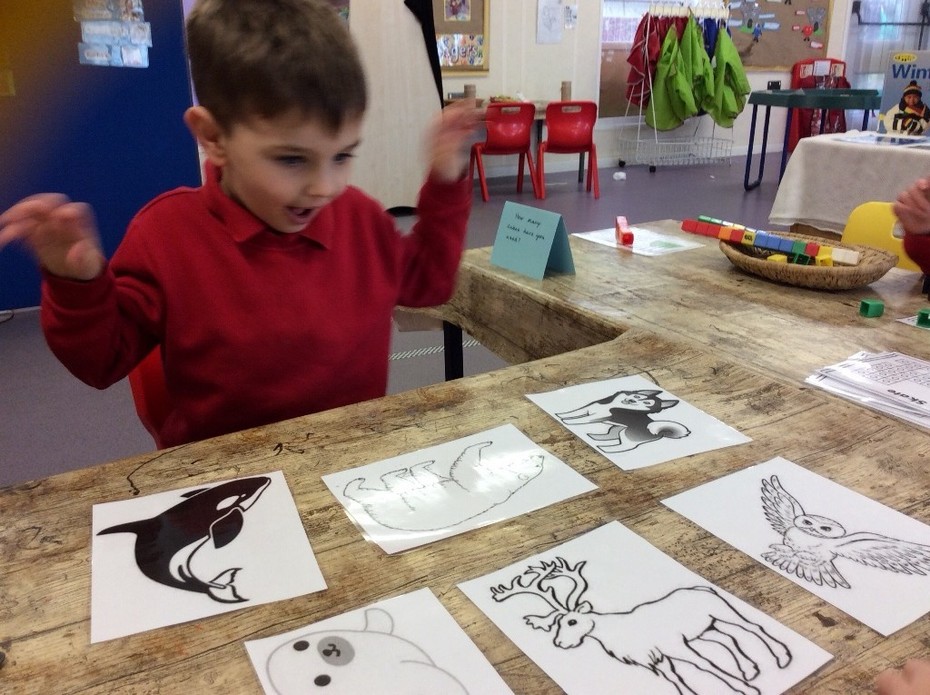 Having sorted out all the winter accessories last week into sets, we decided to hang them up to make it easier to find again. We had to use our funky fingers (our fine motor movements and muscles) to peg them up onto the line. It was quite tricky but we were resilient! We're ready to help hang out the laundry at home now!
As our Nativity practise gets into full swing, we have been reminding ourselves of the story between rehearsals. We've been using books and knitted characters to retell the story of baby Jesus and the very first Christmas.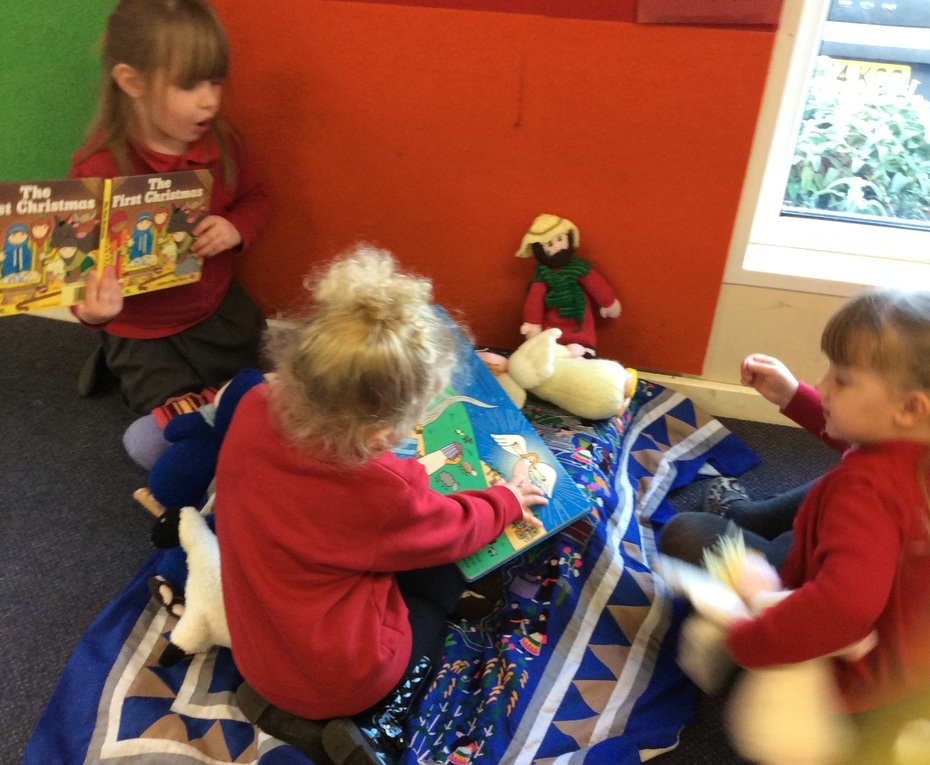 In preparation for Christmas, we all got stuck-in to a cinnamon salt dough recipe. We measured, mixed and kneaded the dough before rolling it out and using special seasonal shapes to cut out some decorations. Once they're dry we'll glam them up ready for the Christmas takeover!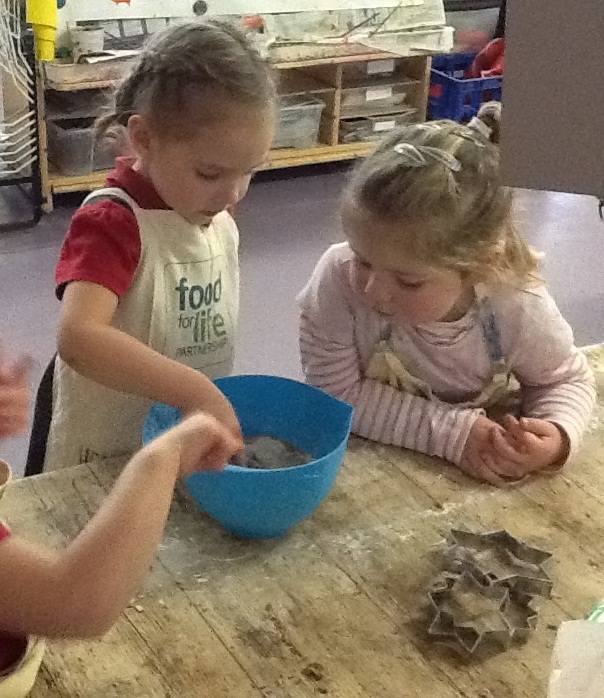 The 2s have also been simulating the winter weather, filling up gloves with cold coloured materials and textures to create feely fingers; The gel was cold and the cotton wool felt like snow!
We put a chilly twist on our Sunshine time this week too, using cotton [snow] balls to gently go round the garden on our partners hands and apply a little bit of lotion to keep our skin from getting sore from the cold wind.
We've been practising our songs for our festive sing-a-long too. We're so excited to share them with our special people soon!
Week 4
It's shape week here in Kendal so we've been looking at various 2D shapes and their special, defining features.
Over in Funky Fingers we have been challenging our fine motor skills by setting a time restriction on the activity! We had to show many different shaped sequins we could pick and peel off the double sided tape in one minute. It was super tricky as they were really stuck fast so we had to use all our finger muscle strength combined with our pincer grips to free them.
Elsewhere in Kendal we have been feeding some shape monsters that wandered in for a visit. They were always very hungry… but very fussy! They only liked 'biscuits' with the same shape on as themselves so we had to be careful at feeding time! Circle monster only likes the biscuits with circles on and square monster didn't like the triangle biscuits at all!
Alongside the biscuits, we've been 'cooking up' some shape pizzas too! We talked about the round, circular base and added some delicious toppings. We discussed our favourite pizzas and set to work topping our paper plates bases with various shapes. It was suggested that the circles were like pepperoni and the triangles were like pineapple!
Inspired by our 'cooking' over in the numeracy area, we opened up a pizzeria in the role play area, with menus that came through the door and we took it in turns to wait on our friends, take their order and create the pizza of their choice.
Outside we've been on a hunt for shapes in our environment, using photographs of the garden as well as our own ideas to locate any shapes hidden within our nursery. We found: circles - the tyres and scooter wheels; squares - the window in the Wendy house and boxes of resources; rectangles - the wooden decking and patio slabs, and many more!
As well as exploring shapes this week we looked into road safety on our Beep Beep! Day. We watched a short clip courtesy of Sesame Street where we learnt about the dangers of the road and to make sure we stay with our special people even when we're on the pavement as there could be driveways backing onto the path or people on bikes whizzing past.
We used signs and symbols such as traffic lights and stop signs alongside the car mat, as well as using the Bee-Bots on our smaller road mats, to make sure our transport and pedestrians stayed safe. We also decorated large hands that we stuck onto a lollystick to hold up outside and to take home to remind us and our friends to "Stop, Look and Listen" before we crossed the road.
The 2s have been focusing on two senses: sounds and smell. We investigated a pile of smelly socks but were very pleased to discover they were pretty pleasant smells! We discovered coffee, lemon, lavender and soap.
We have been testing our listening ears to. We read the story 'Peace at Last' with all the environmental sounds that kept daddy bear awake and listened out for sounds in our own environment; we heard the big children playing in their room and the sound of footsteps too.
We also listened to sounds on a CD player and matched them to their corresponding photographs. It was a bit tricky but we listened really well and helped our friends to identify the noise too!
Congratulations to our pupil of the week, a young lady who has shown herself to be so respectful, helpful and kind to both friends and grownups! Well done!
Week 3
This week in Kendal we've said goodbye to Autumn and welcomed in Winter. We talked about seeing frost in the mornings, on our cars and on the grass, as well as having to start wrapping up in extra layers such as gloves and scarves.

We have been reading the story 'say hello to snowy animals' – a book all about arctic animals. We have discussed the environment they live in and have been making our own snowy landscapes. We added different animals to our scenes and used lots of mathematical language when talking about the amount such as same, different, more than, less than and counting who was playing in the snow and icy waters of our picture.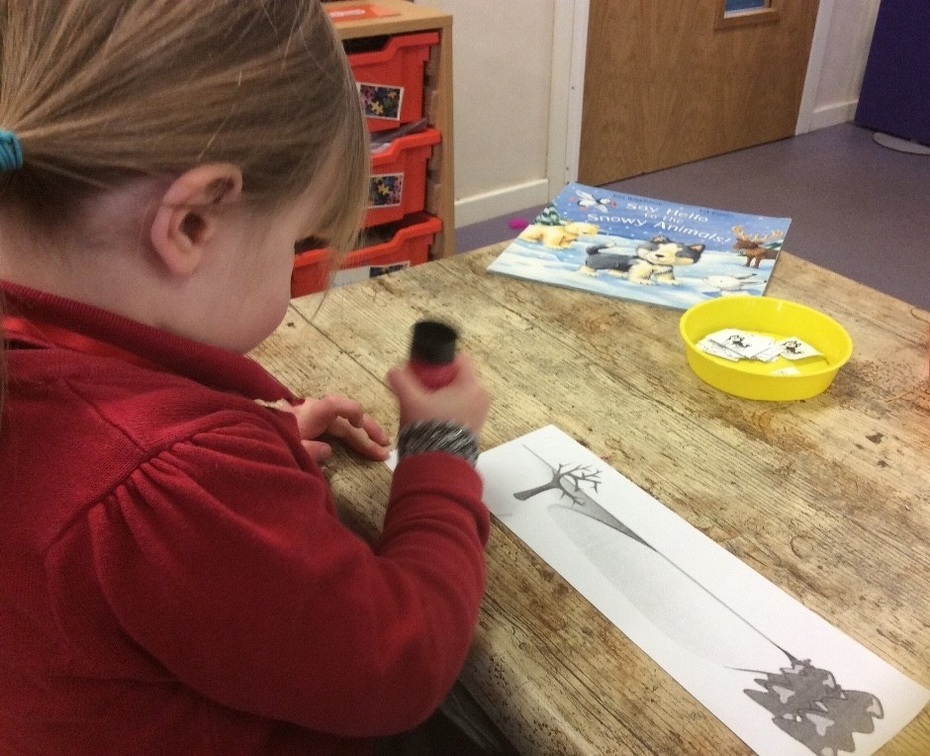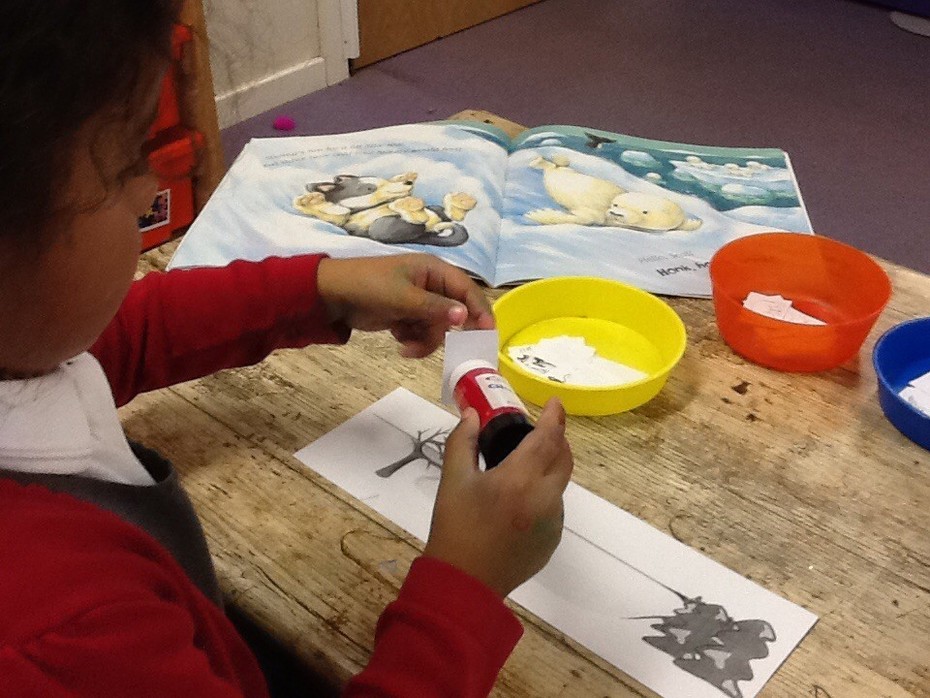 On Thursdays with Mrs Gillard we have been looking at the story of the Gingerbread Man and this week we have been making our own salt dough gingerbread men to decorate. We weighed and measured all our ingredients and had a lot of fun getting sticky with the mixture and using the cutters to create our final piece.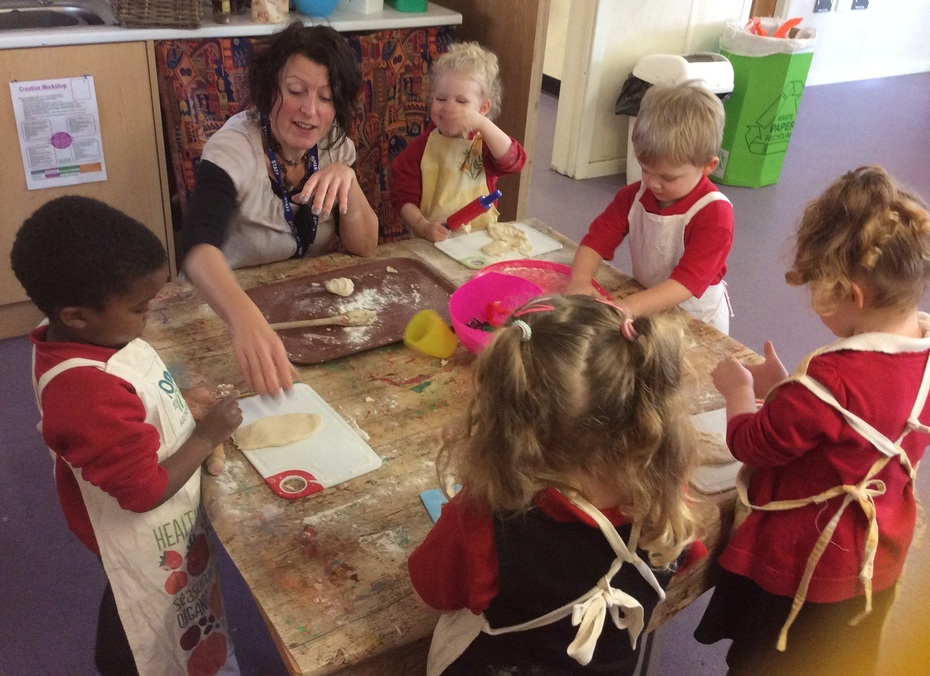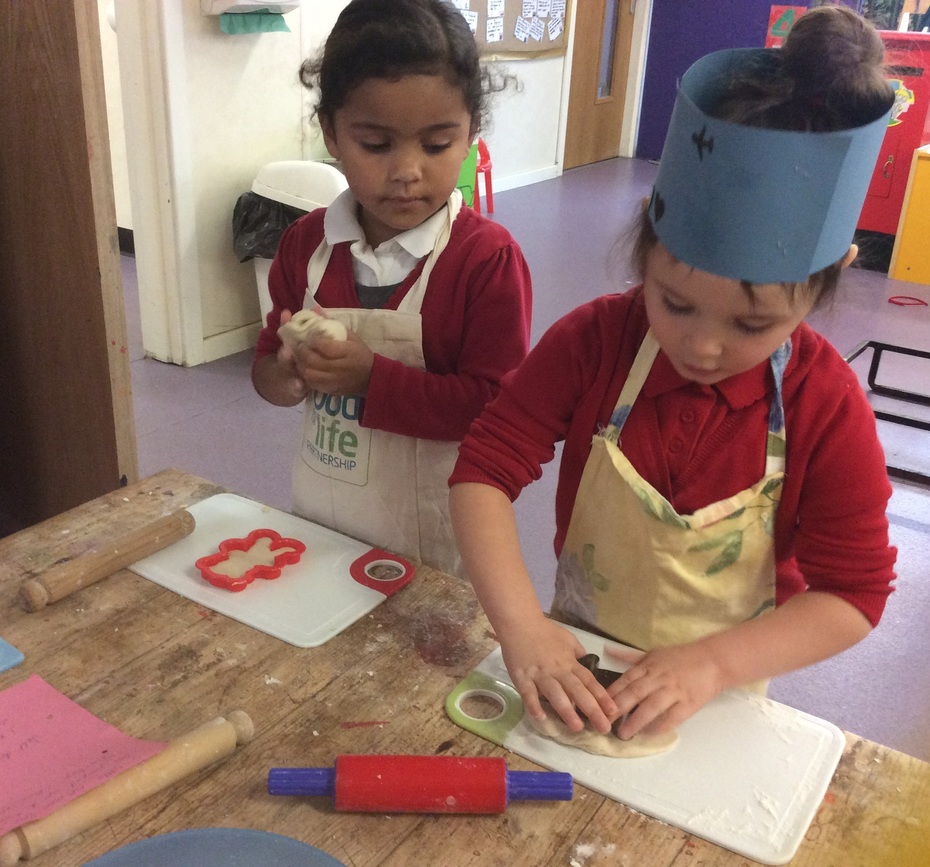 With our wet winter weather affecting some parts of the garden, we have relocated our mud kitchen and have been having lots of fun with the sand, water and soil creating delicious concoctions such as mud pies and then teasing Mrs Exton with offers of 'chocolate cake'!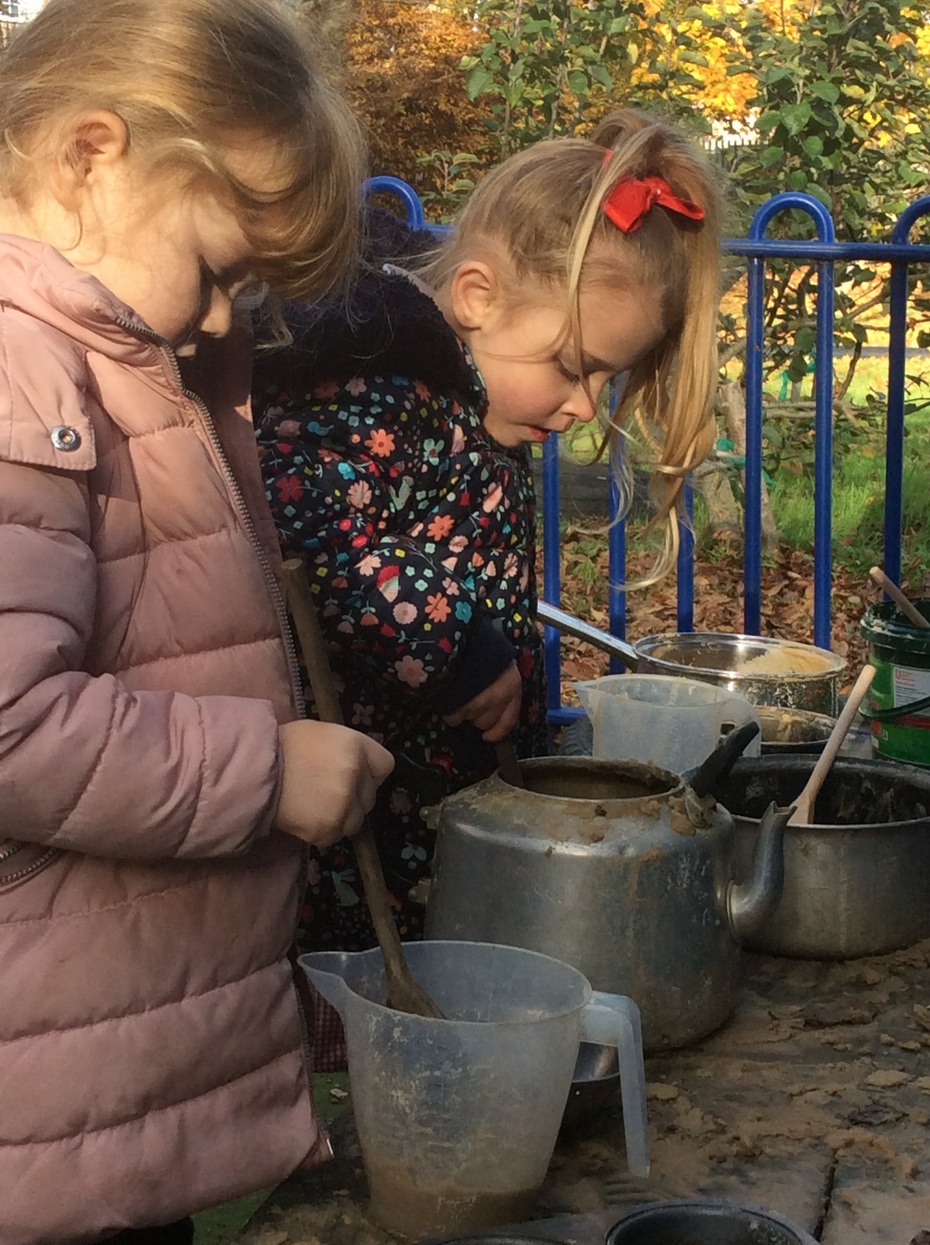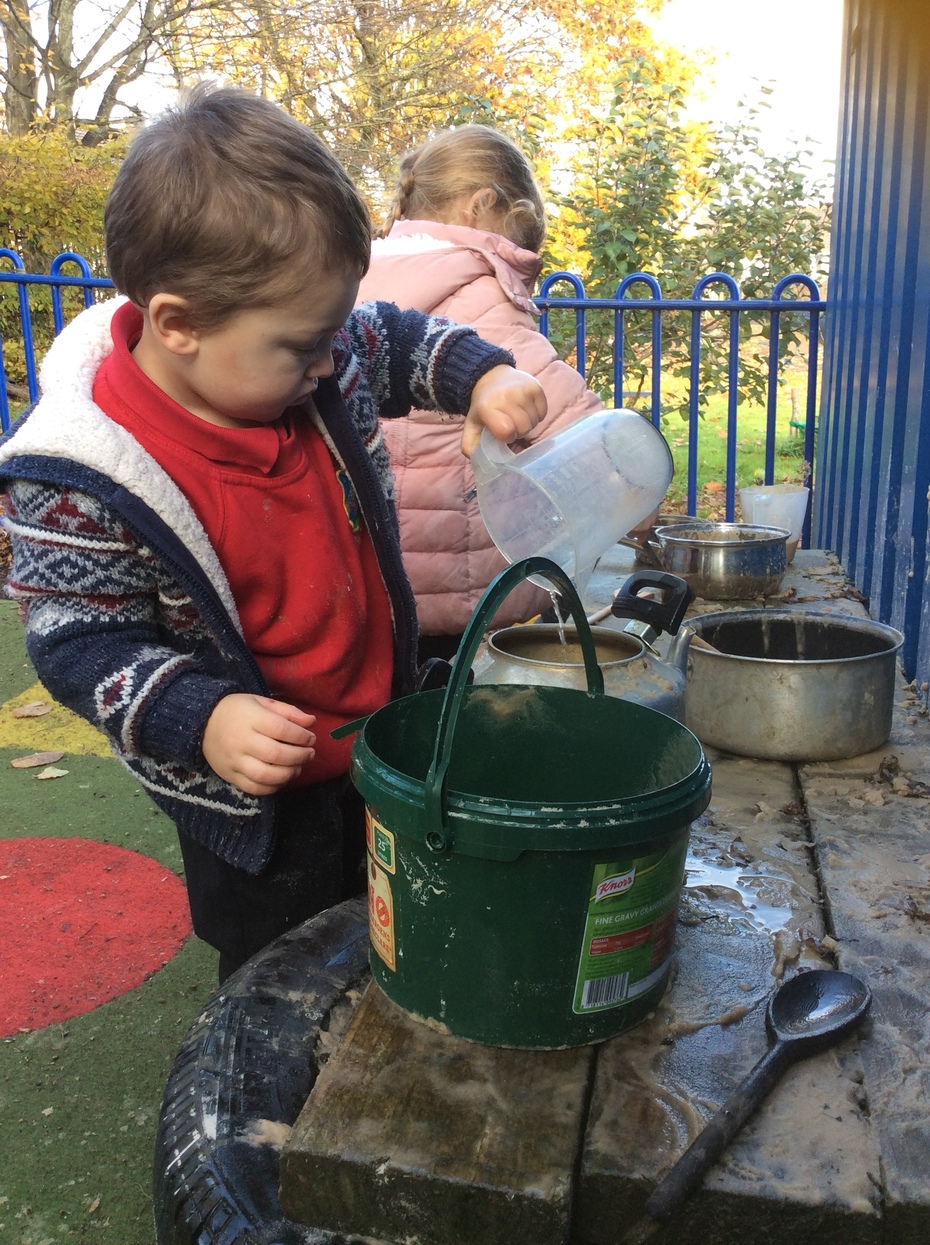 Both inside outside we've been really interested in the transport and have set up a petrol station outside to top up our scooters and bikes. £5 for a full tank of petrol – what a bargain! Inside we've been working together to design racecourses, adding ramps, bridges and tunnels for our transport to go up, under, through and around before building the courses using the wooden blocks and putting them to the test.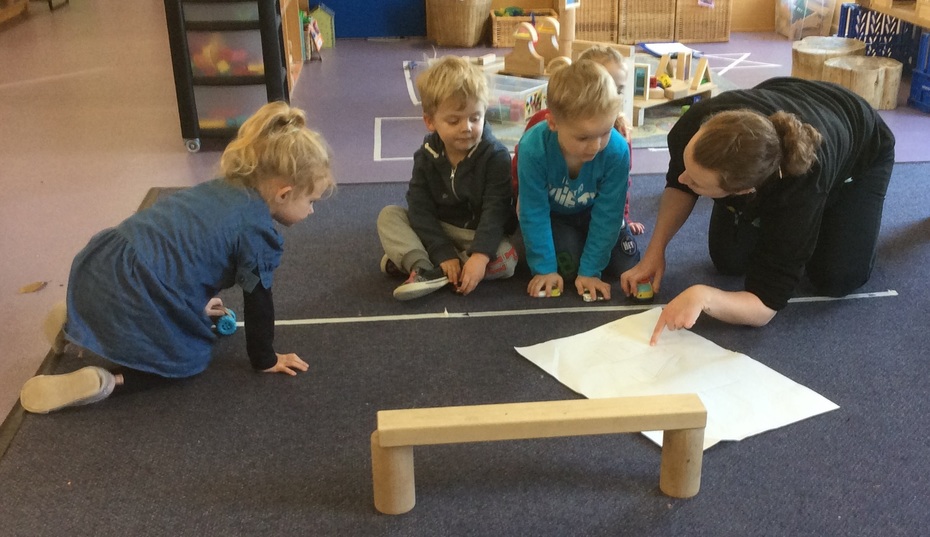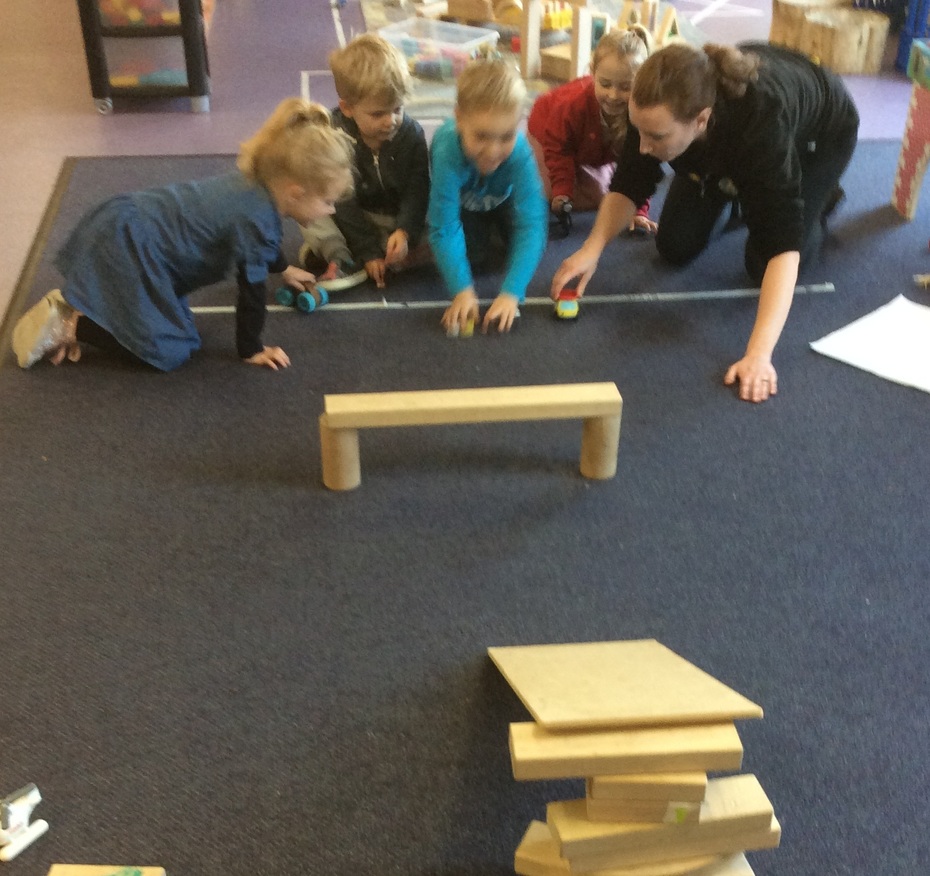 As its Anti Bullying Week, we've had a lot of discussions during snack and key group time about being kind; with our words and our hands/feet. We know that in Kendal we're all friends and we all stick together. There's no room for bullies in Nursery!
The 2s have been working on our physical development. We watched the bear hunt story again on the interactive whiteboard and moved to the music. We stretched up tall and swayed like the long swishy grass, we tiptoed through the bear cave and we moved our feet up and down slowly as if we were wading through the squelchy mud.
We also went out onto the field and balanced along the logs, climbed over the tree stumps and crawled through the small tunnels. We found lots of bears at the end of our journey but luckily they weren't scary – they just wanted a hug!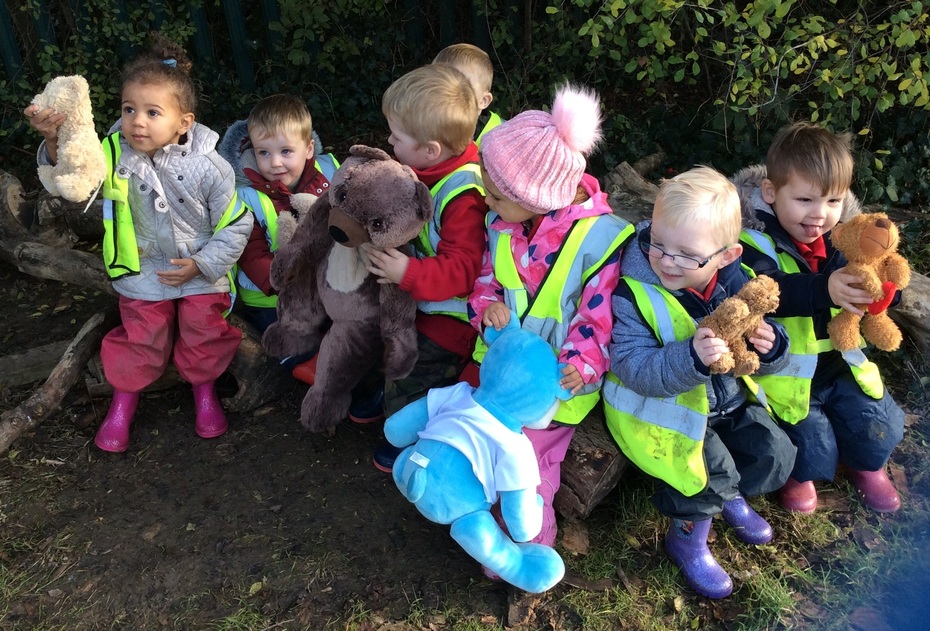 Congratulations to our Pupil of the Week who has tried very hard all week to receive the honour and her positivity, resilience and delightful conversations have been noted and much appreciated by her grownups. Well done, super star!
Week 2
This week in Kendal we've been helping Mrs Exton with her conker counting. She had too many to keep track of so we helped group them into more manageable clusters; being able to add "1 more" or "2 more" to the groups and sometimes even matching the amount we had to its corresponding numeral.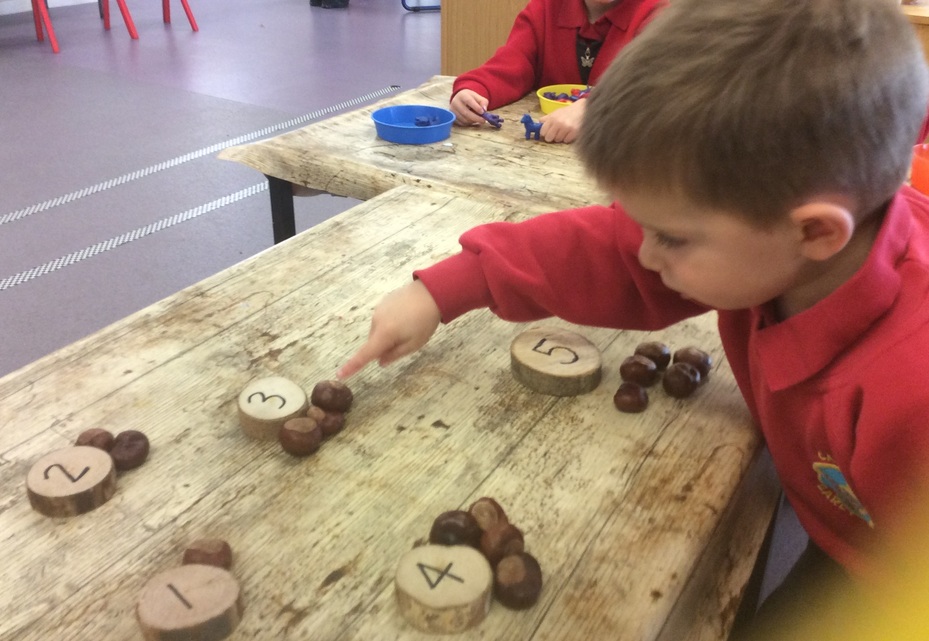 We've been taking time out of our routine as well this week to stop and listen to what's going on around us, defining the sounds and noises that we could hear both inside and outside of the nursery. We heard all sorts, from our friends playing with certain toys, to shoes walking across the floor.
As this is the week leading up to remembrance Sunday, we've been curious about why there are poppies on people's jumpers, in all the shops and along the high street. We've talked about how this is a time when we remember the special people who did - and who do - good things for our country; for where we live. We talked about how those people wanted/want to help us to have the life that we have; safe and happy and together. We chatted about seeing people selling poppies to help raise money for these special people and that by wearing them and seeing them grow it helps us to remember them. We even watched a special video explaining it all through classical music and the animals' point of view (you can find it on the CBeebies website if you would like to share at home too).
As well as painting and making our own, we've been using our fine motor skills to plant the poppies on their lollypop stems into small slots in boxes and tubes to create a lovely remembrance garden. It was quite tricky as we had to angle some of the flowers to push them in, but we did it!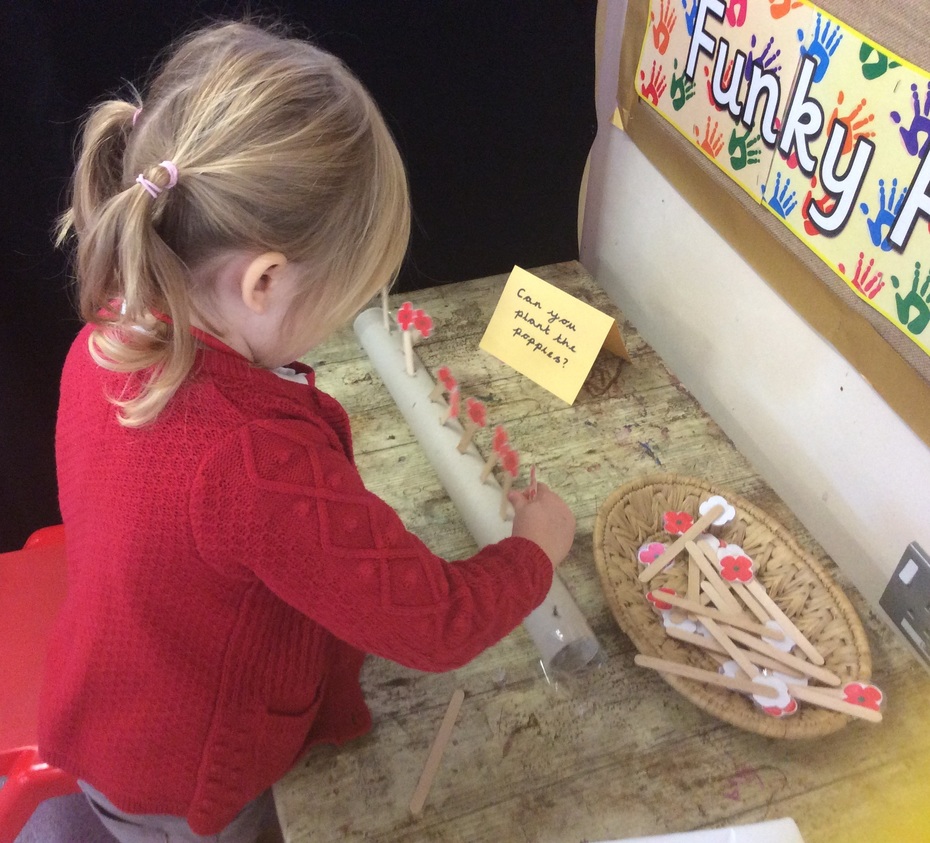 We've also be practising our scissor skills this week. Leading on from the fun we had last week cutting our fireworks we've been let loose on the magazines; chopping, snipping and cutting around items we found on the pages. We inadvertently found lots of things we'd like to ask Father Christmas for at the same time – sorry grown ups!
The 2s have been going on a bear hunt! We've been using our listening ears to check for any noises – bear or otherwise – that we might hear along the way. Inside, we looked at the storybook and used sensory bags and pictures to encourage our talking and sharing of ideas. We used the sensory bags in our small world play later, taking the figures on a journey through the swirling snowstorm of cotton wool, the long, swishy grass and the dark, box cave.
We also enjoyed watching the animated version on the interactive whiteboard in the big room after reading it in our own room…We spotted the bear before the adventurers did!
We have noticed poppies everywhere too; we shared our experiences and thoughts with our grown ups after looking at lots of photographs and poppies on our display table. We looked at the colours of the poppies and had fun sorting through lots of different red and black fabrics and textures, getting very sticky in the process!

Week 1
Its been a busy first week back in Kendal with so much to talk about after our week's break, so much so that we wrote it all down in a journal with an adult and drew pictures to remind ourselves what we'd been up to.

During PE this week we used our story 'Room on Broom' to get us motivated. We moved around the hall like the animals would in the story – bouncing like a frog, flapping like a bird – then we flew around on our brooms making sure to stop at the red light, be alert and keep on our toes for amber and zoom, zoom, zoom when the green light shone to go. Even witches have to obey the traffic laws! We're becoming so independent with our shoes and socks each week but if one of us does find it tricky, there's always a kindly helping hand around to save the day!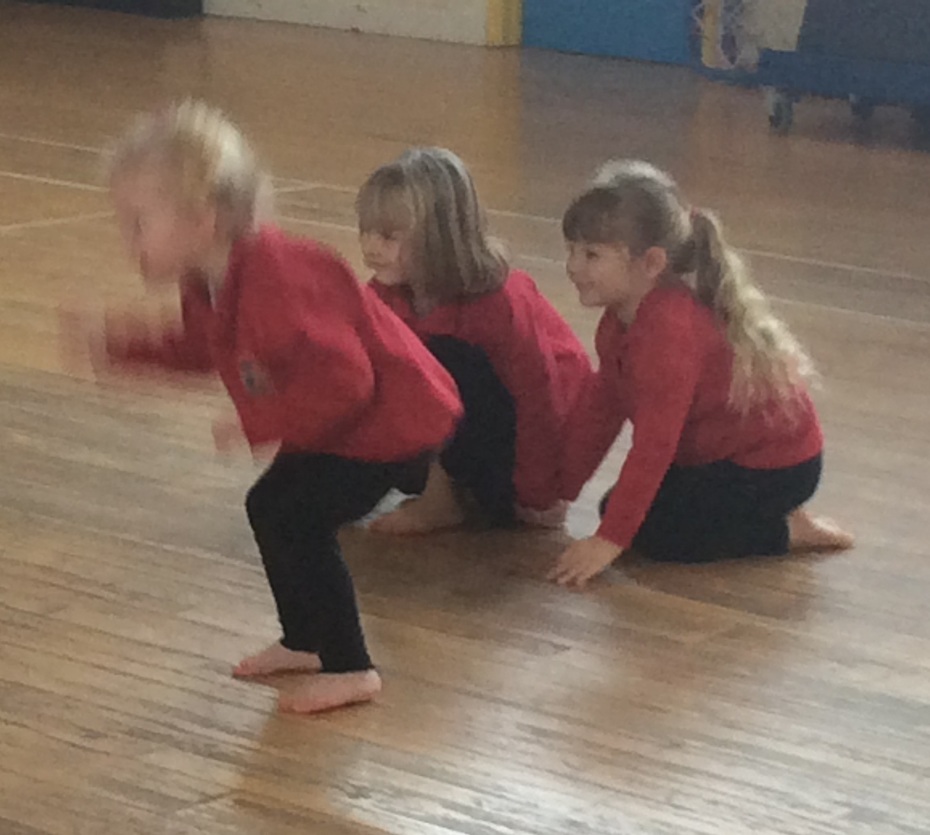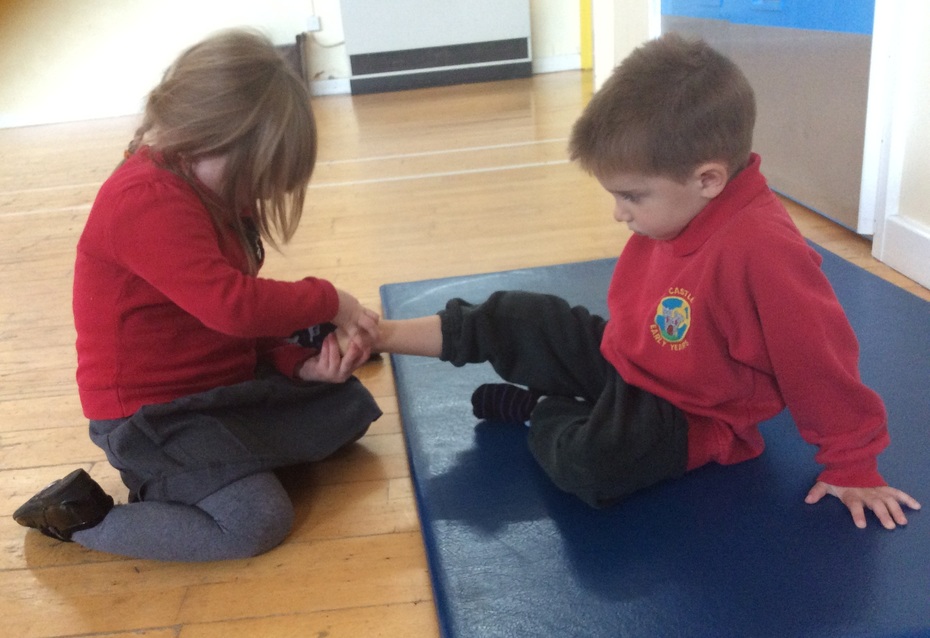 We have all been seeing fireworks around this week in the lead up to bonfire night so we combined some scissor skills with our numeracy. We created and counted how many fireworks we could send up into our paper sky! We used a little rhyme to help with our scissor grip – "two fingers at the bottom, one thumb at the top, open the mouth and go chop, chop, chop!" – and added lots of glitter to create a really spectacular show. We also used the straws tied in a bundle to stamp some colourful explosions across the page – of course adding some more glitter so the fireworks really sparkled!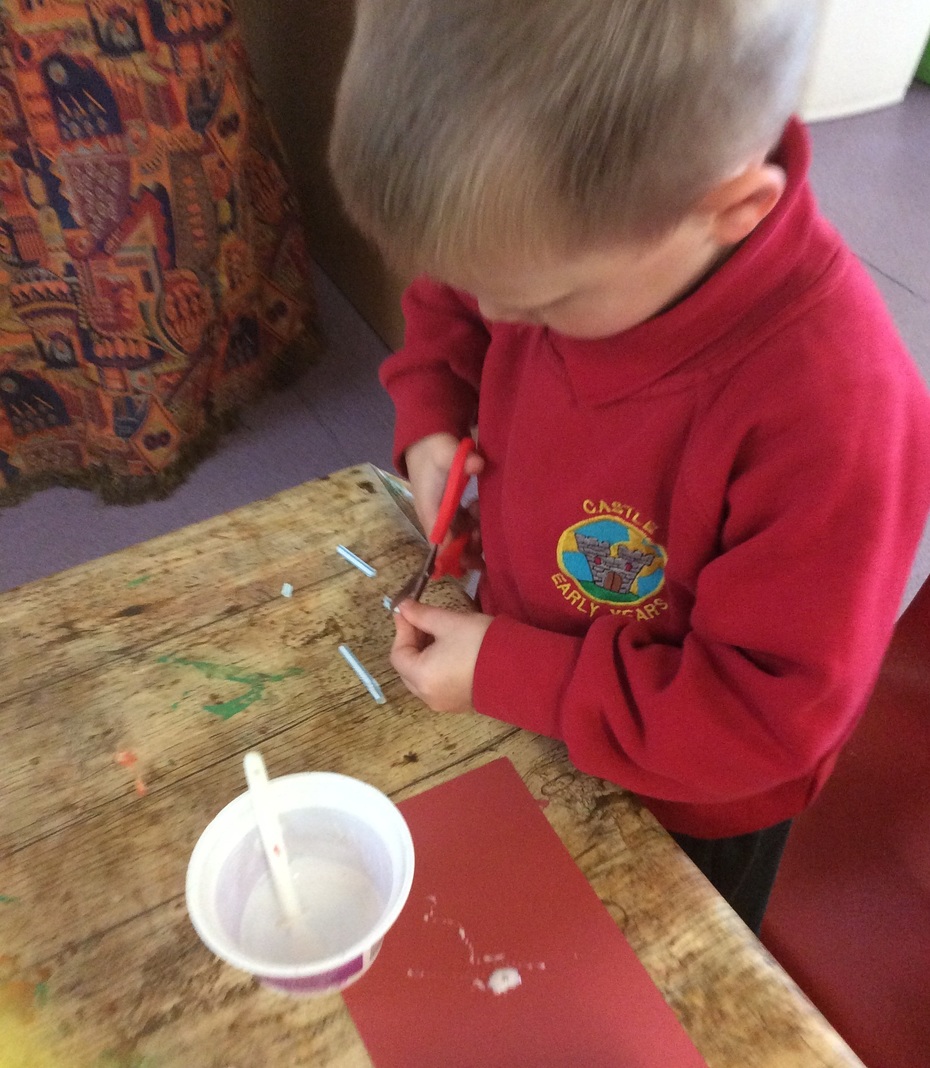 With Autumn slowly turning into Winter, we've noticed that the last of the leaves are slowly making their way down to the ground and had heaps of fun jumping into handmade piles and making it rain leaves. We didn't want to upset Mr Hamer (who'd spent a long time clearing our garden!) so made sure to sweep them back off our garden floor when we'd finished. We worked as a team to clear it as it was all our responsibility and afterwards it became an impromptu broomstick race just like in our book for PE!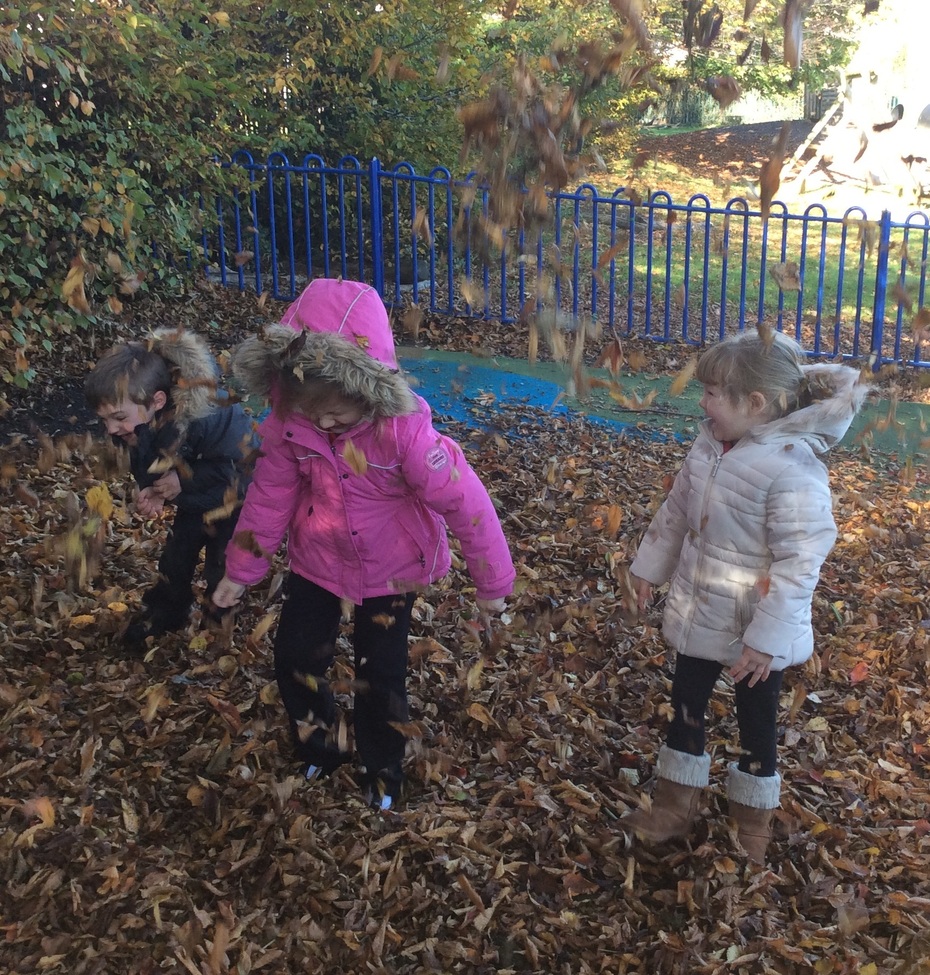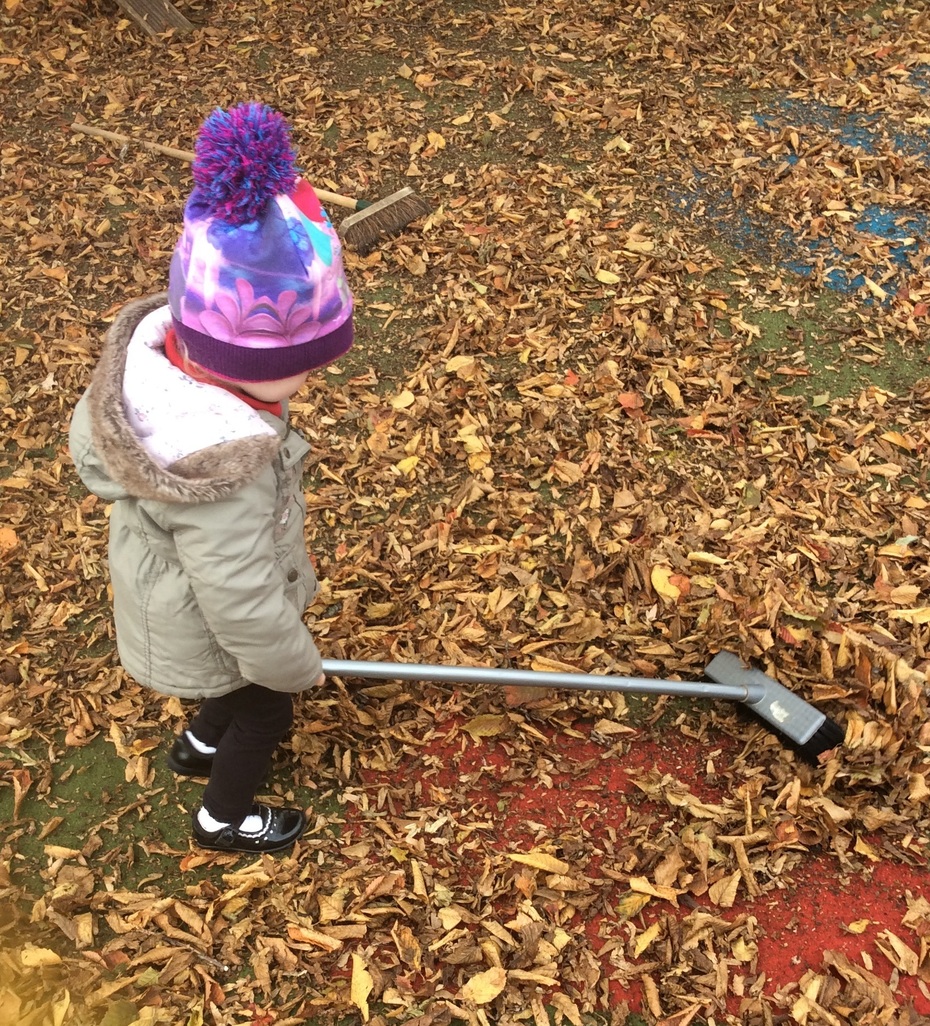 On Thursday with Mrs Gillard, we finished our work on the story of Goldilocks and the 3 Bears with a special snack of porridge – Mrs Gillard made sure it wasn't "too hot" or "too cold" and luckily, as with Baby Bear's, it was "just right". We kept an eye out for Goldilocks though in case she came to take a sneaky taste of our snack!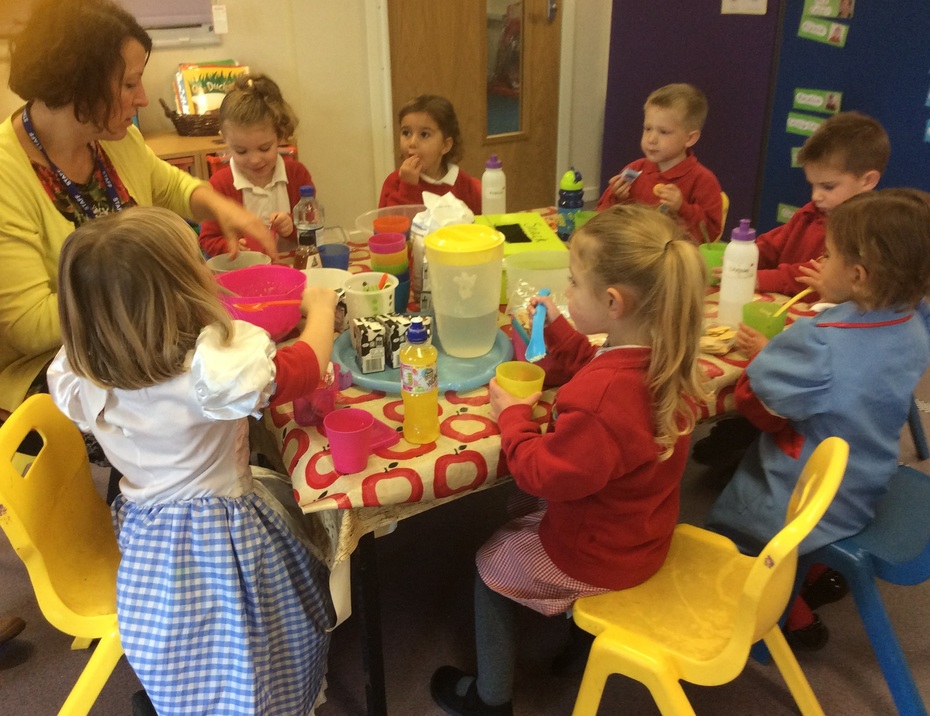 The 2s have been excited about the fireworks too. We've drizzled and dripped glue across black card and added glitter to makes some beautiful firework displays.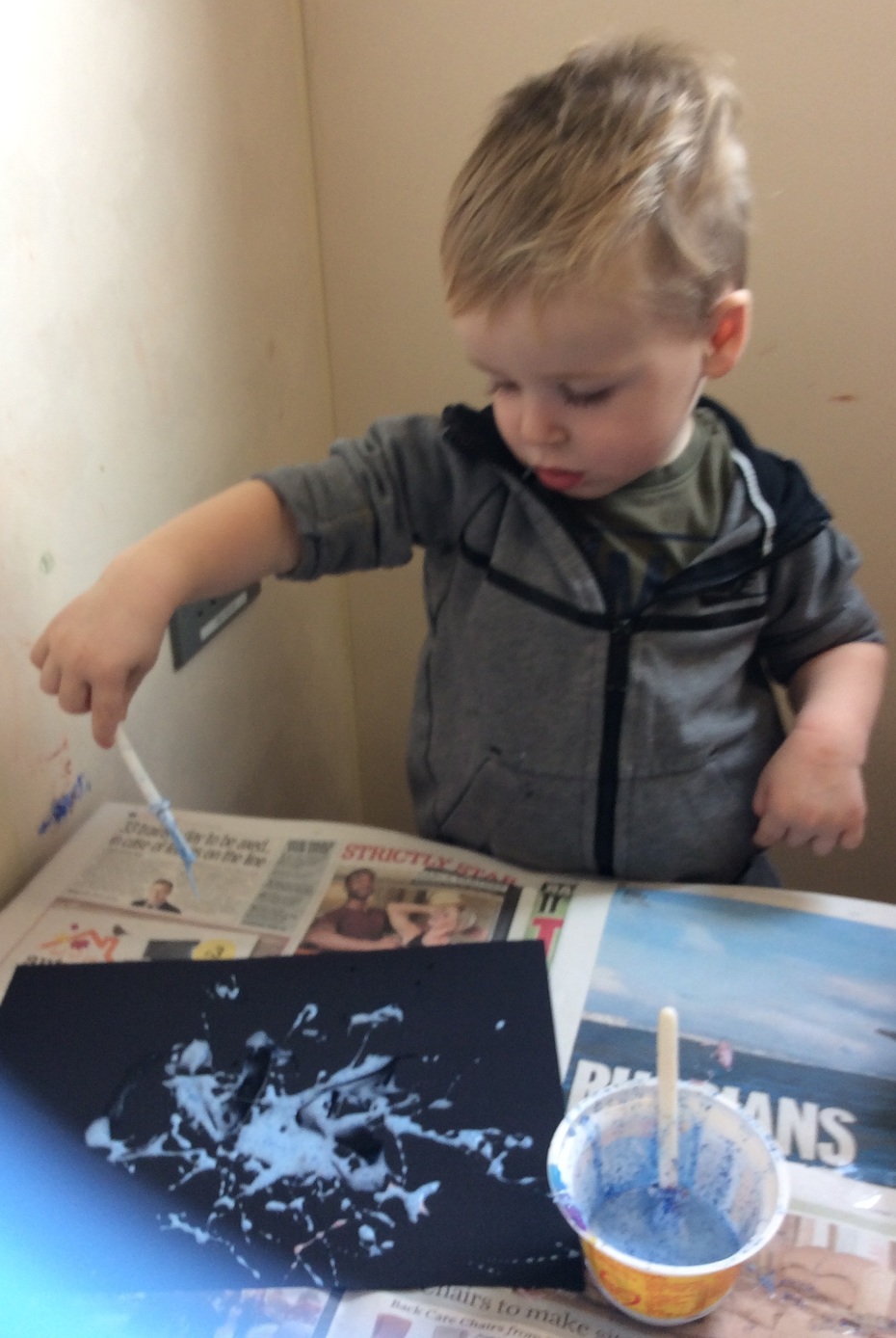 As well as creating fireworks on paper, we also became the fireworks this week. We listened to some classical music and accompanied it with the musical instruments so that we could all pretend to be fireworks; whizzing, twirling and dancing across the sky! We made our own light show as well in the sensory tent using the torches and disco balls, talking about what colours we could see on the walls.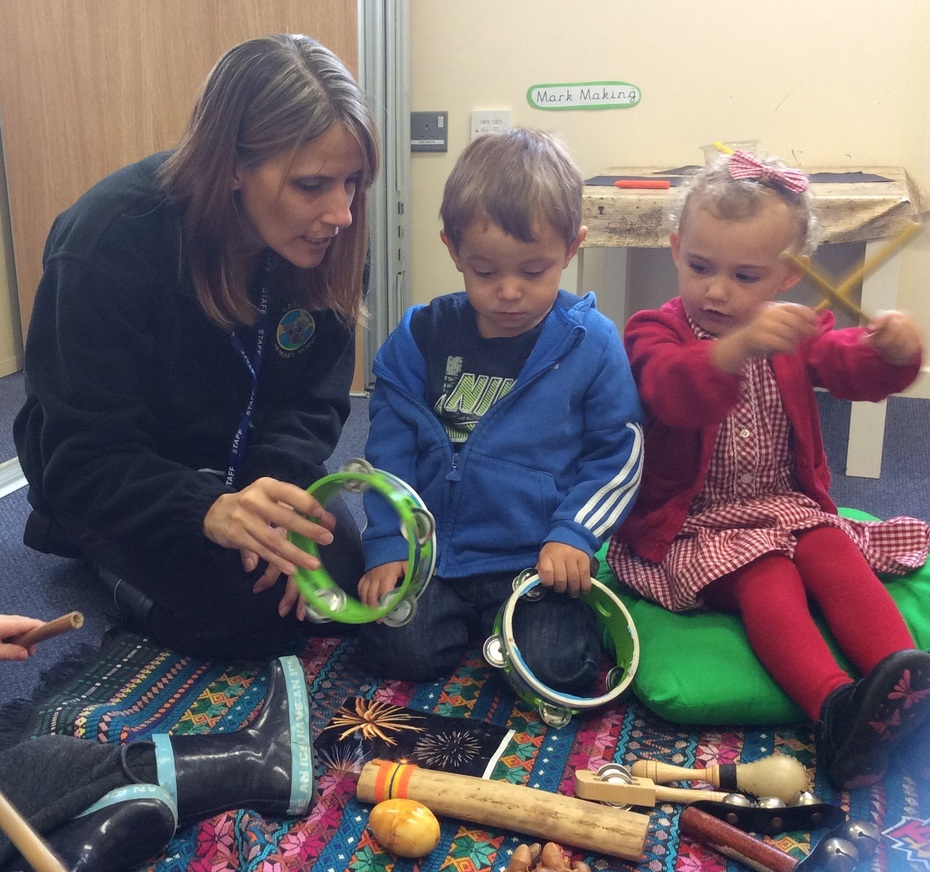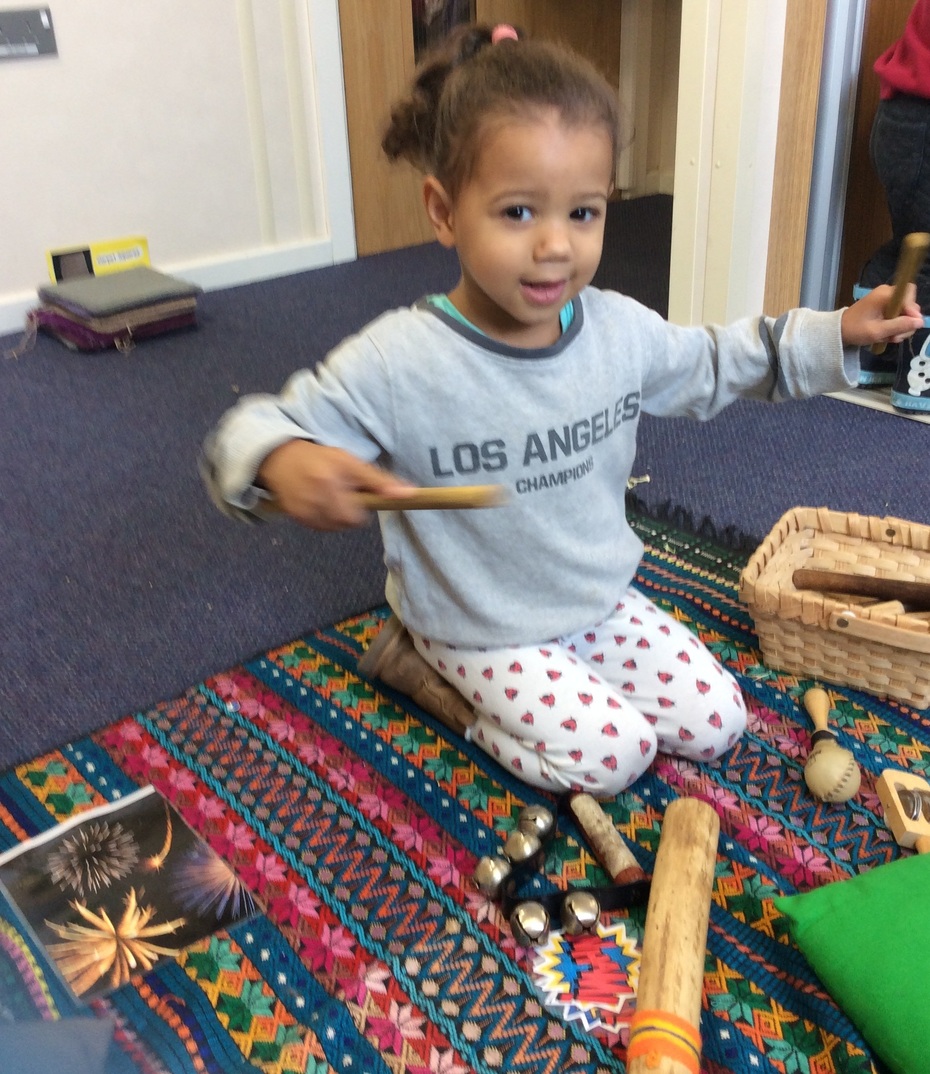 Please note; our weekly Field Fun will start again next Wednesday, 8 November. Thank you.
Term 1
Week 6
We have been robots, pilots, ticket salesmen and even Father Christmas this week as we've engaged in some open ended play using tubes and boxes and just our imaginations!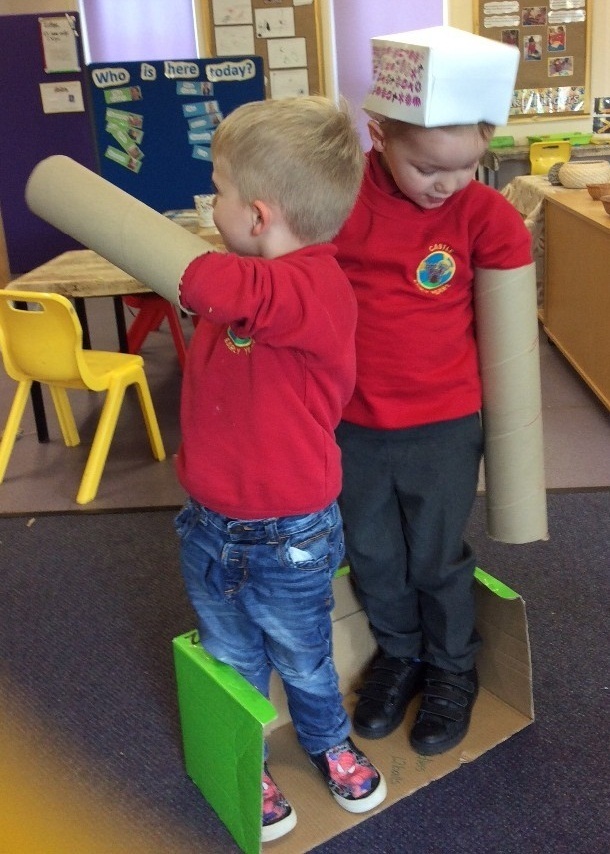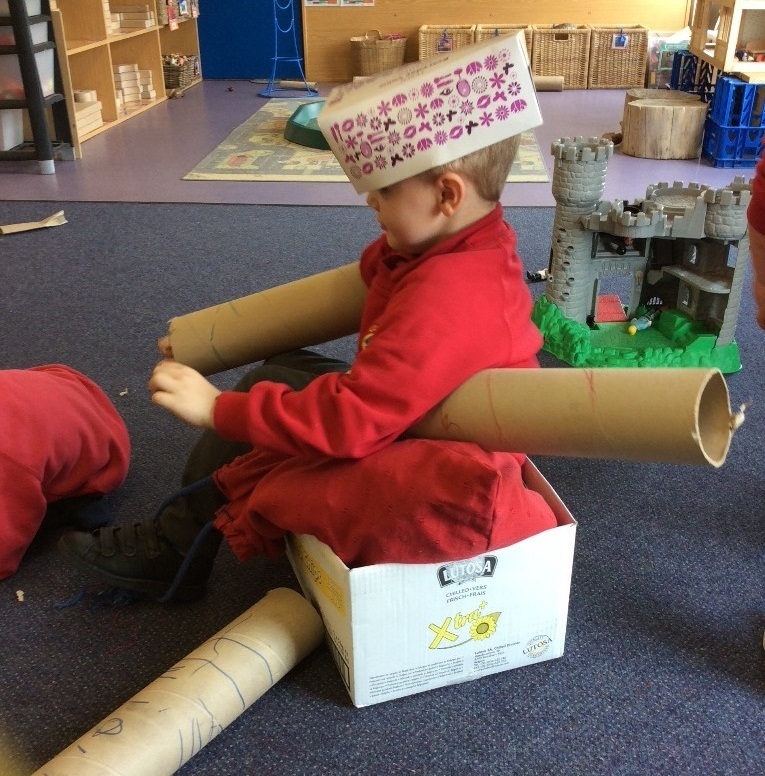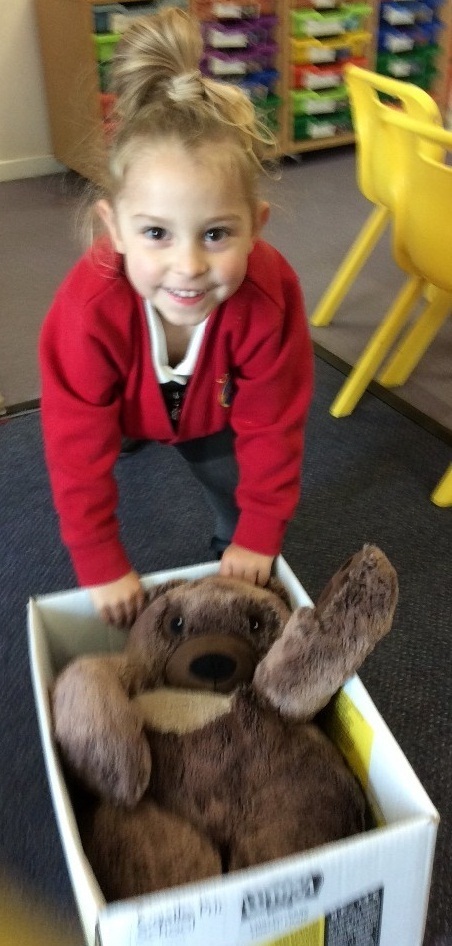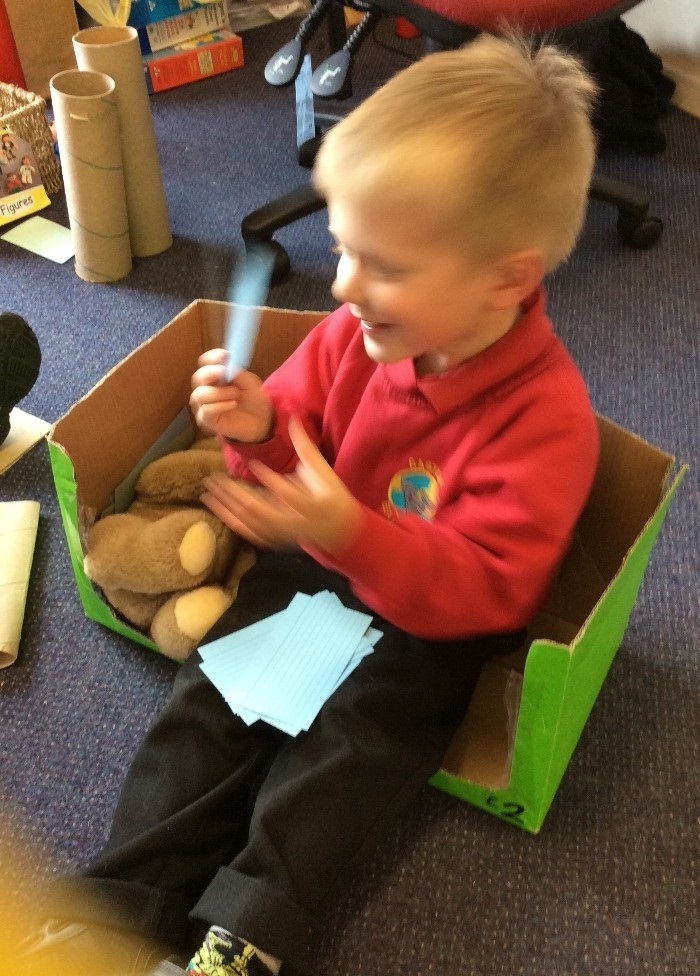 We went on a colour hunt mid-week on the field. We read the story Colours by Julia Donaldson and then, using a piece of coloured wool, searched around for something that matched. We found big red leaves, tiny yellow leaves, green grass, brown oozy mud and a white feather!
We've looked at colour inside as well, combining it with our maths knowledge in order to make different sized towers with the Duplo. We made tall towers, small towers and counted the blocks in order to check we had matched the building plans!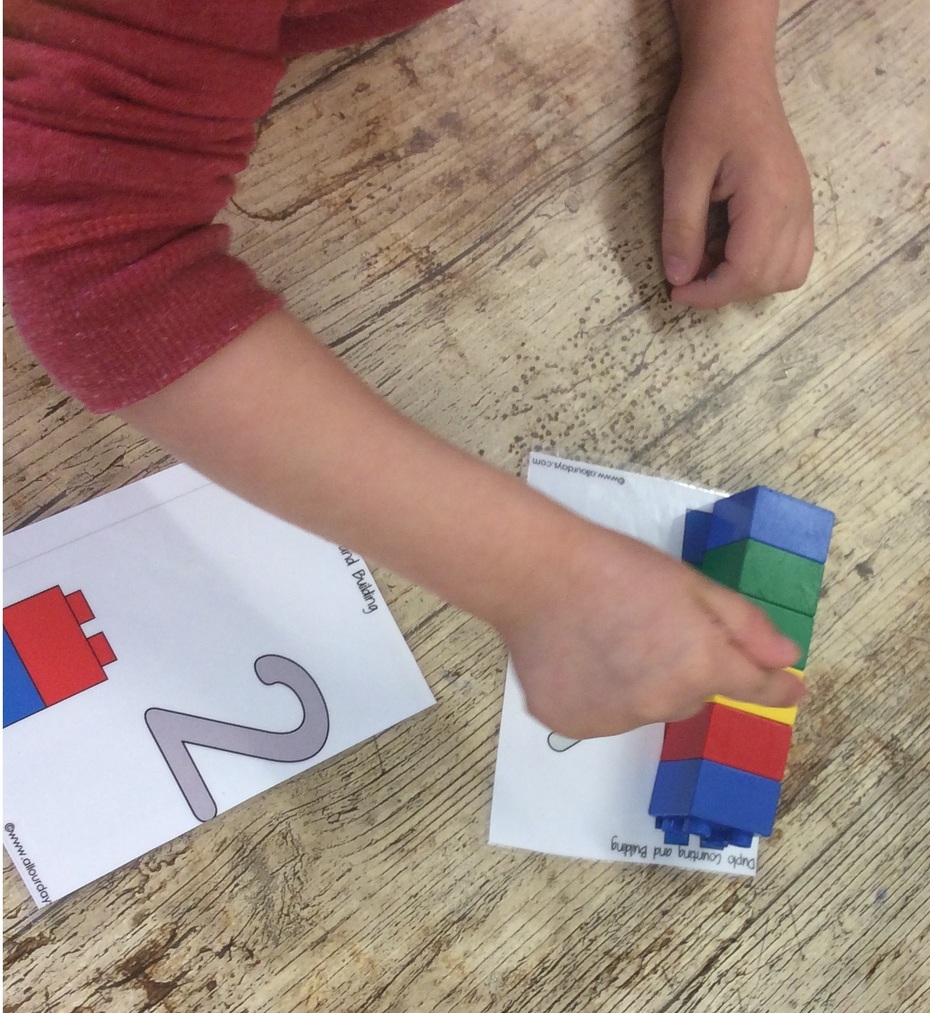 One of our favourite activities in Kendal is the marble run, so we took that idea, adapted it as the toddlers did last week and made a giant conker run! We used the conkers we scavenged from the field and some different sized cardboard tubes to roll them down. We also realised we could use it for the transport too and had a few races!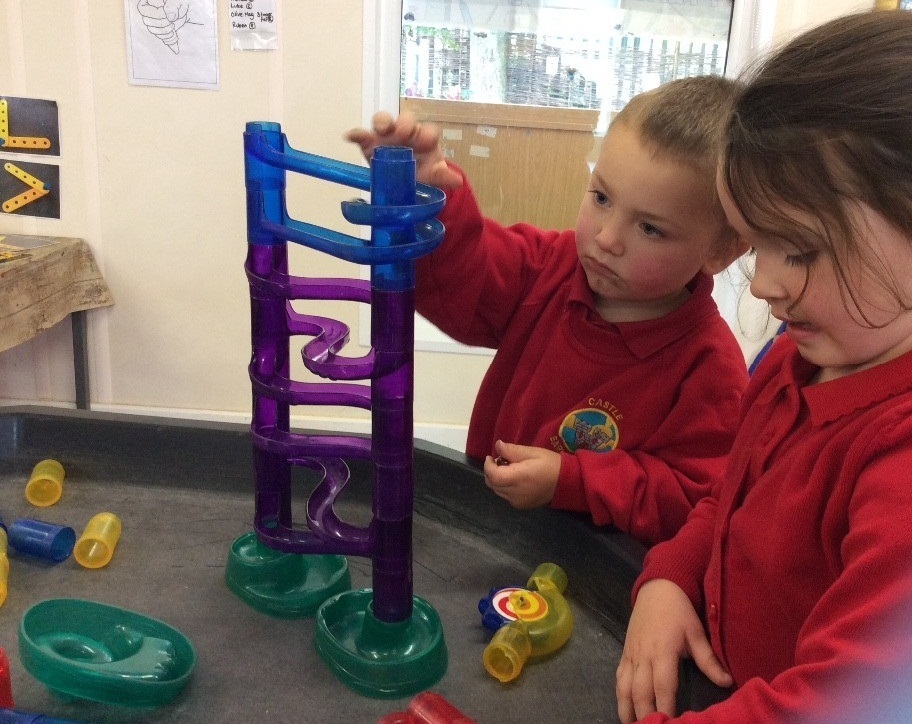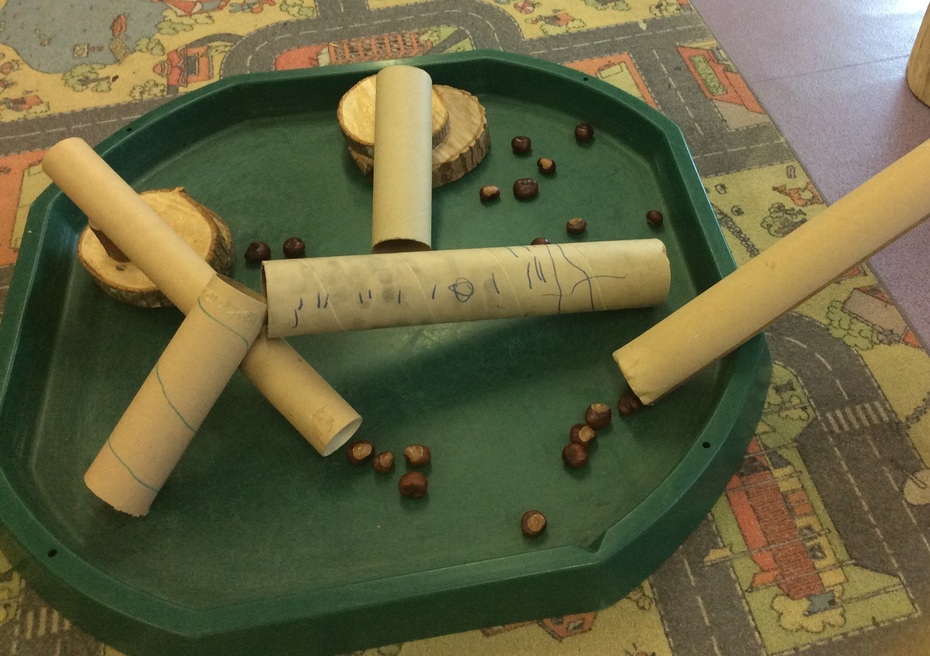 We used the conkers afterwards for a spot of painting, making paint trails by tilting the conker in different directions across our paper. We used the rest to engage in a spot of measuring and pouring; experimenting with capacity by talking about full and empty, and comparing quantities.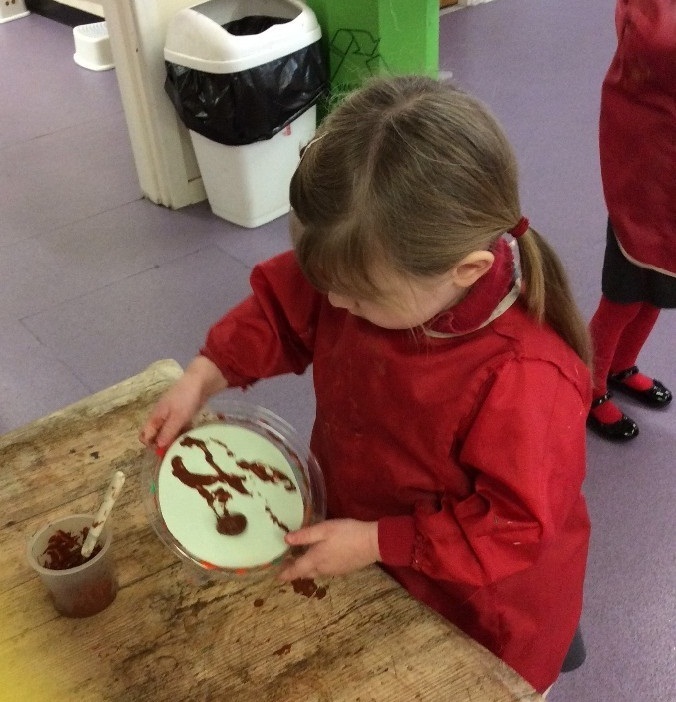 In Toddlers we've also been looking at capacity; pouring and filling with water and using various containers to experiment.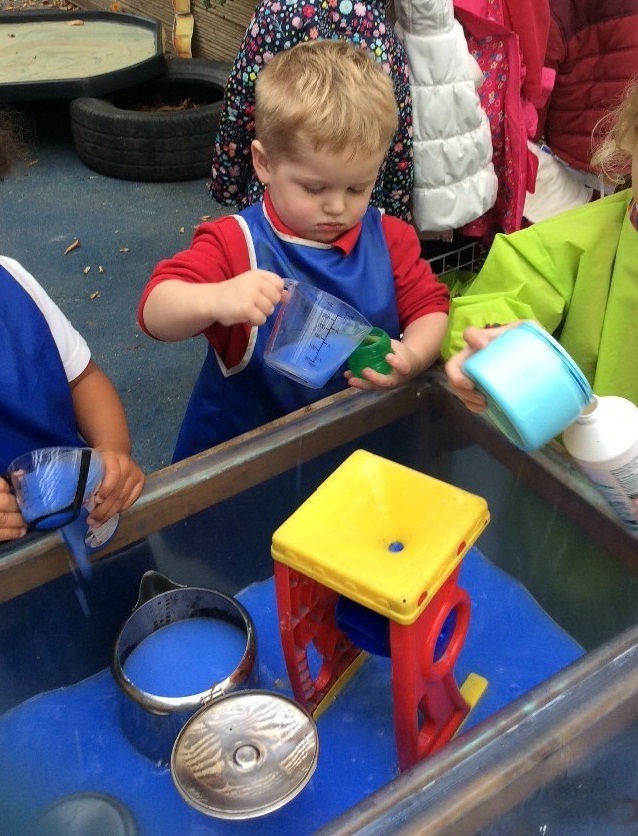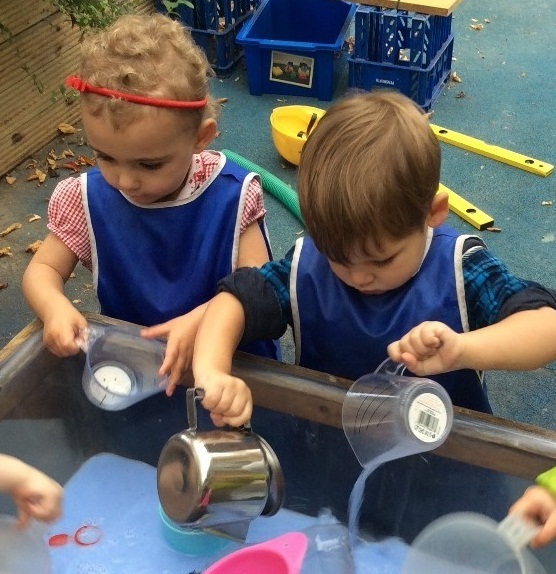 In an exchange of activities with our preschool friends who borrowed our conker run idea, we thought we'd have a go at some leaf art too and swapped some resources. We gathered up some extra leaves on an expedition to the field and set about decorating and creating.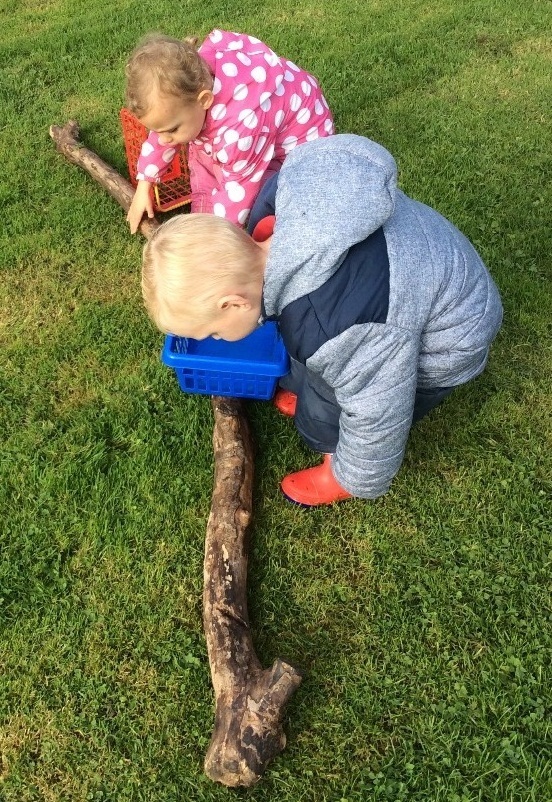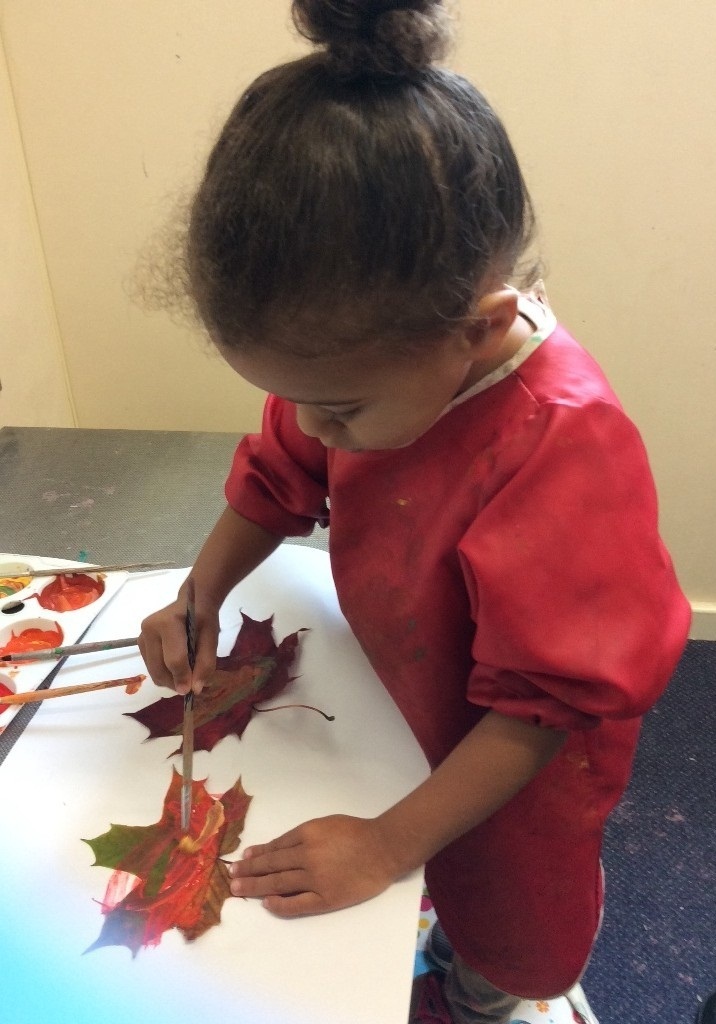 We rounded off our week of collaboration by coming together for a special group time with the preschool.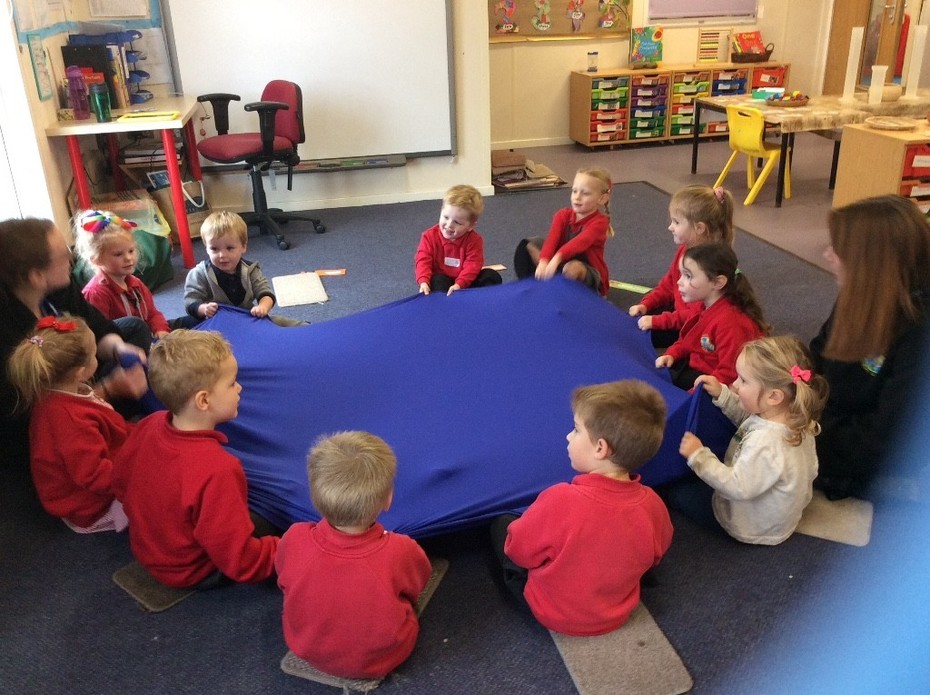 Congratulations this week go to someone who has shown himself to be very resilient and independent. Well done!
Please note, that for the final week of term, there is no Wednesday Woodland Wander on 18 October so waterproofs and wellies will not be needed; please come in normal attire. Thank you!


Week 5
What a perfect week of Autumn weather we've had! The sun's been shining, the leaves are crispy, the grass is dewy and we've been wrapping up warm to explore it all.

We've been the Kings and Queens of Autumn, parading around the field in our autumnal crowns. We foraged for Autumn leaves and tiny conkers to create our marvelous headpieces and had a great time living up to our royal roles on the Castle apparatus, climbing to the top and sliding back down after surveying our kingdom.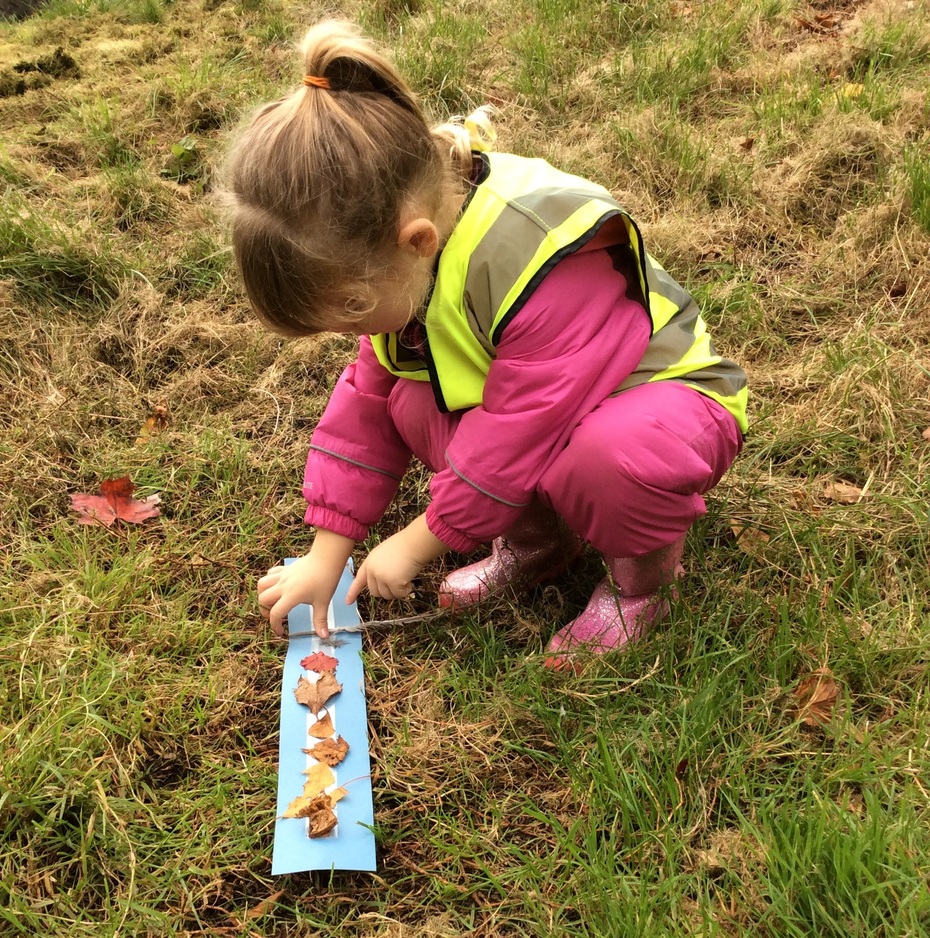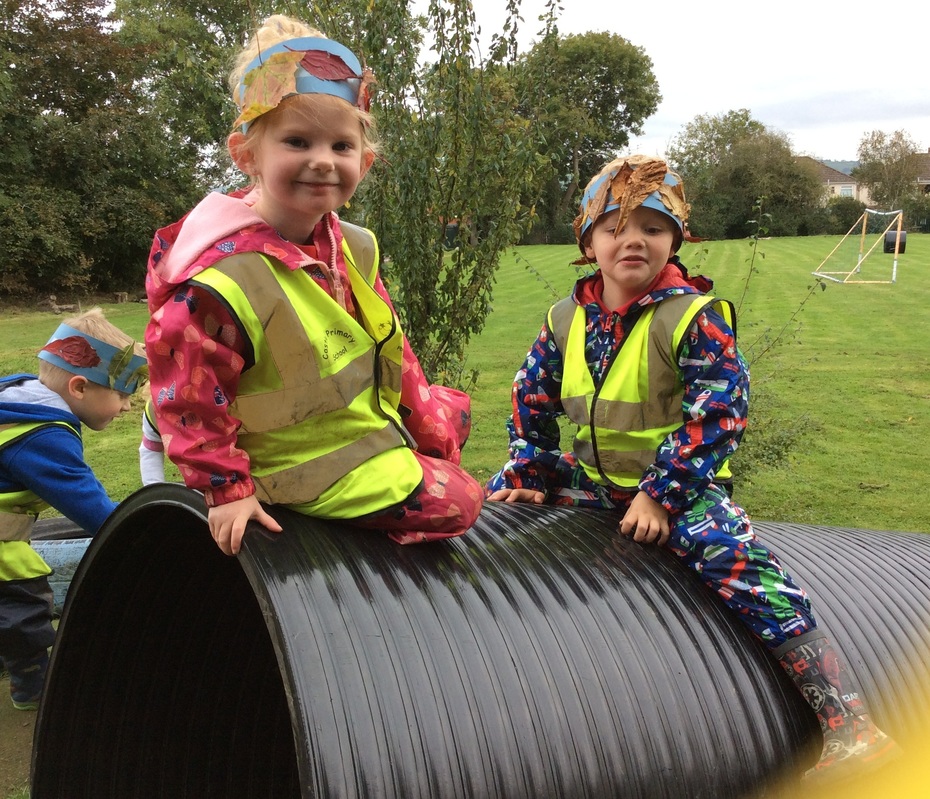 We took some leaves back to Kendal with us and have been creating some stunning leaf prints in those well-known autumn colours. We carefully painted one side then pressed them down onto our paper to create some natural patterns. The results were 'tree-mendous'! As well as our art work, we've been using our autumnal resources to help solidify our counting and mathematical vocabulary too. We've been looking at how many items we have; counting and using words like more, less and lots to describe our hauls!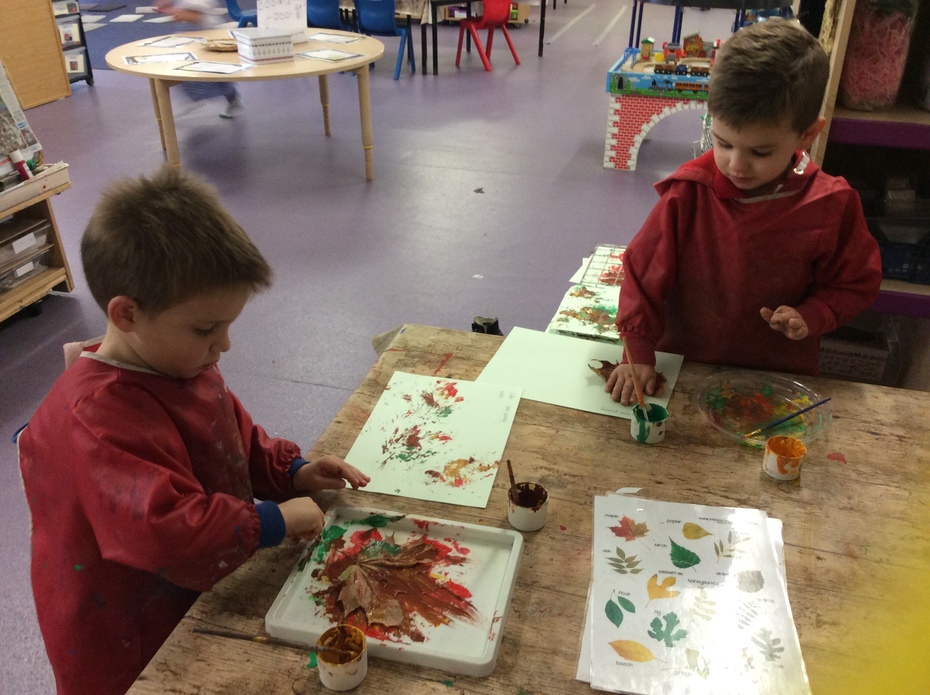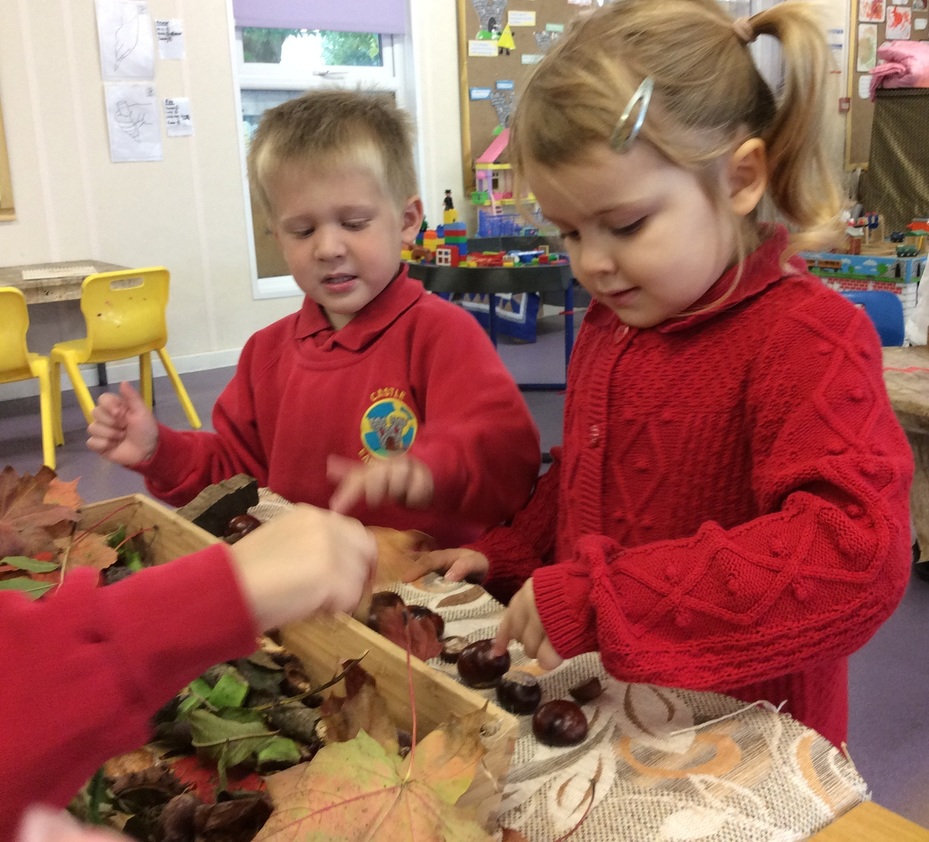 Alongside our autumn palette, we've been looking at the whole rainbow of colours too. We've been using the coloured pegs to challenge our finger muscles and recreate colourful patterns. We've also been using the coloured teddy bears to replicate the peg patterns and create our own.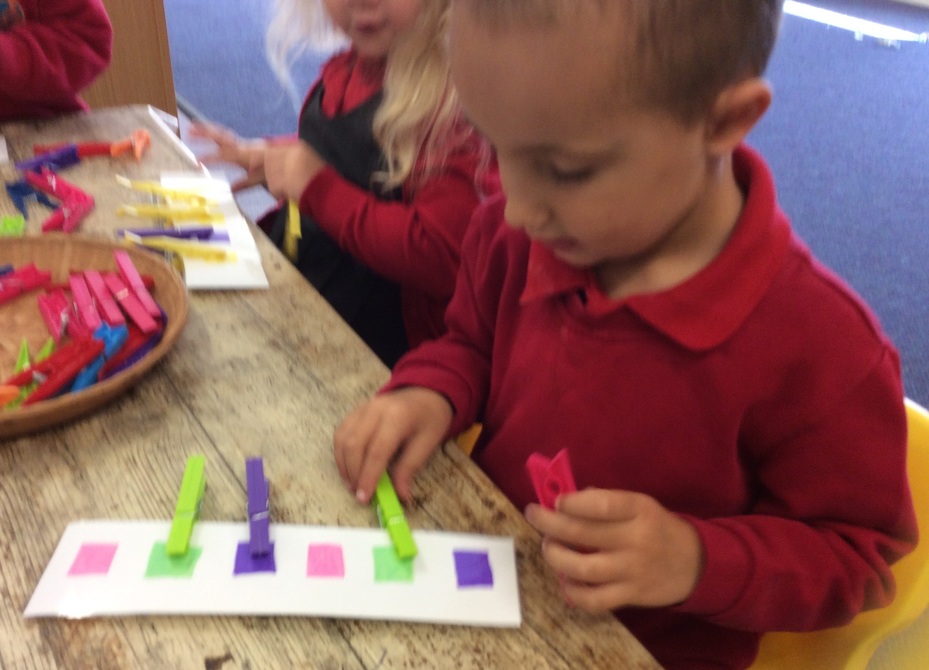 Outside in the Kendal garden we've been looking at spatial awareness and direction. We've used the scooters and tricycles on our track and have been trying really hard to call to each other about which direction we're heading in, and alerting any pedestrians that may stray into our path. We've been making sure to steer away from obstacles and to slow down when nearing other 'drivers'.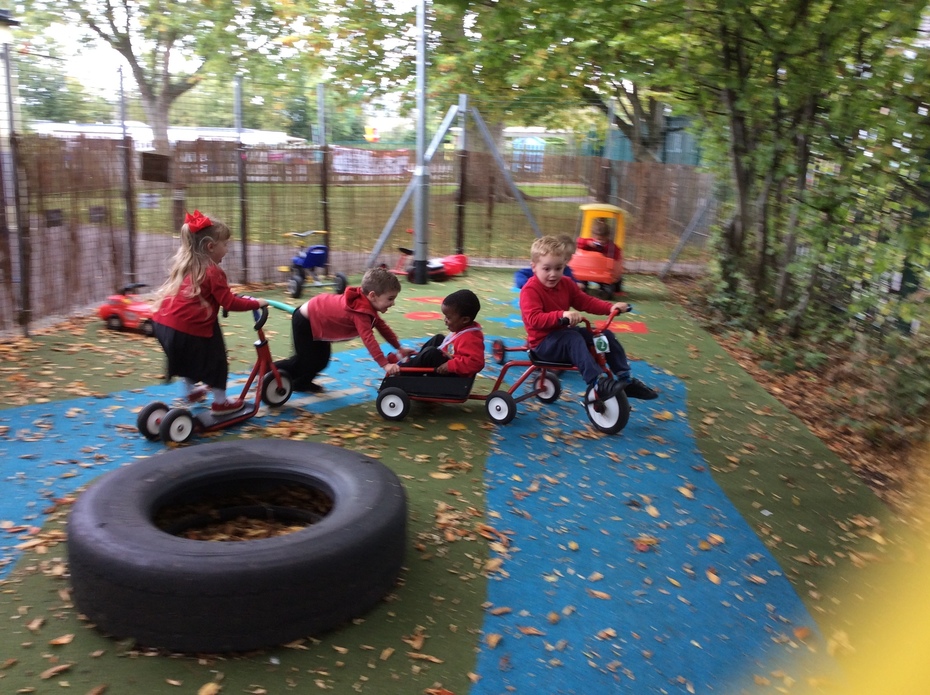 In the Twos' Room we've also been going bonkers about conkers; sorting and counting them, using them in our 'cooking' role play, as nature's marbles in a cardboard tube run, and as part of our small world exploration.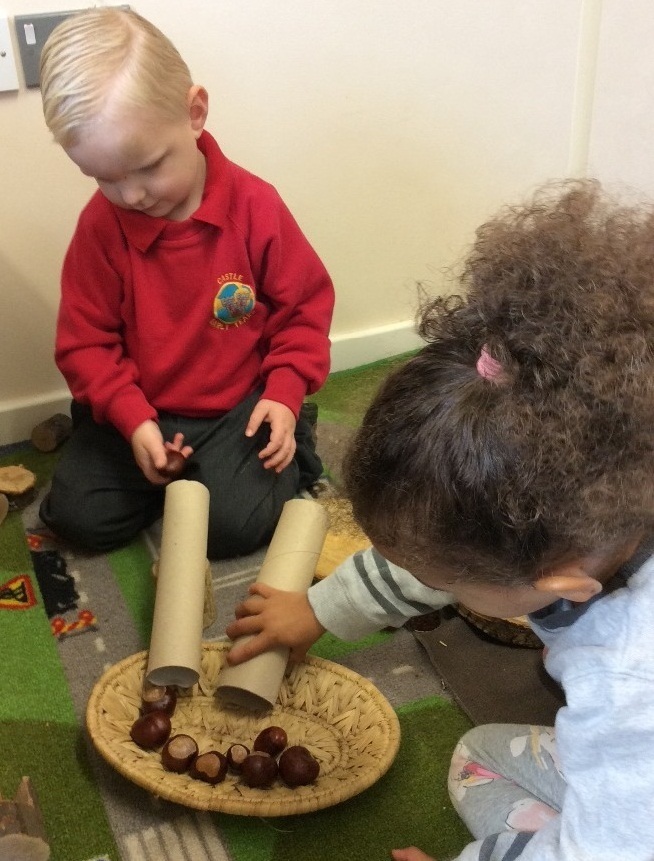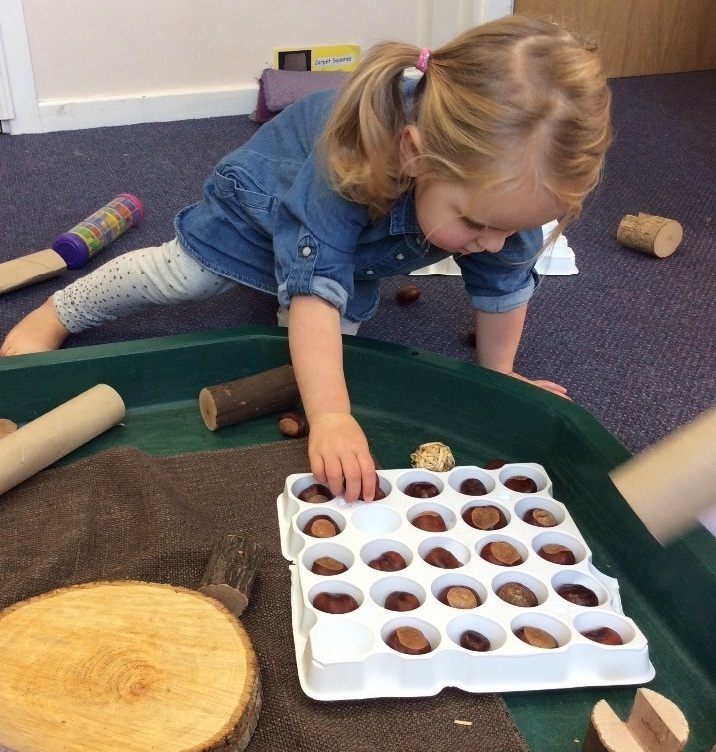 We went on a nature ramble as well around the field to see what other autumn objects we could find. Before we left Nursery we counted to see if we had everyone and we talked about how to stay safe outside such as holding hands with our buddy and coming back to a grown up straight away if they called us. We all took a basket to put or treasures in and ended up with quite the collection of leaves, conkers, feathers and twigs.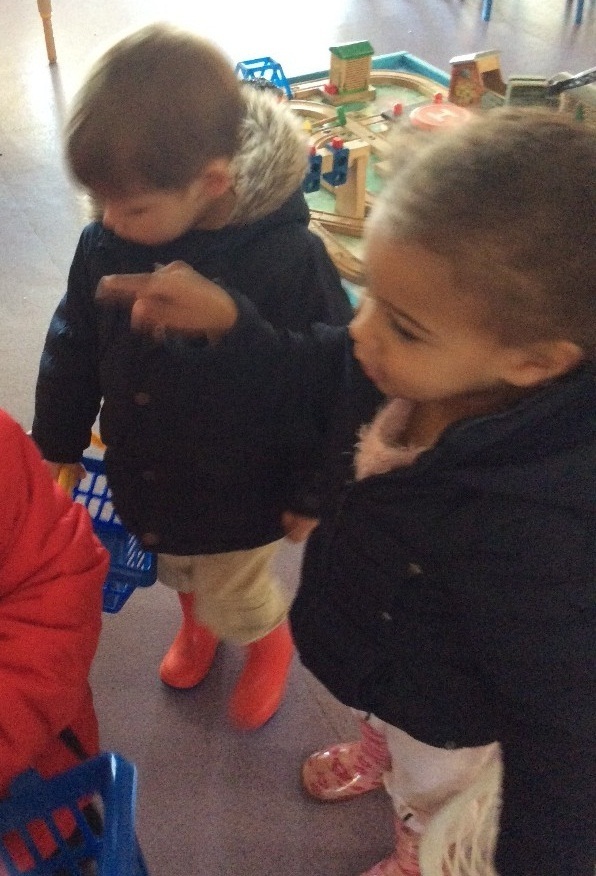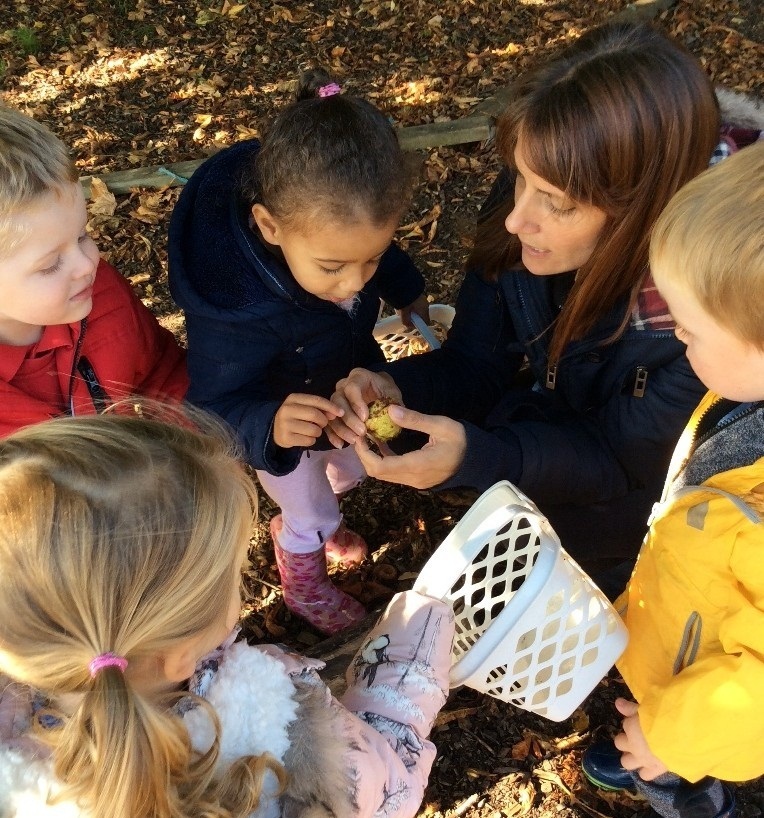 Special mentions this week go to two little people - one for showing great resilience all week and another for being very respectful to both adults and peers. Well done!
Week 4
As we officially transition into Autumn, children in Kendal have marked the occasion with a range of different activities. We've taken an Autumn stroll around the field, looking for the different signs of the season, such as the changing colour of the leaves, the disappearance of the flowers and vegetables in the allotment and the appearance of shiny round conkers falling out of the trees from their spiky shells.

With the leaves changing colour outside, we wanted to see if we could do the same inside with our paint collection. We've been experimenting with various different paints, light and dark, to see what changes occur and what we can make. So far we've discovered a way to make purple, orange and green using only two colours!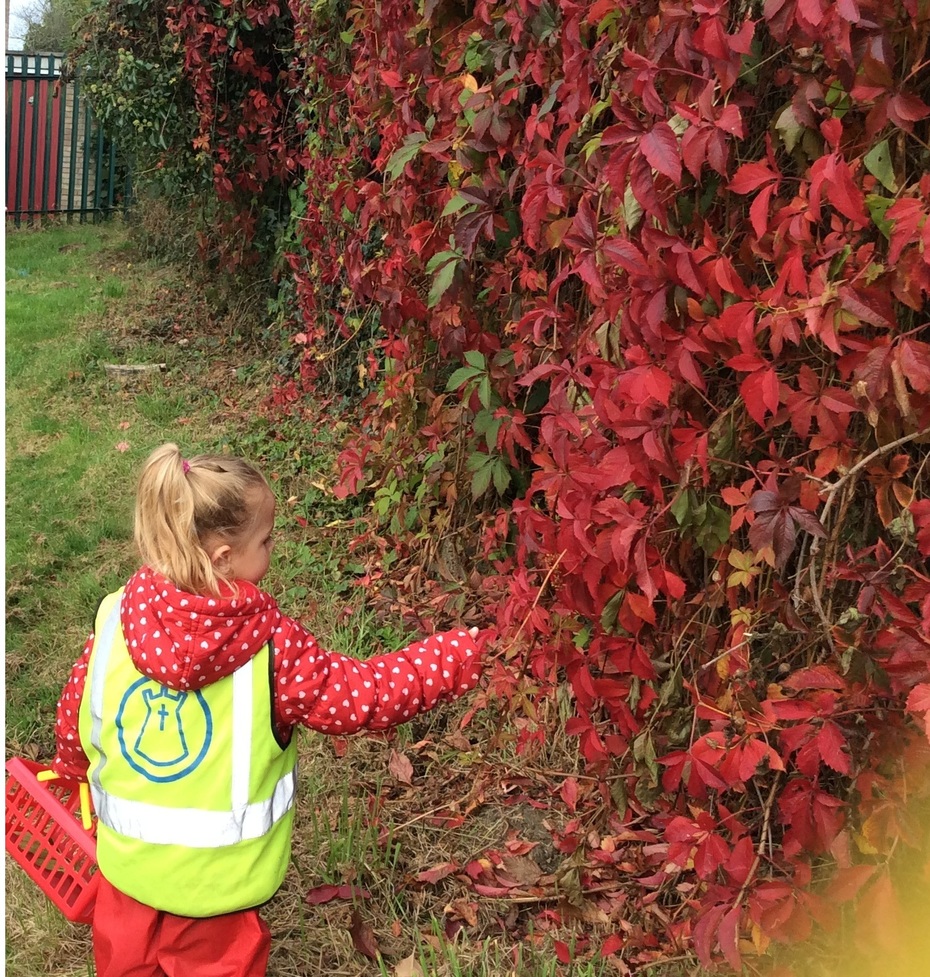 As well as changes in colours and the weather, we've noticed that the beginning of Autumn is spider season, meaning our garden and shelter have become the setting for a bit of a spider party! We don't mind sharing though, we've been on the lookout for small spiders, big spiders, spiders building their webs and spiders who have moved on and left their beautiful webs behind.

We're learning that spiders are our friends – they get rid of the germy flies for us - so we've tried to be kind and helpful too by carefully rescuing and redirecting any spiders who get a bit lost and find their way inside. (Mrs Exton has had to put on a very brave face for the latter activity!)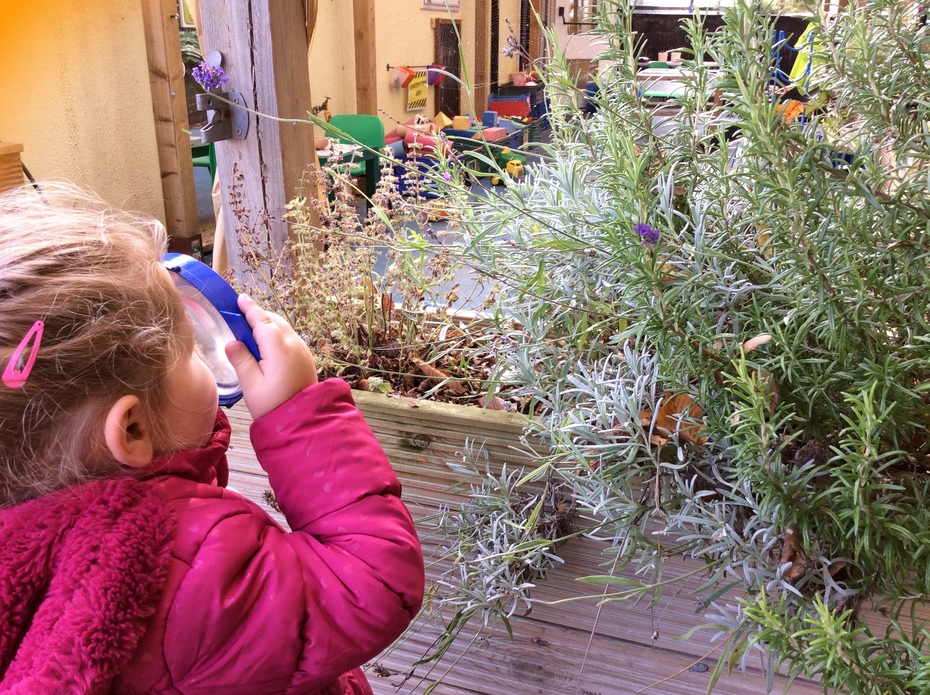 With the story of the Owl Babies being our focus this term, we've been creating story maps to show our understanding of the tale and retelling it to our peers in a variety of ways; through props in the book corner to puppets in the playdough.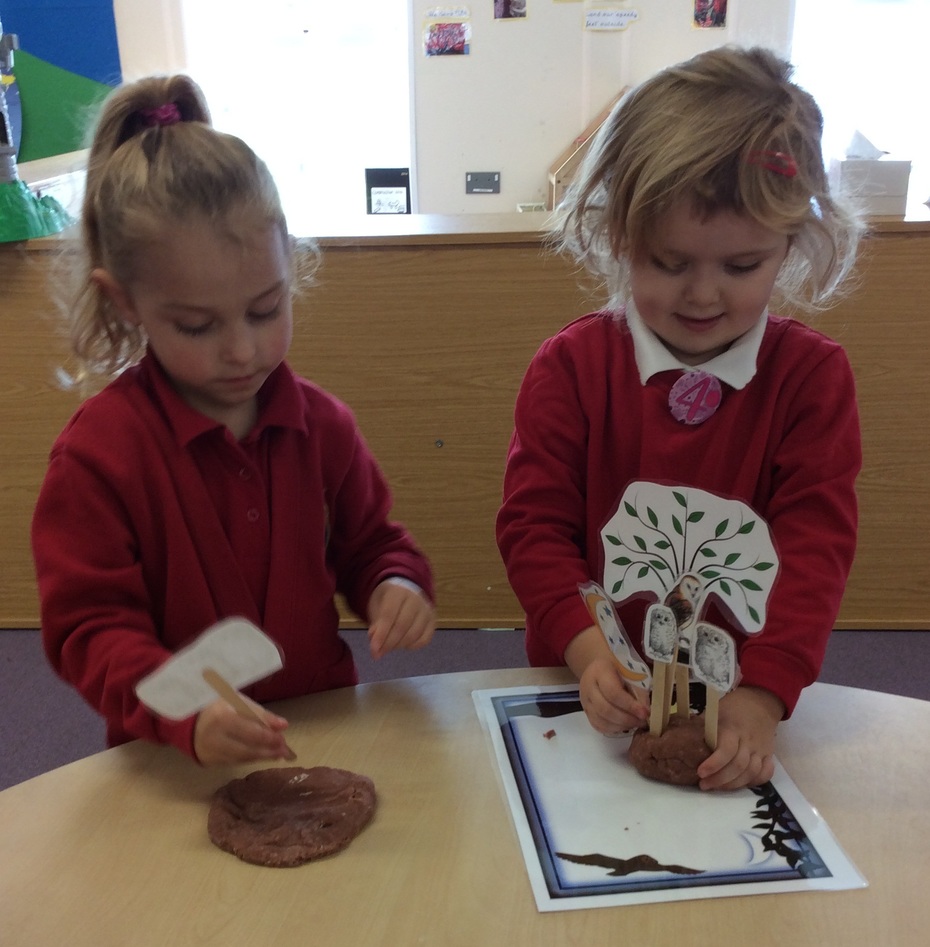 We've been combining some of our interests in transport with our markmaking this week. We've attached pens to different vehicles and driven them across and around big pieces of paper to make a felt tip traffic jam!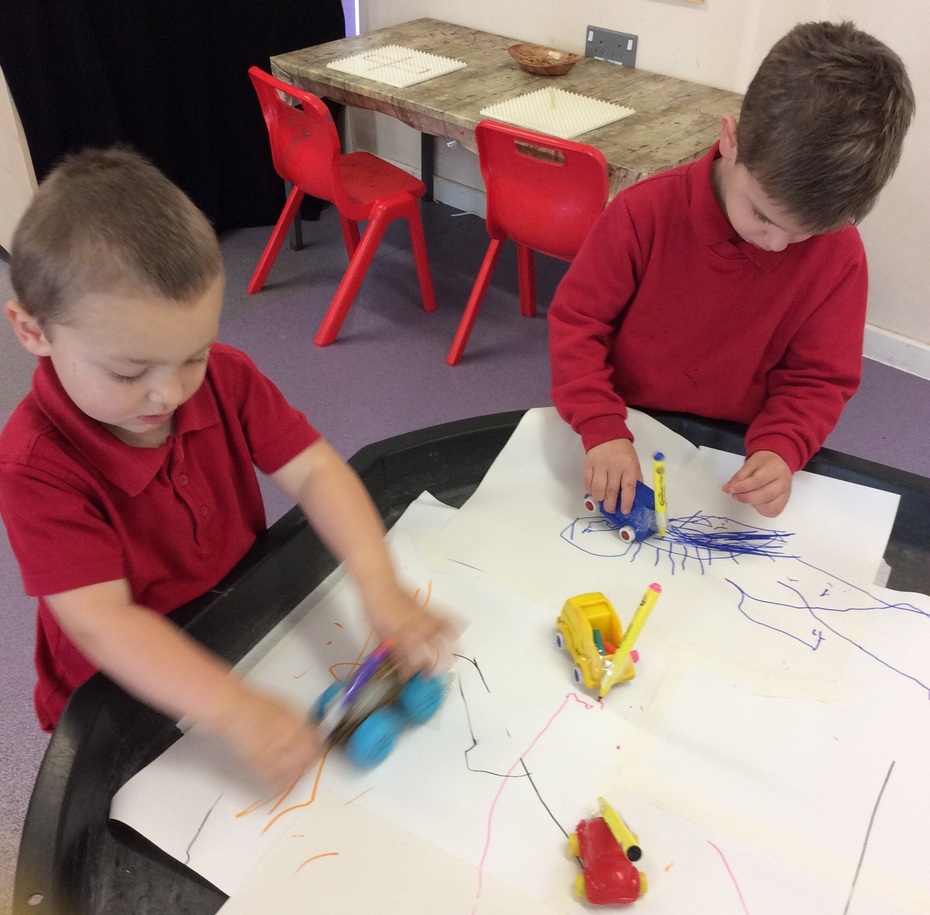 In the Twos' Room we've been taking in the seasonal changes too, going on mini-beast hunts and also learning about how to be kind and gentle with our many-legged friends.

Just like our older peers we've also been looking at colour and similarly combining our own interest in transport to help us explore. We've used the paint to create fantastic patterns and collisions of colour, watching as the colours changed as they mixed.
Congratulations this week go to someone for whom the Responsibility and Independence shown in each session has really shone through and resulted in him being chosen as our Pupil of the Week. Well done!


Week 3
1…2…3... Hello! It's been a focus of all things mathematical this week; from counting songs with the stretchy cloth, to challenging ourselves over some pretty tricky puzzles, making patterns with objects of various sizes and shapes, and even helping Mrs Exton out of a maths muddle when all her pompoms went missing!
We used both natural and colourful resources to build towers and make patterns, using lots of mathematical language. We've made 'big' towers and 'long' ones. We've counted how many things we have used to create our patterns and have scrutinised our patterns with an aritists eye to decide if they needed 'more' of any colour.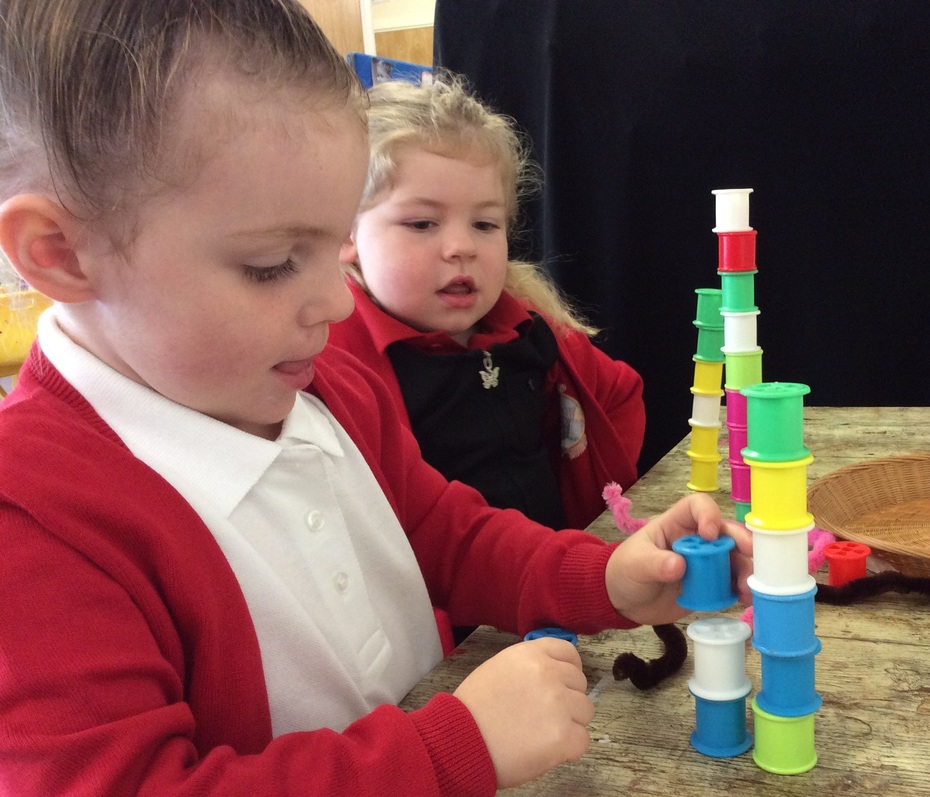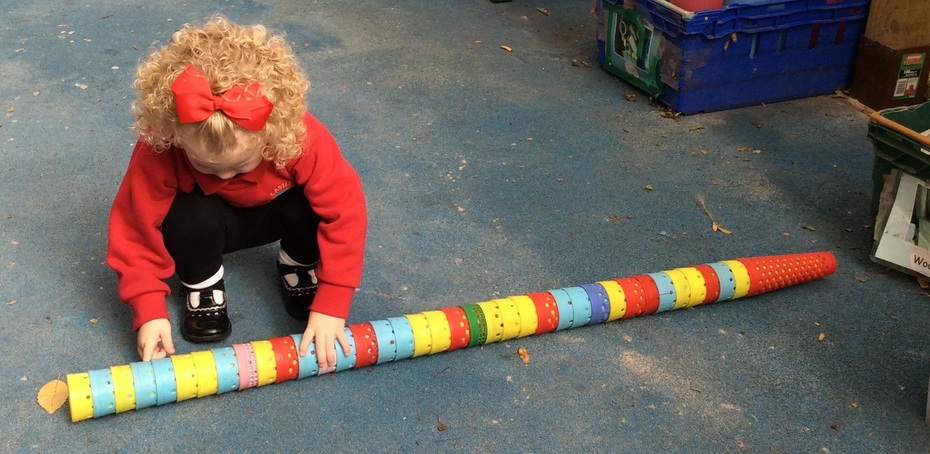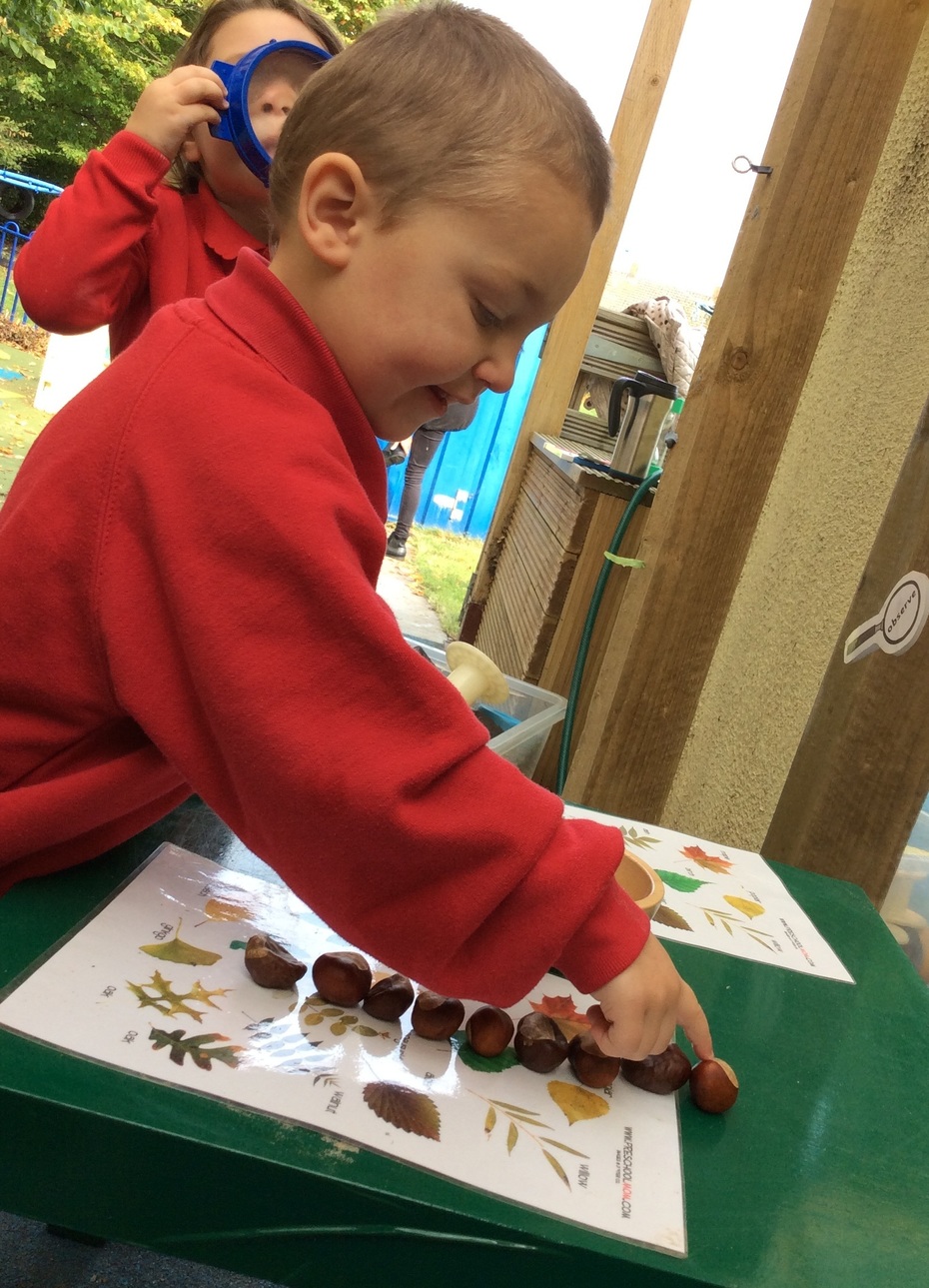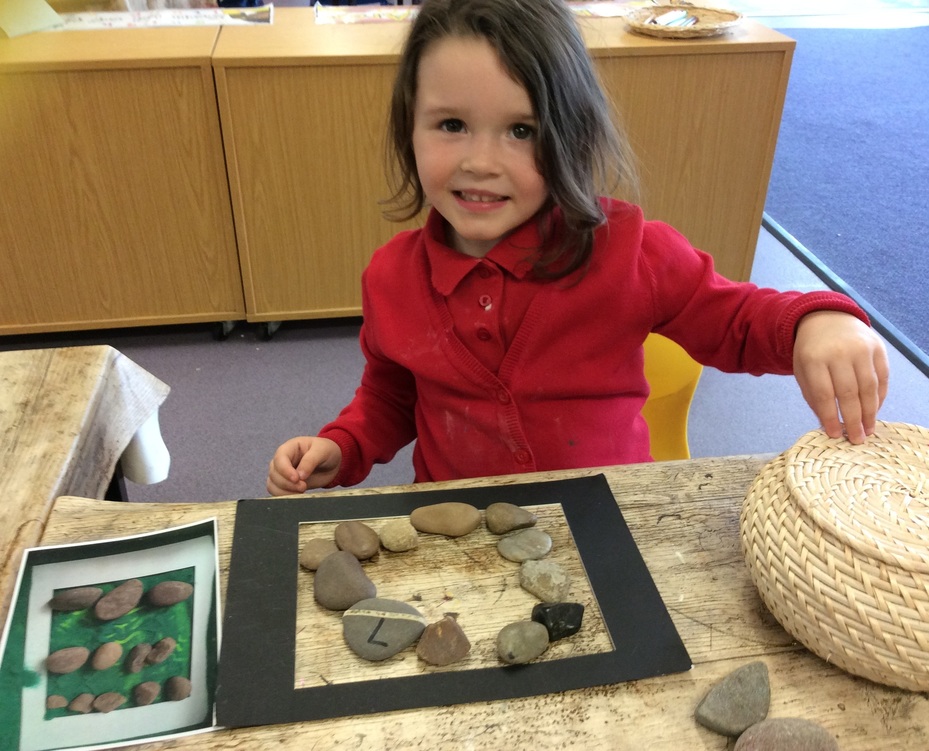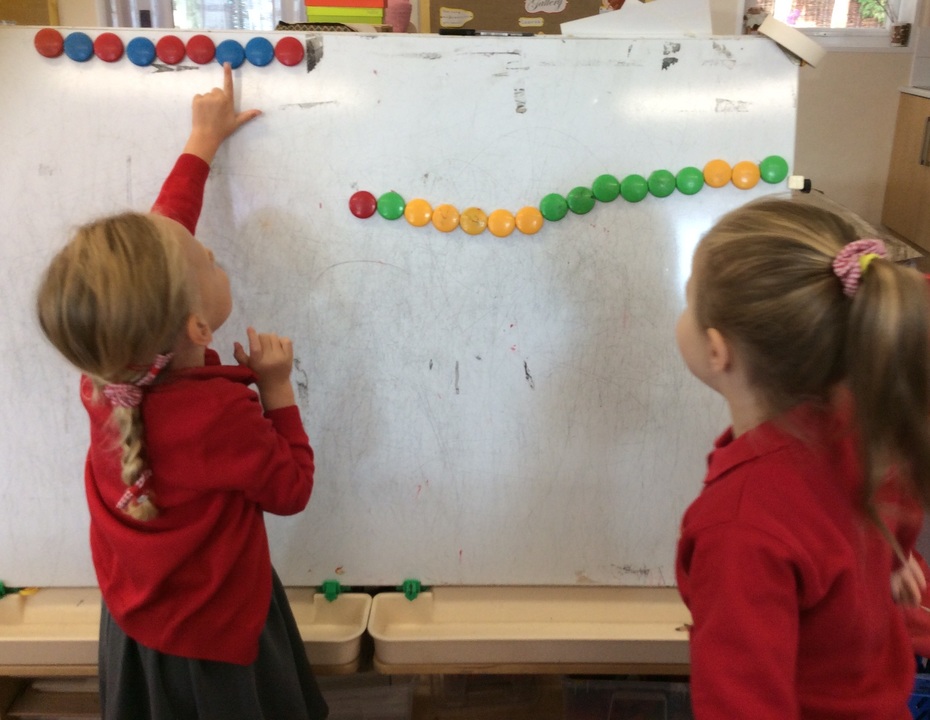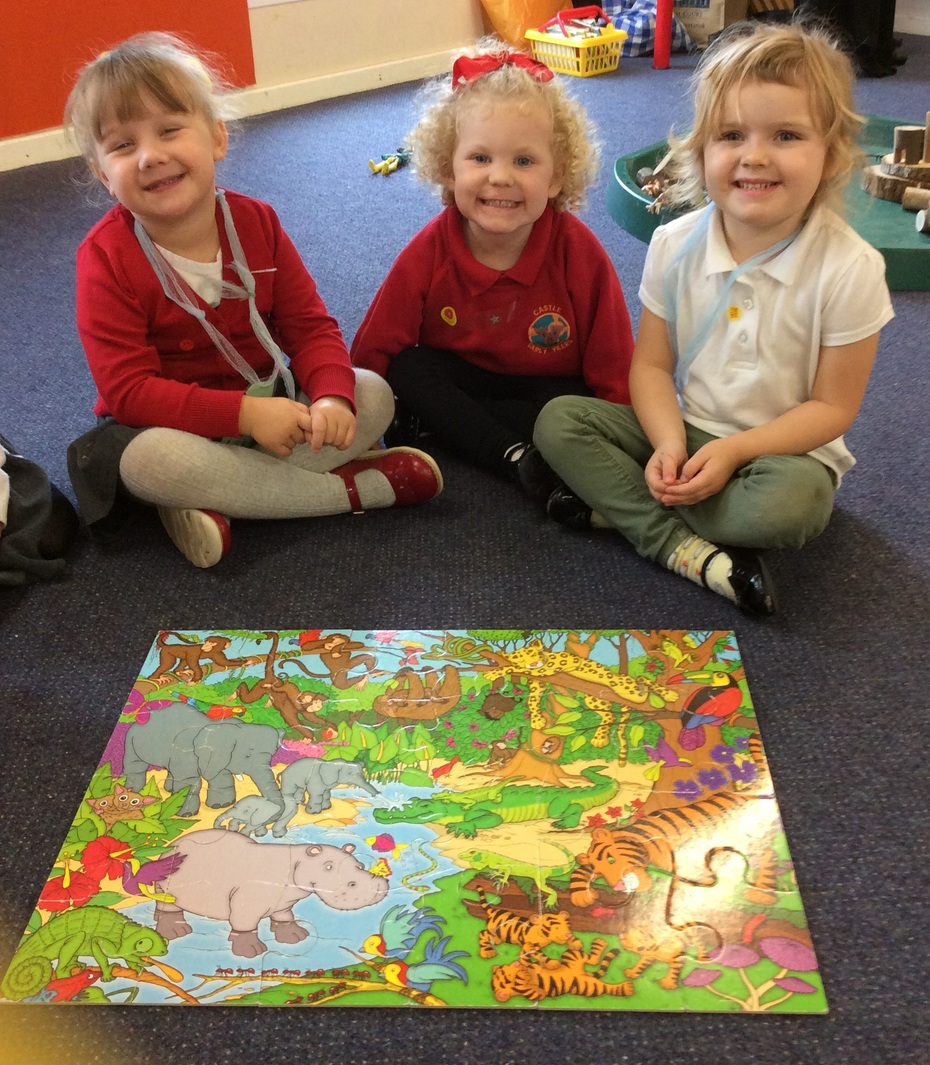 We've enjoyed Mrs Gillard's story sack of 'The 3 Bears', using our fingers to show our number knowledge whilst we counted how many things that cheeky miss, Goldilocks, ate, broke or borrowed - she certainly wasn't following our Kendal Golden Rules!

In other news, we started our PE sessions in the hall and had a really good boogie! We used our listening ears to follow the instructions in the songs and were really resilient when it came to taking our shoes and socks off and on again independently.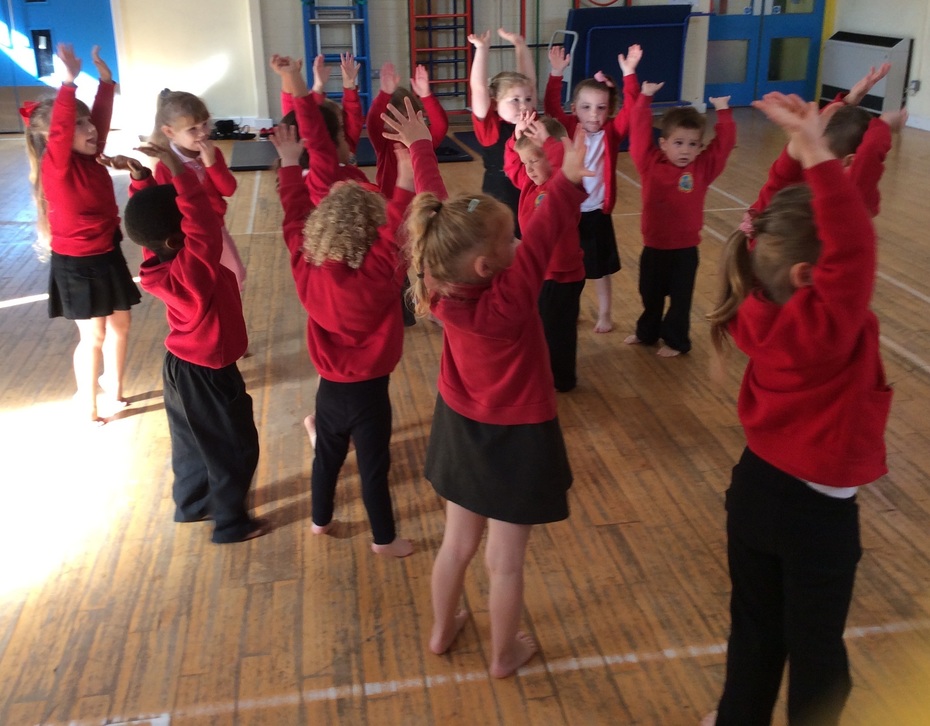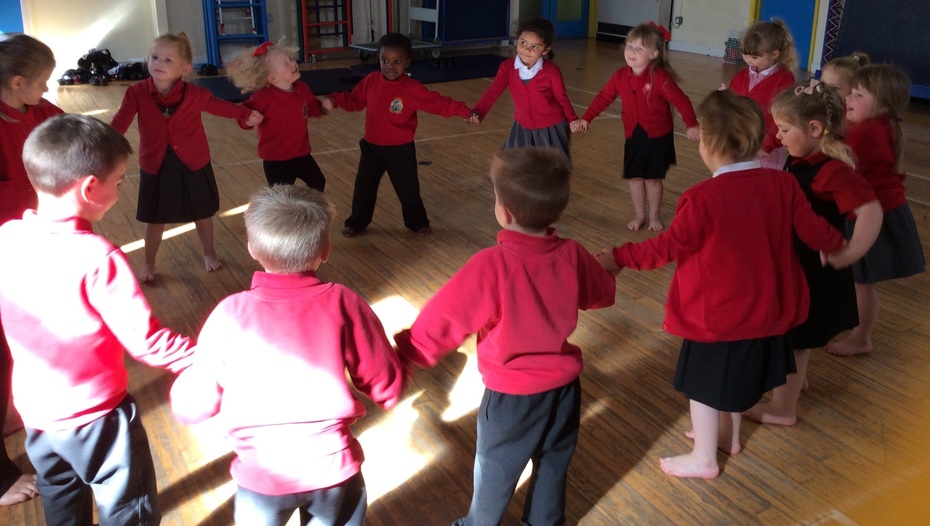 In the Twos' Room we've settled in really well! Whenever we do get a bit worried though we look at our pictures so we know what we're going to do before our special people come back – this helps us to feel safe and find our smiles in no time!
Just like our friends in the 'big' room, we've been exploring patterns and colour too by making some really colourful prints with the cotton reels and paint. Our new Story sack this week is 'Down in the Jungle' and we all love to count how many animals we can spot and use the puppets to slither, jump and crawl along to the tale.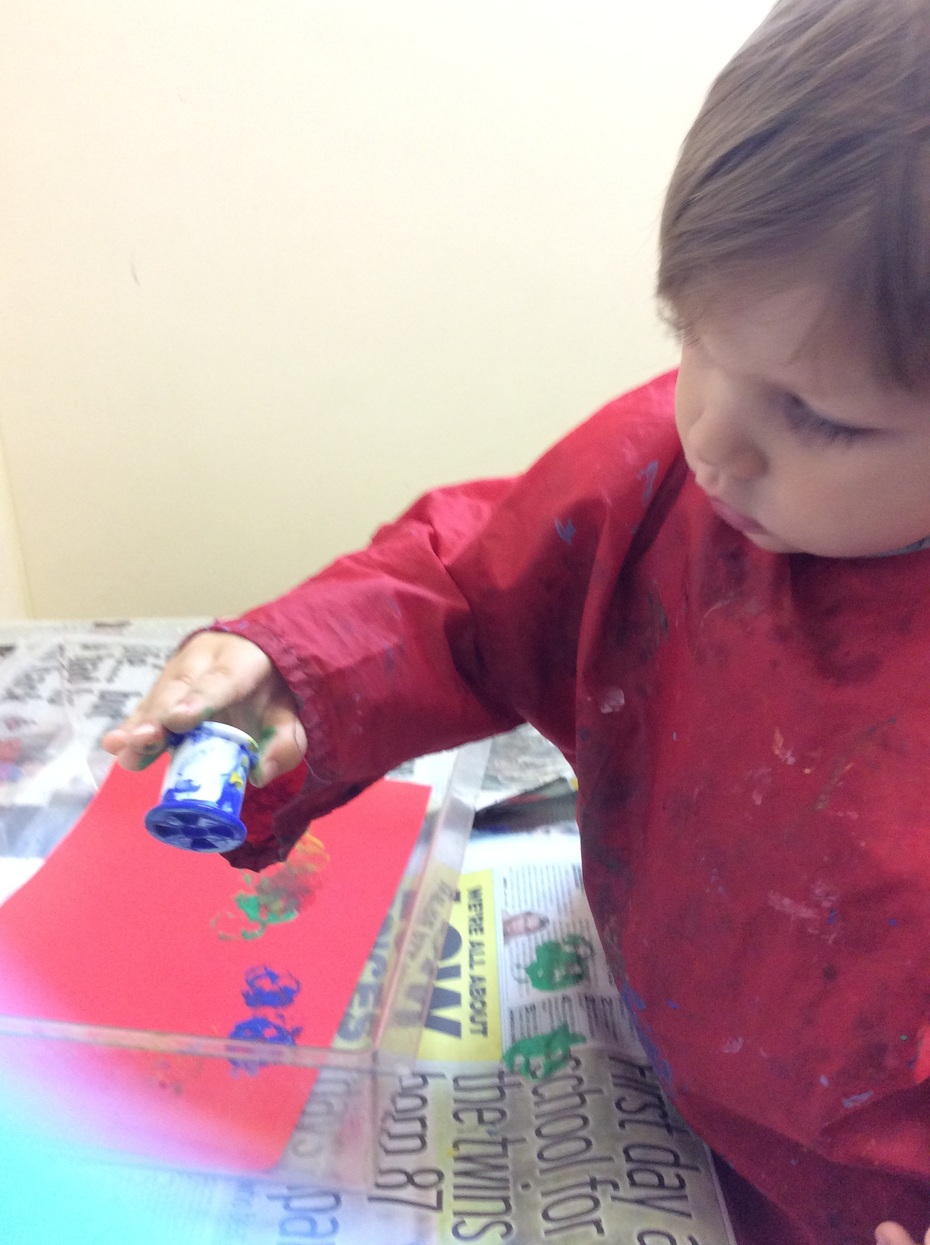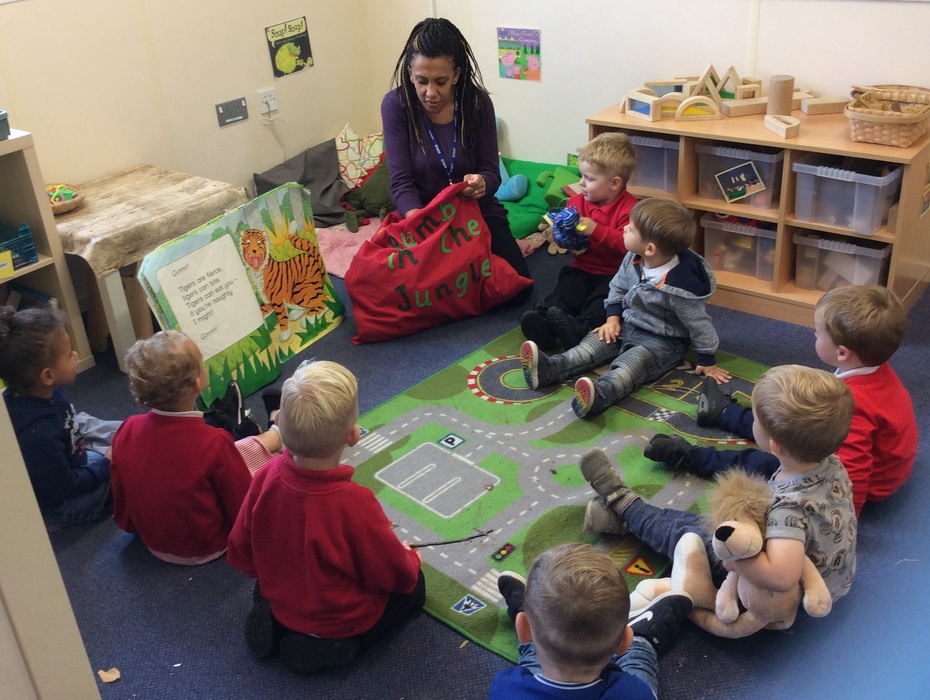 Big congratulations to our Pupils of the Week for showing such responsibility and for kindness and respect for her peers.
Don't forget to check Tapestry – or your emails for the Tapestry registration link if you're new to Kendal! – for more information on what we've been getting up too. See you all next week!


Week 2
This week in Kendal, we have been really getting to grips with the routine and expectations. As a cohort, we have a talked about what we would like to see and experience in the classroom, such as mutual respect and safe conduct. Together we have drawn up a few favourite ideas that we call our 'Golden Rules' and are going to try really hard to embody at Nursery – and at home!

In Kendal we are going to try to remember our Listening Ears, to use our walking feet inside and speedy feet outside, kind hands and our 'inside' voices. The final and most important rule however, is that we're all going to have fun because if we're not having fun, we're not learning!