Kendal
Term 6
This term, using the children's interests, we will be focusing our learning around the theme of superheroes and, with half of us transitioning on to school and the rest of us getting ready to take on the responsibility of becoming the oldest children in class come September, we'll also be doing lots around our school values; of being independent, resilient, responsible, respectful, creative individuals.


Week 6
Having lost their loot to the Kendal Class, the pirates have hauled anchor and sailed off into the sunset, giving us some peace and quiet on our penultimate week of term.

We started the week with a number (pun intended) of numeracy challenges – using our maths brains we've housed as many people as we can in Numicon City and found spaces for all the passengers heading on their summer coach trips.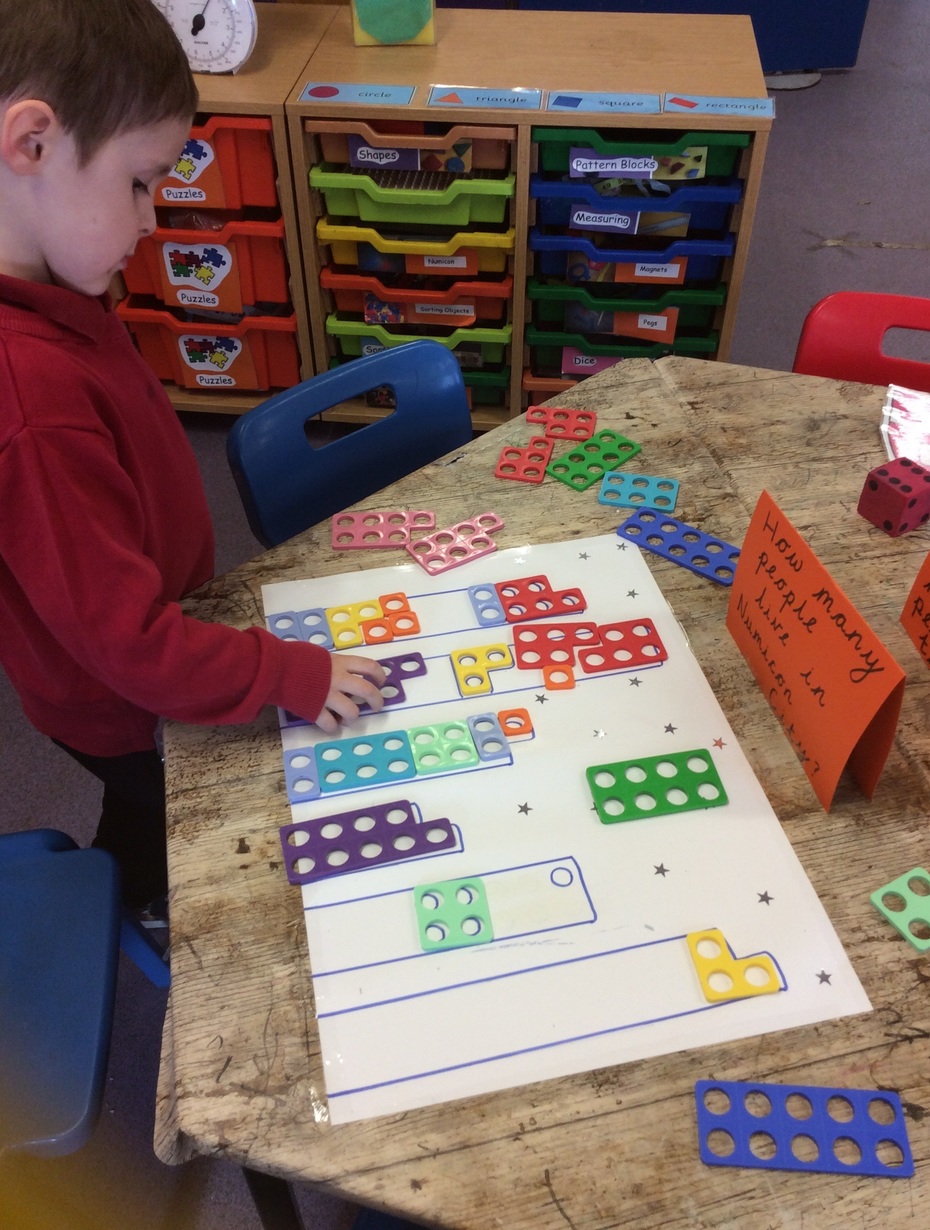 We've also been on a hunt for boxes this week (a big thank you to the kitchen staff and caretaker for donating all their unwanted cardboard!) and have been using them to create props and enhancements for our role play and small world activities. We've created puppet shows, animal habitats, boats, houses and found hundreds of other uses throughout the week. Top tip – tell Father Christmas not to worry about toys this year and you'll just have the packaging instead! We've had a whale of a time!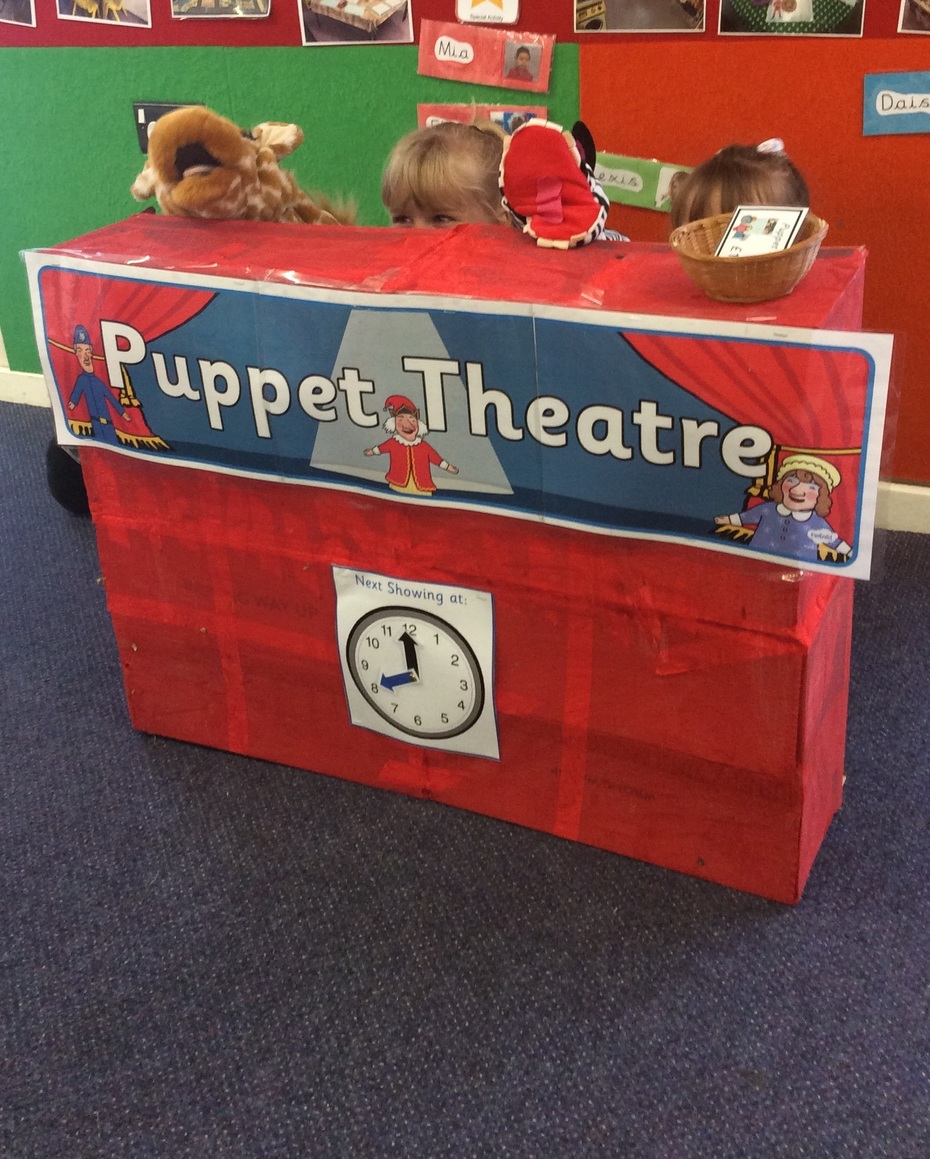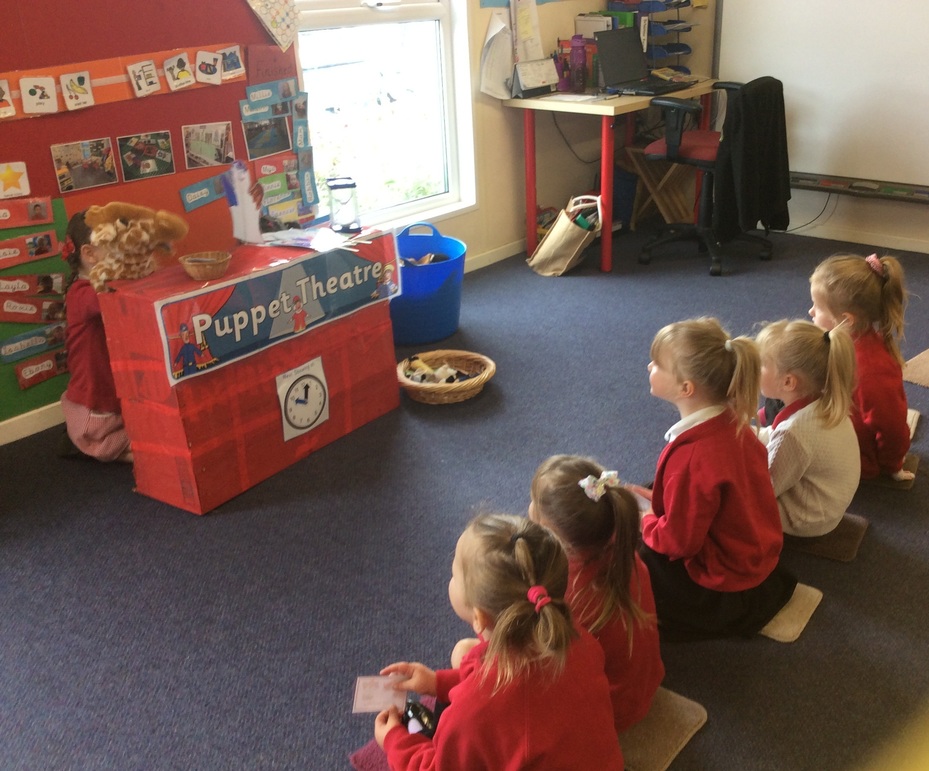 In the Two's room we've been getting busy with the boxes on a smaller scale too, creating models and getting super sticky in the process! We also had an adventure out on the field, searching for caterpillars (inspired by the few our friend brought in previously), exploring the dens and tunnels, and racing each other across the pitch!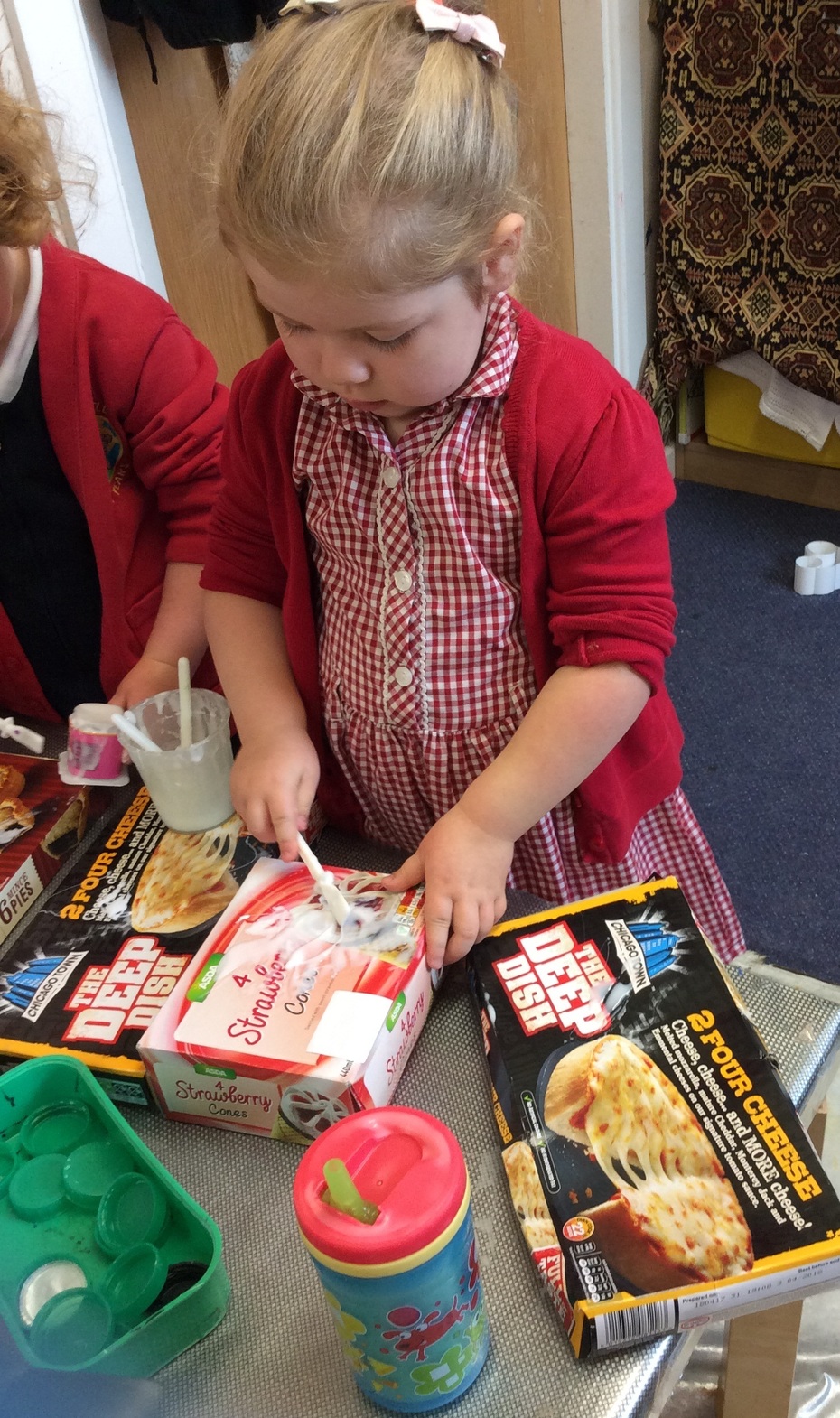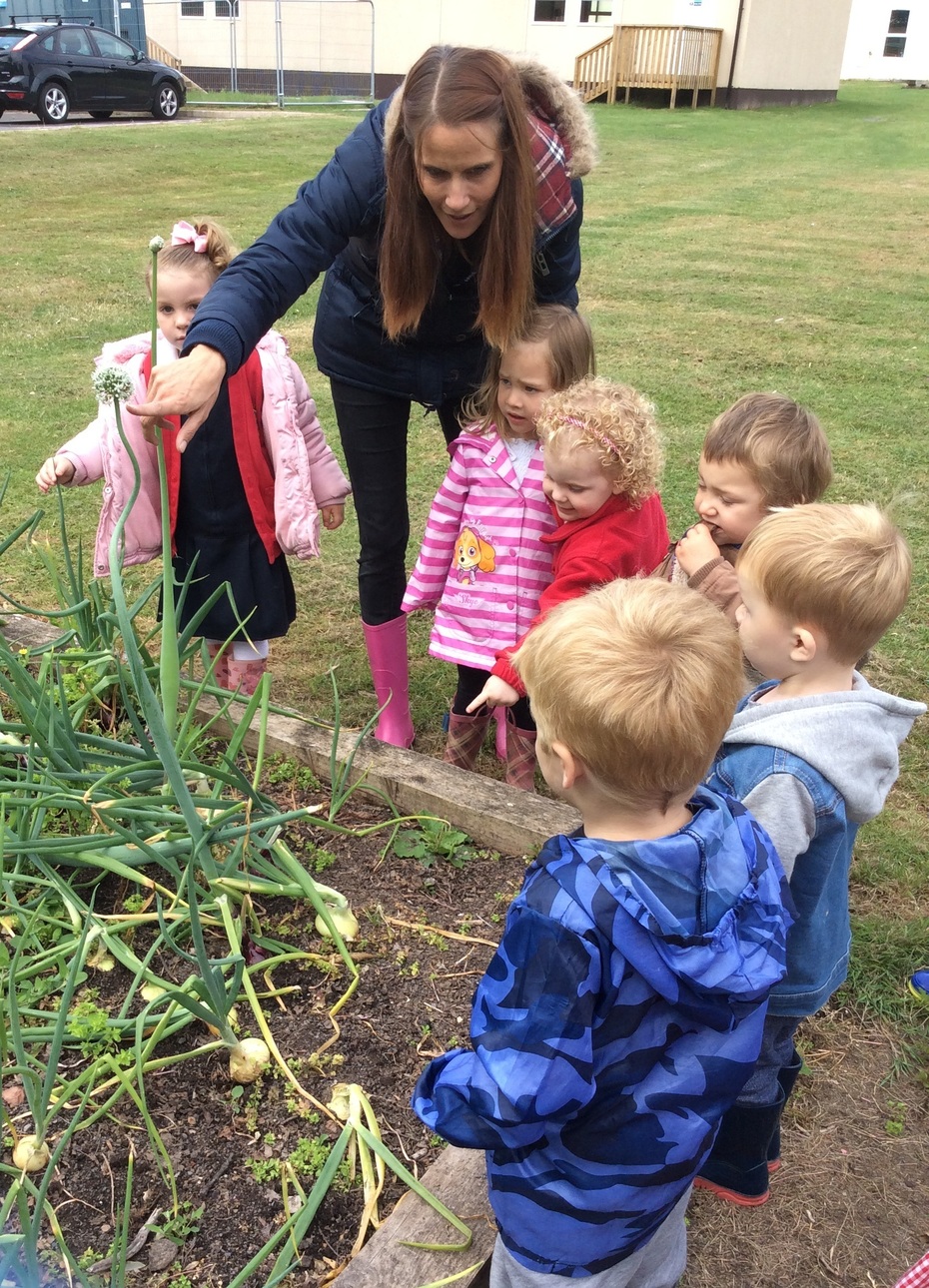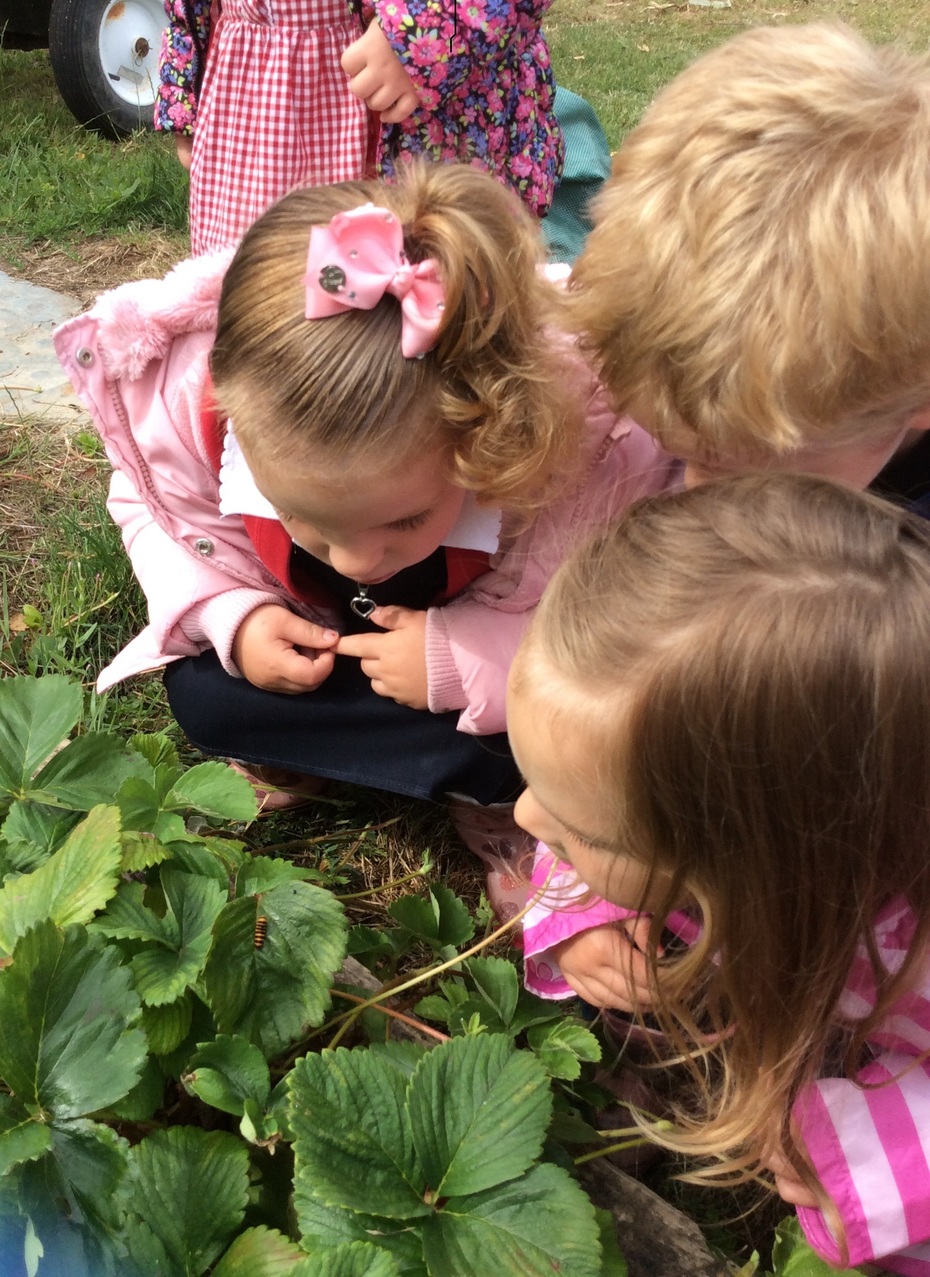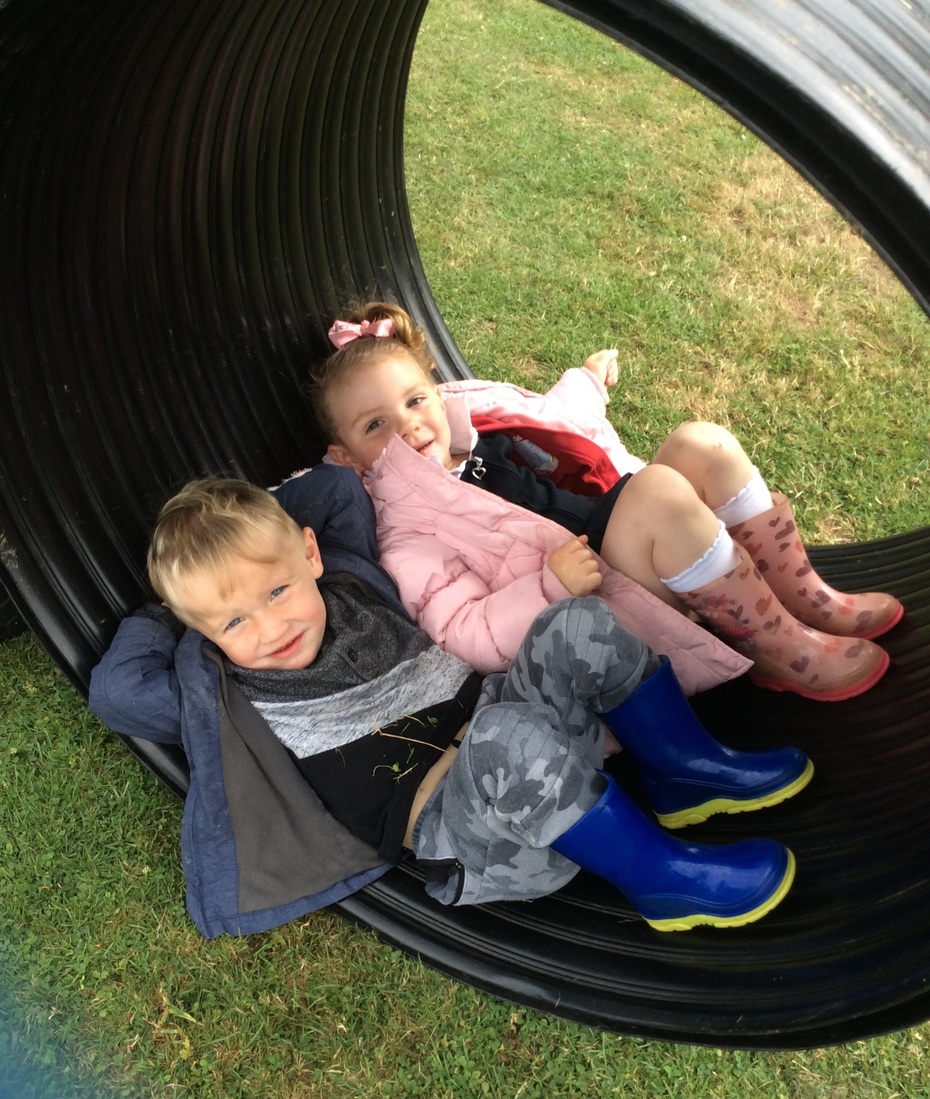 Have a lovely weekend and we'll see you Monday for what will be for some of you, the very last week of Nursery! (Kendal staff have our tissues at the ready!)
Week 5
Shiver me timbers, we've struck gold this week! We found a mysterious map that seemed to show there was hidden treasure on our own school field! We set off immediately to find it; following the map's route up and down structures, over and around obstacles, and through wooded dens until, eventually, we found the treasure spot! It was quite the hoard; jewels, coins and even gold bars! We made sure not to leave a single penny behind!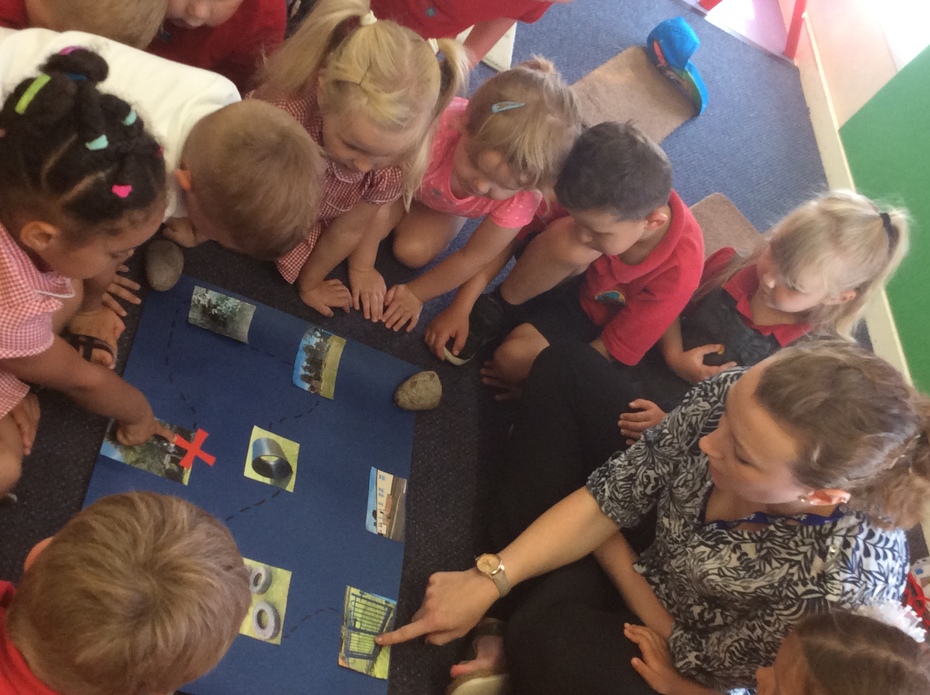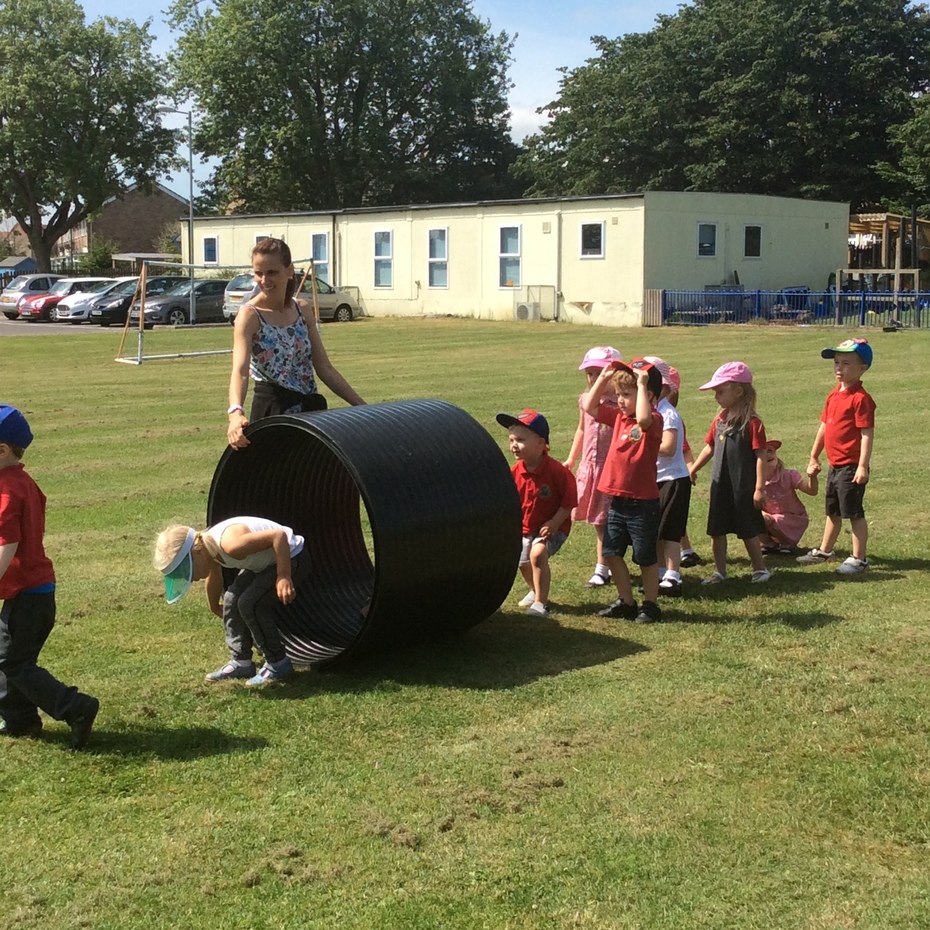 This week we've also been re-introduced to the tale of Pirate Jake who lives in Bristol and followed a map to find some treasure - just like us! We've enjoyed using props to tell the story and have been joining in both verbally and using our Makaton signs.

We've also been putting our numeracy skills to the test using our pirate counting book. We've been looking at how many peg legs, treasure chests and eye patches we can spot then matching them up to their numerals; even combining our mark making skills too! We relish a challenge here in Kendal!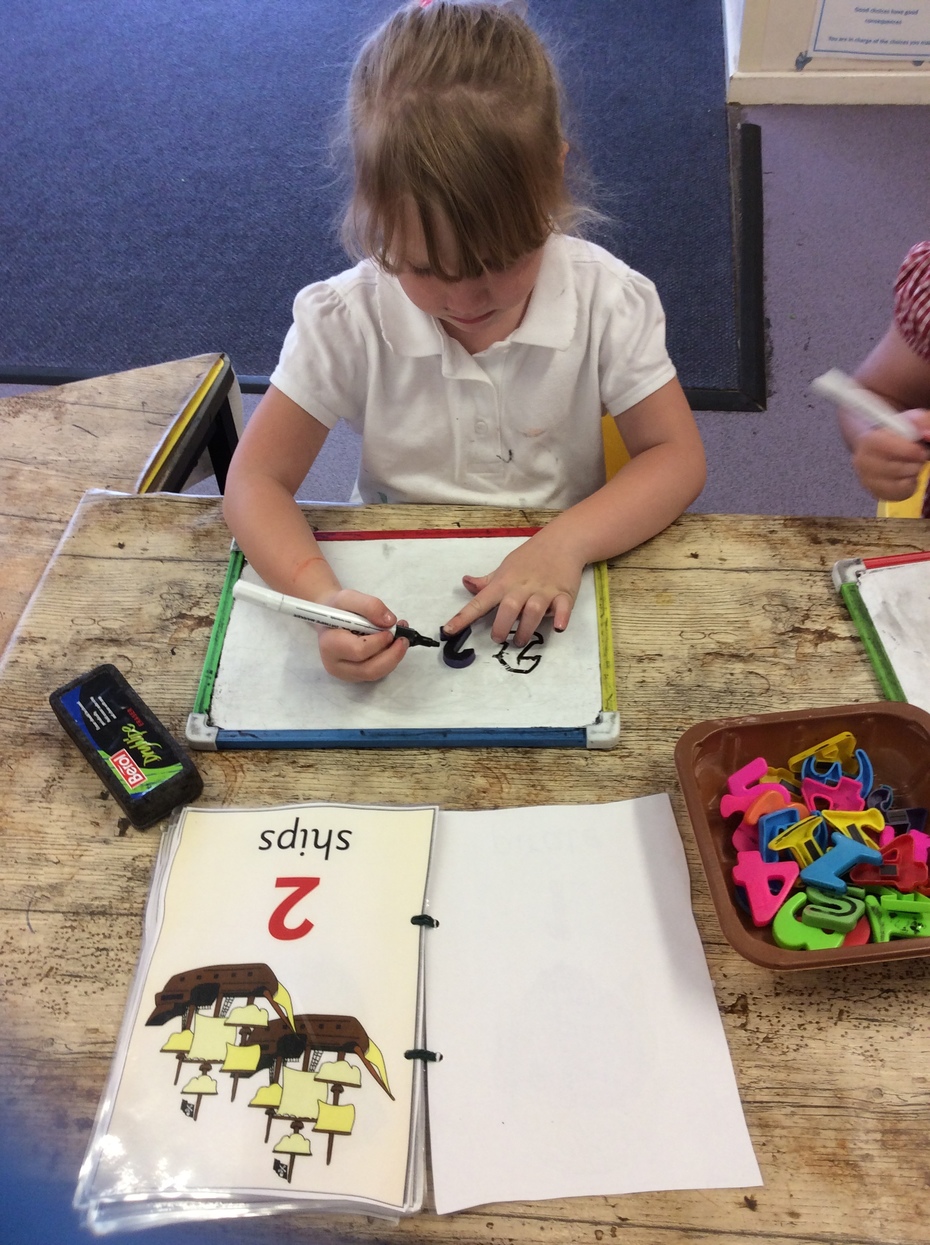 In the Two's room, we've been making music with the tapping sticks, following patterns by listening to the sounds and watching carefully how they're being made – loudly or quietly, fast or slow?
We've also been making a splash with the water play; using it for all sorts of activities! We've been bathing the dolls, pouring and filling, and even had our own car wash!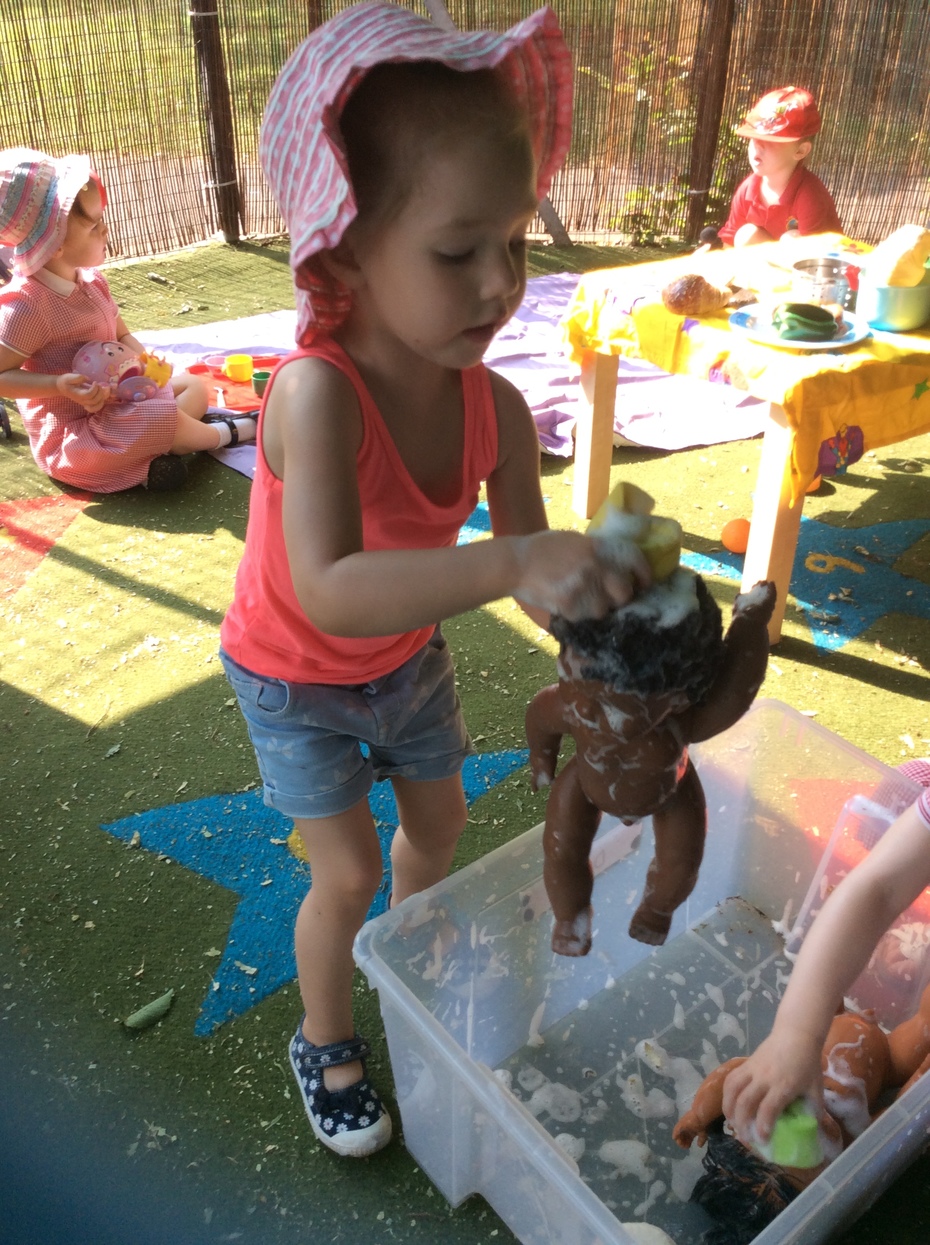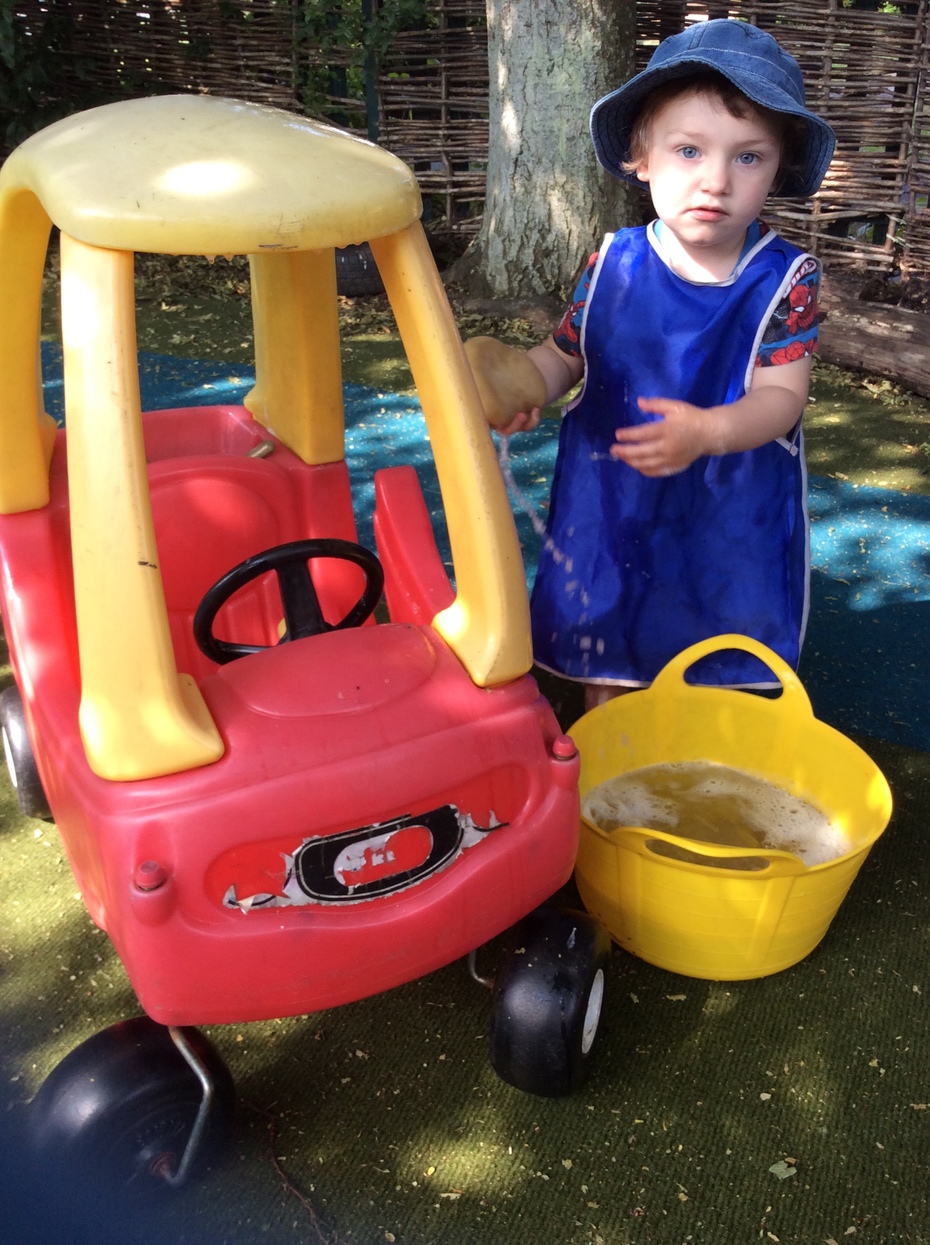 Log onto Tapestry for more on what we've been up to this week...
Week 4
Ahoy there me hearties! Having completed their mission to rid Kendal of the Evil Pea, the Superveggies have moved on to greener pastures. However, Kendal is never quiet for long and this week saw the arrival of .... the pirates! Ooo arrrrrr!
Sensing an opportunity, the children have been leaving no toy unturned searching for pirate treasure! Over in the Numeracy area we've been digging for gold coins, looking at numerals and quantity. As well as money, we found some precious gems scattered about so have been using tweezers to safely store them back in the treasure chests.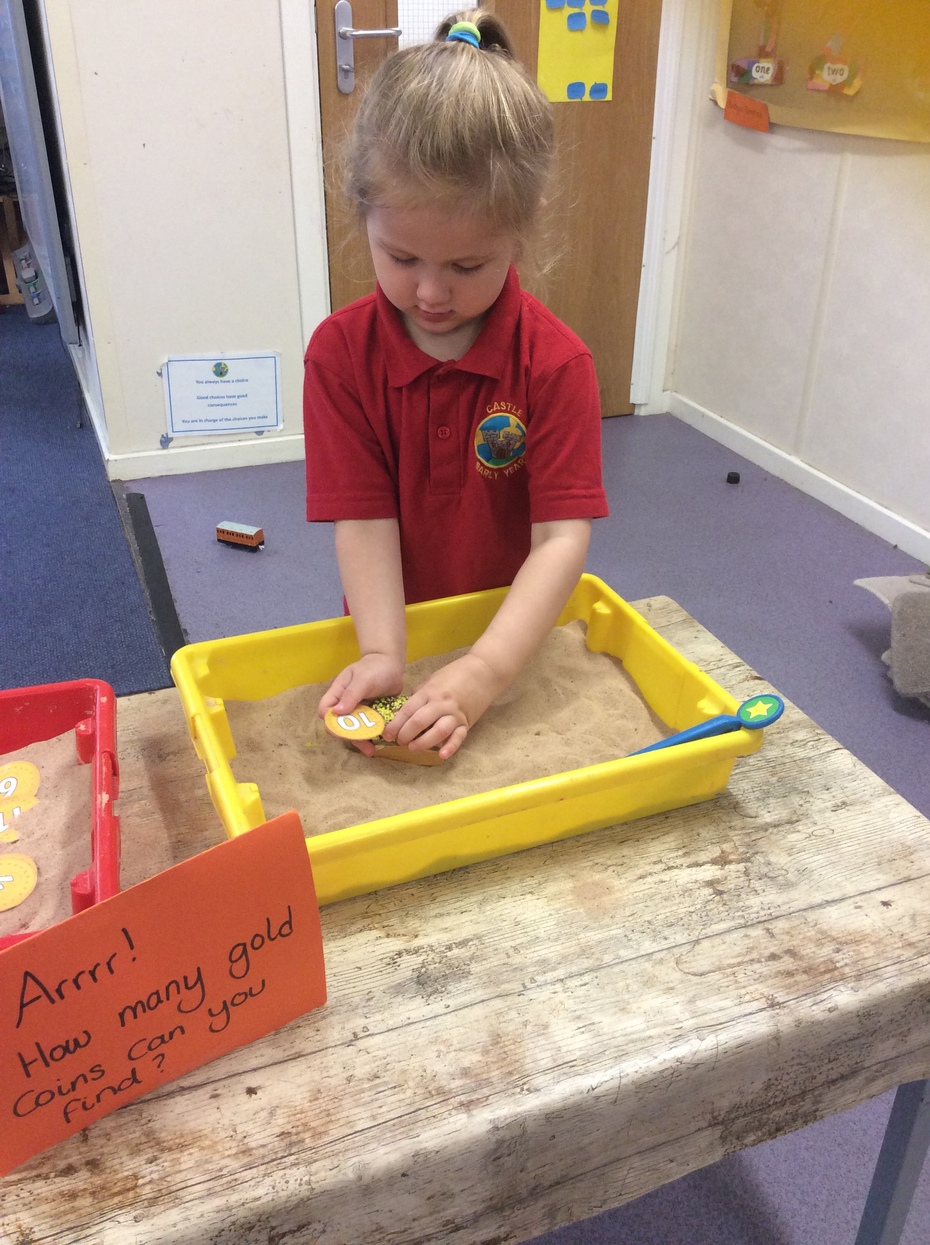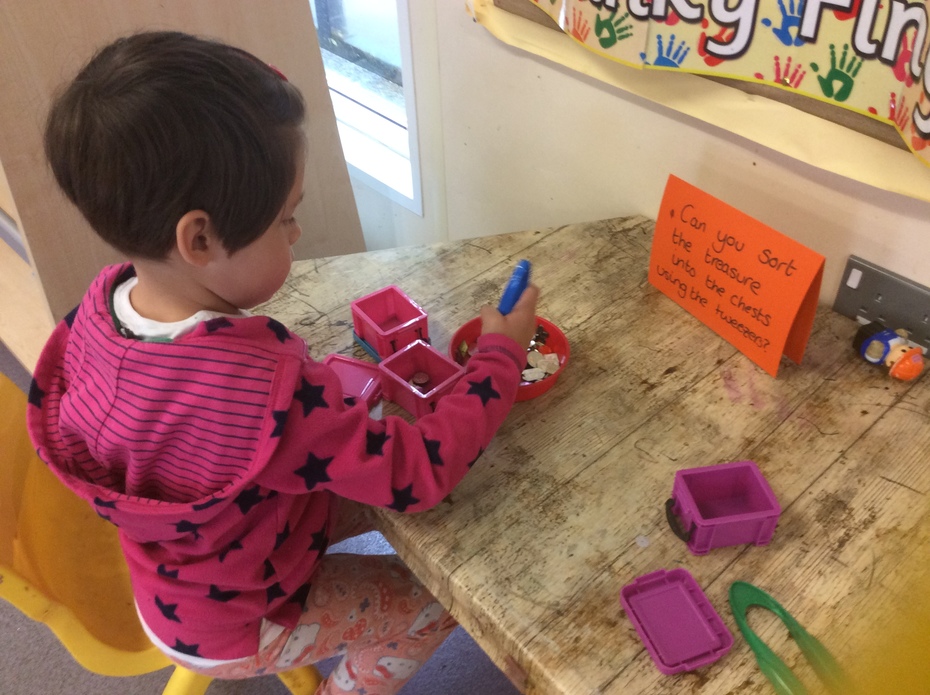 To really get into the pirate spirit, we've been working on our fine motor skills to fold and create our own pirate hats, adding our own decorative Jolly Roger to the brow. Out on the field the sun was shining so we took to the metaphorical seas – sailing, climbing the rigging, and trying to save the our ships from being sunk by the waves!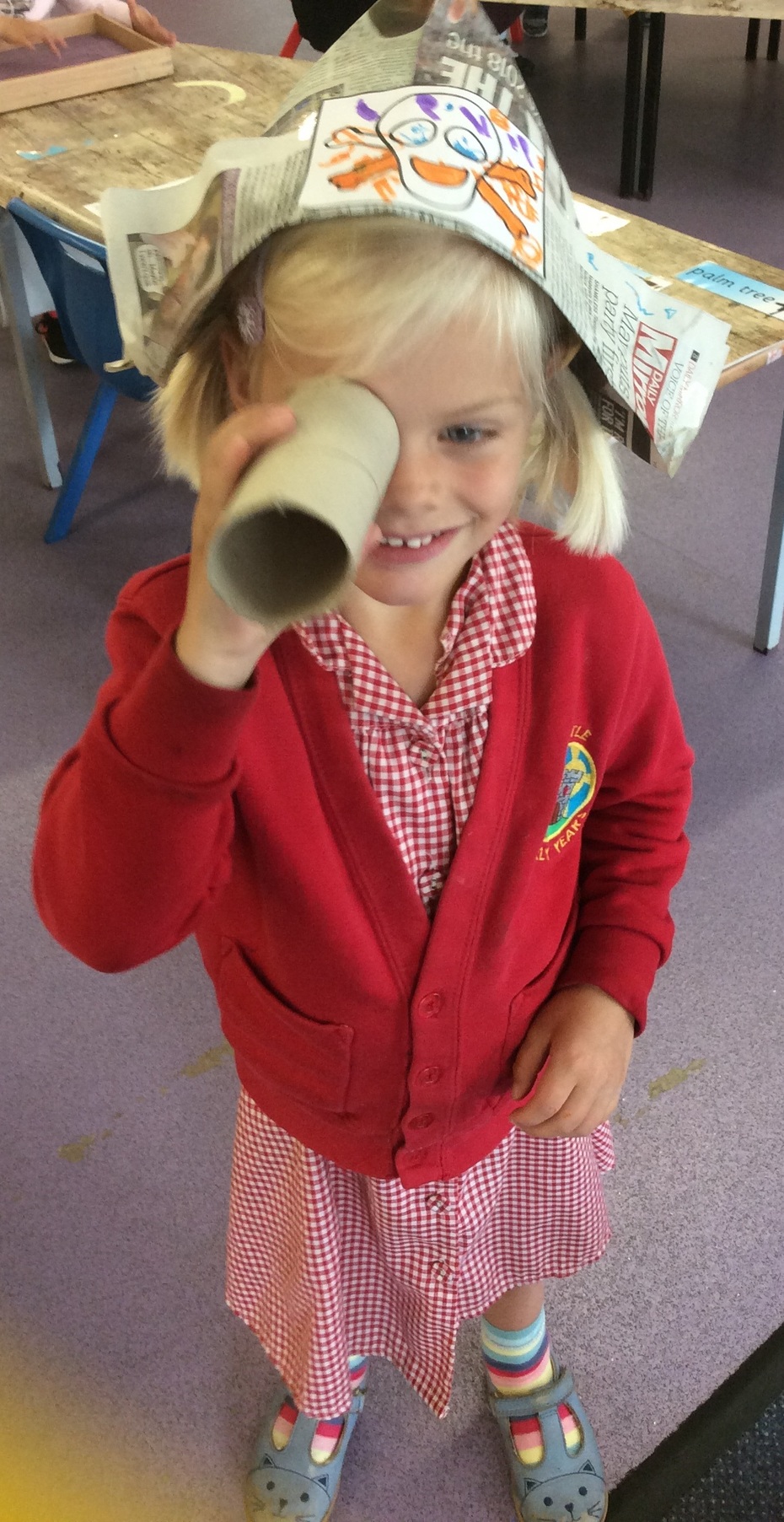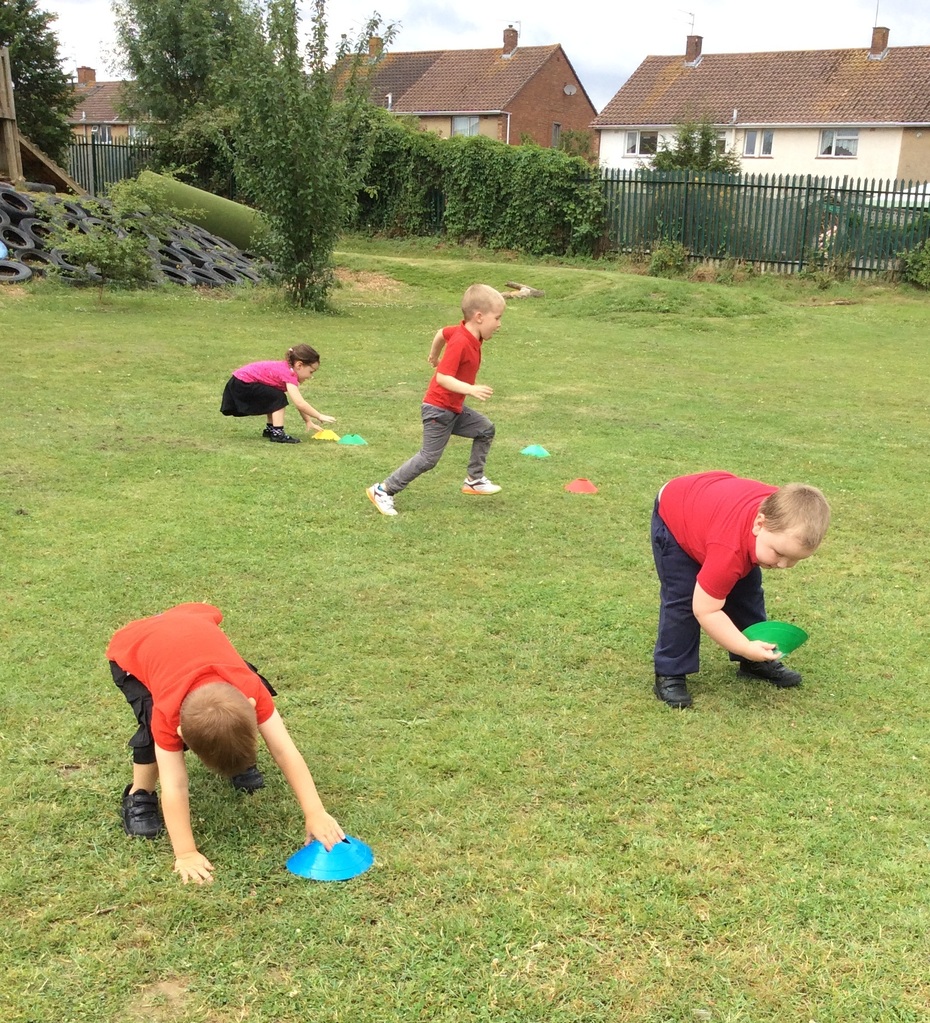 In the Two's room, we've been exploring the rice. We've used it in the construction area; pushing the diggers through, up and over piles of it. We've also looked at quantities by using different size pots to measure and pour. One of our friends brought in some garden caterpillars that we were excited to observe too!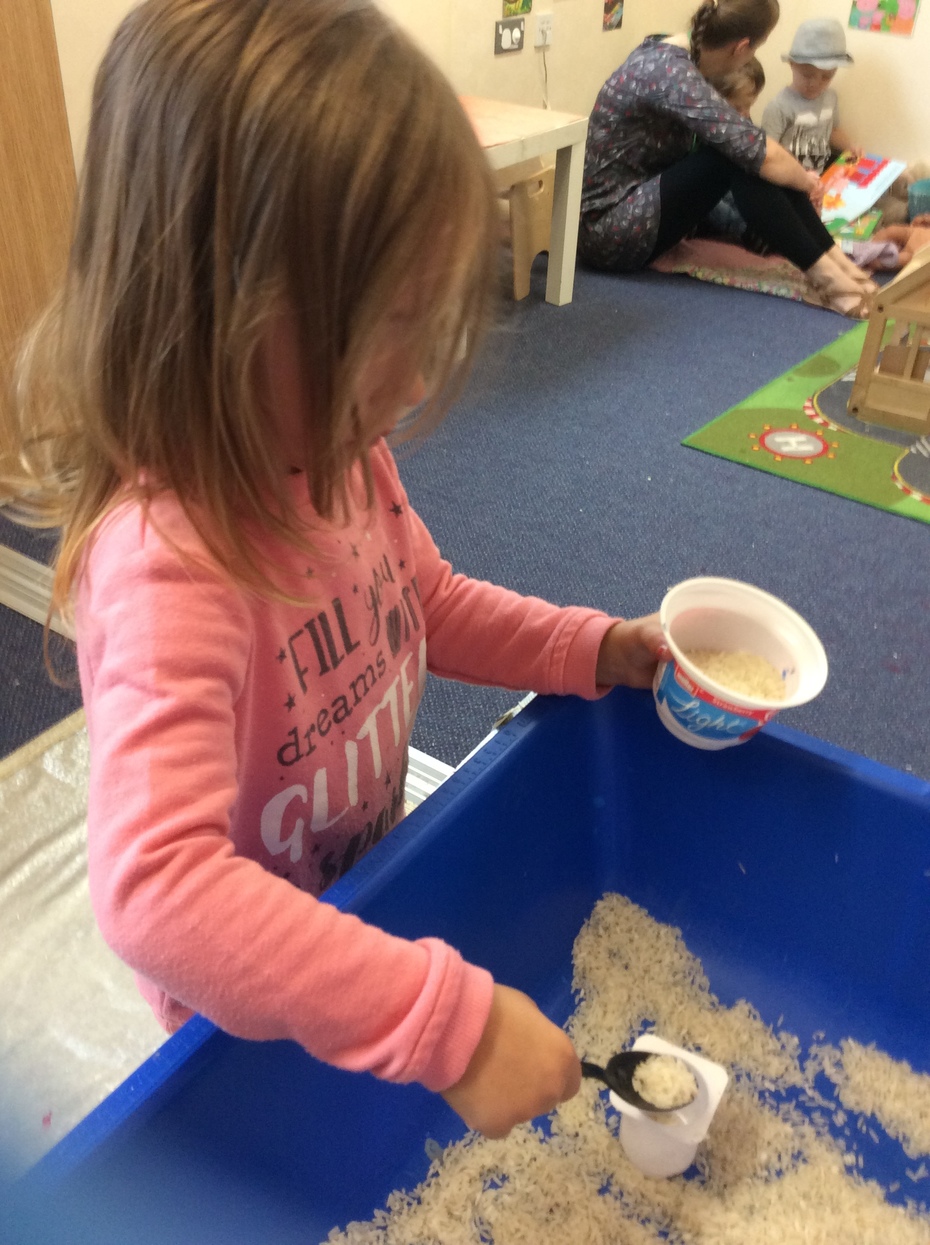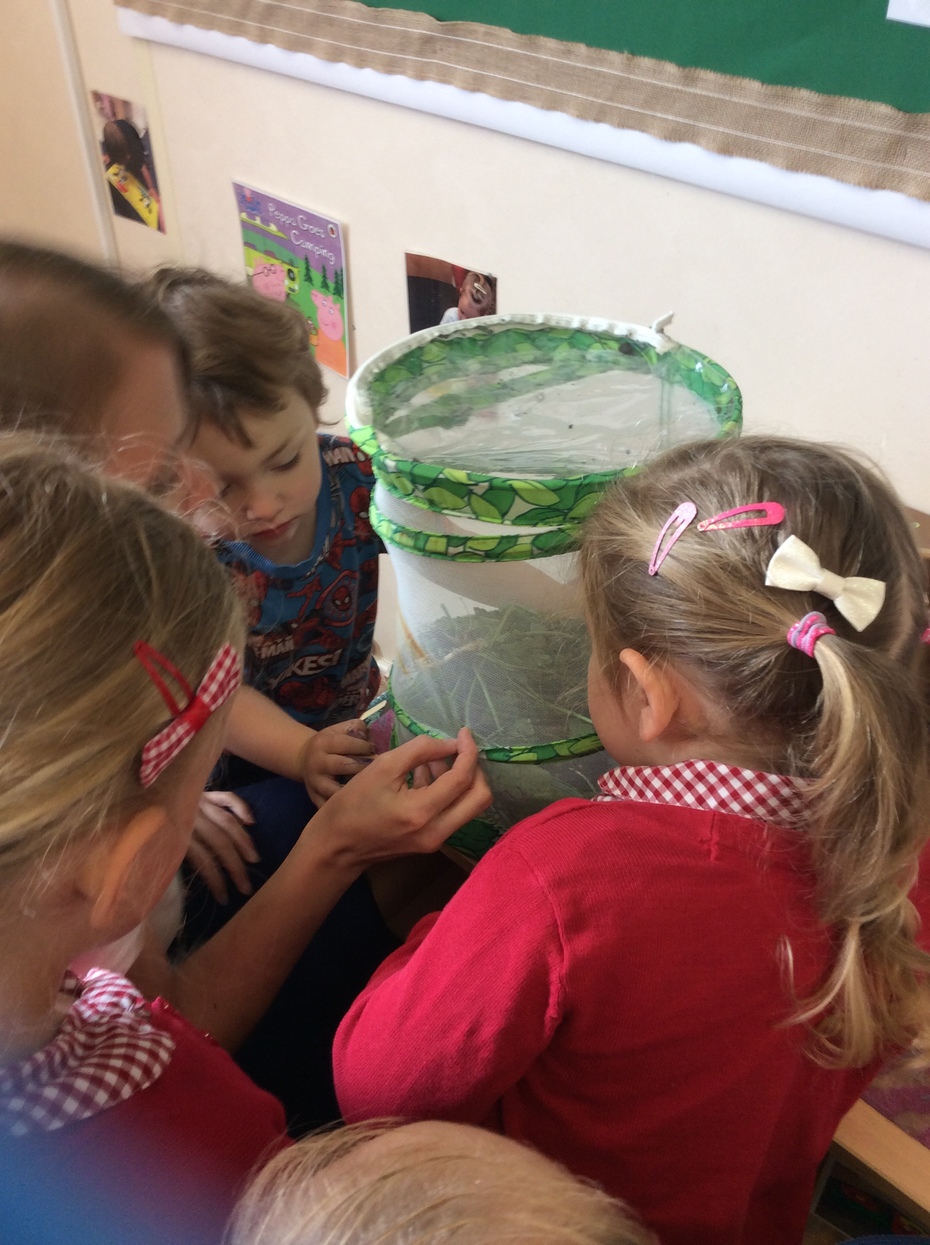 See you all next week Swashbucklers!
Week 3
Its been a scorcher this week! With the children coated head to toe in sun cream (thank you to those parents who pre-lotioned or provided cream!) and topped off with a sunhat, we headed out into the garden to make the most of the summer sun!
We've been cooling down with water play – firing water pistols at targets and swimming with the sea creatures! Mr Hamer, our Handyman, has been working hard in our garden to build a fantastic sail over our sandpit to keep us cool whilst we dig and explore. We noticed he used two big triangles and three tall posts to make the shelter.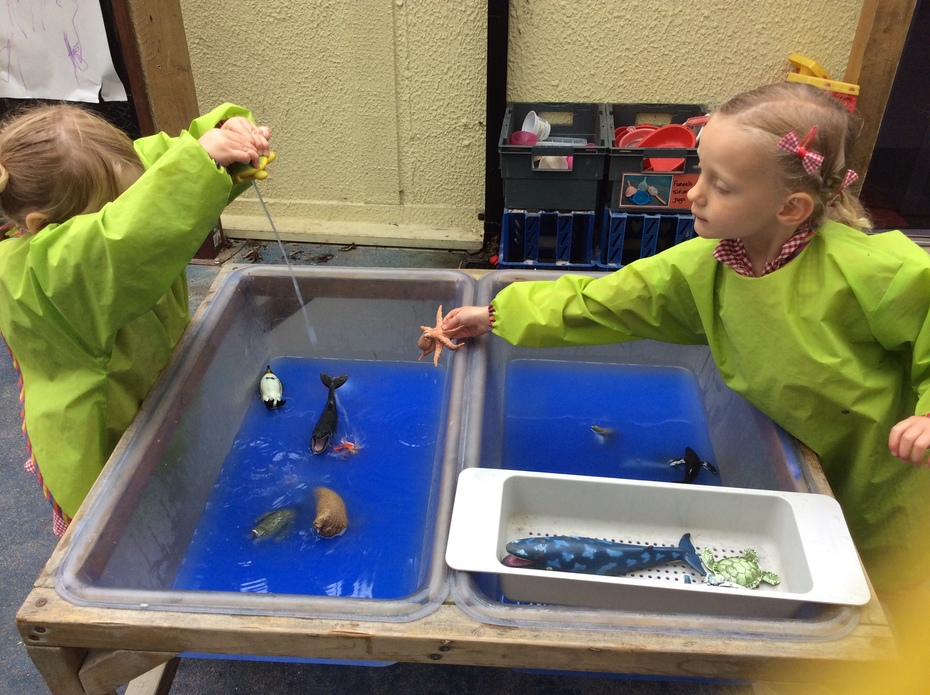 Inside, we've been combining our playdough with the home corner, using it to enhance our role play by 'cooking' and 'serving it up' for dinner parties and picnics!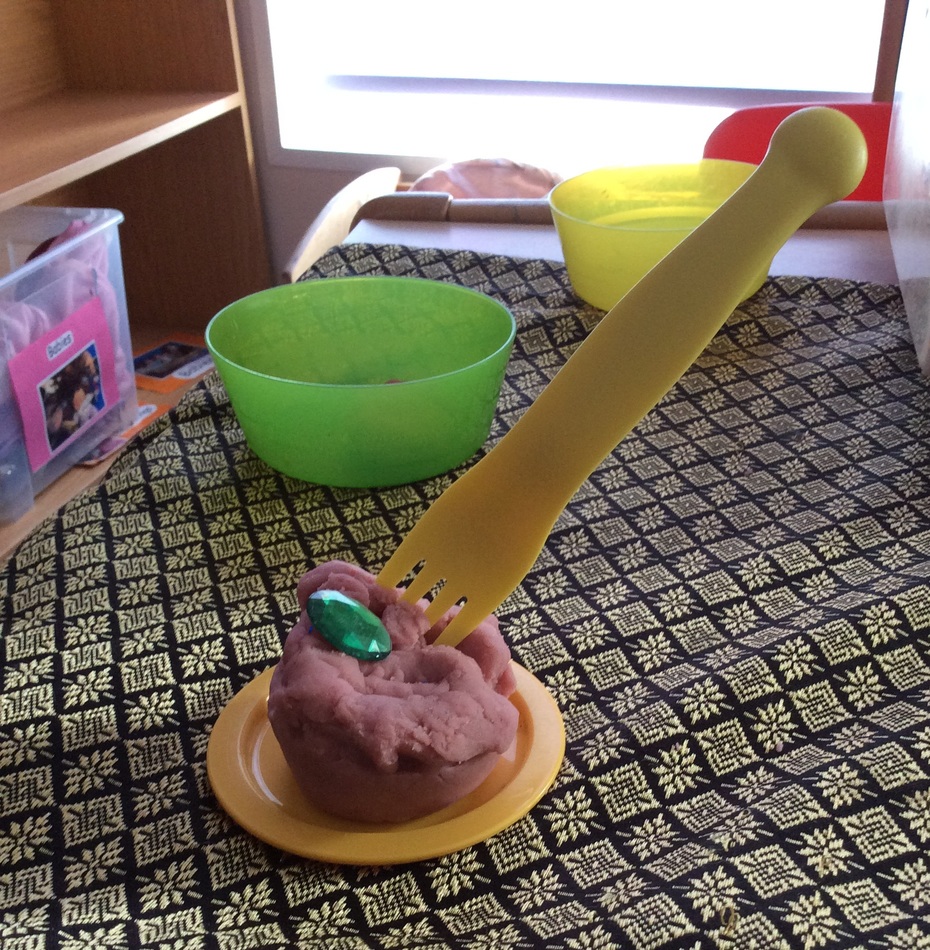 We haven't forgotten our pledge to the superheroes however - we've made sure that the Evil Pea stays locked away by using various construction materials to keep him contained, and we've been using our fine motor and numeracy skills to rescue superheroes from captivity.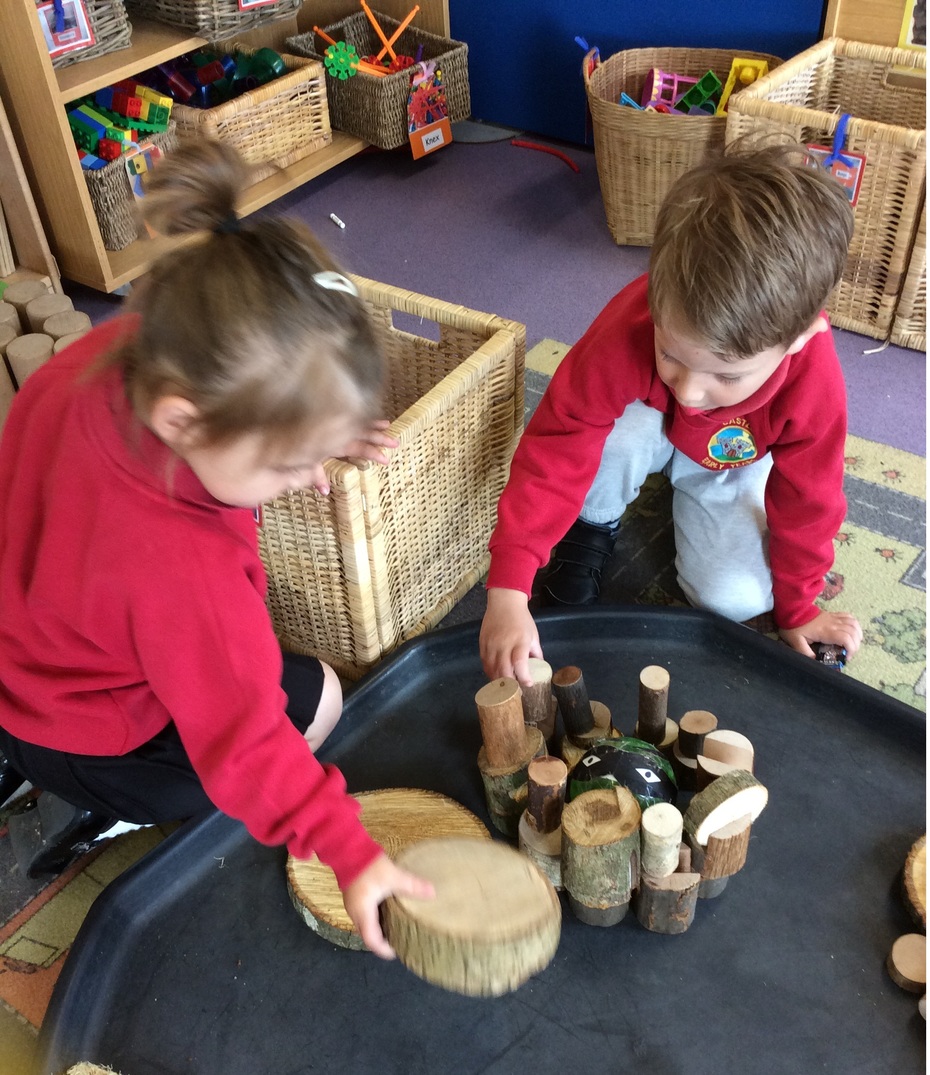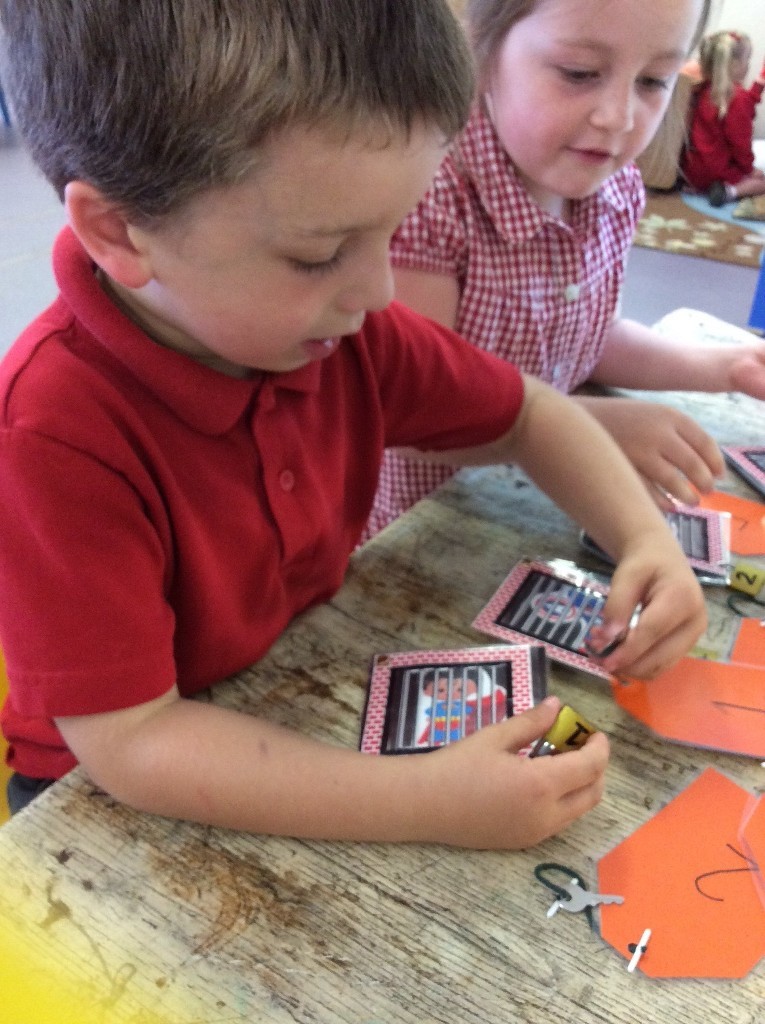 As well as joining us throughout the week, in their own room the toddlers have taken last week's book focus of Dear Zoo and applied it to this week's activities. They've been using the animals in a range of ways, freeing them from ice and making tracks in playdough.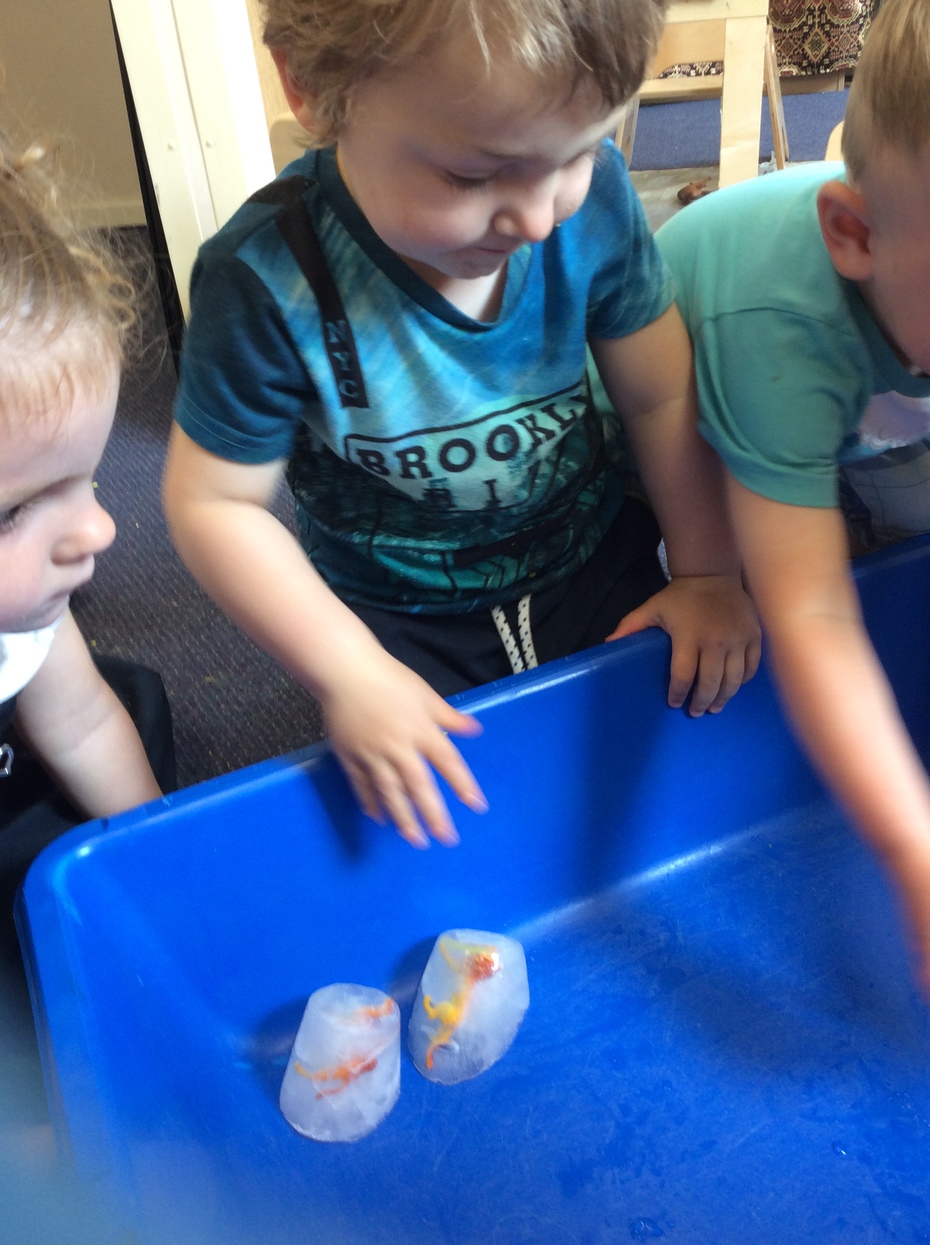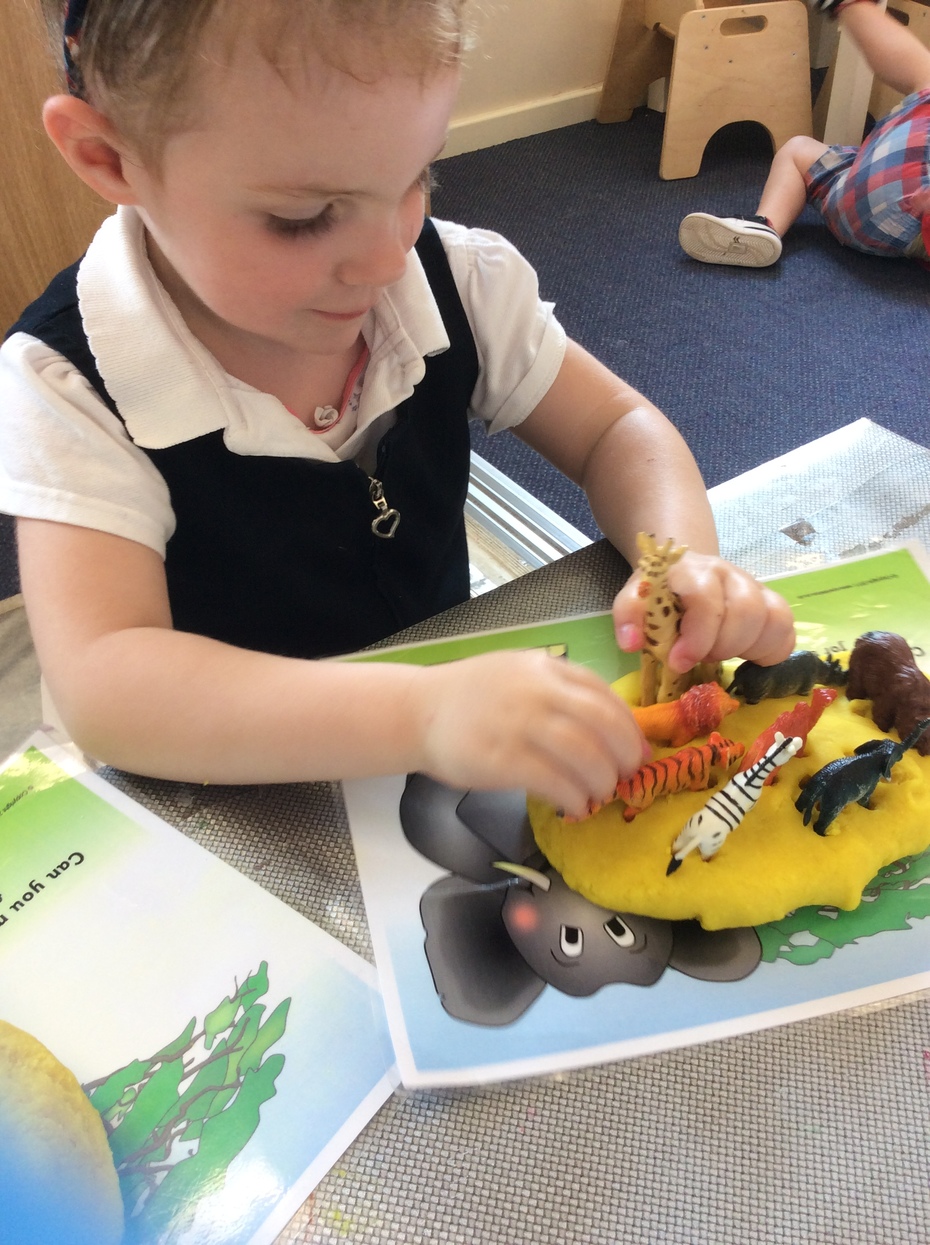 PS. Don't forget – there is no Thursday Woodland Wander next week!
Week 2
Oh No! Just when we thought we had outwitted him, this week we had a visit from the Evil Pea! He took part of Kendal captive and upset all our veggie friends!
With the Evil Pea causing havoc, we had to put up posters to help catch him. Luckily Supertato (and our own cunning, wit and determination!) saved the day, but it got us thinking of other people that might need bringing to justice. We drew pictures of these 'criminals' and talked about what they'd done and how much of a reward we'd offer for any information! With Kendal back in our control, having captured the Evil Pea and his minions, we have been using them to challenge our measurement and capacity knowledge.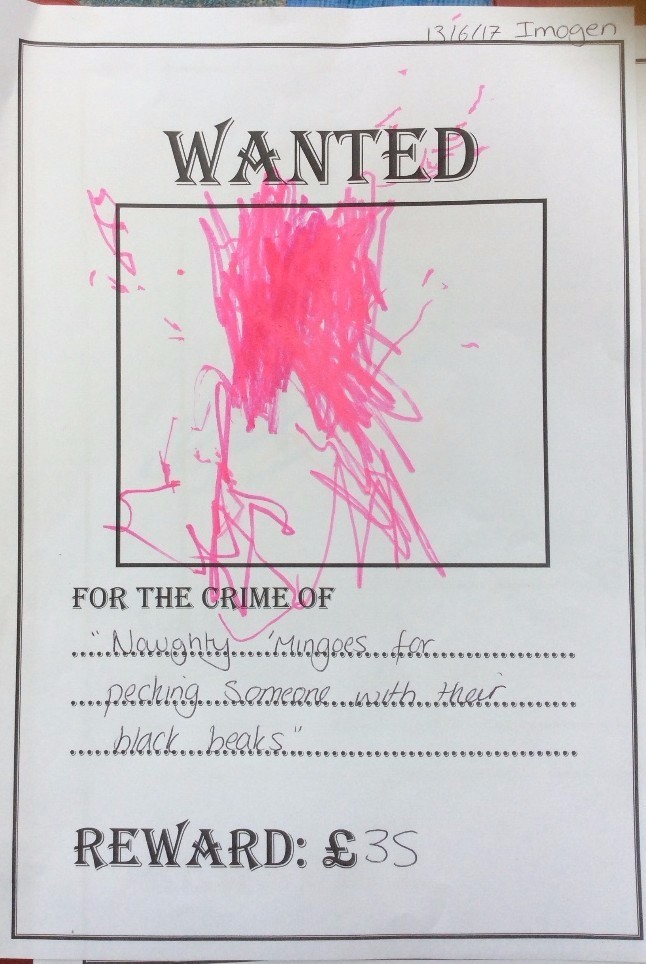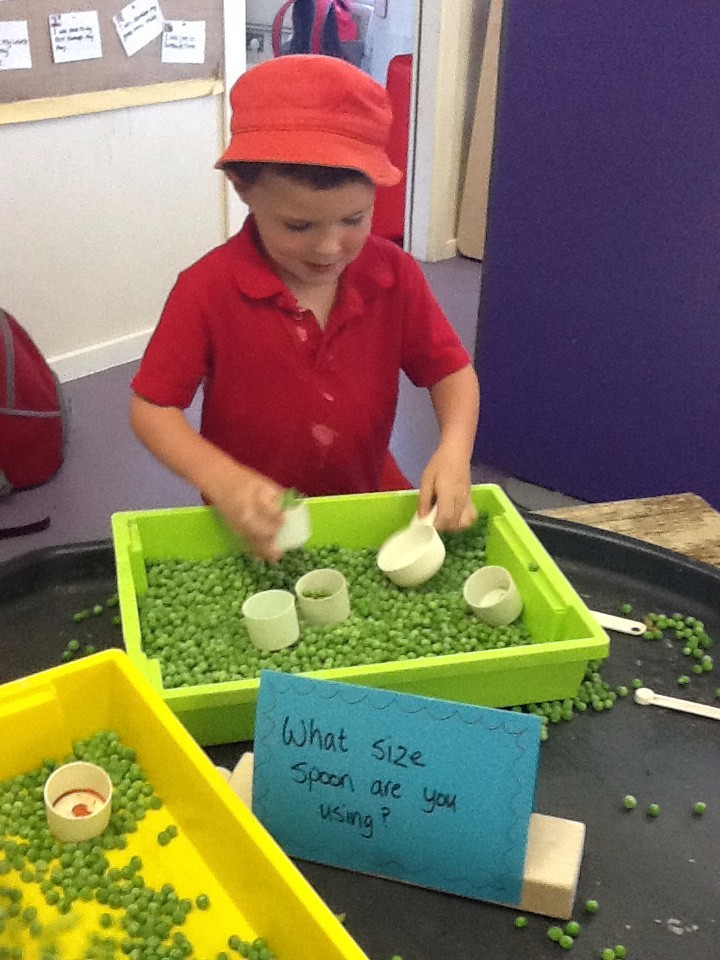 Not only have we been working alongside Supertato this week, but we've been called on by other superheroes who had got themselves into a bind! We've been using our fine motor skills to rescue various heroes from their tangled traps.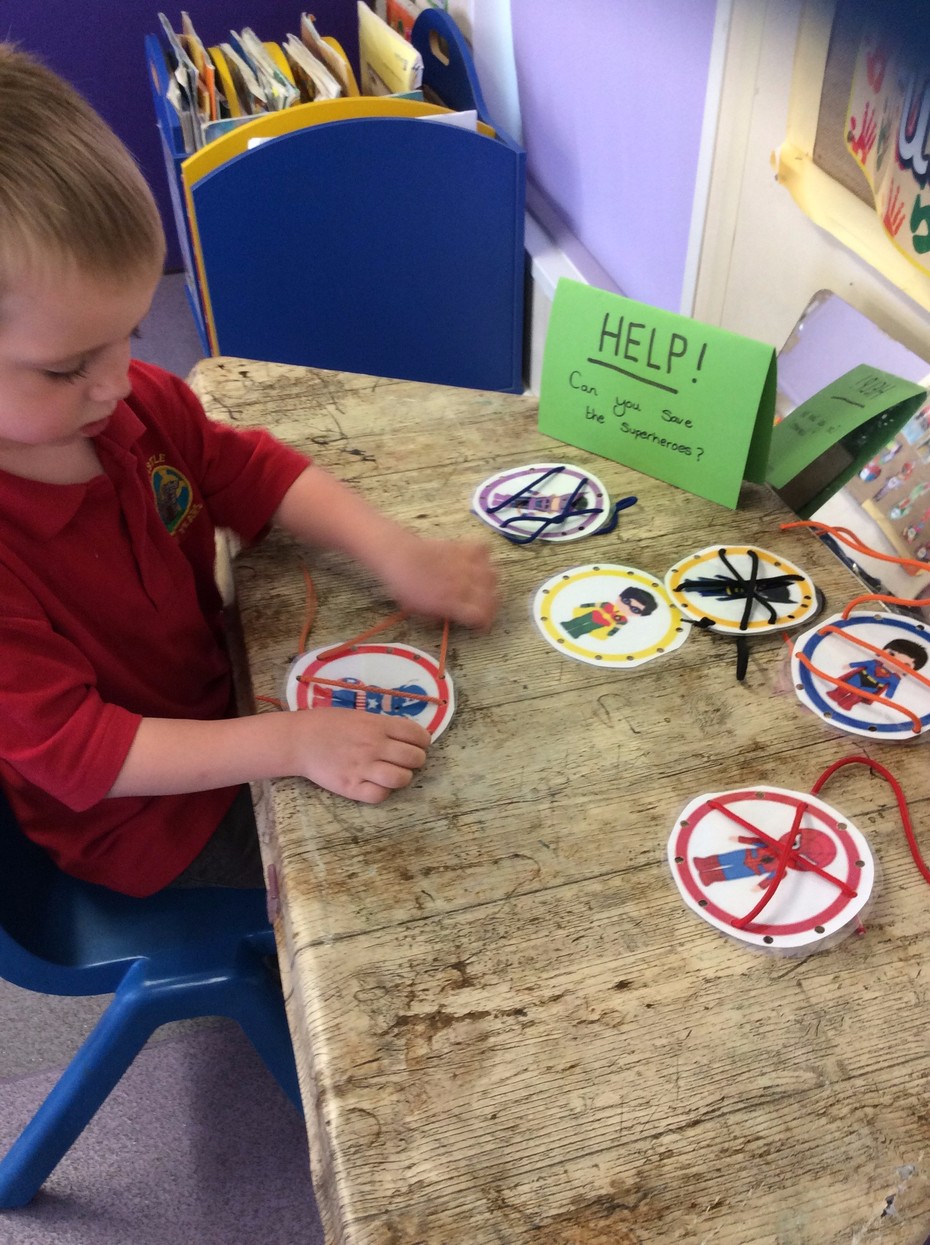 Meanwhile in the Two's room we've been discovering all about ourselves. We used mirrors to create stunning self-portraits and talk about the features that make us unique. We've also been focusing our learning around the story 'Dear Zoo' where a zoo suggests all sorts of animals to keep as pets! We all take part in telling the story; taking it in turns to use props and recall details of each animal – and why they're unsuitable as a house guest!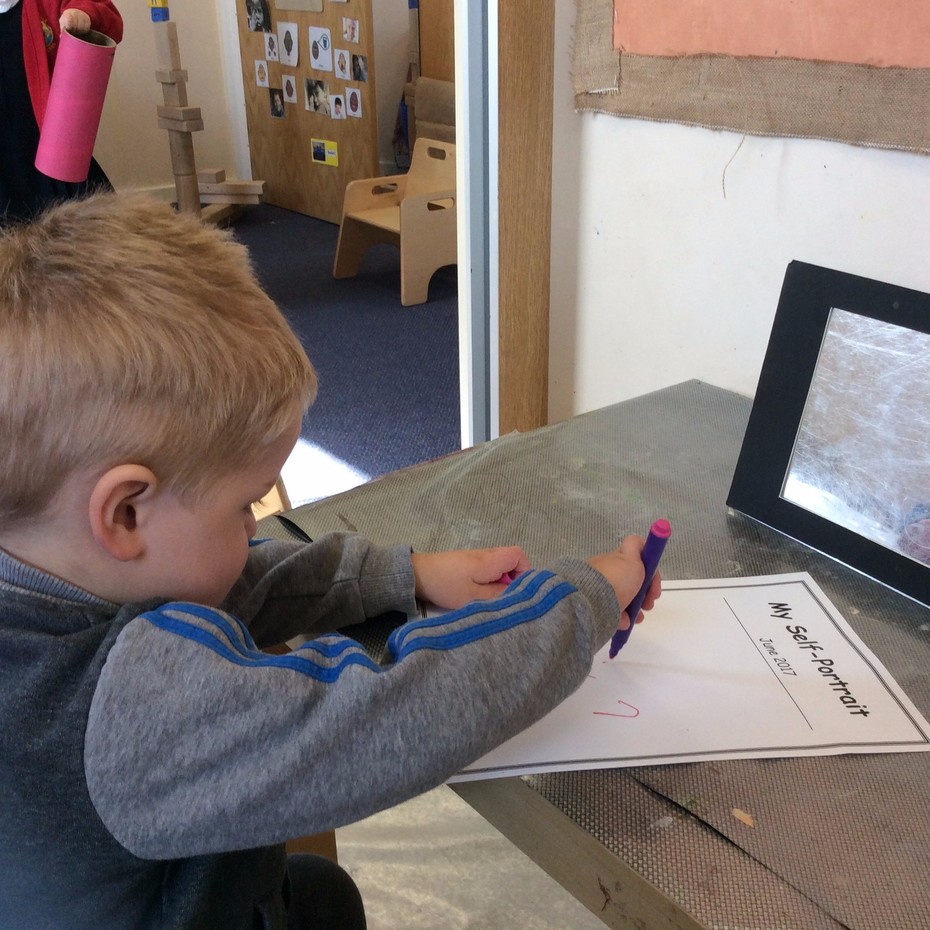 Do check out the rest of the goings on from this week on Tapestry, and feel free to drop us a comment!
PS: The Kendal team are delighted to announce that, adding to the list of heroic feats this week, Miss Benson has had a beautiful baby girl! Ella was born earlier this week and both mummy and baby are getting on fabulously!
Week 1
With Miss Benson now on maternity leave, Mrs Exton (nee Miss Edgley!) has taken the helm and will be classteacher until Miss Benson's return. Though we have no baby news from Miss Benson yet, we've certainly had a lot of our own news to share regarding what we've been up to over the holiday week! We have each created a one page journal where we recounted memorable events during our week off, complete with illustrations.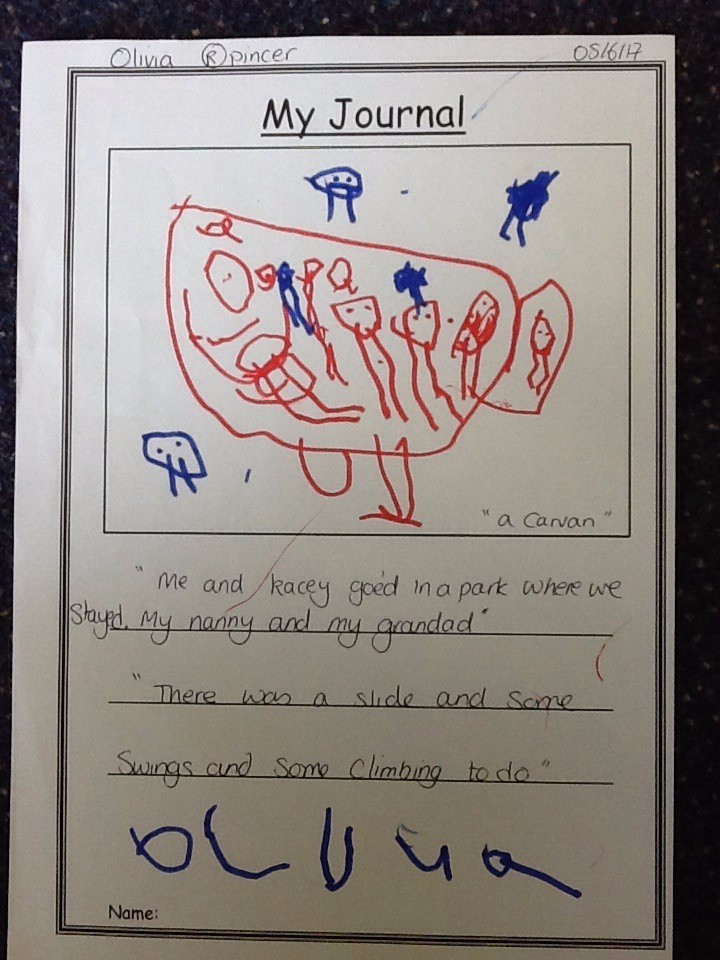 We started the week with the story of 'Supertato' – a superhero potato who has to use all his super virtues to save his vegetable friends and defeat the evil pea! We've been recreating that story using props to deliver some fantastic role play! Luckily the evil pea has kept out of sight…so far!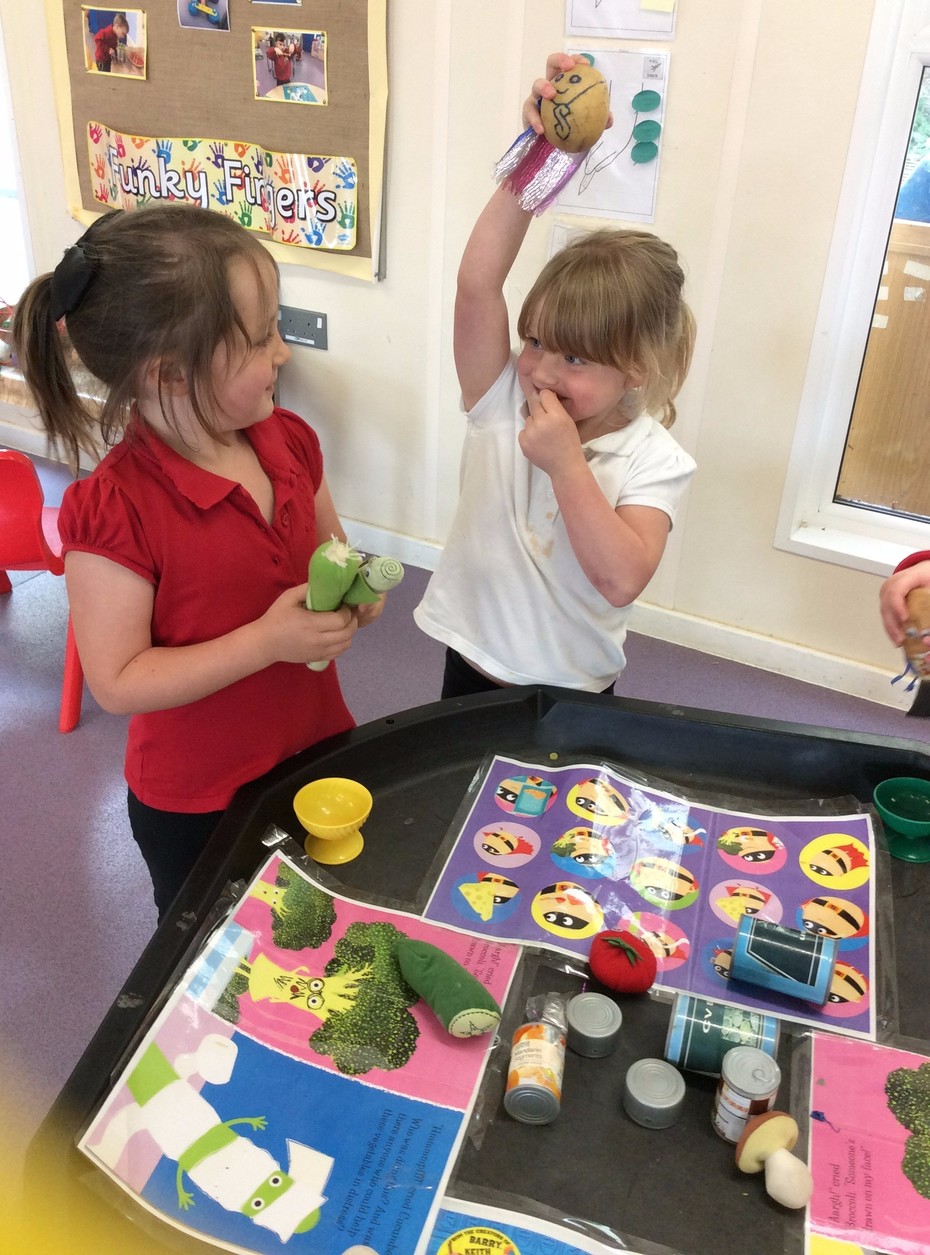 We've also been creating patterns in the numeracy area using our favourite superhero symbols – taking into account the design, size and number of repetitions that make up each pattern. We've also been using our super strength and balance to move stones and make mountains with the numbered giant pebbles - we found you've got to have hands as steady as a rock!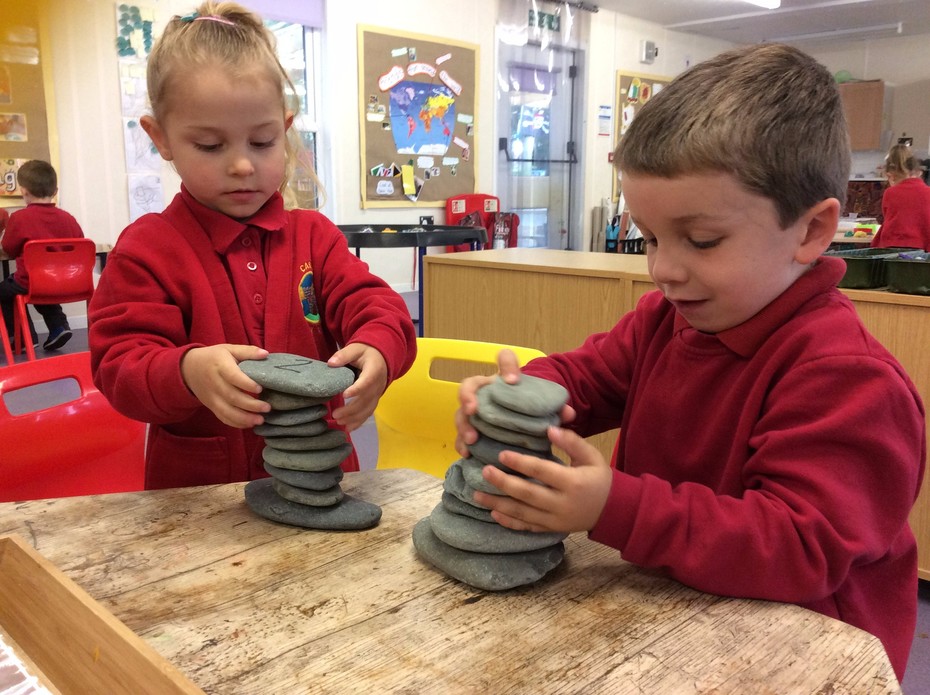 Alongside our usual favourites, we've been making musical soup, counting popping peas and been lyrical vegetables during group singing times – "we are corn cobs tall and straight, don't we just taste great?!"
Please check Tapestry to see what else we've been up to this week and let us know your thoughts - see you next week!
Term 5
Week 2
This week we have been drawing our story maps of Jack and the Beanstalk. Please have a look on Tapestry to see how fantastic they are and ask us to tell you about the story.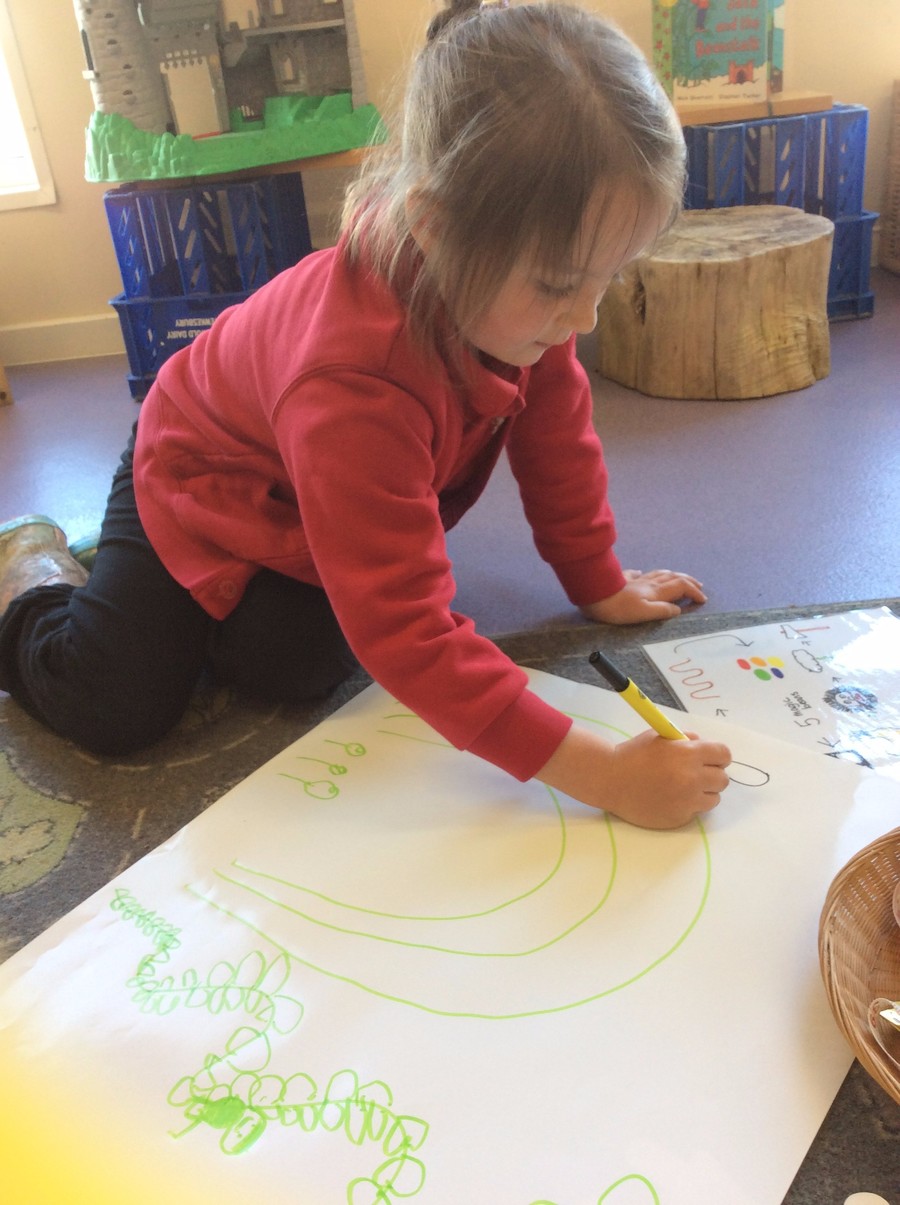 This week was our first Woodland Wander of the term. We had several new starters who had never visited before. We went through our golden promises and have snack at the woods. Then we explored the provision, the children used the natural resources to make camp fires and a bug house! The children enjoyed climbing the tree safely and swinging on the rope swing. Some children were keen to dig using trowels and spades. We finished our session with the story '1, 2, 3 ... Where are you?' and had a go at playing the game.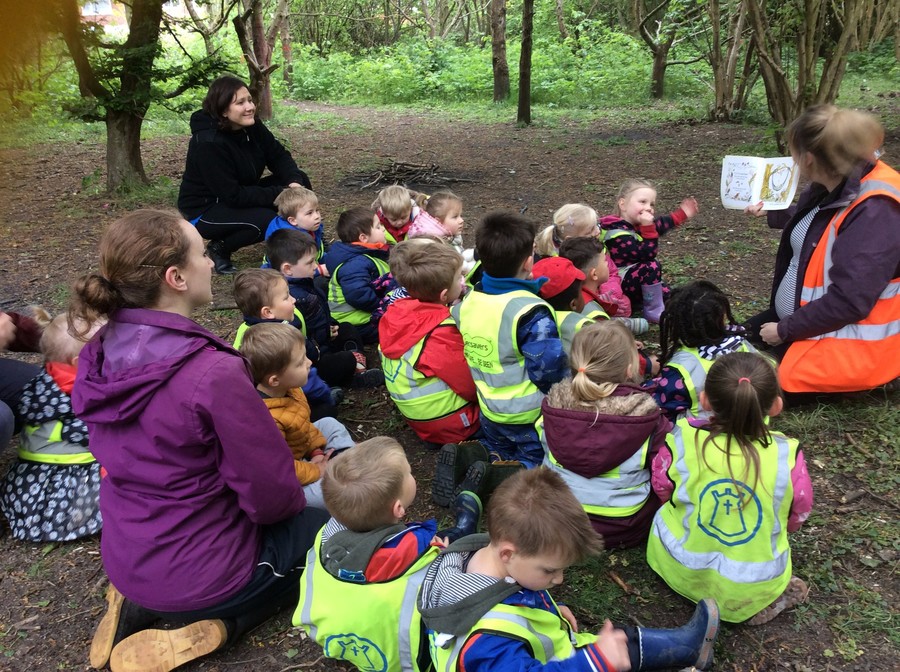 Week 1
This week we introduced the story of 'Jack and the Beanstalk' with props. Some of the children were familiar with this fairy tale. We watched the story then joined in with Makaton actions and repeated refrains.
We have been talking about growing. We painted flowers for our flower bed in the garden using fine paint brushes.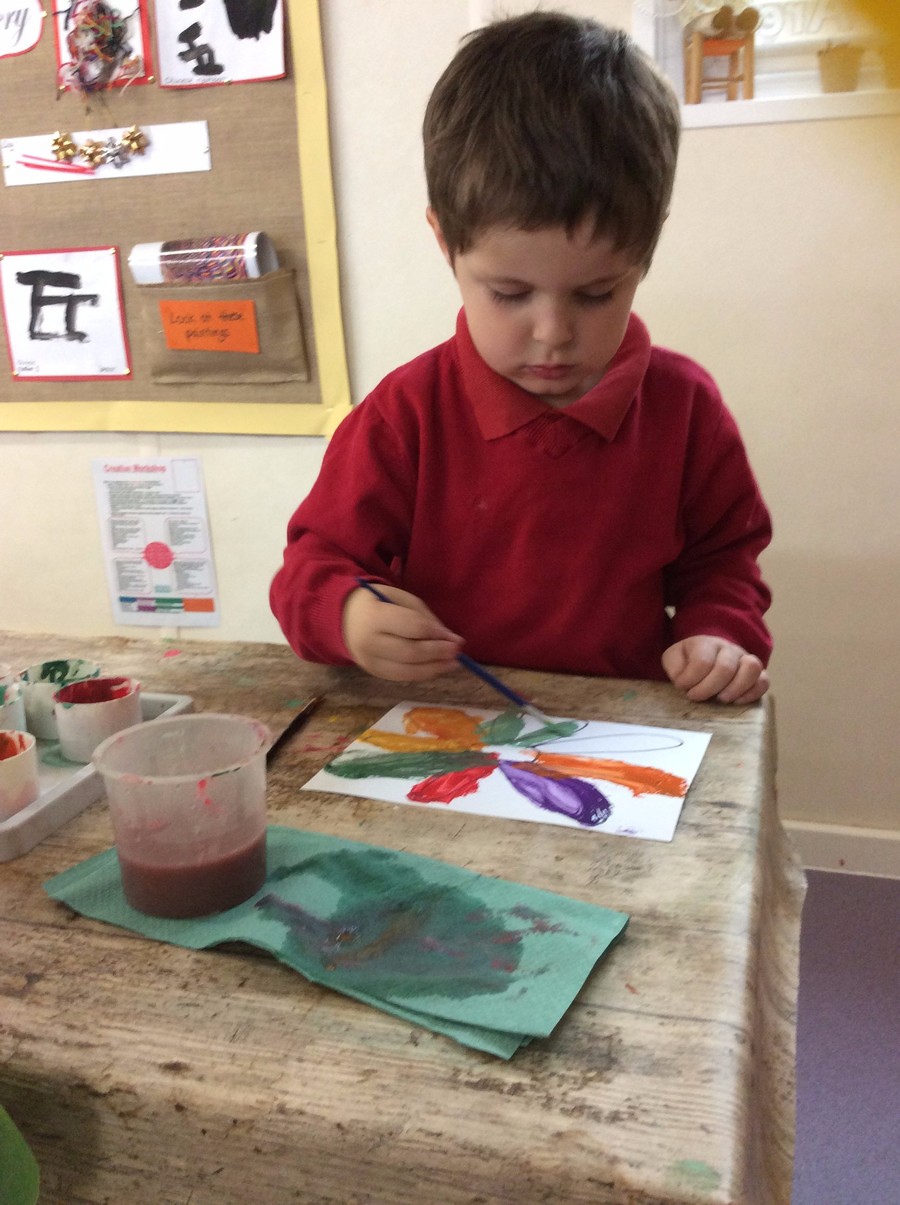 We explored mark making in different ways, we use rollers and brushes on the paths in the garden, this supports our gross motor skills. Inside we used sand in fine trays to make patterns such as zig zags and swirls. This is emergent mark making and supports our writing skills.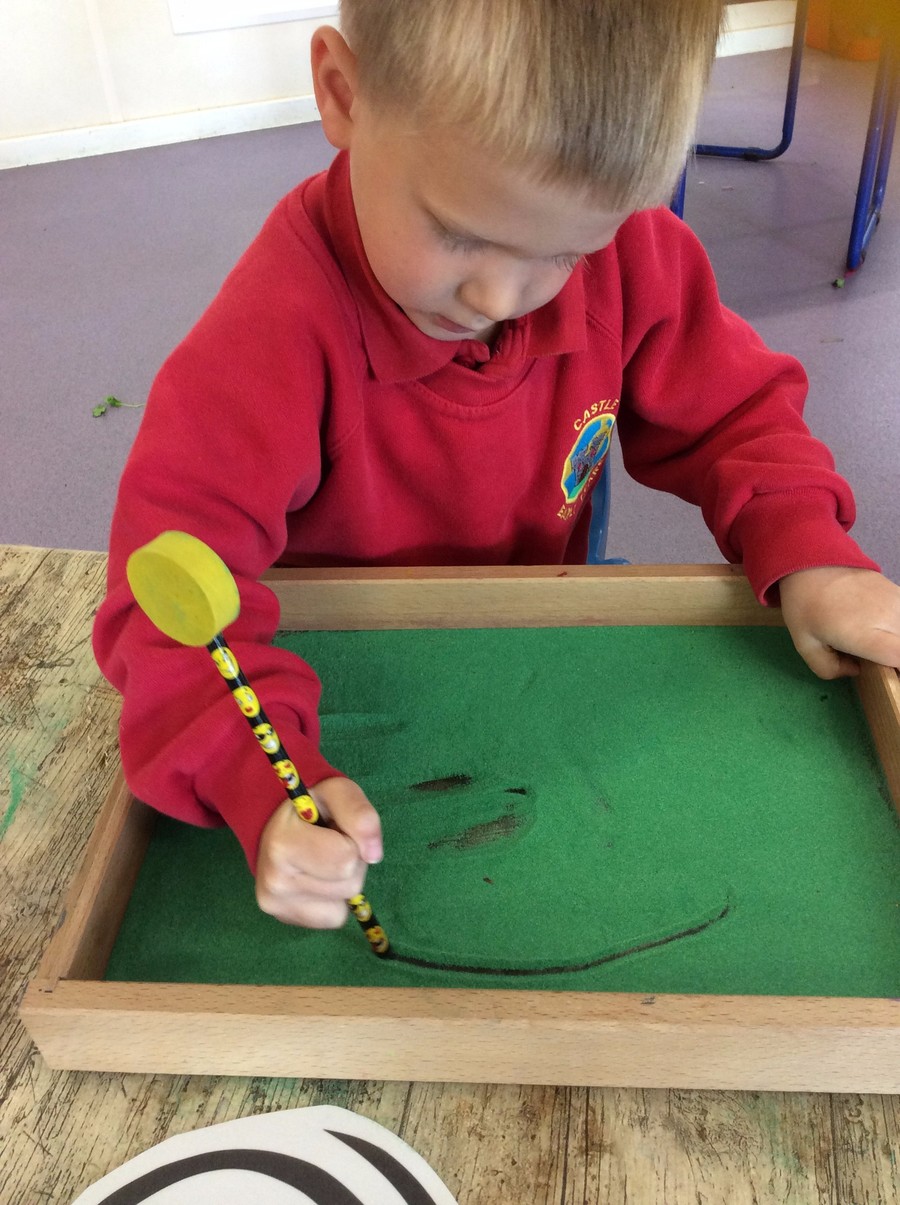 We have been moving in different ways on the field, running, jumping and crawling. We have been kicking footballs and playing throw and catch. We explored parachute games using good listening.
We have been making patterns and arrangements with 2D shapes. In the next few weeks we will identify, name and talk about the different properties of shapes. We will use the Ipad to look for them in our environment.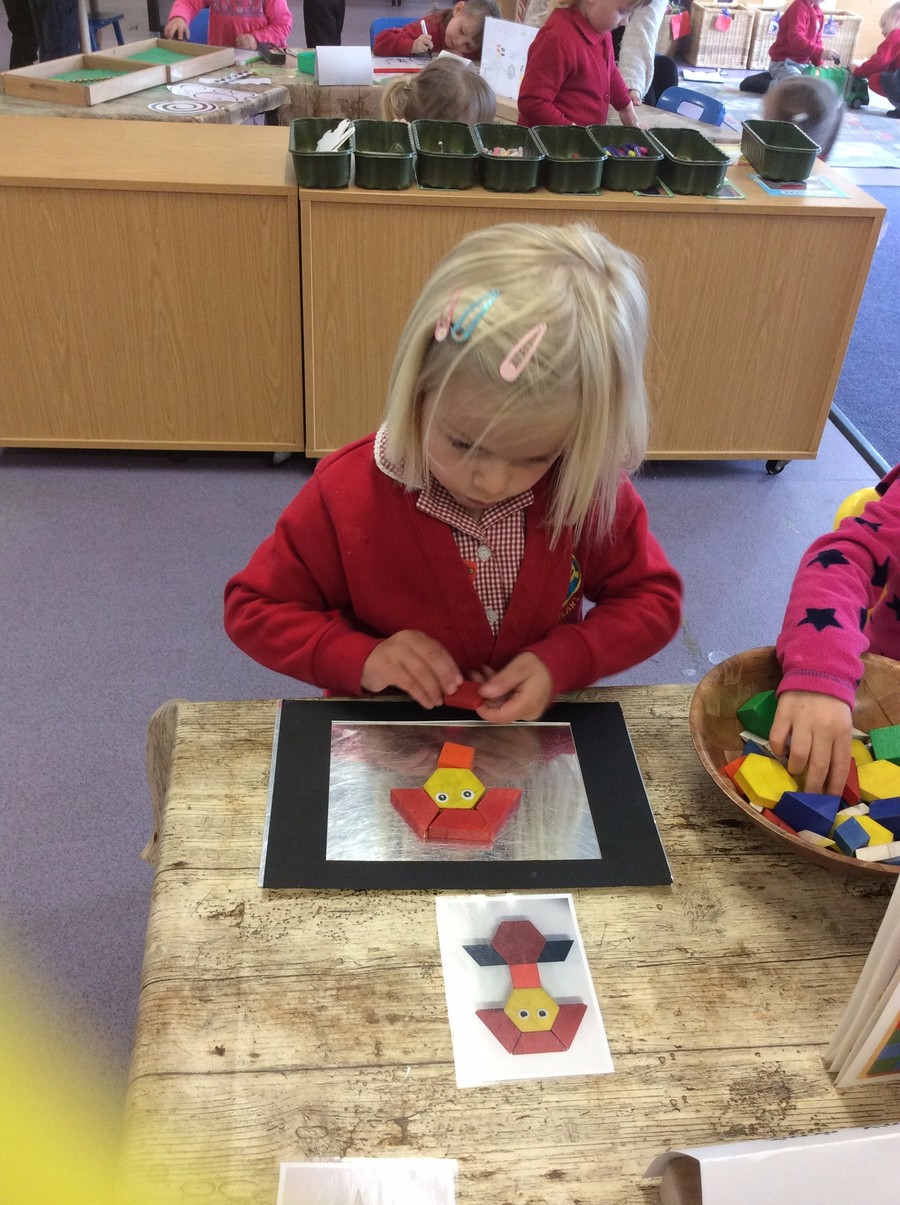 Term 4
Week 7
We continued to explore moving in different ways. On the field we used the bats and balls, footballs, tunnels and tubes to move our bodies and exercise.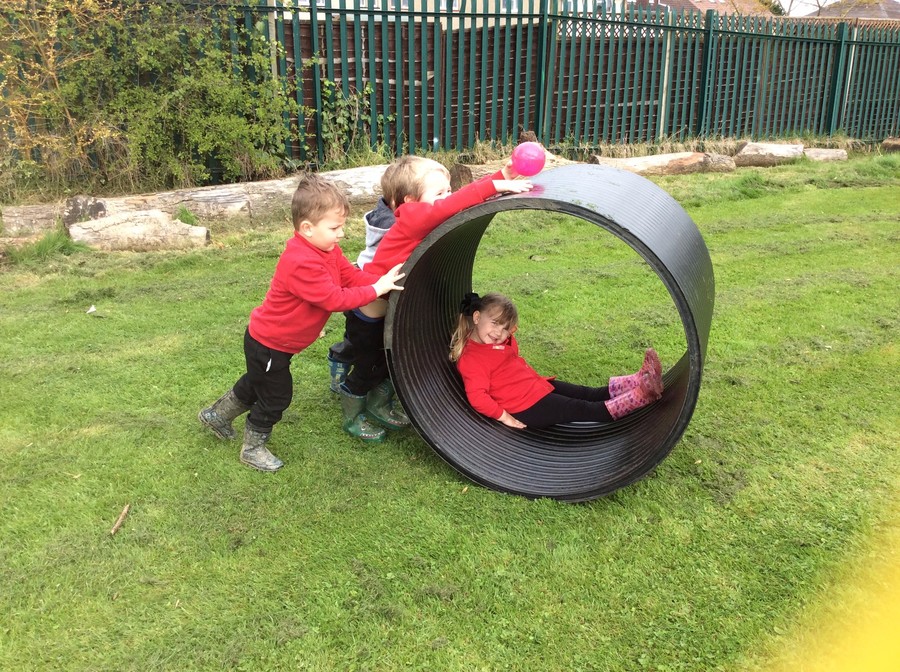 We played Duck, Duck, Goose at group time, which was great fun!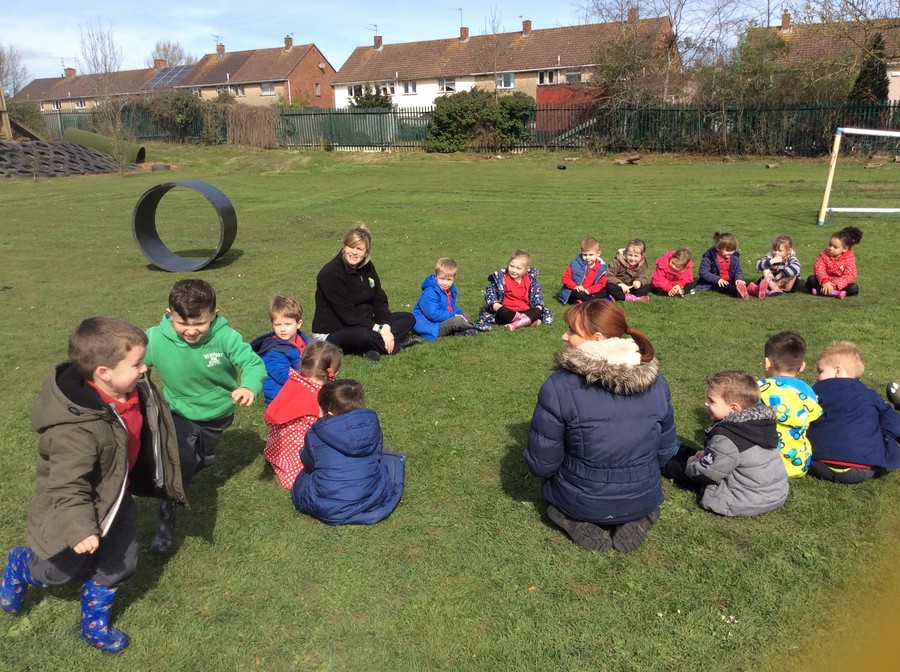 We have been talking about Easter. We watched a story retold using sand on CBeebies. We sang songs about baby animals such as 'hop, little rabbit' and 'baa, little lamb'.
We explored our fine motor skills when weaving paper for an easter basket and decorated biscuits with easter colours by squeezing icing using a piping bag.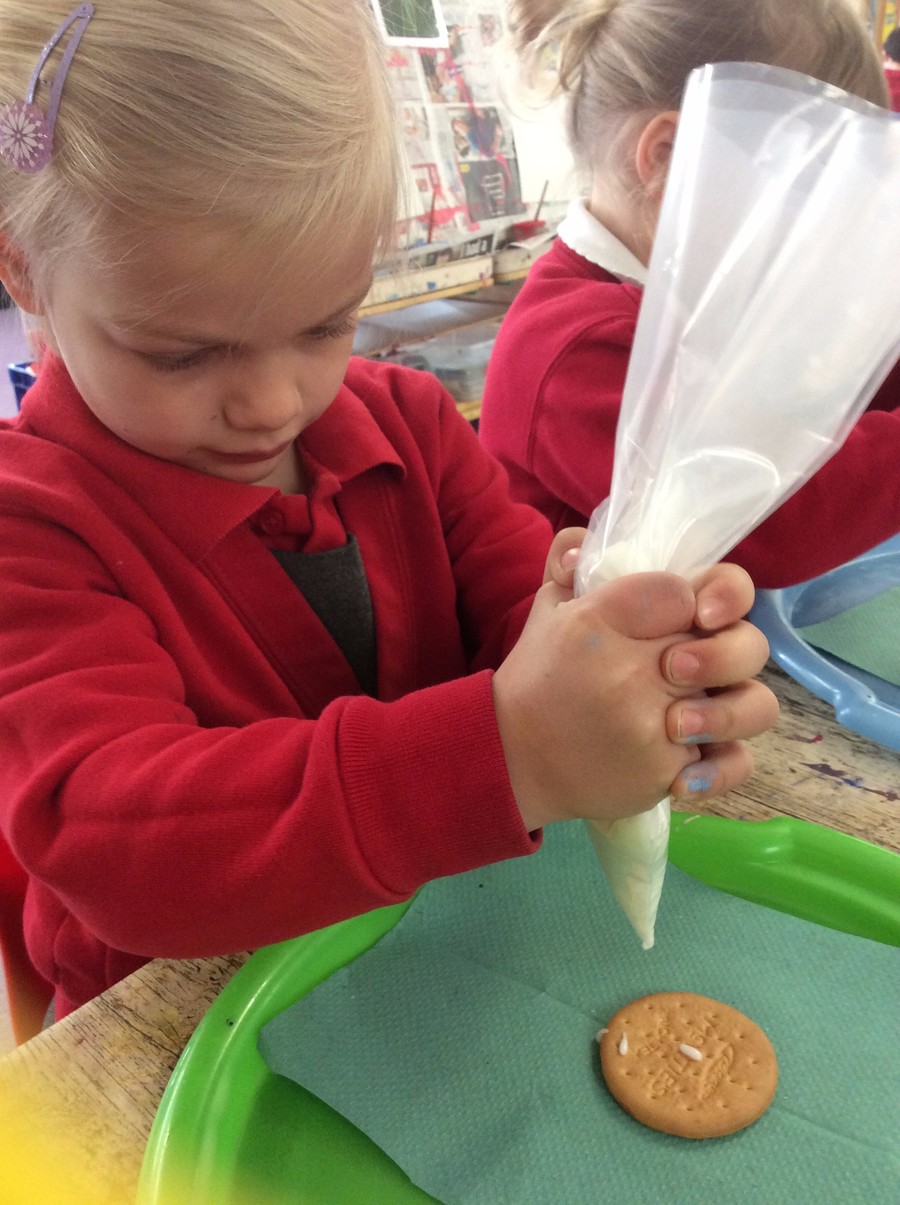 We made easter hats and a rabbit puppet!
On Friday we went on an Easter egg hunt in our garden. We talked about the eggs we found, counted them, then saw if we could find two the same.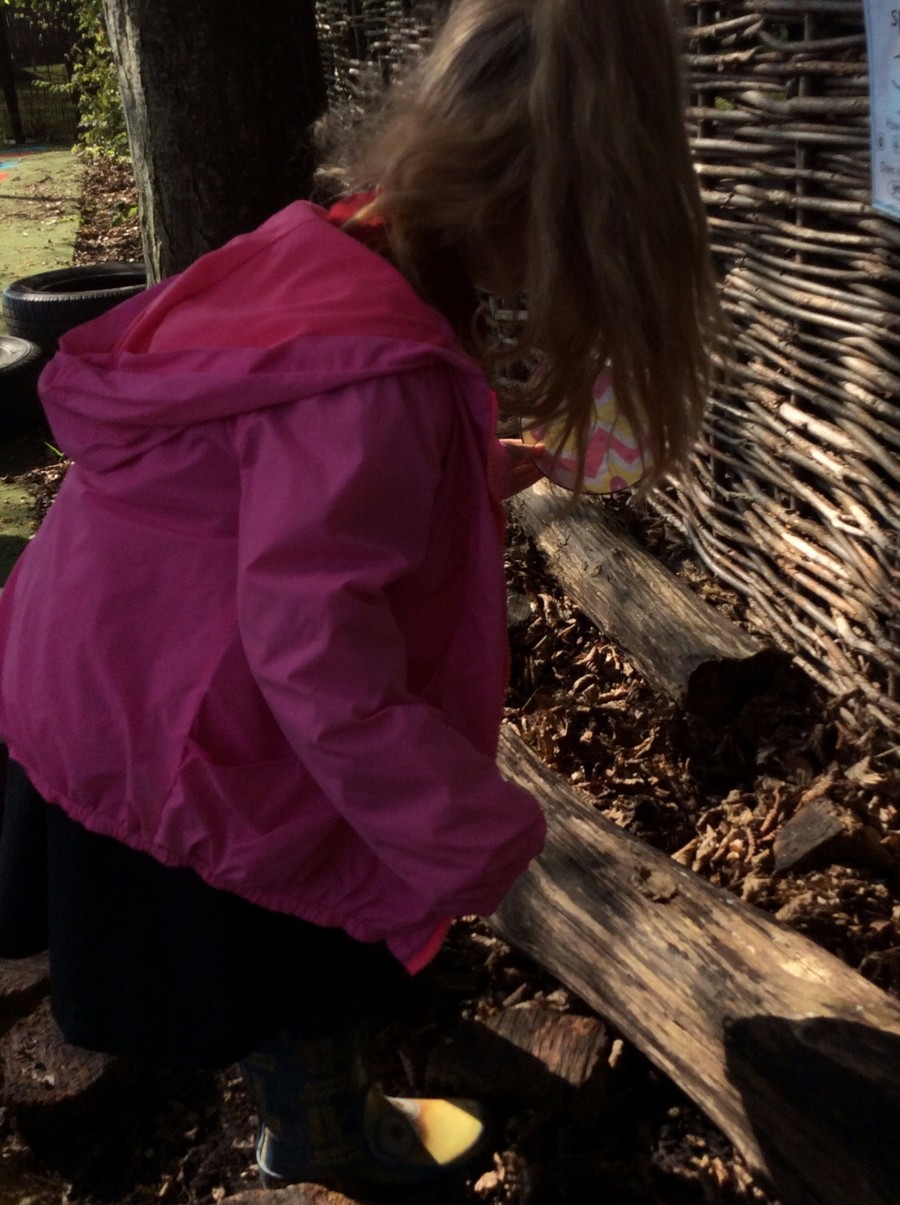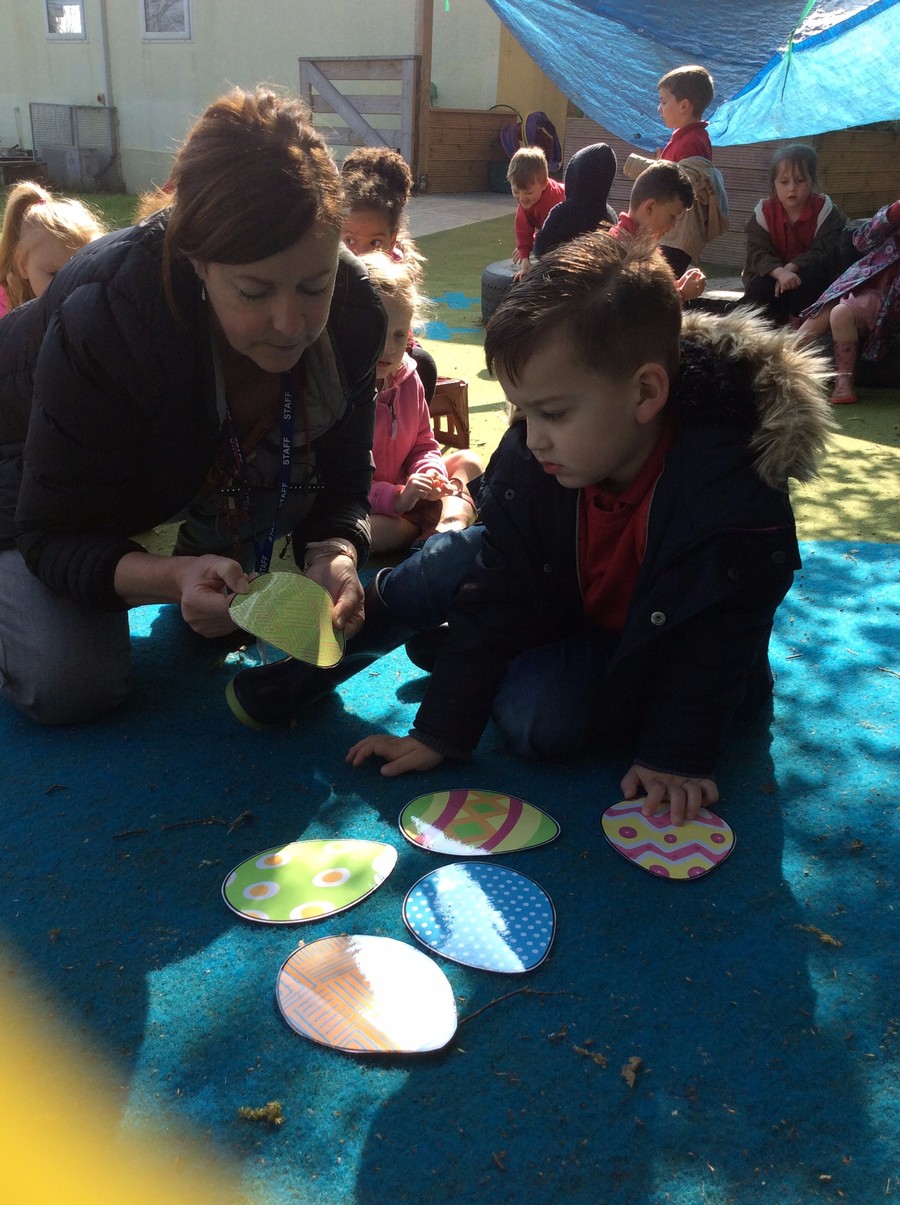 Next term we will be talking about growing; please let us know of any ideas you may have for activities linked to our theme.
Week 6
This week we focused on 'moving' to keep healthy. We went to the school hall for movement to music and parachute time, created an obstacle course in the garden, danced to 'Wake Up and Shake Up' songs on the Interactive Whiteboard, and went to the KS1 playground to explore the large play equipment. We felt our heartbeat before exercise and talked about what happened after.
On our final Woodland Wander of this term, we revisited the little woodland and saw lots more signs of spring. There was blossom and buds on the trees, we saw three nests and found feathers and saw some beautiful spring flowers like daffodils and bluebells. We finished the session using the tarp as a stretchy cloth and put leaves on top to sing 'we shake, and we shake'. It was lots of fun.
This week the children have be counting from 1 to 20 and beyond in lots of different ways. We count how many friends are here today, count how many boys/girls, counting claps and counting different objects such as pom poms and buttons. Please continue to count lots at home and when your child is confident at counting up to 20 try asking them 'what's one more than 5' or 'what's one less than 9'.
Thank you to all the children we returned their completed 'teeth brushing' chart, keep up the good brushing!
Next week is the last week of term and we will be talking about the celebration of Easter.
Week 5
We talked about healthy eating this week. We sorted the foods into hoops, saying if we felt they were healthy or unhealthy (treat) foods. We talked about healthy foods giving us energy and keeping us well. At lunch time the children had stickers for eating all their 'healthy' foods first.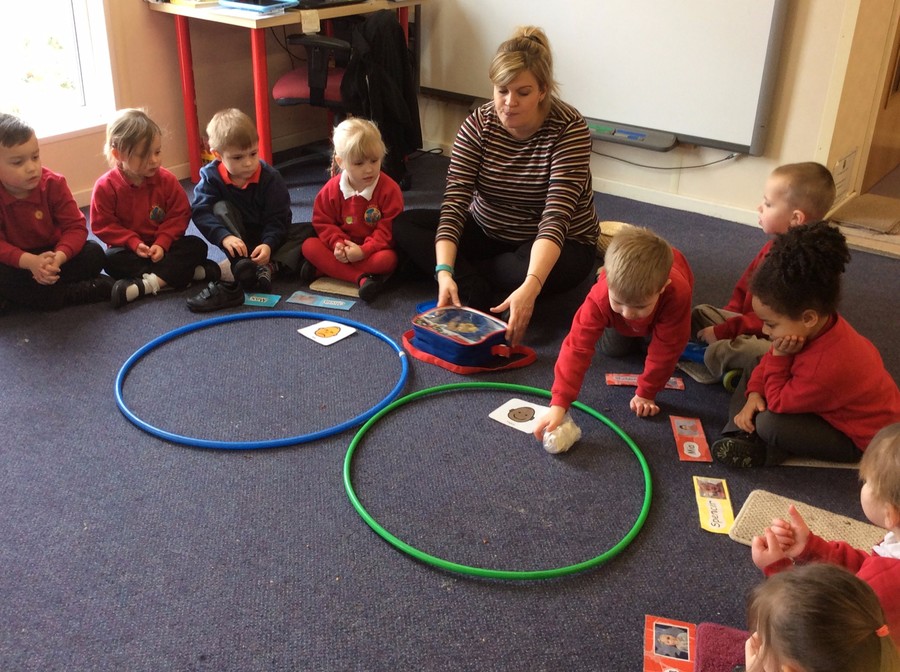 We also talked about keeping our teeth healthy too. We listened to a story about Dora the Explorer Brushes her teeth. She told us the steps to teeth brushing.
Wet your toothbrush

Put a pea-sized bit of toothpaste on the brush

Brush for 2 minutes in a circular motion (morning and night)
We then learned a song about tooth brushing and had a go at brushing the giant teeth! If your child does a great job at brushing their teeth for a week please let us know and we'll give them a certificate.
This week we explored lots of different mark making. We had a Mark Making party and thank you to all the parents and carers who joined us on that afternoon. We hope you found it useful!We made marks in gloop, shaving foam and fine sand. For those already trying to write their name we focused on holding our pen correctly and forming some of the letters.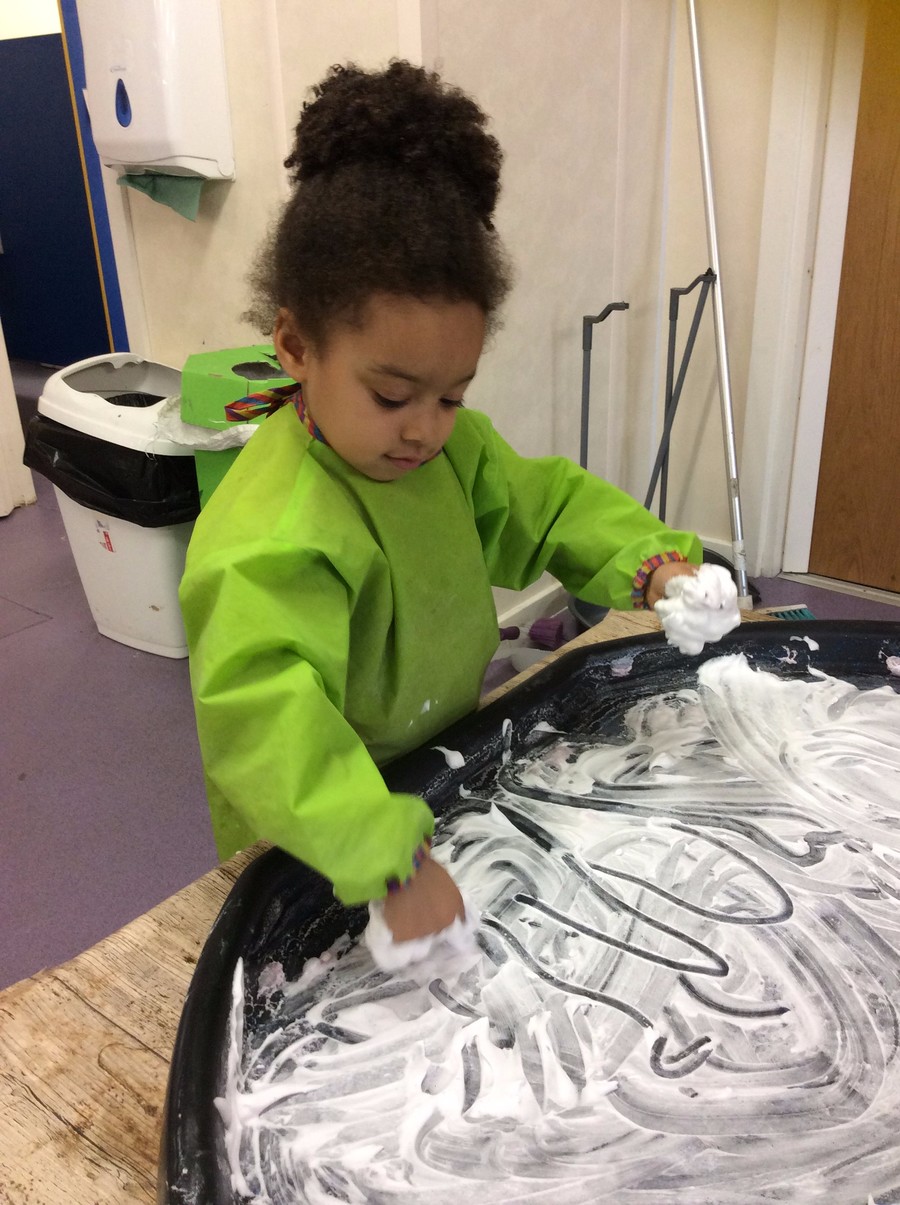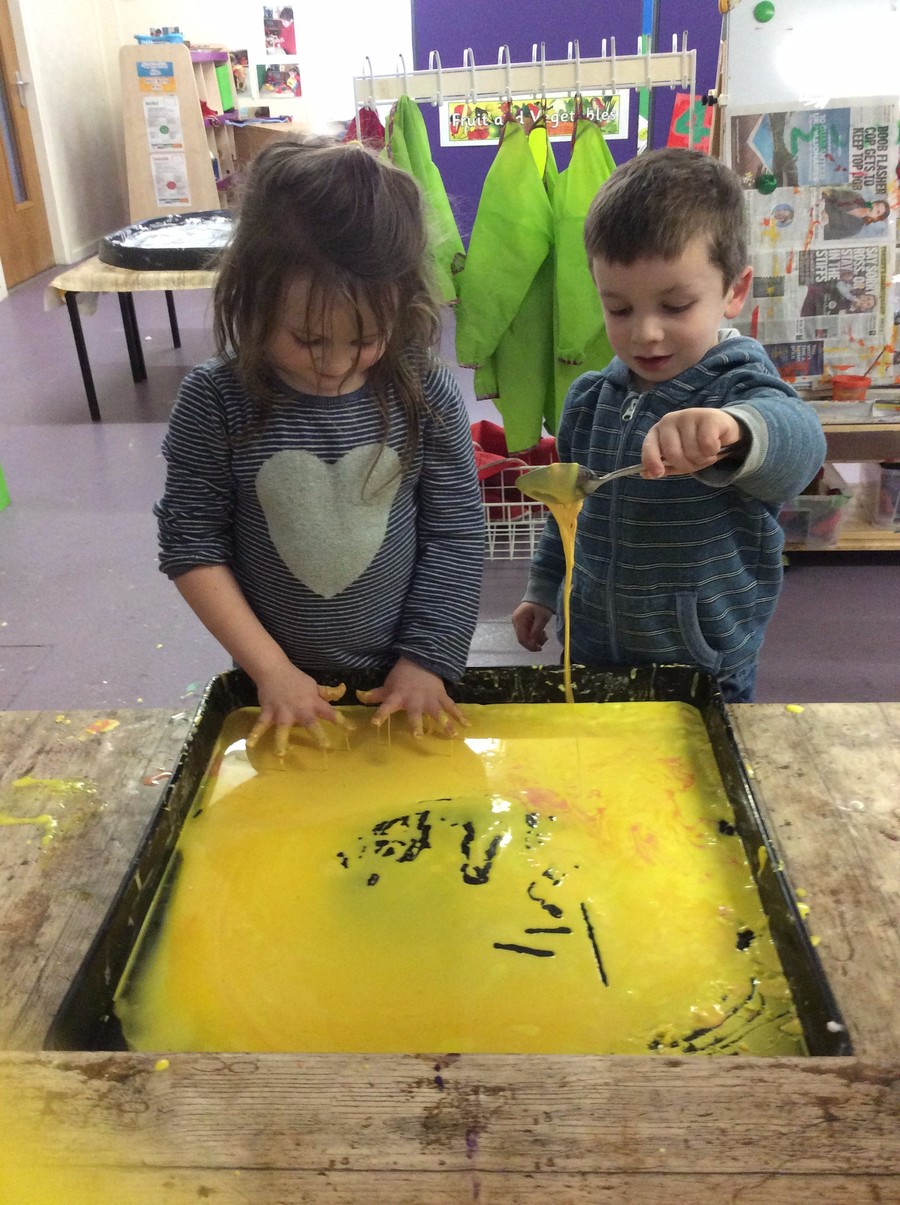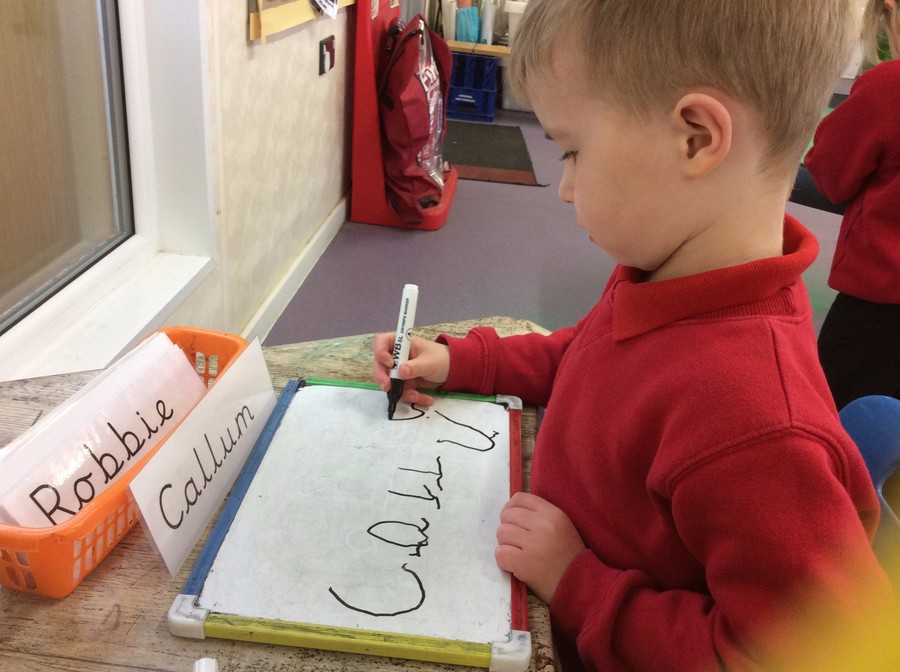 We had fun wearing something red on Friday for Red Nose Day. We watched a poem about where our donations go and how they help children less fortunate than us.
We made a Mother's Day card for someone special this week using the bottom of a celery dipped in paint! I think you'll agree they look fab!
Next week is our last Woodland Wander of the term, please bring your child ready for the woods in waterproofs and wellies. It was a super, wet woods this week!
Week 4
Woodland Wanders: this week was our first time at the woods this term. We went on a walk and used the Spring hunt cards to search for signs. We found buds on the trees, feathers and a nest, spring flowers and even found a pair of ducks.
We had snack at base camp then explored lots of physical activities. We loved climbing a tree, swinging on the ropes and balancing on the climbing ropes.
We finished our session with a reflection time, sitting by a log for two minutes and listening, then sharing our thoughts and feelings from the session.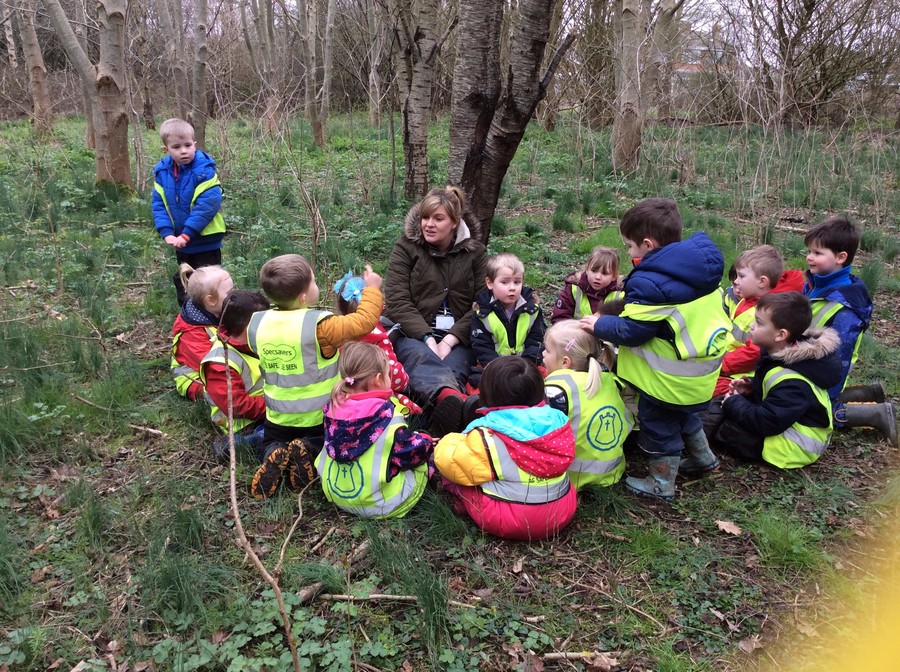 Following on from our story telling of Handa's Surprise last week we had a go at drawing a story map. We use pictures to represent parts of the story and retell parts we can remember.
On Friday we talked about St Patrick's Day. We watched 'Let's Celebrate' and learned a bit about how the children in Ireland celebrate this special day. In Kendal we explored green activities. We made green playdough, sorted green items in the tuff spot and used green shapes to make patterns. We had a go at marble rolling as well to decorate a shamrock.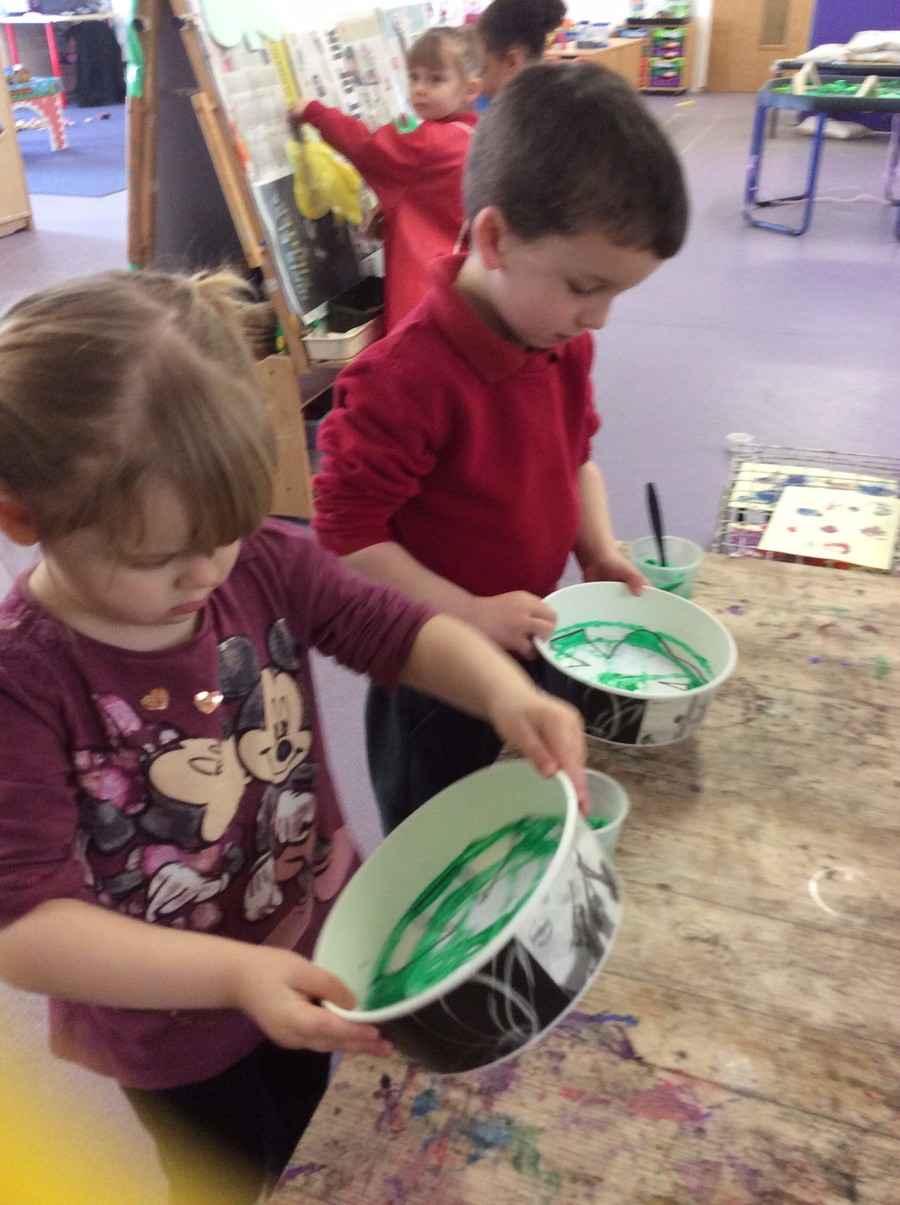 At group time we watched some Irish dancing and Mrs Howe taught us some moves. We danced to the music and it was great fun!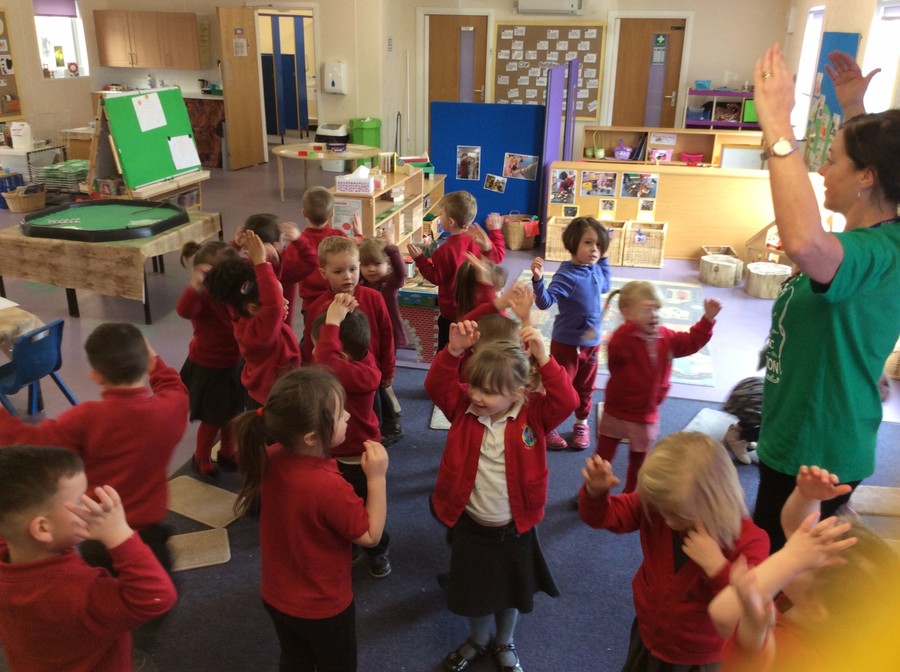 Week 3
This week we followed on from using props to retell the story Handa's Surprise to signing using Makaton actions. We are going to retell the story for Pembroke and Edinburgh next week.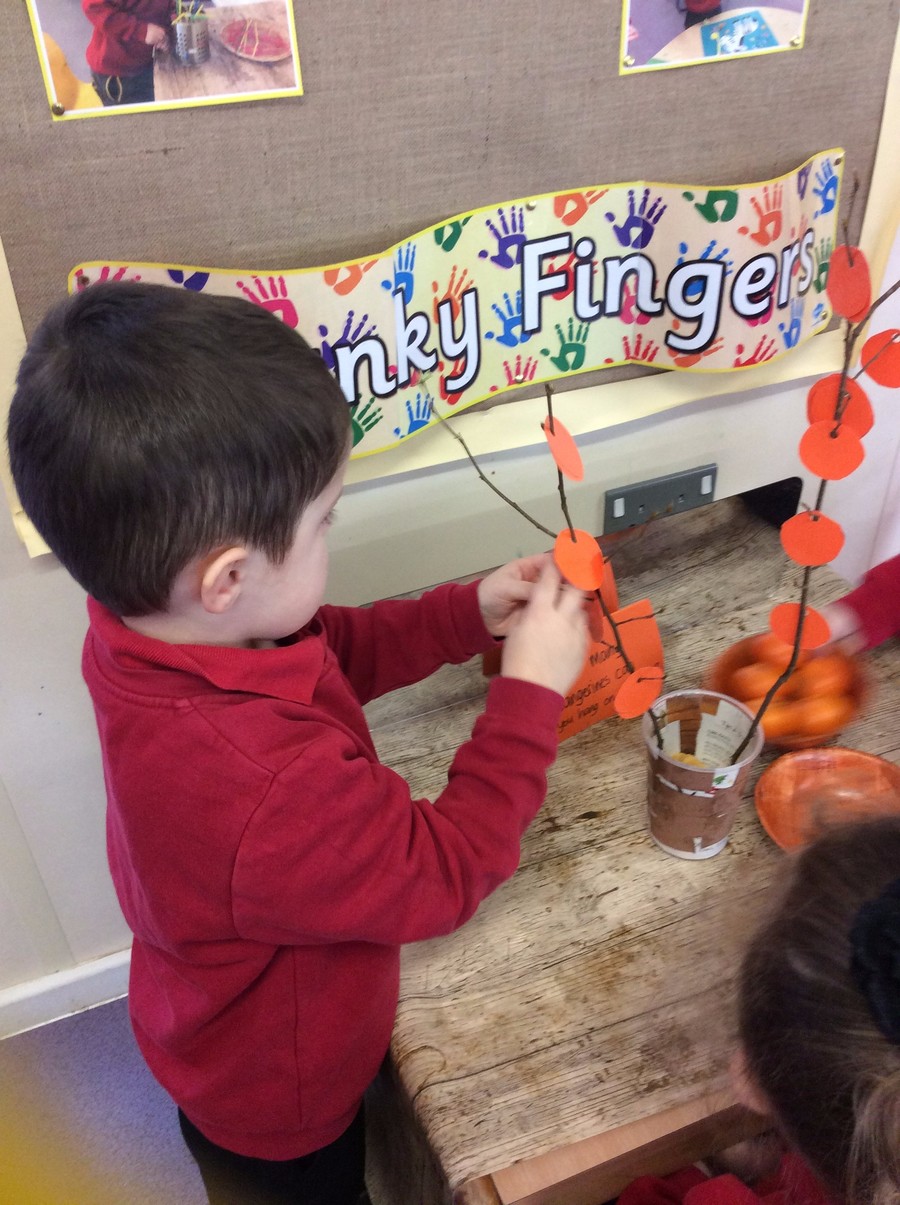 We have followed the healthy eating theme through our provision, the children have been threading tangerines on to a tree on the Funky Fingers table. We have been recognising numerals, counting and matching quantities on the maths table.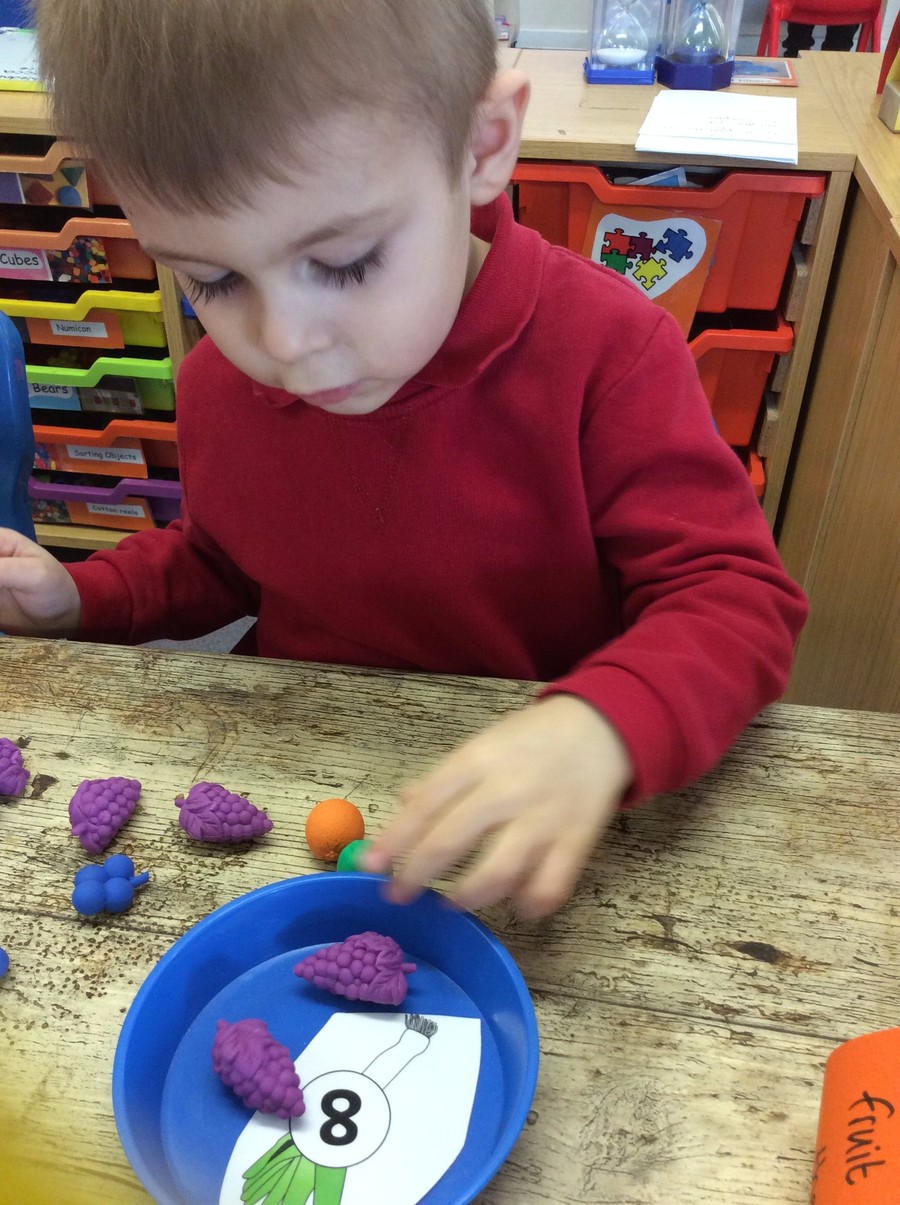 Week 2
It has been an exciting fun-packed week in Kendal this week. We celebrated Shrove Tuesday, St David's Day and World Book Day. On Shrove Tuesday we talked about why we make pancakes and what ingredients we use. We had a go at pancake flipping and tasted pancakes with different toppings.
On Wednesday we listened to a story about St David and tried doing an observational painting of a daffodil. We sang flower songs such as '5 daffodils standing in a row' and '5 bunches of flowers in a flower shop' at group time.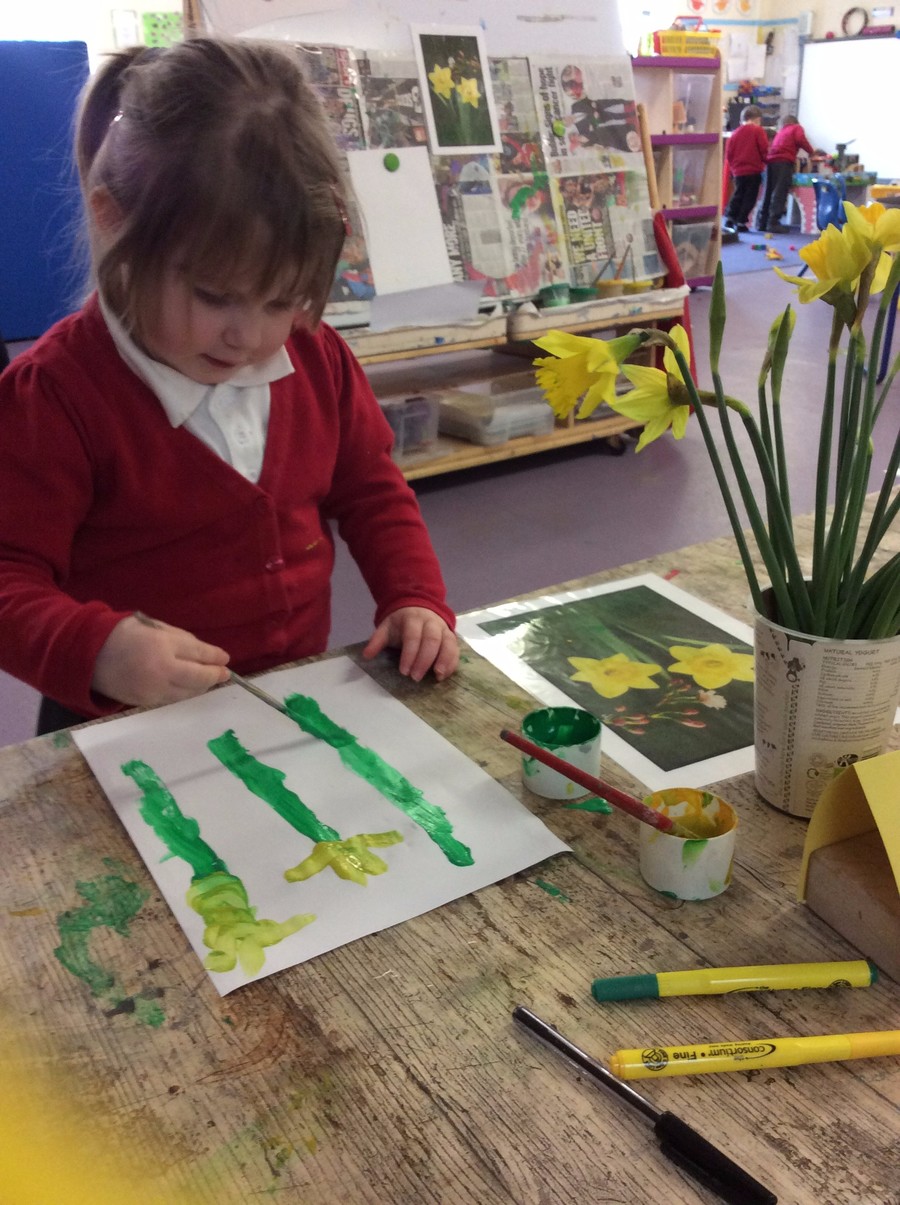 On World Book Day we all dressed up as our favourite book character. The Kendal team were characters from 'The Very Hungry Caterpillar' and Miss Edgley was 'Little Rabbit Foo Foo'. Thank you for making so much effort to dress up and bring in a book from home. We had lots of literacy activities going on in Kendal that day such as story telling with props, drawing our favourite book cover and story time with cushions in the book corner.
Week 1
This week we have been settling back into the nursery routine. We have been going through the 'Kendal' rules;
listening ears

walking feet

kind hands

inside voices
to remind the children to stay safe and be 'ready to learn'.
We introduced the story of 'Handa's surprise' using visual props. The children were really engaged and have already started to join in with the repeated refrains. Next week we will introduce the Makaton signs and send home a copy of the story so you can support your children to retell it at home too.
This week we talked about what we did in the holidays. We are gaining confidence to share in a small group or to an adult and building up our sentences to include 'and' and 'because' (eg, I went to the park and I had an ice cream). Next we had a go a drawing our experiences and some of the letters in our names.
Some of the children have been giving the 'new' cursive writing a really good go, remembering a lead in and a tail out.
Next Tuesday is Shrove Tuesday and we will be tasting pancakes (Please let the Office know if your child has any allergies you haven't already told us about) and using play dough to have a flipping competition. We will read the story of The Runaway Chapati.
Next Thursday 2nd March is World Book Day. Please bring in your favourite book and dress up as your favourite character from a book. We will be exploring lots of fun literacy activities.
Term 3
Week 6
Firstly a big thank you to all the families who joined us for our 'Twinkle Time' bedtime story session. It was lovely to see that you all made so much effort wearing your pjs and bringing your teddies. We listened to some stories being told using props, then singing time with the stretchy cloth, finishing with a hot chocolate and a biscuit. It was lots of fun!!
Next term we will be hosting another sharing time event so look out for that.....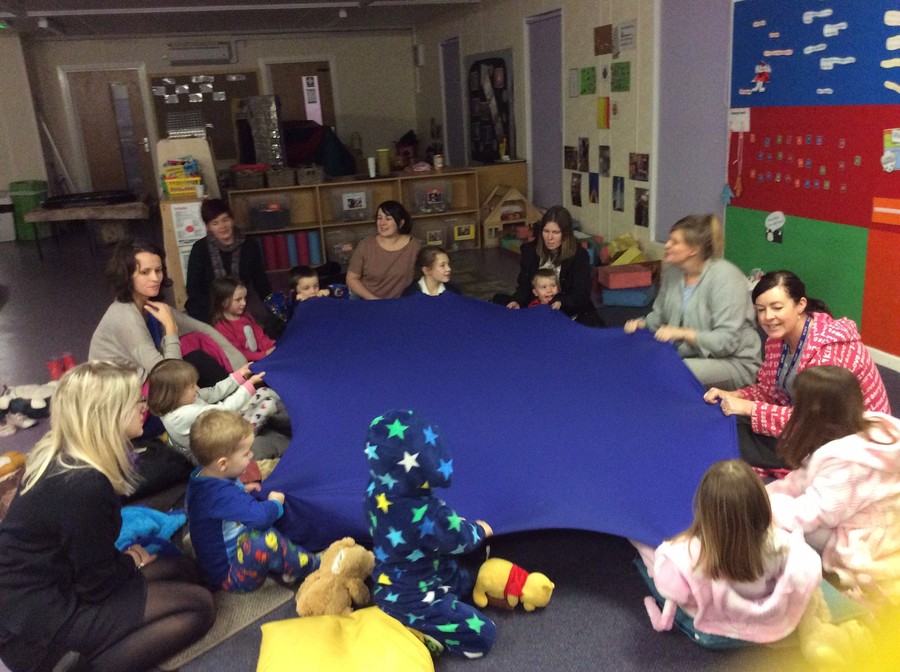 It was very exciting on Wednesday when we heard how a cheeky alien landed in his rocket in Kendal Class. He got up to mischief and we saw photographs of what he got up to, he even used Mrs Howe's tambourine!!! We had to make him a rocket using loose parts such as boxes, foam blocks and tubes. We drew the alien a plan of how to make his own rocket. Some of the children made a 'wanted' poster to help us to find him.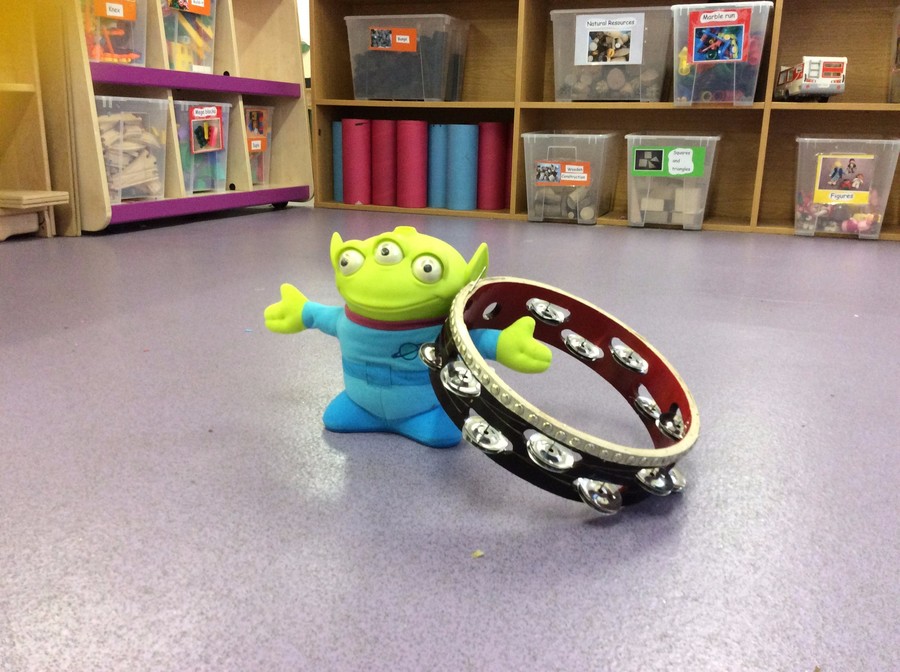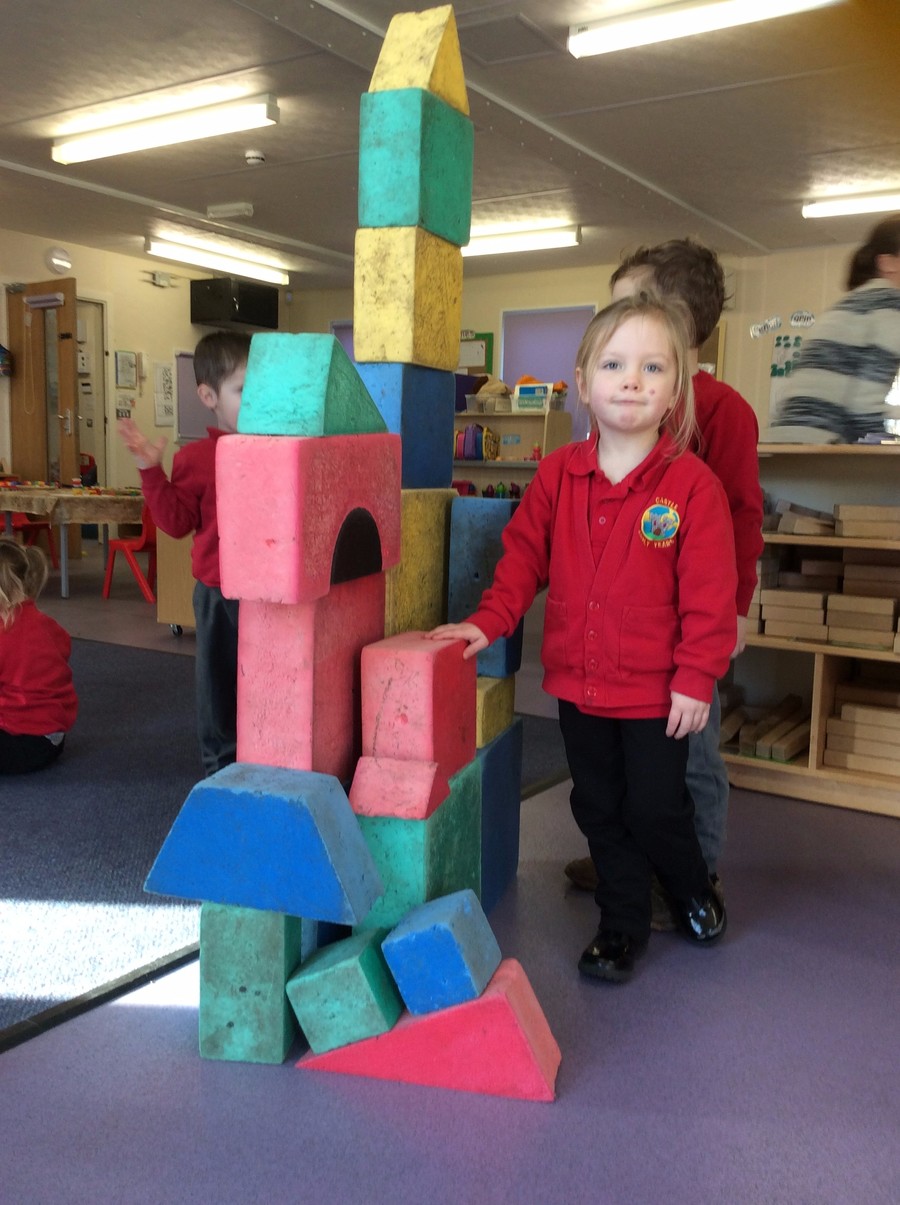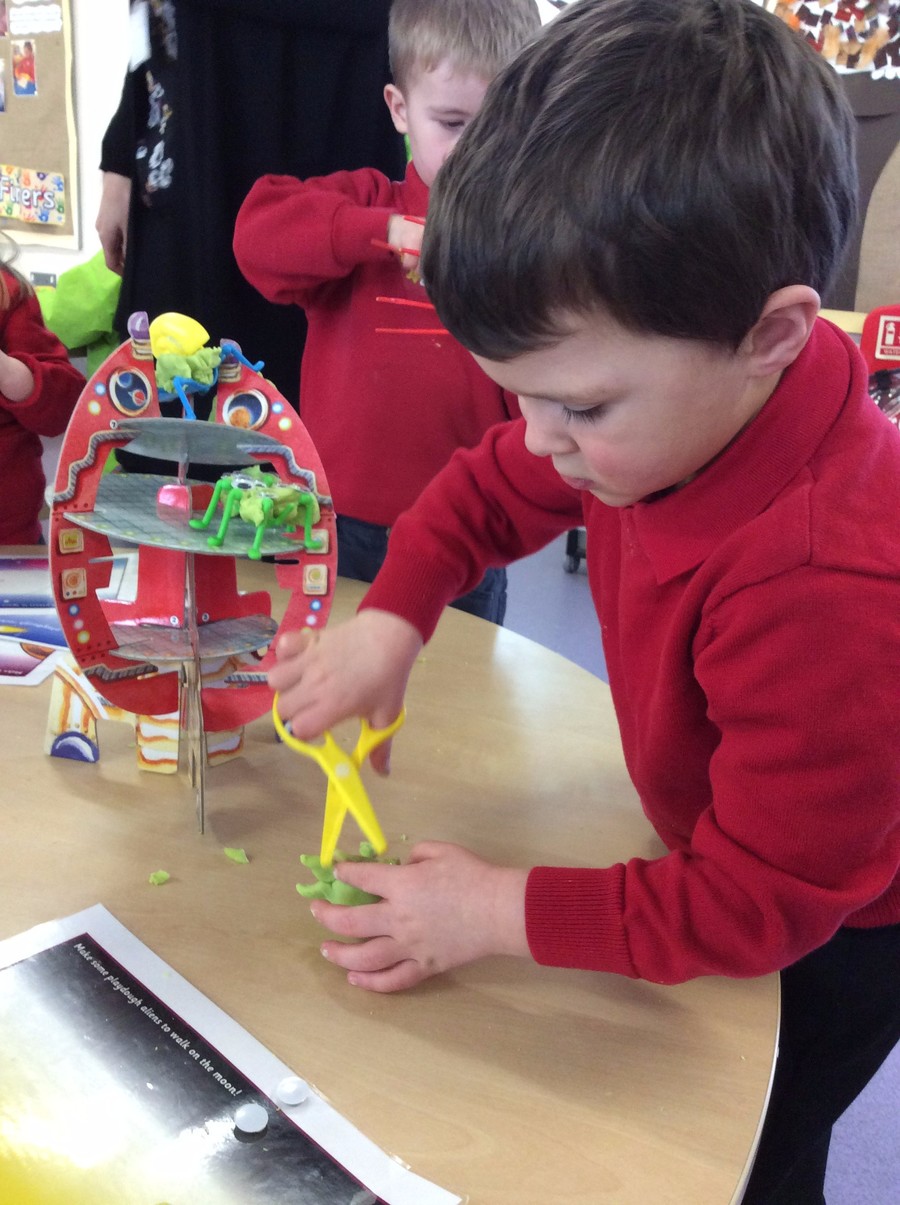 We read the Story of 'Aliens Love Underpants' which we found very funny!
On Friday we talked about 'Valentine's Day'. We focused on 'kindness' and awarded children with 'kind tokens' when we saw them being kind, helpful and polite. We enhanced our learning environment with red items such as red dough with heart cutters and making cards and hearts for our loved ones. At large group we sang friendship songs, 'hug your teddy bear' using props, and listened to the story 'Guess How Much I Love You?'.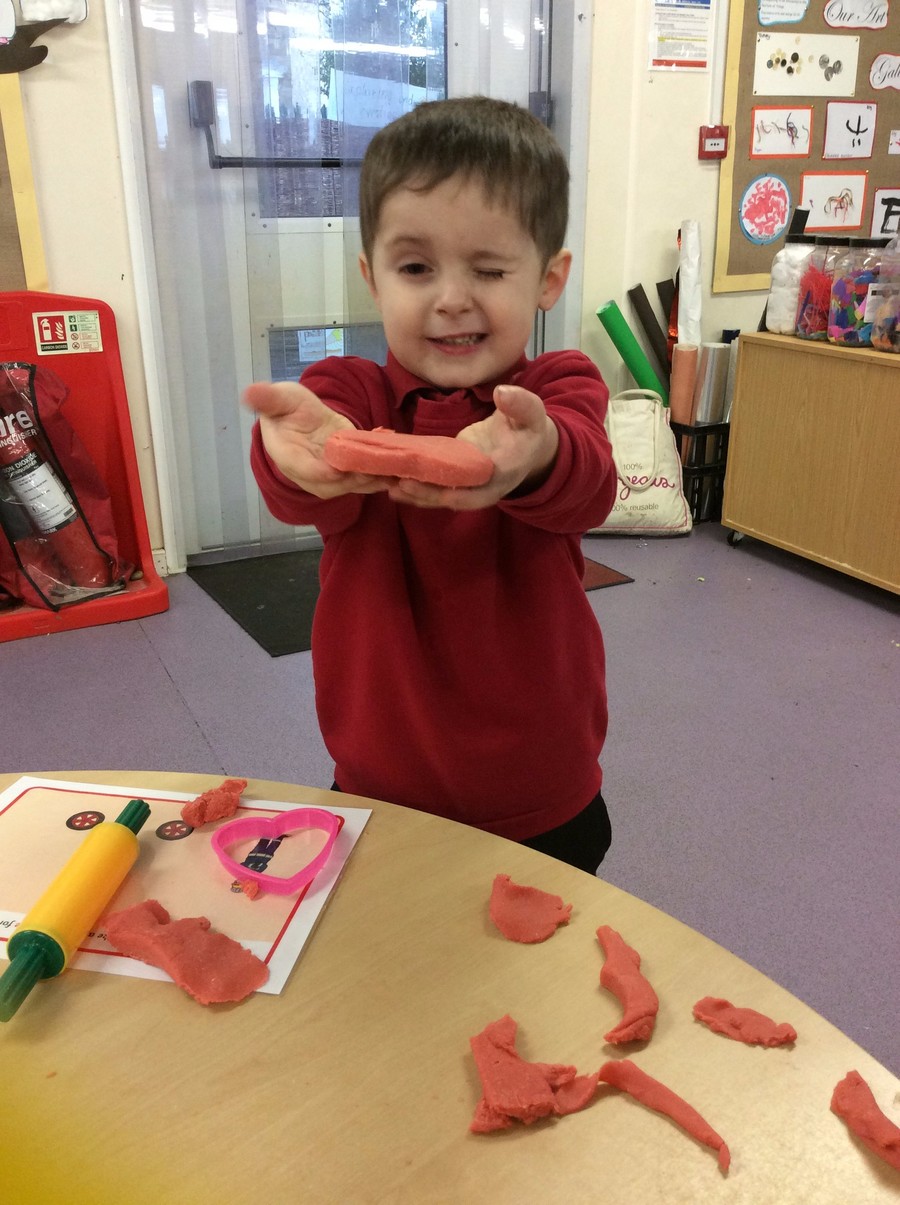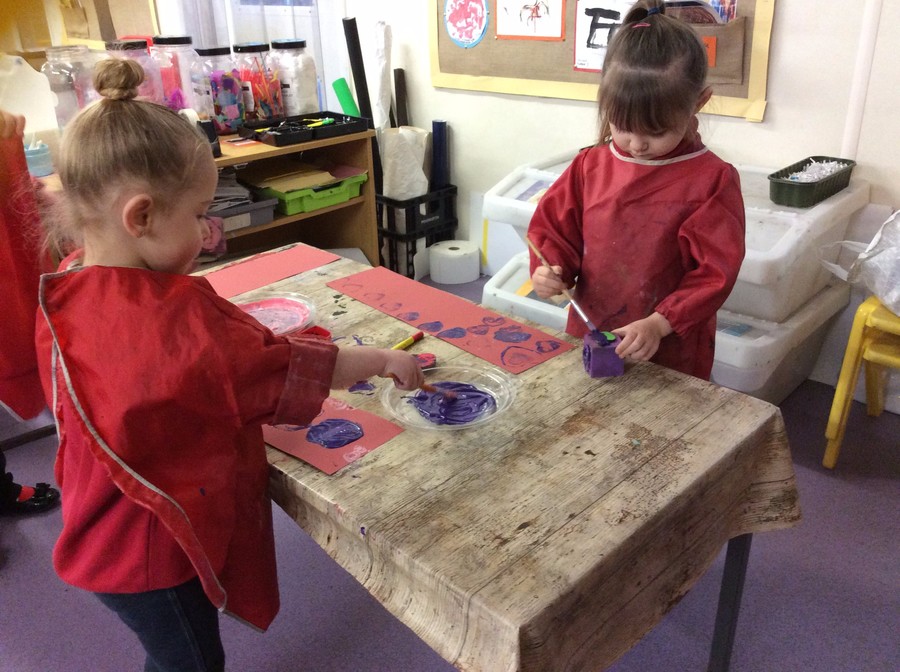 Week 5
This week we have been learning about Space. We started by listening to the story of The Three Slimy Aliens being told using props. We had a go at retelling the story using the props.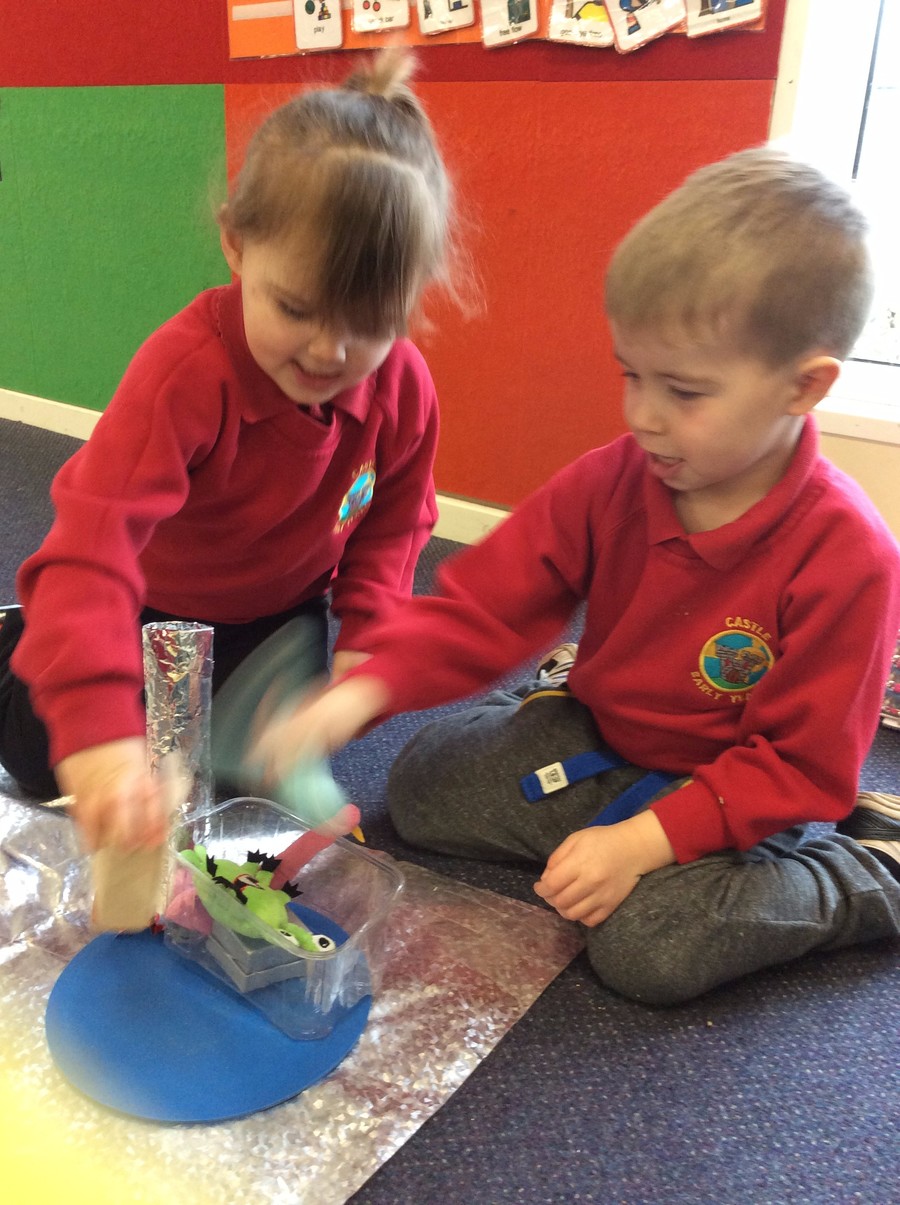 Next week we will learn the Makaton signs and draw a story map (mark making the story).
We created a space rocket in the role play area and there has been lots of imaginary space play going on.
Week 4
This week we have been learning about Chinese New Year. This year is the year of the Rooster. We adapted our role play area to be a Chinese food shop, the children liked using the real foods to sell. We made a lantern.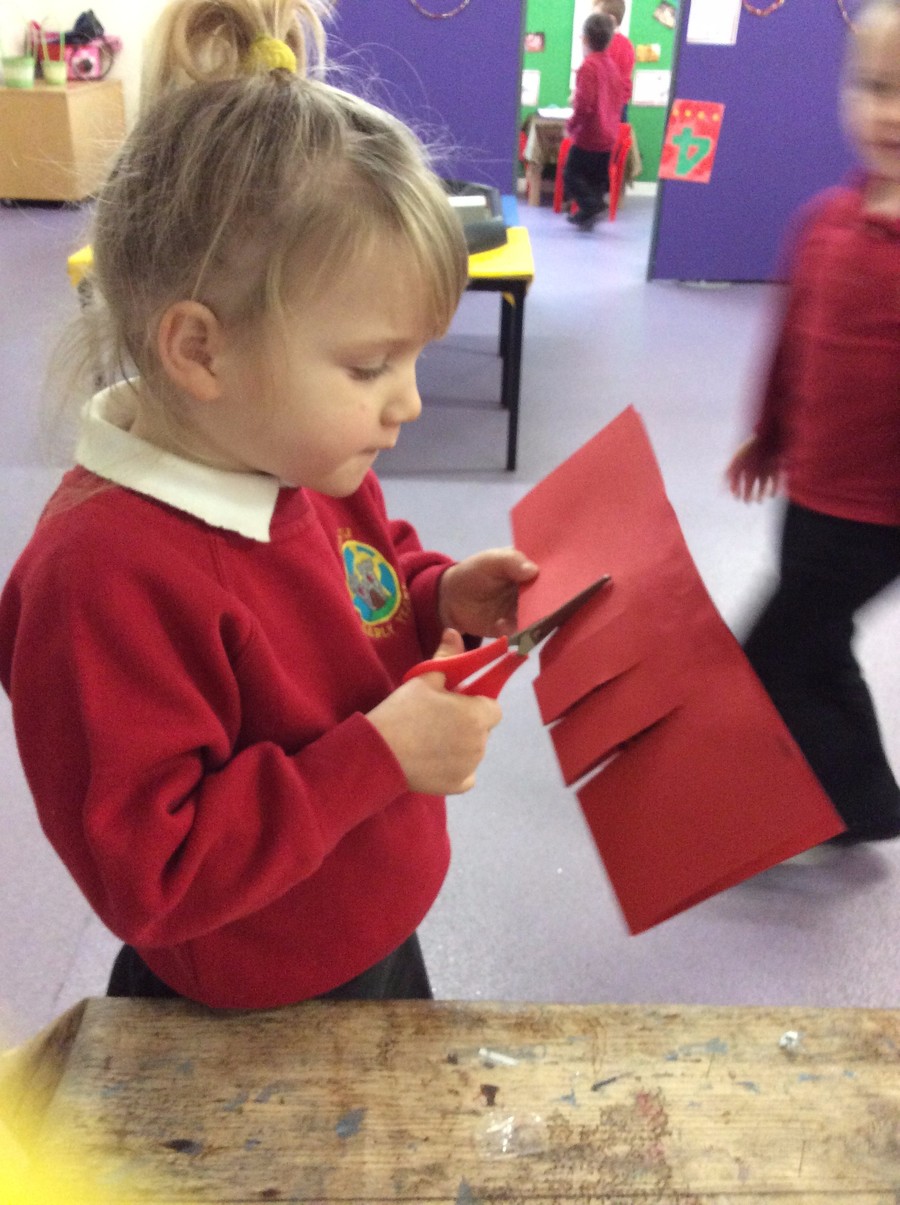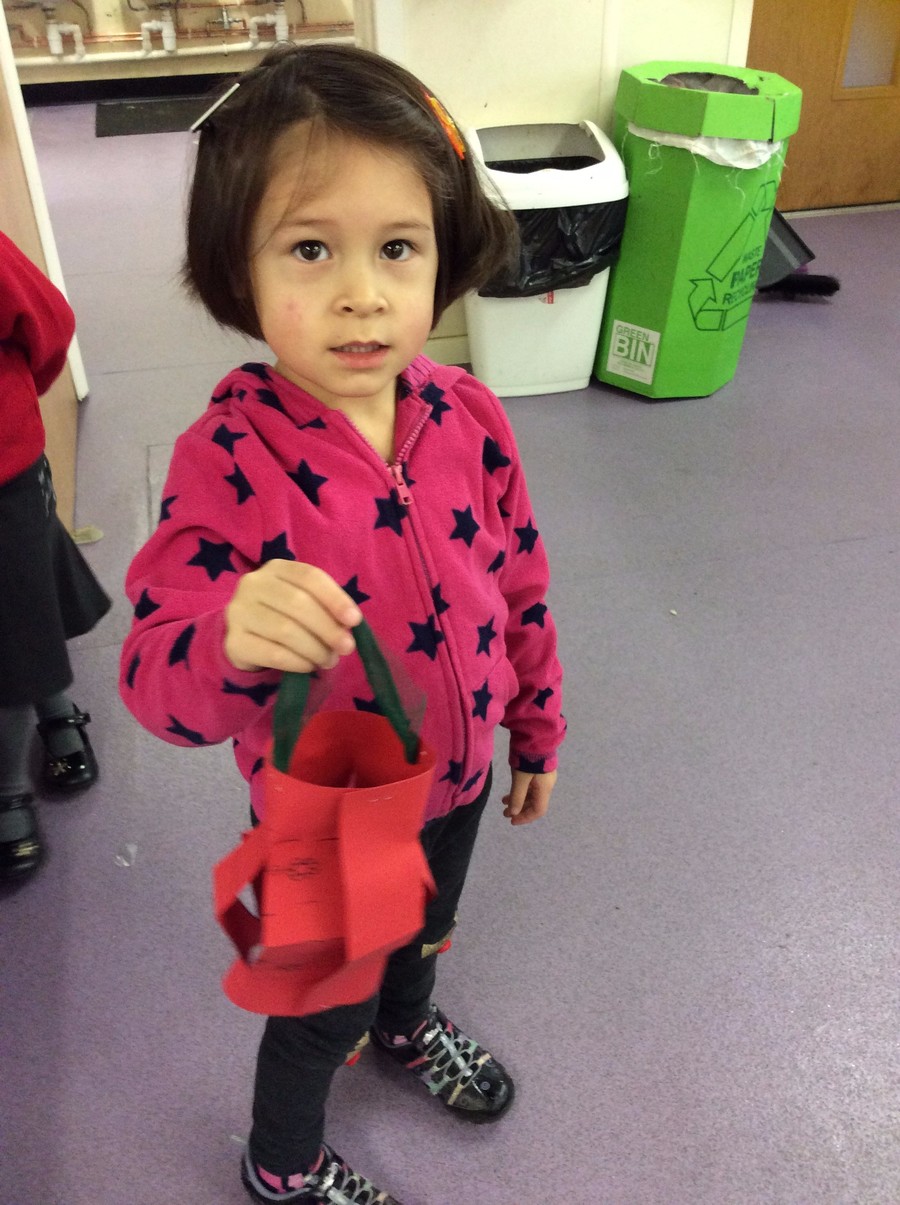 We tasted noodles and sauce and prawn crackers and the children shared 'I like noodles, they are like pasta' and 'these are crunchy'.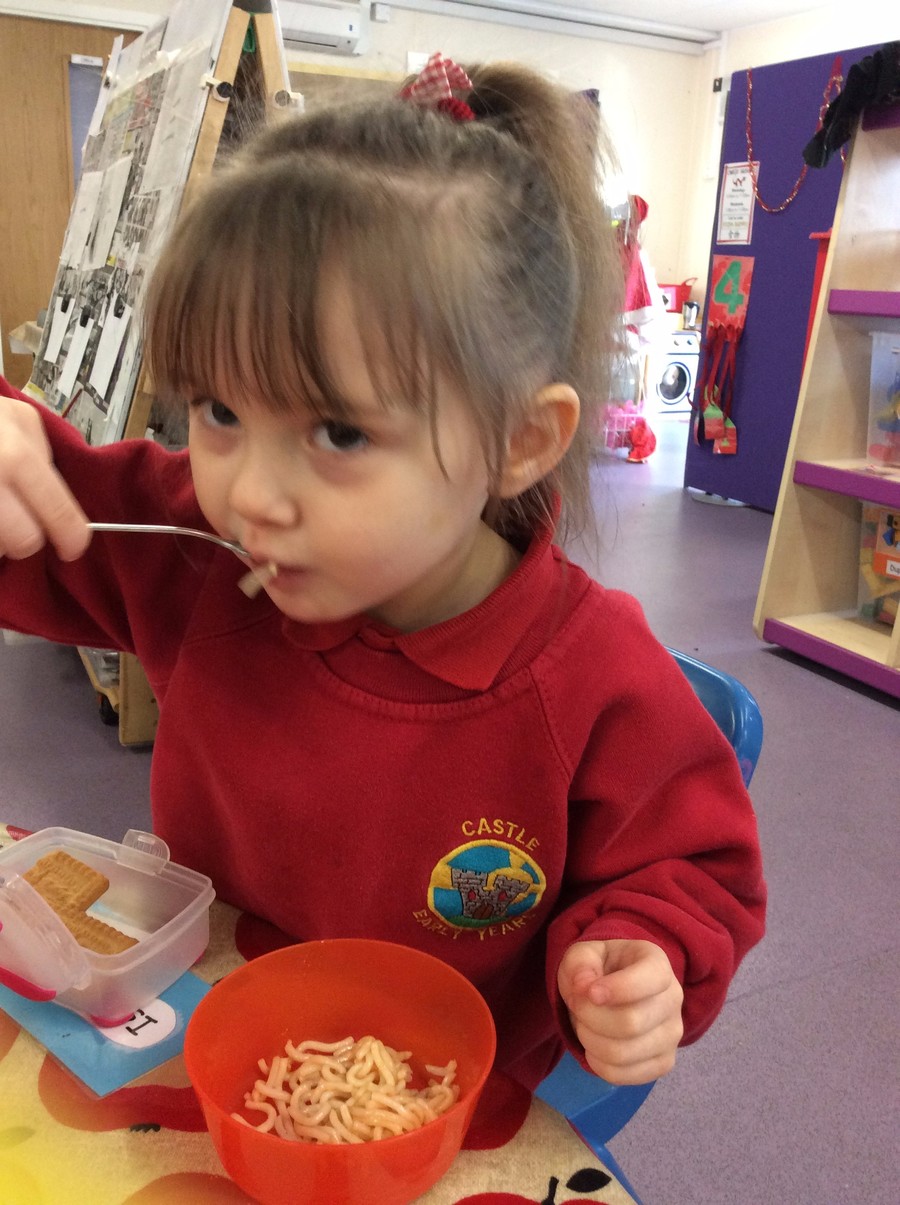 We listened to Chinese music and the story of the animal race using props.
We used chop sticks to develop our fine motor skills and tried to pick up red rice and gold chick peas.
One of our peers shared some special items from china and how she celebrates Chinese New Year at home.
On our Woodland Wander this week we listened to a story called '1, 2, 3. Where are you?'. Next we hid a bear each and into two teams who helped to find them, this was lots of fun. Next we carried a bear each around the woods. We saw the ammonite, leaves and even horses.
Week 3
This week we continued our topic of winter. We talked about colours that we see in winter. We used paints in these colours to paint on silver foil to make winter art.
We have been mark making in blue fine sand, we have been making different shapes to help us when we start to write.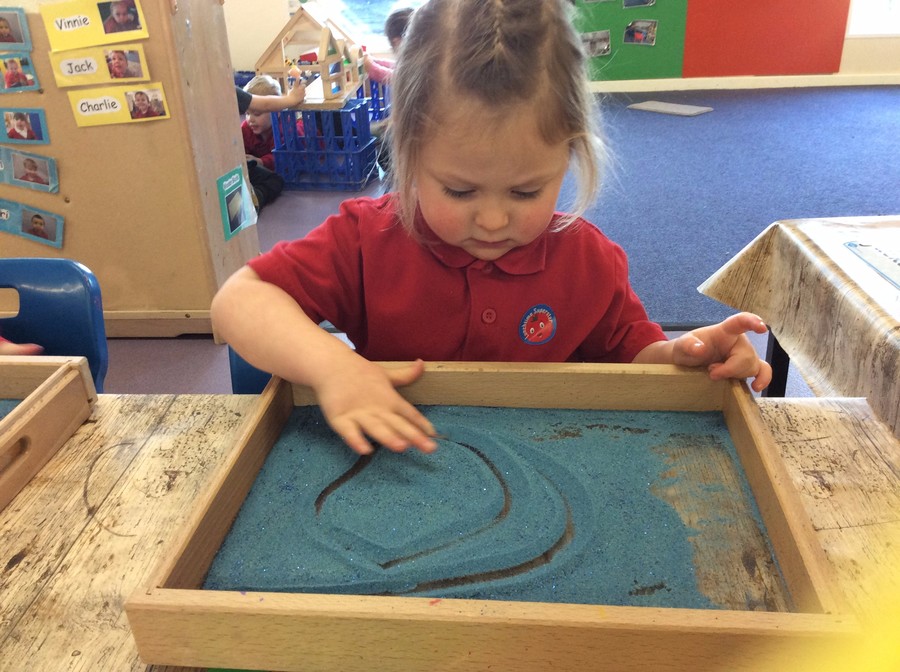 This week on our first Woodland Wander of the term we listened to the story of 'We're going on a bear hunt' we acted it out moving through the woods. Finally we found 'big bear' hidden in the cave. We went on a walk around the woodland talking about what we could see, hear and smell before returning to Kendal for a hot chocolate to warm up!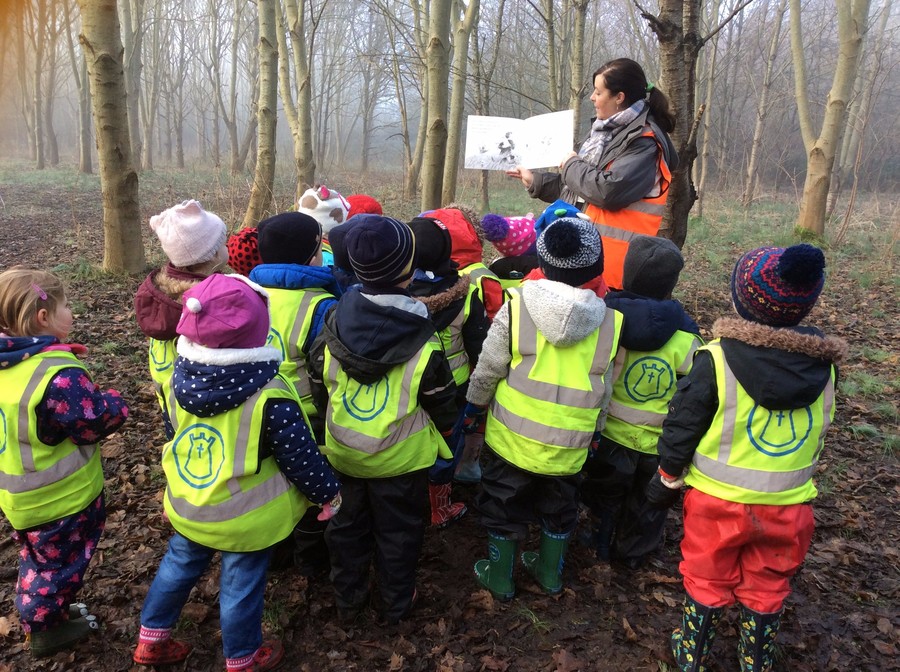 Week 2
This week we introduced Winter. We talked about the weather and read a non-fiction book about the season.
We had blocks of ice and pipettes in the Tuff spot, the children used water to pour on the ice. The children commented on what they could see 'it's wet' 'it's melting now' 'it's so cold'.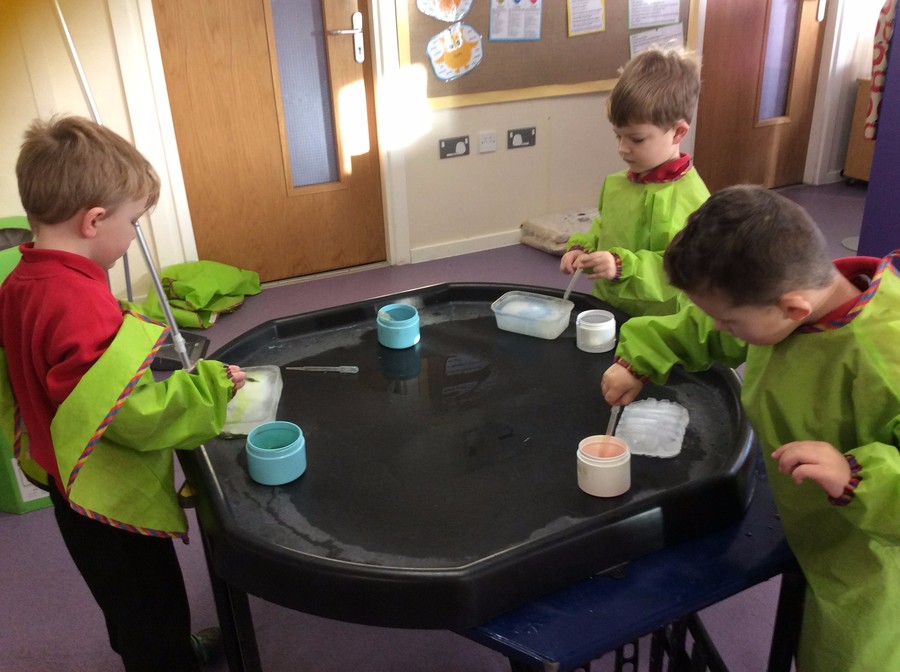 We have been counting in lots of different ways. We counted a 'collection' (different objects) remembering to point and count using one number name for each item. The Early Years curriculum states that by the end of the Early Years children should be able to count to 20 and back again.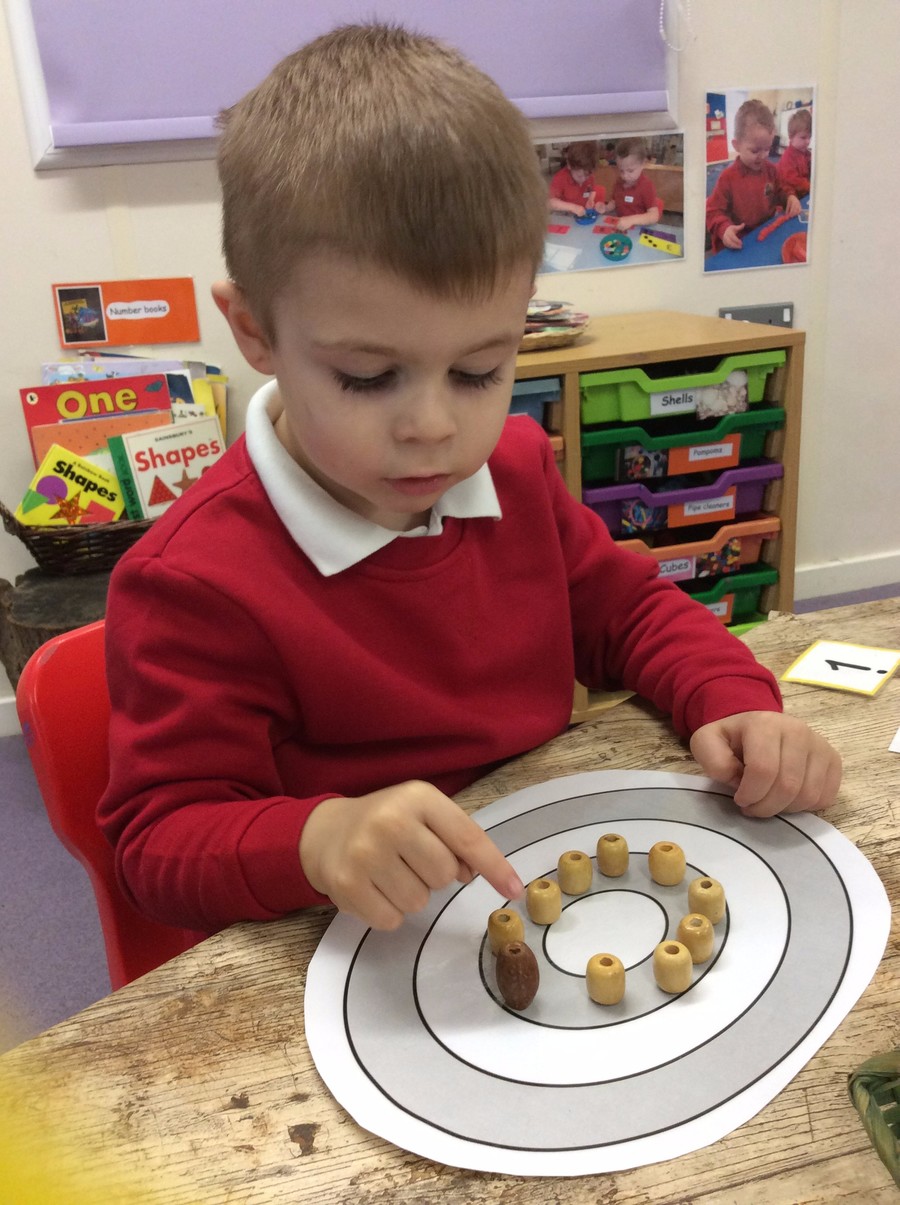 We used available props to make snow men using white playdough, we explored the mud kitchen and found ice which we played with, we made a bird feeder.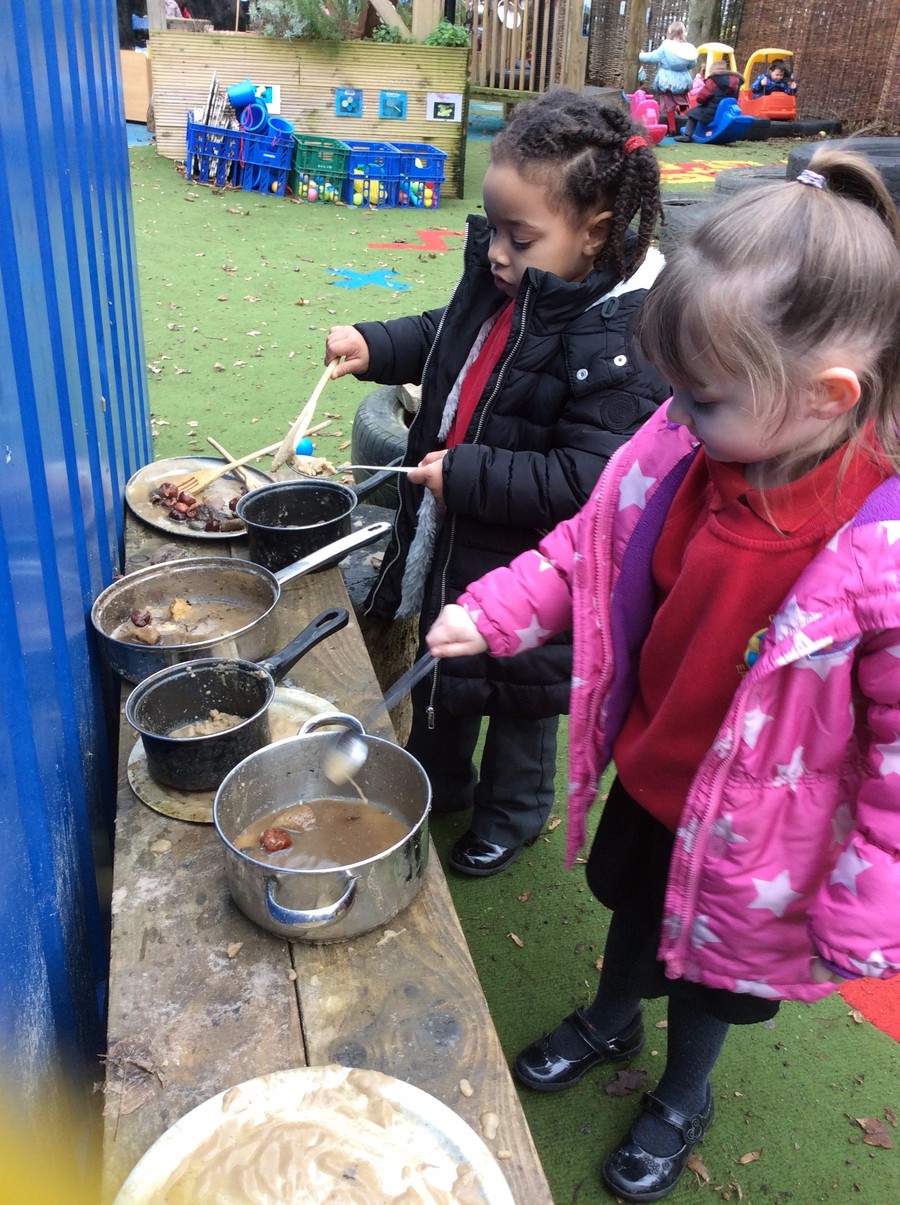 Next week we will go on our first Woodland Wander of the Term on Thursday morning. Please wear lots of layers, hats, gloves and waterproofs.
Week 1
This week we have been welcoming our new starters and settling back in to the nursery routine. We have been sharing our school values of Respect, Creativity, Independence, Resilience and Responsibility and giving out gold stickers for children showing these.
We have been talking about our news from the holidays, making faces using playdough and drawing different feelings in the fine sand.
Next week we will be talking about the season of Winter, as we have shown a real interest in the ice outside!
Term 2
Week 5
It was our last mindfulness session with Pippa this week. We have had a great time learning some yoga moves and relaxing breathing techniques. We will continue to use what we have learnt on a Tuesday morning for the rest of the term.
This week we are focusing on counting using 1:1 correspondence. The children will use different counters to select an amount and count to check. At home please count as much as you can during your normal routine such as counting the stairs, claps and how many cups?.
We are developing our mark making skills using different tools. This week the children will use whiteboards and name cards to write some of the letters in their name. We are encouraging the children to hold their pencil in a pincer grip/ using crocodile fingers.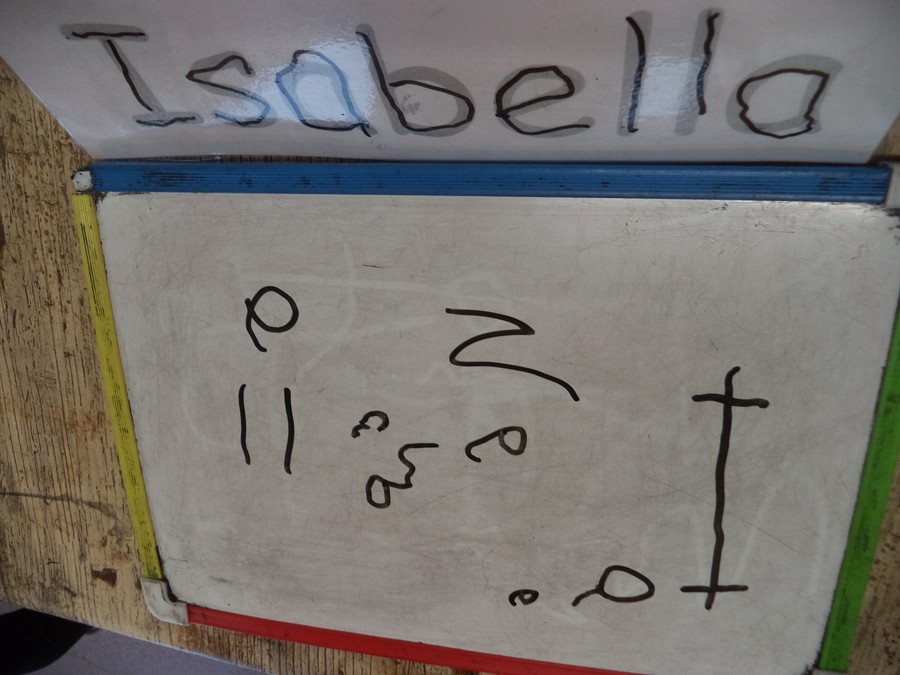 On this week's final Woodland Wander of the term, we explored the frost on the field. The children looked closely at nature items such as leaves and cobwebs. The children did a listening walk and talked about what they could here. We returned to Kendal and had a biscuit and hot chocolate.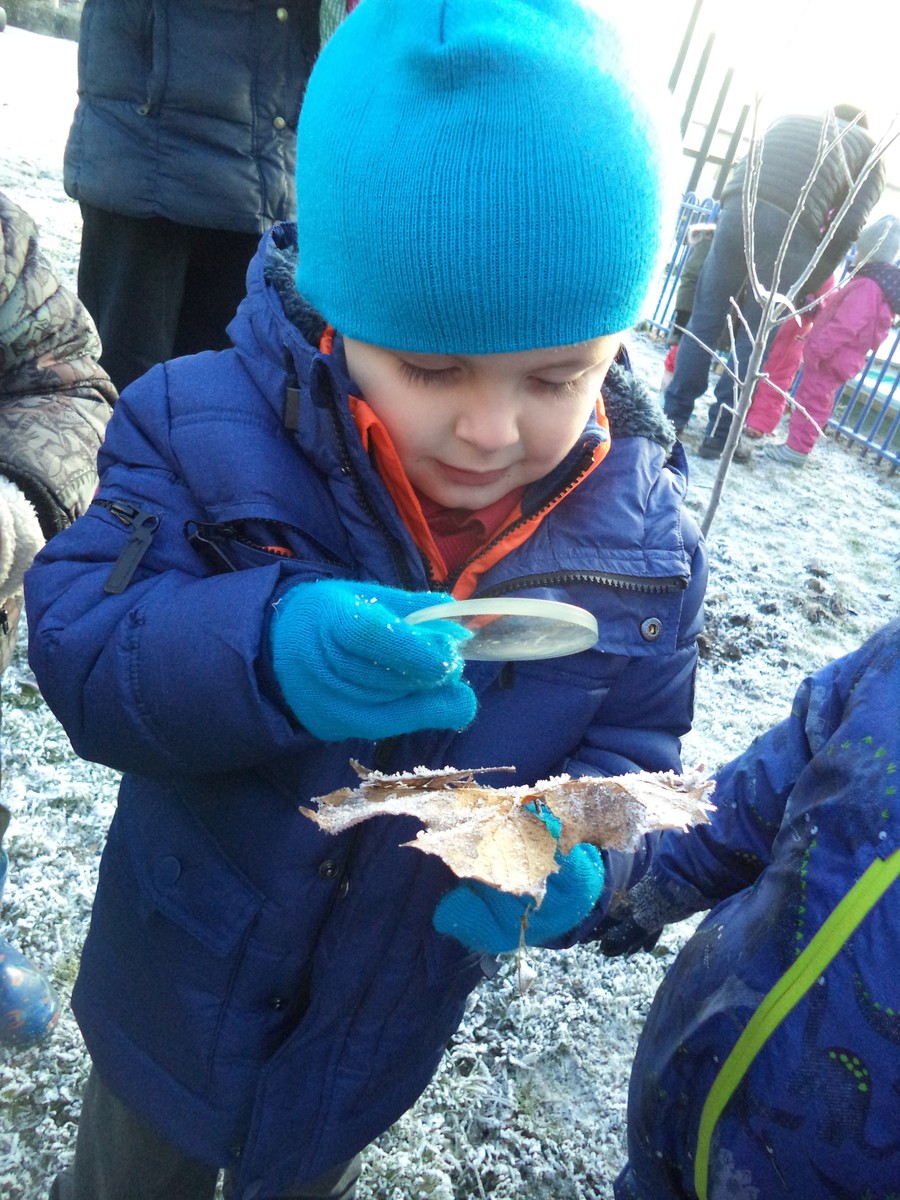 We have been busy rehearsing for our Christmas play, 'The Very first Christmas'.
The performances are both at 2.00 pm, on Friday 9 December and Monday 12 December.
If your child does not attend either of these sessions then please see a member of the Kendal team. The show will be in Kendal and you do not need a ticket. We have also arranged all the costumes. See you there.
Week 4
Road safety week: this week we have been talking about road safety. We watched a clip of a mummy taking her children to school and crossing roads safely.
We used visual prompts to help us to understand 'stop, look, listen'. In small groups the children went out and practised crossing on the 'zebra' marking safely.
In Kendal we set up a road and cars with a zebra crossing and had a lollipop person to help the children to cross.
In others areas of the currculum we used cars in paint to make tracks, used the beetbot robots to go along the road and raced the cars along a track.
Week 3
This week using the children's interests we focused on the story of Owl Babies. We retold the story using props and had a go a drawing a story map. During free play the children used the props to retell their own stories.
The children made their own owls using creative items such as cotton wool and discs and play dough, googly eyes and feathers.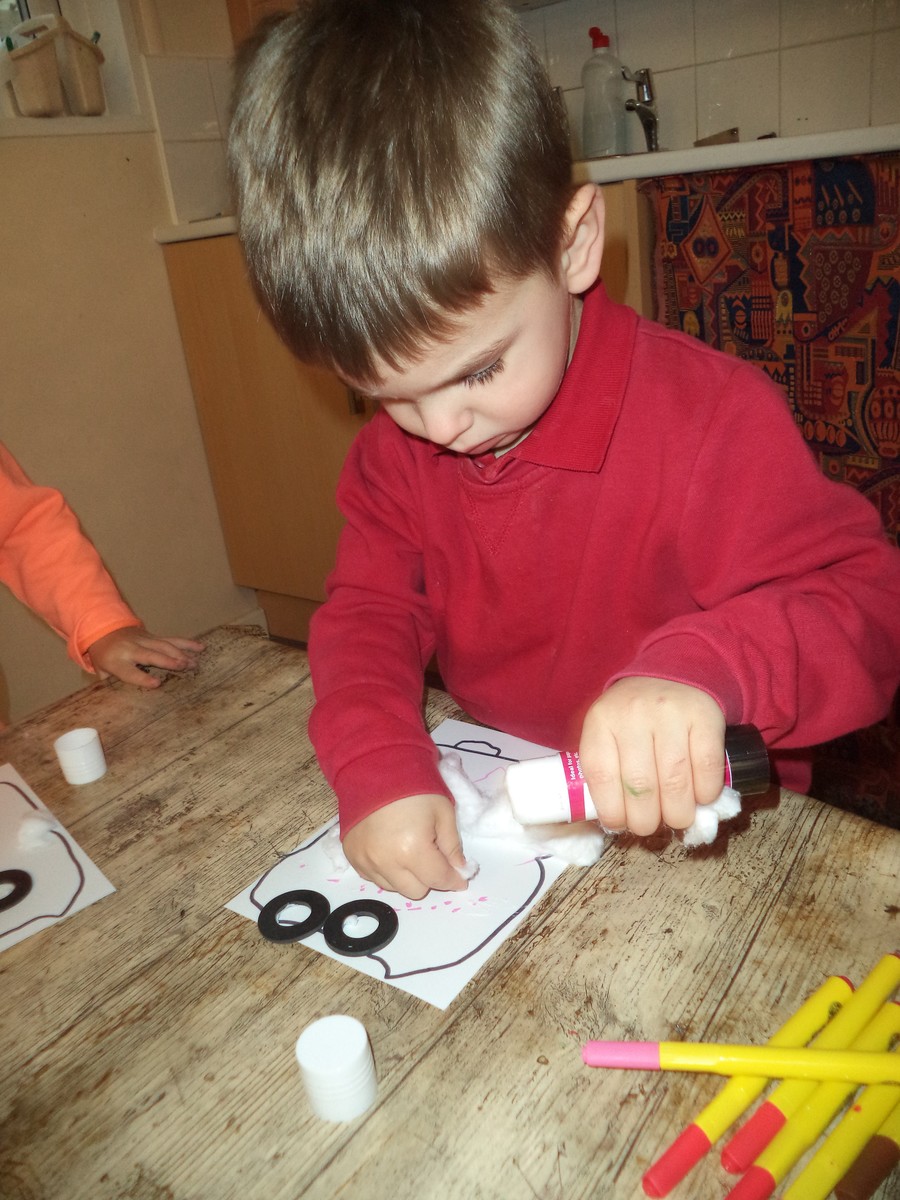 At group time we sang '5 little owls standing on a branch' and '5 owls jumping on a trampoline'.
On Friday we enhanced our classroom for Children in Need. The children wore 'silly Socks' and we sang songs and wiggled our feet at group.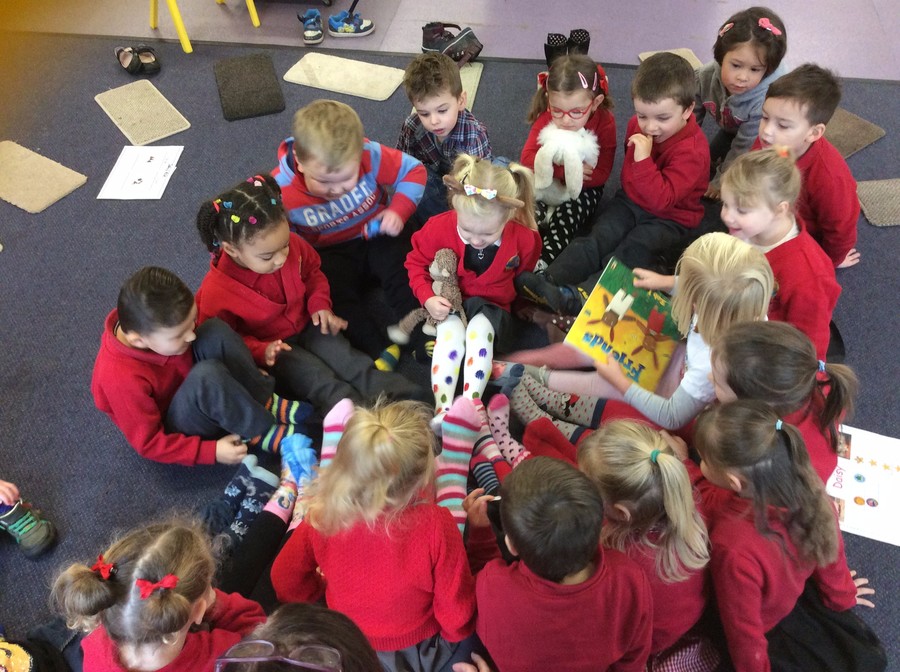 We made Pudseys out of dough, using counters to make spots on socks and Pudsey's patch and sang songs about Bears. The children explored yellow items in the Tuff spot, bears in the dolls house and used fine motor skills to colour in a Pudsey.
At group time we played 'Mr Bear someone has taken your honey pot?' - a favourite with the children.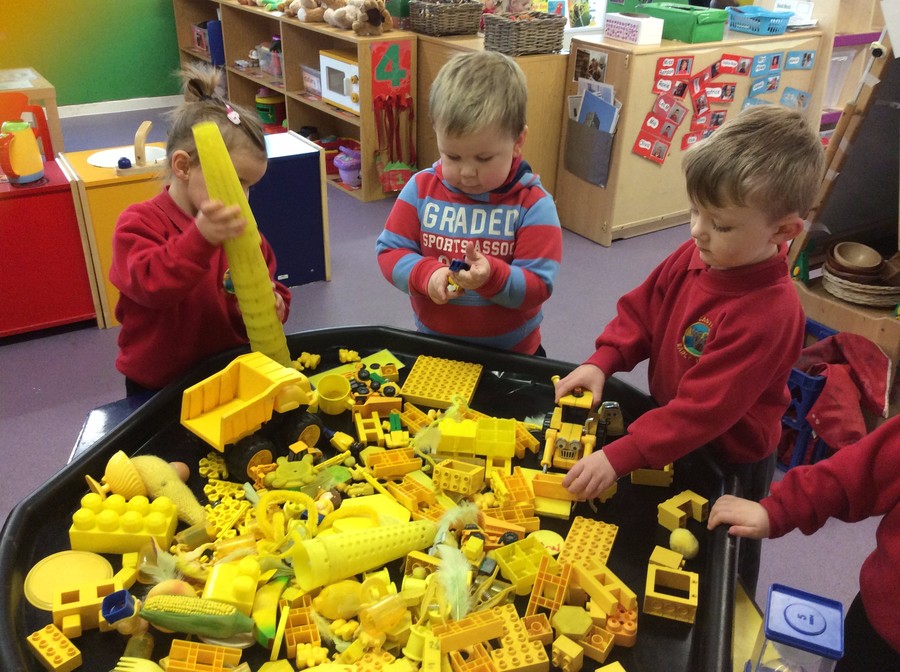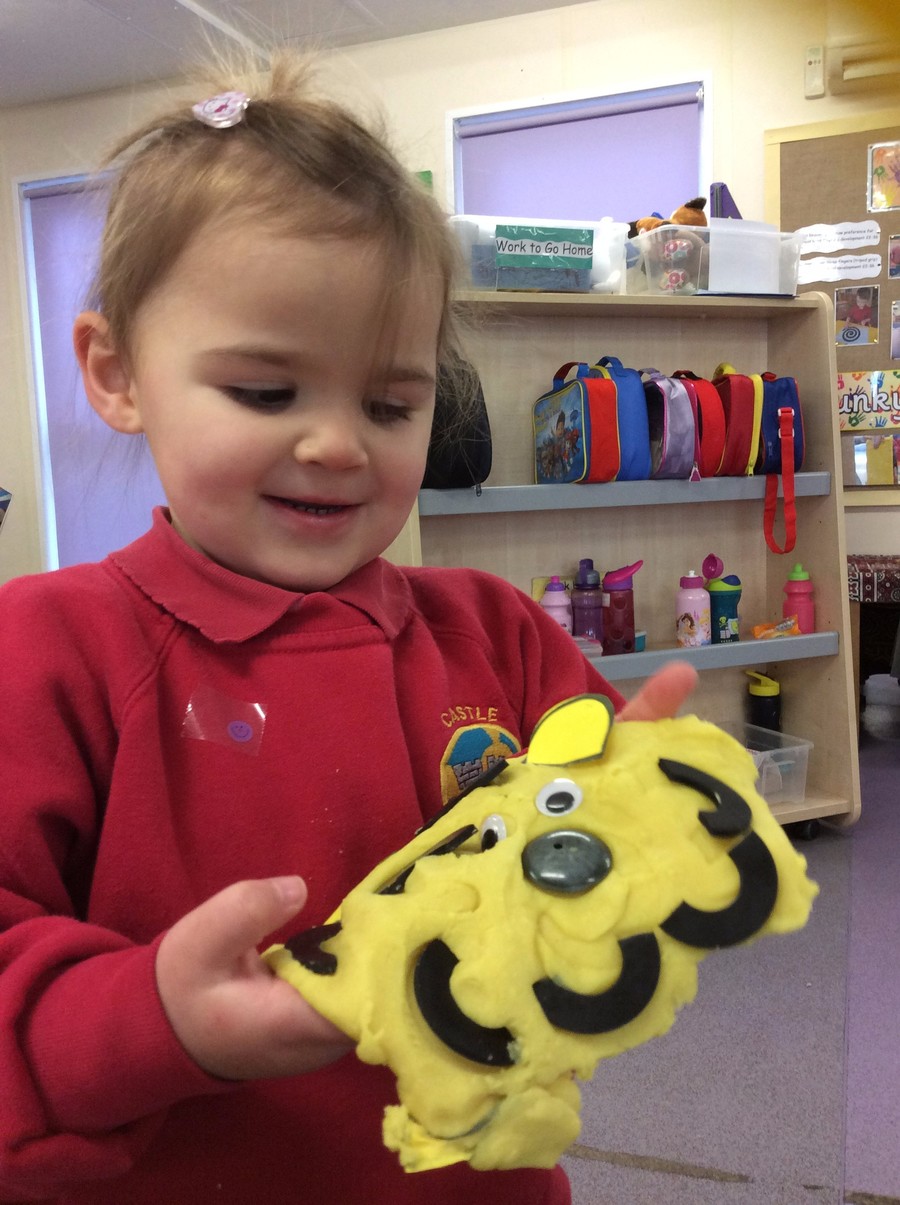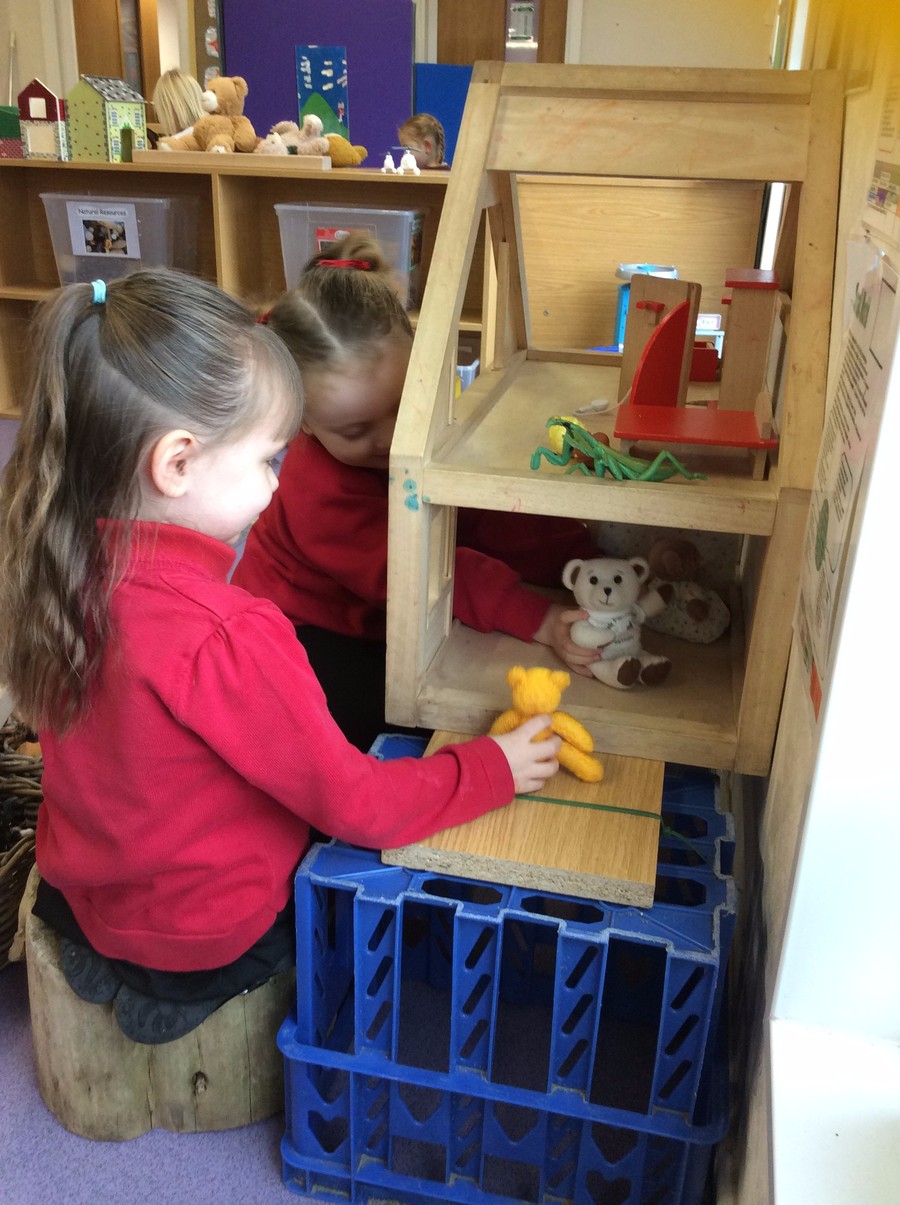 Week 2
This week we talked about Poppy Day, we looked carefully at a selection of poppies and created an observational painting of a poppy.We continued this theme throughout the classroom with a tray of red and black items for discussion, and made a playdough poppy and building with red blocks! We watched a lovely story about a rabbit on CBeebies to help the children have a little understanding about Remembrance Day.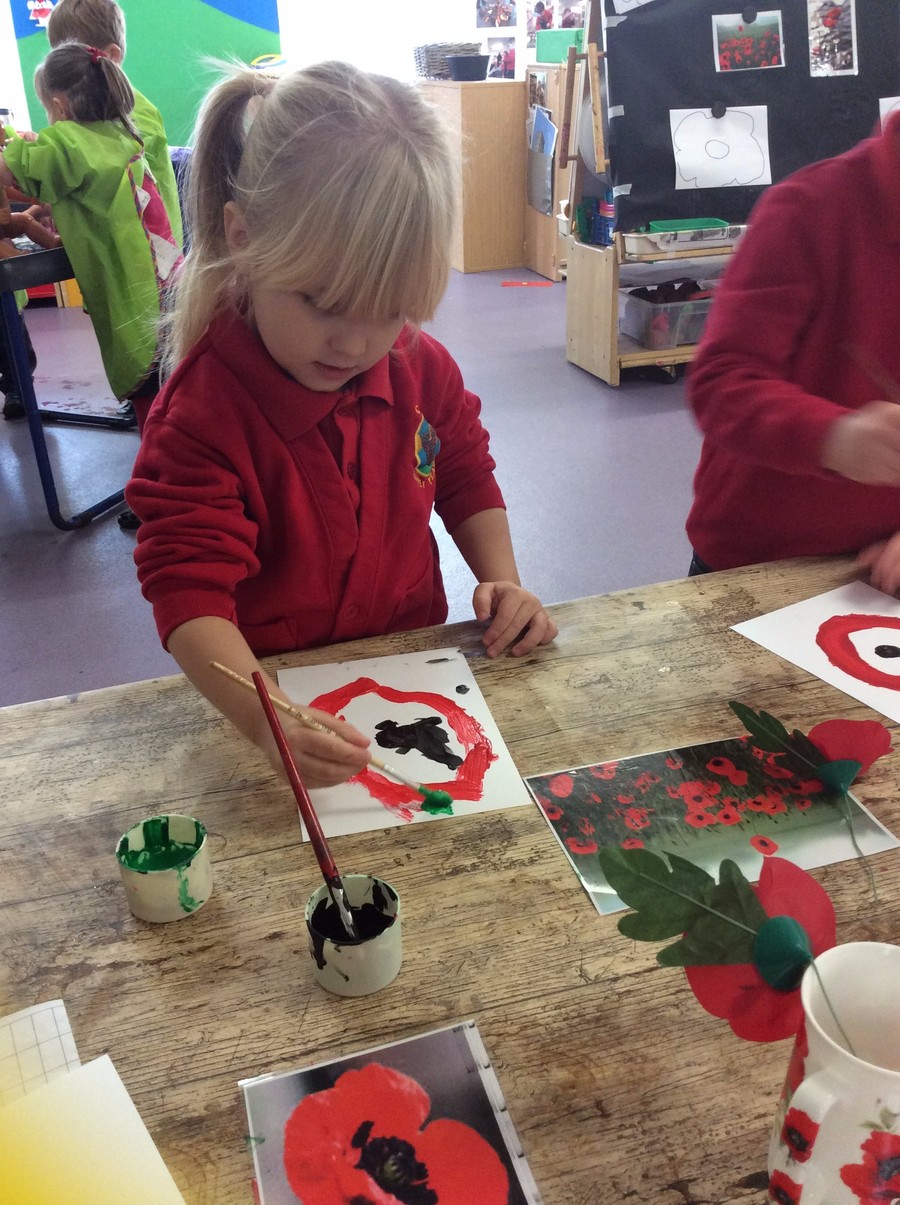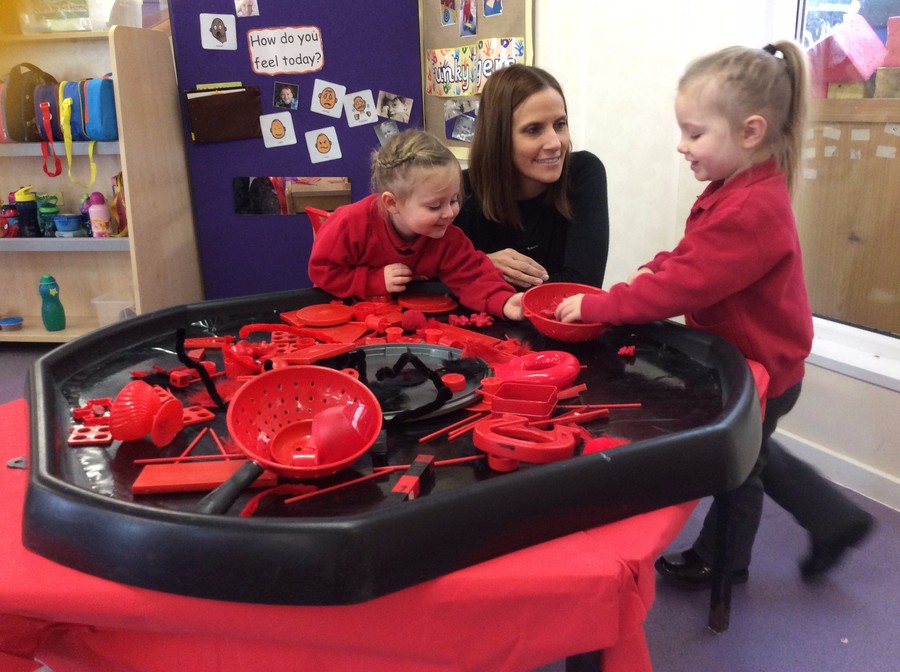 This week was our first Woodland Wander. We went on a listening walk when we arrived. We heard an aeroplane, digger and birds. When we arrived at base camp we went through the Woodland Rules. Next we picked a coloured piece of wool from a feely bag and explored the woods looking for nature items to match the colour of our wool.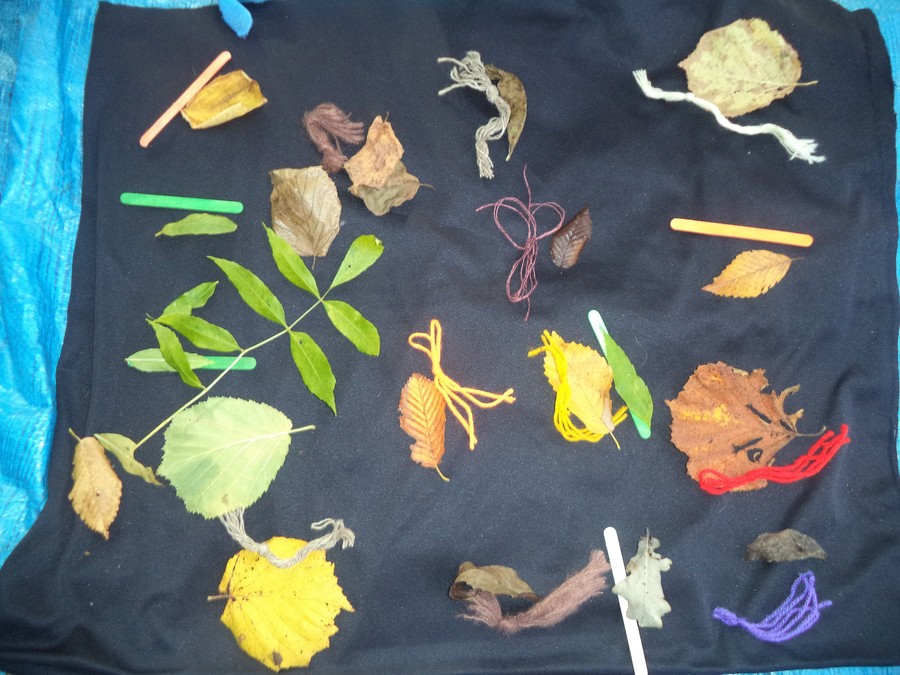 Finally we collected lots of leaves and put them on the tarpaulin and tossed them up in the sky. It was great fun!
Week 1
This week we explored the festival of Diwali, the Hindu Festival of Lights. We listened to the story of Rama and Sita and danced to 'There was a Princess long ago'. We looked at a variety of rangoli patterns and tried making our own using coloured rice and chalk.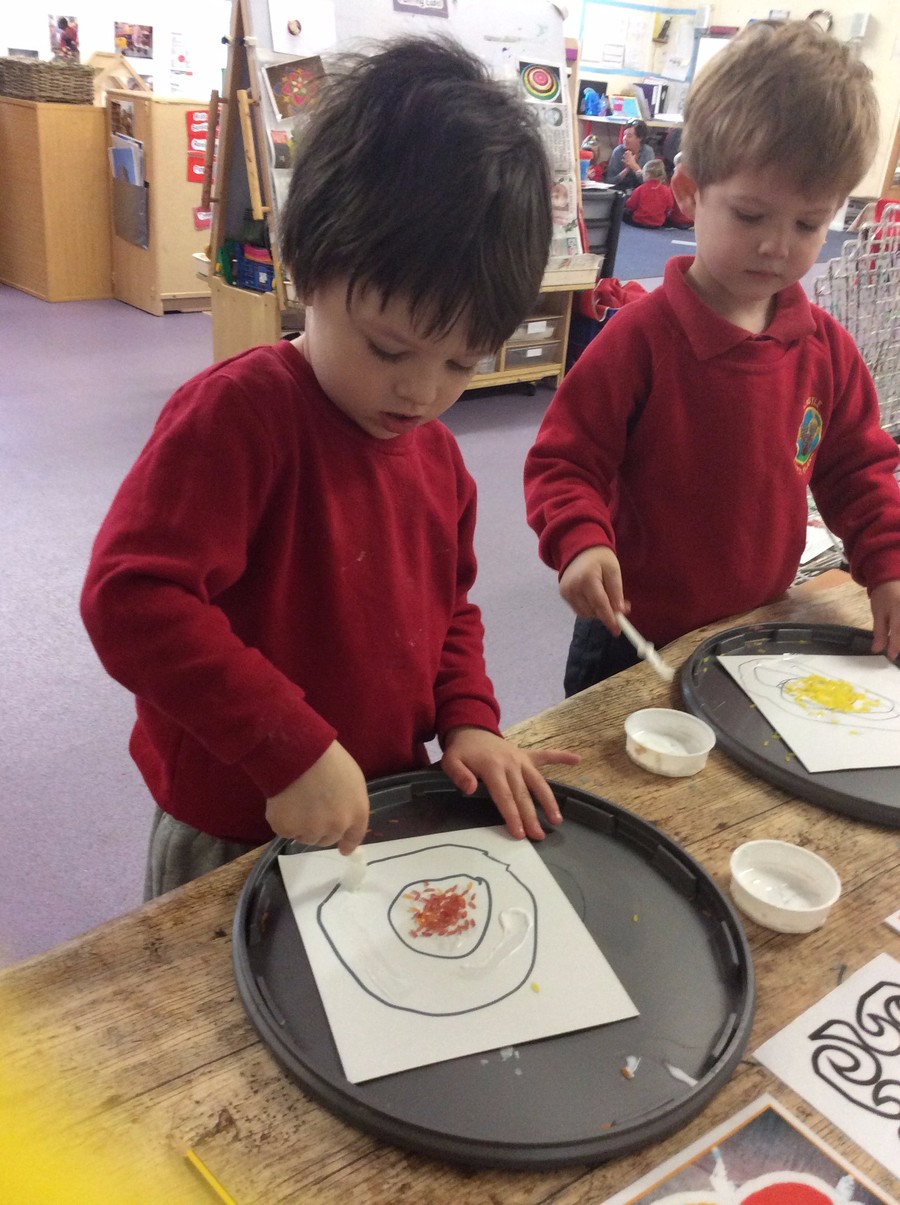 We looked at some diva lamps and used glittery playdough to make our own.
We also talked about fireworks and how to use sparklers safely.
We always wear gloves

We only hold one sparkler

Our special person lights it

We keep the sparkler at arm's length

We put the sparkler in a bucket of water when we have finished
We used kitchen roll tubes, paint and glitter and playdough to make our own firework art.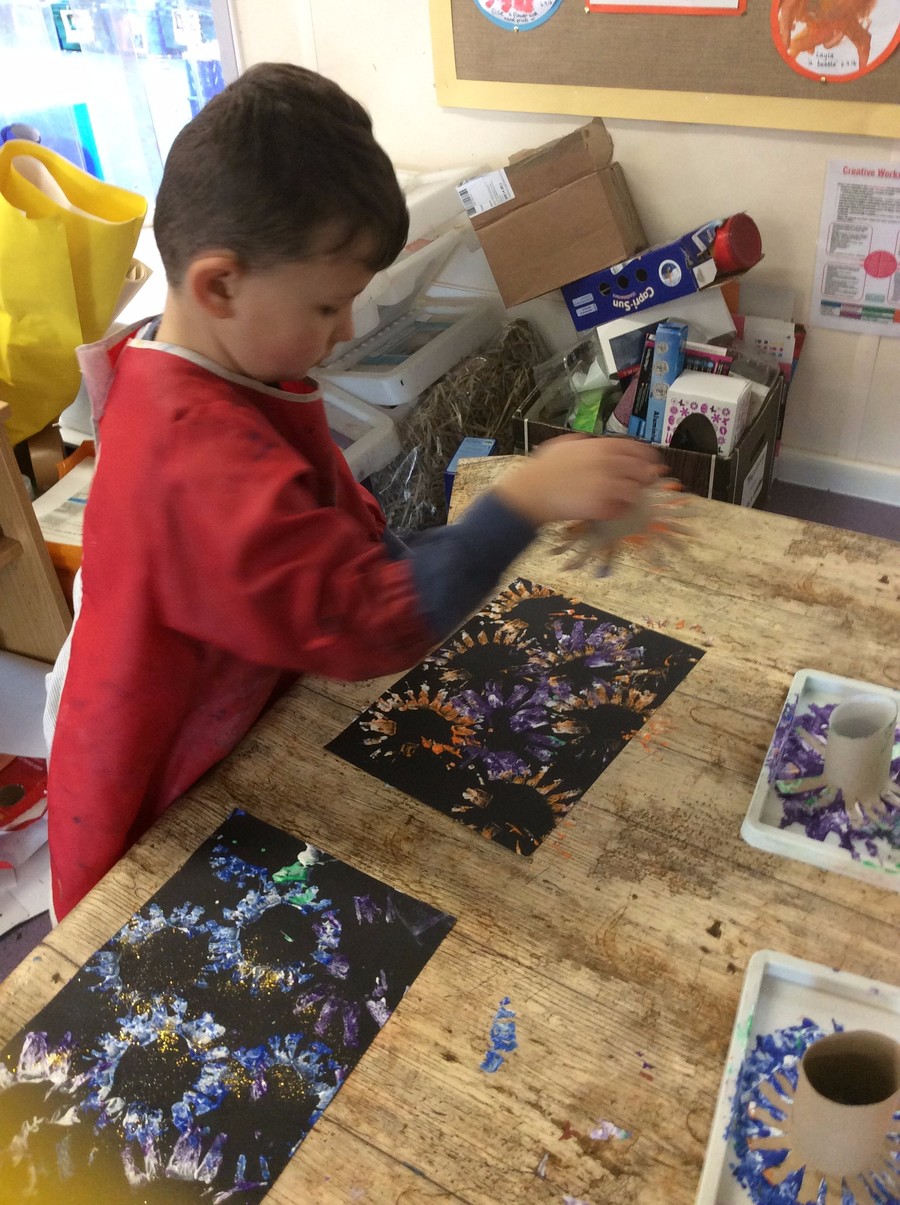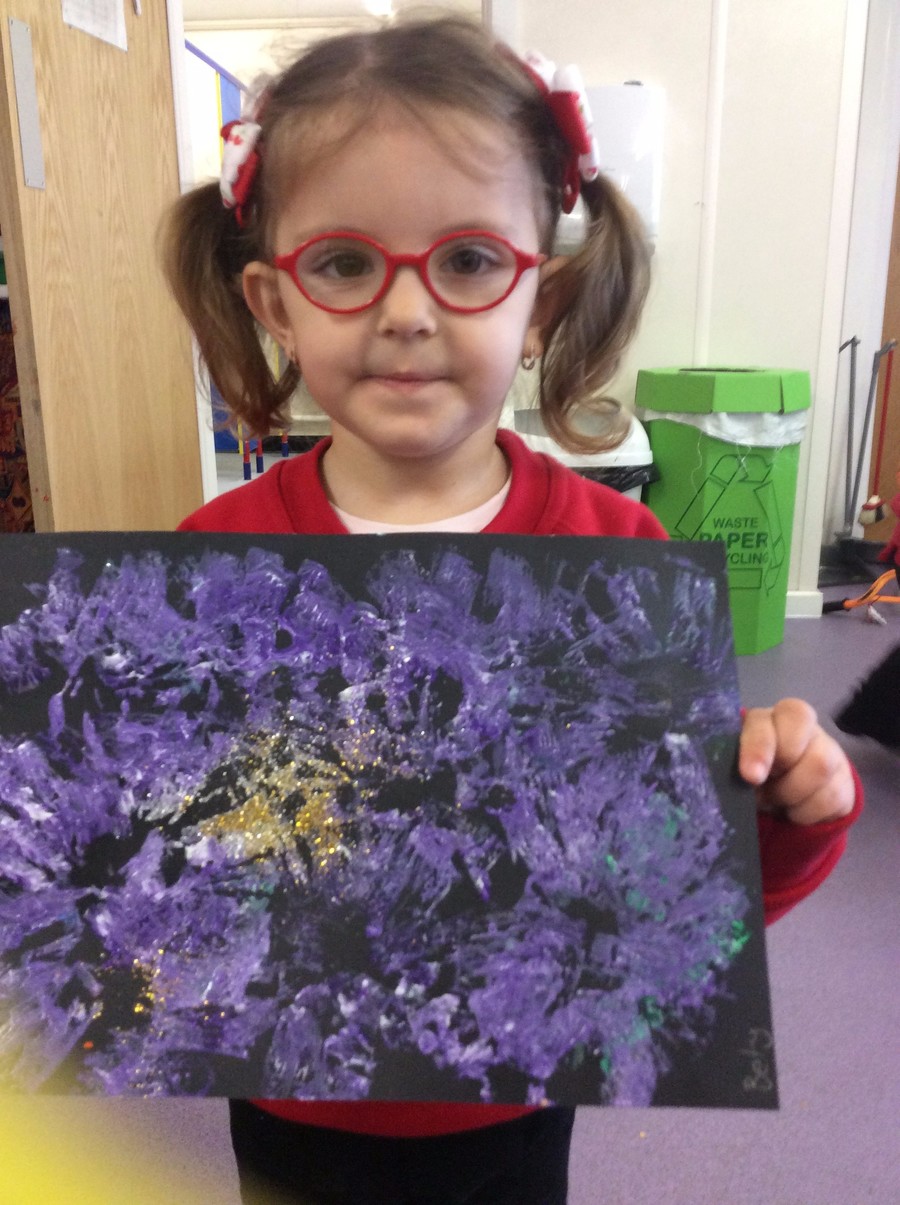 We look forward to hearing your news from the weekend on Monday.
TERM 1
Week 6
This week we have been identifying and sorting different autumn items and counting how many? remembering to point to one object at a time.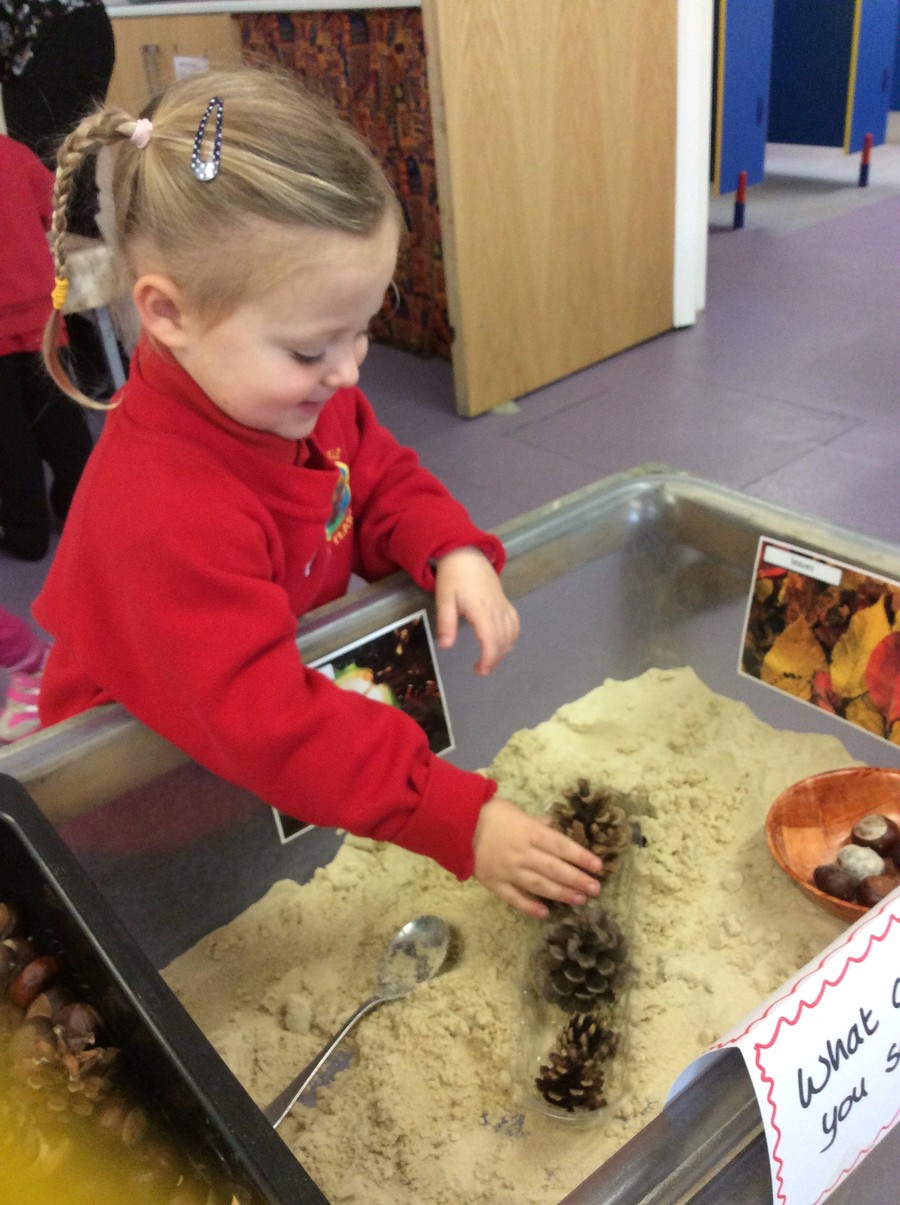 We added autumn items to our malleable playdough table too. Yhe children have made some great hedgehogs and used conkers to make candles on a cake!
This week we went on our first Woodland Wander to the field. We had snack at base camp and explored a variety of natural activities around the camp such as making nature crowns, den building and jumping off a big logs!
Next week will be our last wander of the term and we will be going on to the field again. Next term we will start visiting Abbotswood starting on Thursday 10 November. If your child is booked onto a Thursday morning session, bringing your child ready-dressed in layers of old clothes, with waterproofs and wellies will be very much appreciated! Then we can set off for the woods. Thank you.
Week 5
This week we joined in with the story making as Mrs Howe drew a story map. She used simple pictures to retell the story and the children had a go at creating their own! They talked about what they had drawn and retold parts of the story.
We have used the conkers we found on our autumn walk to make conker rolling pictures.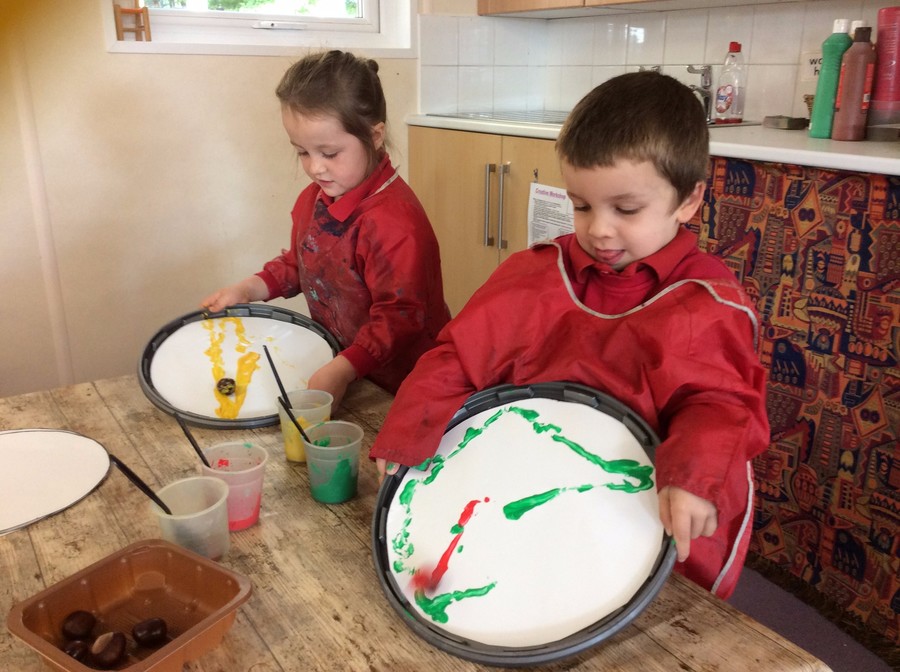 We have been joining in 'Wake up, shake up' to jumpstartjonny.co.uk, dancing and moving around to different popular music and talking about keeping healthy. Have a look at home!
Week 4
This week we added some Makaton signs to help us to retell the story of The Three Little Pigs. The children are beginning to join in with the repeated refrains of the story.
We added a variety of activities linked to the story using natural materials like sticks and wool. As well as developing our construction skills using different materials such as dough, Duplo and loose parts like crates and blocks.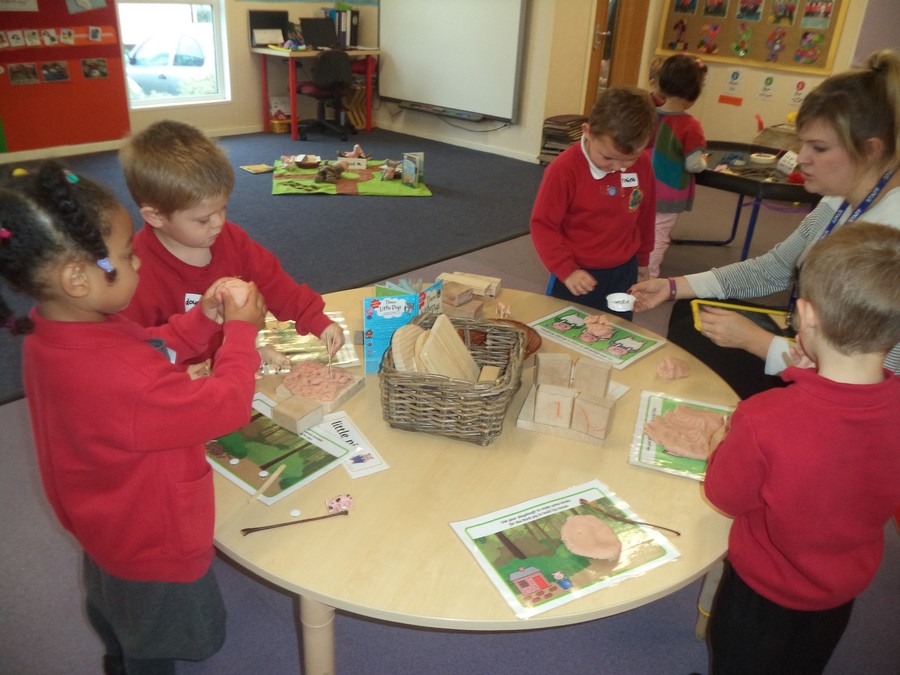 As the autumn weather is upon on, we went on a nature walk on the field. The children found some beautiful coloured leaves, acorns, sticks and conkers. If you find anything at home please bring it in to put on our autumn interest table in Kendal Class.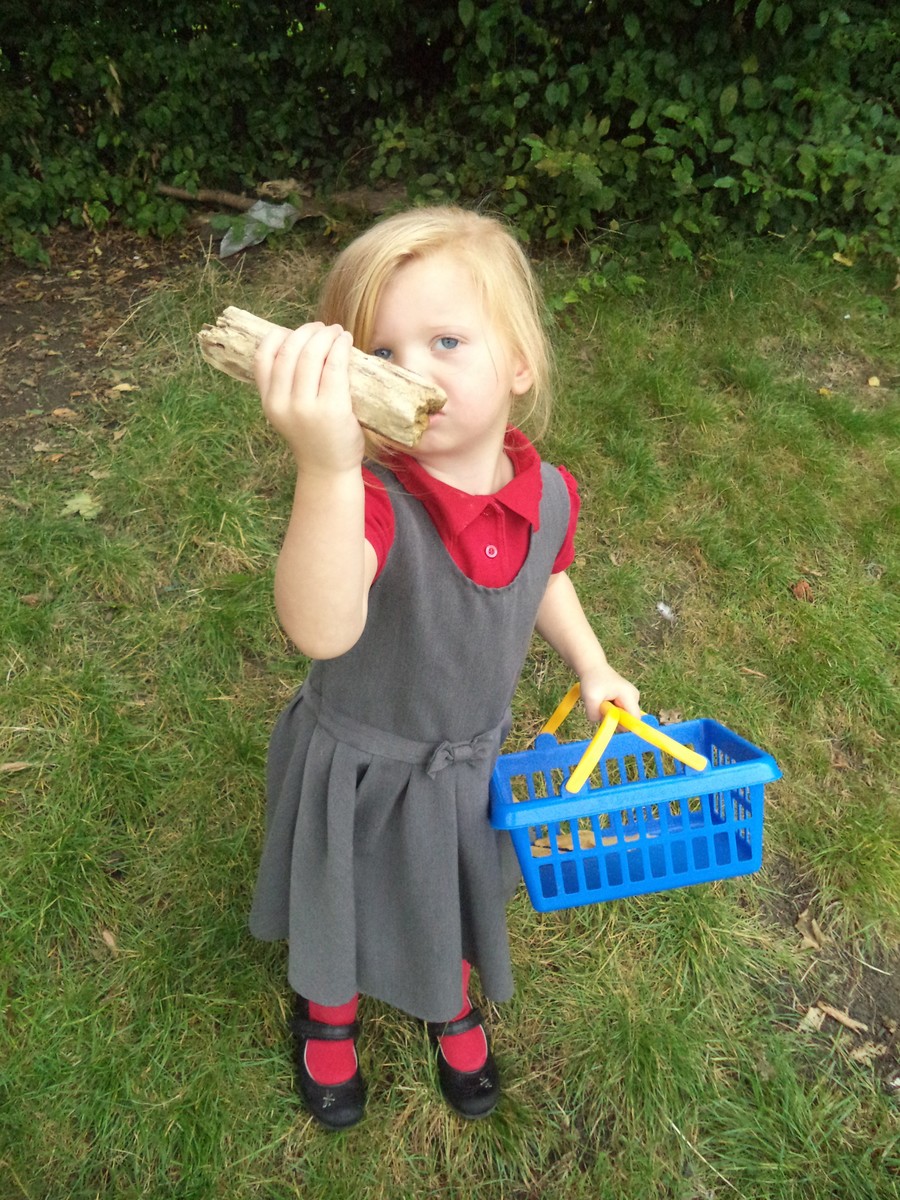 We continue to move in different ways and have explored balancing on the beams in the garden and climbing on the large play structure on the field.
Week 3
This week we introduced the story of The Three Little Pigs. The children watched as the story was retold using lots of repetition and props.
This week the children shared their likes and dislikes in small groups. This helps the children develop their self confidence and share their preferences.
Week 2
This week the children have been joining in circle time talking about what they like and dislike. Here are some of the things the children shared;
"I like to drink Happy meal drinks"
"I don't like mummy's sandwiches"
"I like playing with trains but not cars!"
"I like honey on toast I don't like sprouts"
We have introduced the 'Gold board' to the children. We talked about what we could do to get a gold sticker such as 'being kind and helpful' 'looking after friends' and 'good tidying up'.
At the end of each session we have a singing or story time. The children have enjoyed listening to the Barefoot audio books especially 'We All Go Travelling By'.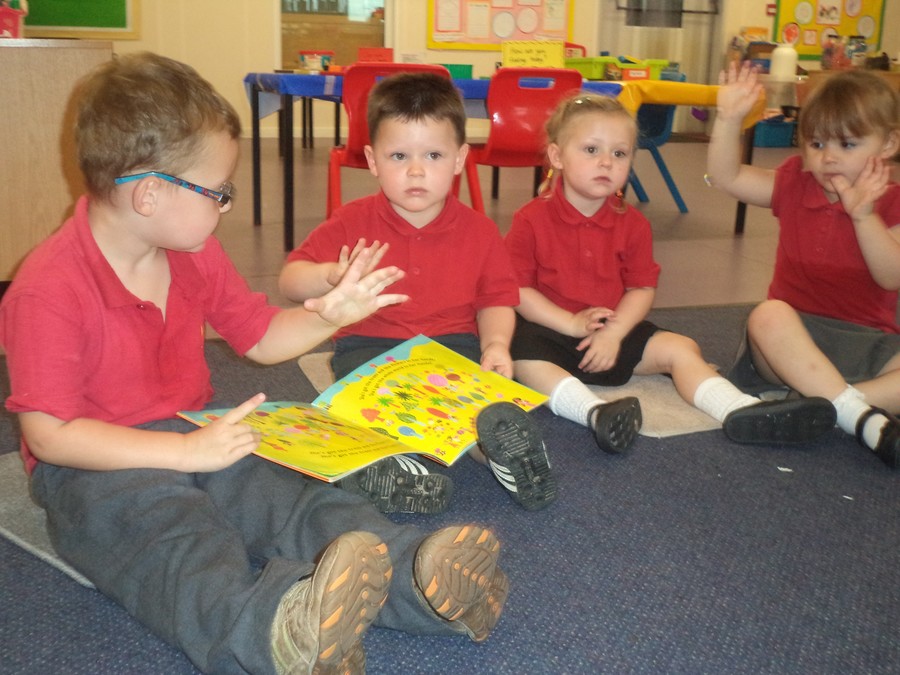 This week we followed the children's interest in the transport and added diggers to the sand tray for the children to explore.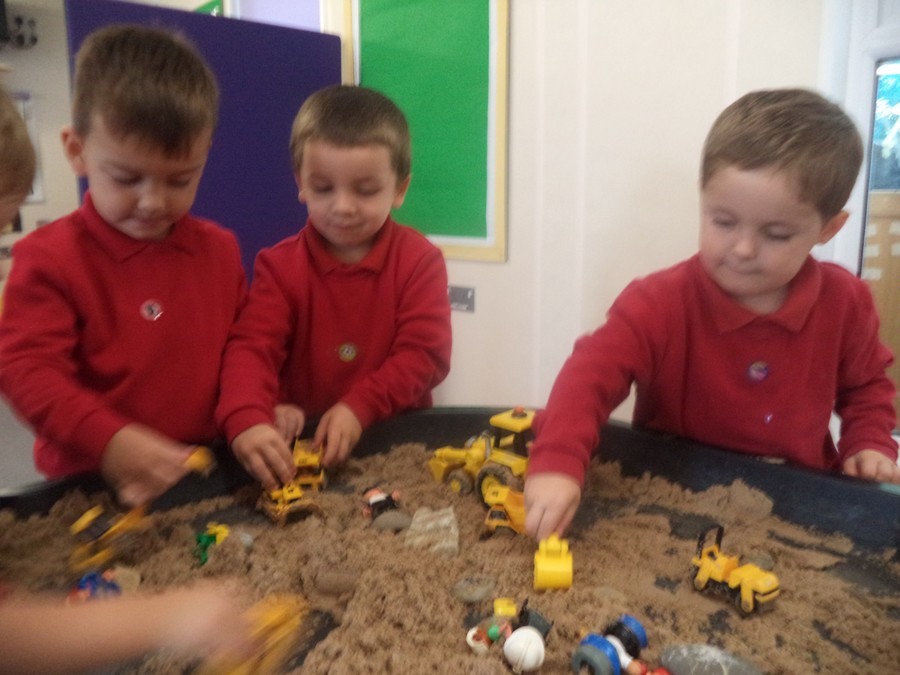 We added the tools to the building bricks outside so the children could role play being a builder like Bob!
Next week we will be introducing the story of the Three Little Pigs. We will use props to retell the story. We will be talking about 'feelings' focusing on happy and sad. At home you could talk about what things make you happy, sad, worried.
Week 1
This week we have been getting to know each other. We have shared our 'golden promises' talking about using kind hands, walking feet, listening ears and sharing. The children are settling in well and we have been using the 'visual timetable' to help children know what is happening now and next.
The children have enjoyed exploring the activities in Kendal. The children have been learning to work together and take turns at activities like the Marble run, wooden blocks and the bikes and trikes.
The children have been really helpful at tidy up time, when they hear 'Mission Impossible' they start to pack toys in to the boxes.