School Parliament
Castle's School Council has been rebranded as our School Parliament. This reflects the amazing work last year's reps did in fundraising, ideas and suggestions to make the school a better place, and making a key note speech at B&NES's Primary Parliament Day. The Parliament continues to be made up of children from different classes who have been elected by their peers to represent their views and make decisions on a variety of issues, be it choosing which charities to support, interviewing prospective employees or giving their input about the school in general. It is a great responsibility and members of the School Parliament lead by example.
Bath & North East Somerset Primary Parliament
Sadly, Ms Hobbs was unable to take the children to Primary Parliament on Wednesday 16 June. Luckily, I got to take four of the reps instead and they were absolutely brilliant - a real credit to the School! They clearly reflected Castle's Vision and Values of Respect, Resilience, Responsibility, Creativity and Independence, taking part in a workshop centered around what makes people healthy - it's not just food! - and then eloquently and enthusiastically taking part in a presentation to all the other children from all the other schools, as well as local VIPs including the Chair of B&NES Council, Councillor Karen Walker. The children introduced themselves to the Chair so that, when Councillor Walker visits us at our Summer Fayre on Friday 6 July from 3.30 to 5.30 pm, she will recognise some familiar and friendly faces. Add to that a lovely buffet lunch and the chance to take part in activities provided by the Bath Rugby Club Charitable Foundation, and it was a fantastic day all round!
As always, I was incredibly proud to see our children rise to the occasion .... it was good training for their presentation to the Governors on Friday 18 July!
Mrs Richards
Nominations and elections for this year's School Parliament have been held and we are now working with a much larger team than previously: three children from each class in Years 2 to 6!
We have held several meetings already, contributing ideas around which charity we should support, how to fundraise for that, and what to include in our introductory assembly.

We chose to support JDRF, the Junior Diabetes Research Foundation, a charity working to find a cure for Type 1 diabetes, an illness which has touched the lives of several members of the Parliament. Look out for news on how to help us raise money to continue their vital work.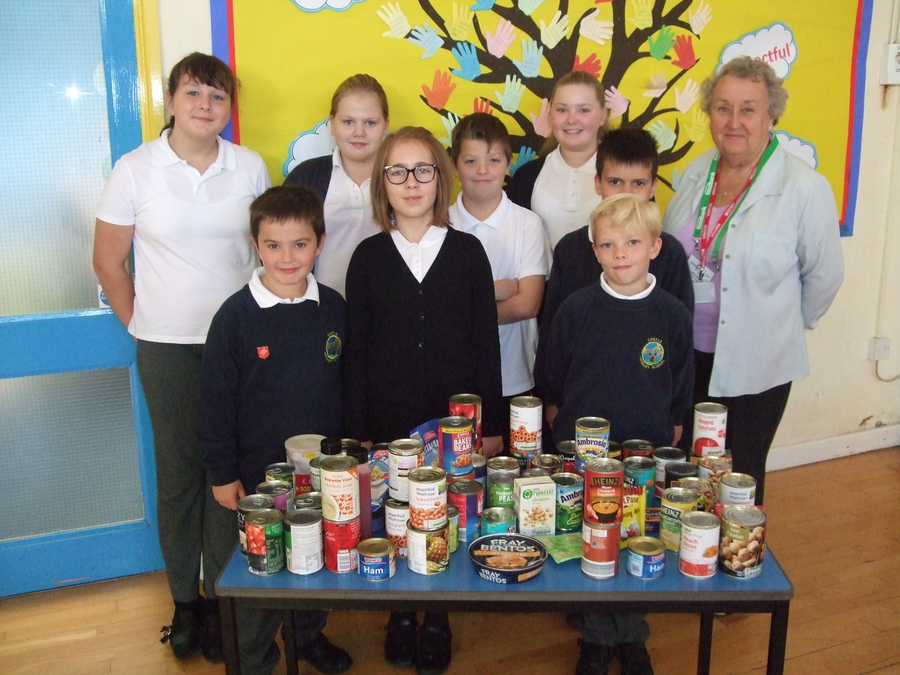 Term 1
Friday 6 October ....
A day of mixed emotions! Last year's reps carried out their final engagement when they welcomed Mrs Horne to their Harvest Assembly. Mrs Horne represented Keynsham Food Bank and explained where all the donated tins of food would be going and how they will be used to help families who are finding it difficult to afford to eat.
A note from Mrs Richards ...
It has been a huge privilige to coordinate the work of the children again over the past 12 months (and for a few years before that). This year's reps have been particularly enthusiastic and have come up with some brilliant ideas, innovations and solutions. They have really reflected and embodied all the school values and I hope they have enjoyed everything they have done as much as I have. I am so proud of them - thank you, everyone. You are great!
Term 6
June
We've done it!!! We made a keynote speech at Primary Parliament on Wednesday 14 June - we were brilliant! Some of us were able to stay for the whole day and took part in more workshops, a session run by Bath Rugby (thank you!), and prepare another presentation which was watched by some local VIPs. This gave us time to plan more for our joint project with the Equalities Team which is .... an ice pop sale at 3.15 pm on Friday 30 June. Profits will be shared equally between the Jessie May Trust and the Swaziland Schools Project. Plans are going ahead for the toilet refurbishment in the summer holidays - we are just waiting for final quotes before we decide colours and finishes. Our next big event is another presentation - this time to the Full Governing Body - on Tuesday 11 July.
Term 5
So far we have started to plan our presentation for Primary Parliament and worked on our assembly where our new 'Make Mealtimes Marvellous' charter will be officially launched. The first week back saw us meeting during Ofsted's inspection but they didn't visit us. We were prepared to impress them with how well we have gelled us a group and grown in confidence, especially the way in which we have learned to let everyone join in our discussions without putting hands up - it has been a hard skill to learn. Never mind. Mrs Richards also threw a curved ball into the mix this week ... we have to all work together to find out from the boys how they would like the KS2 toilets refurbished.
Term 4
We have spent the term working on a range of initiatives. We have been thinking about how we can improve mealtimes in school and our new charter will be launched early in Term 5. We have also found out that we will be giving one of the keynote speeches at this year's Primary Parliament - scary but exciting. Follow our progress in Term 5 ...
Term 3
SHOCK ... HORROR ....
The result of the debate was that children should be free to choose how they eat their chips but that this needs to be appropriate to the setting. So, if there are knives and forks provided, it is polite to use them but, if we're having a picnic-style meal, we can use fingers. Everyone was very surprised by the result and very impressed by the School Council's debating skills. Mrs Harris endorsed this democratic decision and it is now 'law'.
Week 4
The Bring & Buy raised £55.40 which will be sent to the Jessie May Trust as soon as possible. A big thank you to everyone who donated and who supported. The winner of the 1Direction poster was lucky ticket 243 and Charlie was thrilled to claim his prize.
This week's meeting welcomed Oscar as a new rep for Stirling - we all talked about what it means to be on school council. Then we got on with our new focus .... chips! Eight children want to talk at an assembly. We discussed that, when you are presenting an idea, you don't actually have to think it's the best choice but that you need to look at individual opinions as a whole. So, three children will talk in support of using fingers and two in support of cutlery but ... that leaves three! Some thought that it would be wrong to say you have to use one or the other, for example on a hot dog and chips day it might be good to use fingers but on a fish, chips and beans day the chips might be covered in sauce and it could get messy. The remaining three children will talk about being free to choose. Our debaters have gone away to think of words to support their argument which will form the basis of their speeches.
Week 3
Finalising the planning for our Bring & Buy Sale - permission to stay after school to help, how we will price things up. We also spoke about the big issue of ..... do you eat chips with your fingers or cutlery. Everyone's deciding if they would like to speak at an assembly and whether they would like to support fingers or forks. Or could they be a secret third option.
Week 2
Mrs Richards wasn't in school on Tuesday and delegated the responsibility for running the week's meeting to Jaydon. From all accounts, he did a brilliant job, cascading the information he had been asked to, encouraging everyone to complete their posters for the Bring & Buy Sale, distributing the permission letters for those who can stay to help, and taking the Minutes! Well done to Jaydon and to the other reps for displaying Reliability, Responsibility, Creativity and Independence. Brilliant job!
This term promises to be a busy one. We have arranged for someone from Jessie May to come in and talk to everyone at an assembly on Monday 16 January - they want to say thank you for our Christmas donation and explain how this will help them with their work. It will also publicise our Bring & Buy Sale which we are holding on Monday 23 January from 3.00 to 3.30 pm. Donations of new/as new items can be brought to school on Friday 20 January and will be gratefully received.
We are also planning to look at how and where we eat our midday meal; Are we all too noisy? Should we have music? What foods should we eat with a knife and fork and what can fingers be used for? Why can't we just sit anywhere?
It should be an interesting debate!
Term 2
The reps have started to meet regularly now and have discussed what it means to be part of School Council. Everyone agreed we need to reflect all the school's Values, and that we need to 'lead by example'; this might mean always making sure we have completed our homework on time, wearing our School Council badge, being especially kind. The Year 6 reps visited classes and collected donations for the British Legion's Poppy Appeal. Our 'Silly Socks Day' on Friday 18 November raised £159.25 for BBC's Children in Need Appeal.
We decided that our Charity of the Year will be Jessie May - Children's Hospice at Home - and you can find out more about it at www.jessiemay.org.uk . Donations at the end of the Christmas performances raised £172.53. Thank you everyone.
Term 1
Last year's reps organised the annual Harvest Festival and delivered a brilliant assembly about the work of 'Send a Cow', a local charity. Later in the day reps ran a Cake Sale with all the money raised - just under £45 - going to buy 'keyhole gardens for poorer families in Africa. Read more about this at https://sendacowgifts.org/keyhole-garden .
What School Council did last year ....
Raised £645 for various charities ..... Make a Wish Foundation, Save the Children's Child Refugee Appeal, The Lifeskills Centre, Swaziland Schools' Project and BBC Children in Need

Given a presentation to the Full Governing Body. They were impressed with all we had achieved

Ensured that Year 6s have the privilege of sitting on benches in assembly rather than on the floor

Asked the staff to start Wake Up, Shake Up again ..... well done to Miss Benson and Mrs Howe for stepping up

Playing a part in creating the new Behaviour Policy

Drafting a new 'Code of Conduct'

Gave our suggestions for activities to replace Sports' Day - archery for Years R to 6, inflatables for the EYFS children, and a climbing wall for KS2

Sent representatives to B&NES's Primary Parliament

Received certificates to show how we have reflected the 'Vision and Values' of Castle Primary School by serving on the School Council

Raised the profile of the School Council throughout Castle

Really impressed Miss Tabram and Mrs Richards with our dedication and innovation
Our Legacy for next year's School Council reps is
Booking to take part in 'Start a Heart' day in October

Worry boxes to be created for every class

Brilliant ideas for fundraising