The Equalities Team has been merged with the School Council to form the .... School Parliament.
Welcome to the Equalities Team's webpage! We are a group of children from Key Stage 2 (KS2) who have a main focus of making our school a fair and equal place. We don't want any child to be discriminated due to race, gender, ethnicity or sexuality and so we tackle any of these issues in the school head on! We meet fortnightly and plan events such as assemblies, fundraising, competitions, etc. We want to raise awareness of these issues and make sure Castle Primary School is a fair and equal school in which to learn and thrive.
See our blog below to find out what we've been up to!
June 2017
This month we held an ice-pop sale in aid of two very important charities: The Jessie May Trust and The Swaziland Schools Project. We worked really hard jointly with the School Council and sold lots of ice-pops on Friday 30th June! If it wasn't raining we would have sold out...it was a great fund-raiser though as it was easy to prepare and organise (apart from keeping the ice-pops frozen!). Watch this space to find out how much we raised! As we have some left, we will be selling them on certain days until they have all gone! Watch out for texts and newsflashes to know when these will be.
May 2017
This month the E-team have been working hard to put together a Wet Playtime Activity pack for each class. The activity pack has lots of activities that the children enjoy, such as wordsearches, colouring in, crosswords, etc and each of the these are linked to equality themes. We wanted to improve the vocabulary that the children use about these issues, increase the awareness of the E-team and what we stand for, and encourage some interesting discussions. We also really enjoyed making wordsearches and were a bit disappointed we couldn't make more!
April 2017
We are planning on working in partnership with the School Council .... We have all been shocked to think that there are children around the world who can't go to school for a whole range of reasons. This might be because children are poorly or because their parents can't afford to send them to school - not every country thinks that children have a right to a free education. More details to follow soon.
March 2017
On Friday 24th March we were very excited to launch our new Friendship Benches! There are now two benches on each playground with a special sign on them (which was designed by Ella B when she was in the E-Team last year -thank you, Ella!). The idea is that if the children feel that they don't have anyone to play with that they will sit on the Friendship Bench. It is the whole school's responsibility to ensure that, that child is then asked to join in a game with some other children. The E-Team will oversee all of this and we hope that it will make the playground a happier place where everyone feels included.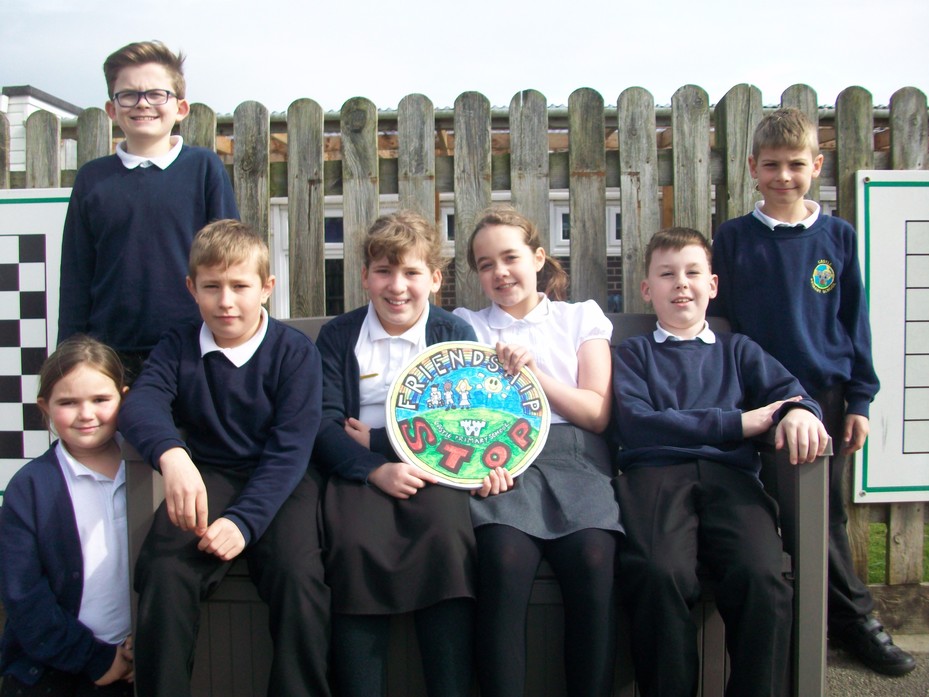 10th February 2017
We spent January electing new members for the Equalities Team for this year! We have two members from each KS2. The children had to 'pitch' themselves to the rest of the class and say why they would make a good E-Team member and then the class had an anonymous vote to elect their members.
Our new members are as follows:
Year 3 – Keisha and Oscar
Year 4 – Archie and Georgia
Year 5 – Corren, Grace, Olivia and Riley
Year 6 – Leo and Zane
They began work by introducing themselves in Friday's assembly and explaining to the rest of the school what their aims are. They have a lot of work to do this year - the first event to organise is to get the new Friendship Stop up and running, Last year, the E-Team designed a picture to go on some Friendship Stops. The idea is that, if a child is struggling to find someone to play with in the playground, then they stand next to the Friendship Stop and a member of the E-Team will help them find someone to play with! Mrs Harris painted the design onto the Friendship Stop and we have one for each playground. More on this to come very soon!
Last year ...
1 July
For July our words/phrases of the month are: 'Well done' and our banned words are: 'Leave me alone.' The children wanted to encourage one another to use praise to raise self-esteem and recognise when someone has done something well. The banned phrase was one they hear a lot in the playground and they felt that we need to learn to communicate with one another rather than just getting angry. Hopefully we'll hear more of the words of the month used in the last month of this academic year!
Finally, a big well done to the Equalities Team for your hard work this year. We've made some exciting changes around the school as well as raising money for an important charity. You should feel proud of yourselves!
20 June 2016
For June our words/phrases of the month are: 'How are you?' and our banned words are: 'Shut up'.
The children introduced these words in assembly and talked about how they can say, "How are you?" to their friends as a kind way to start a conversation or they can say it to someone if they are upset.
They felt the banned words were cruel and usually lead to an argument.
Some of us are now working hard to prepare for a presentation to let the Governors of the school know what we've been up to this year. Thank you to those children who volunteered to do so.
We're also working hard to design a friendship stop to be displayed in the playgrounds. These designs need to be with Mrs Arnold by 1 July so that we can submit them to Miss Tabram.
17 May 2016
We have had a rainbow themed photograph taken for the LGBT history month in B&NES council to show our solidarity the campaign.
28 April 2016
We had a joint rainbow cake sale with the school council. We sold rainbow coloured products and jointly we raised £105.82. We donated our half of the funds to Unicef as they are a charity that we felt reflected our ethos as an equalities team.
9 March 2016
For March our words/phrases of the month are: Can I help you? and our banned words are: Shut up. The children felt very strongly that the latter was rude, uncommunicative and unpleasant to hear from one another.
We hope that the children are using 'Can I help you?' both in and out of school and that this encourages some positive language around one another.
26 January 2016
Last Friday we introduced ourselves to the school in assembly. We explained how our role was to ensure that Castle is a fair and equal school where staff and pupils are treated the same regardless of race, gender, sexuality or ability.
We went on to say that there would be a Word of the Month to encourage the children to think about the way in which they communicate with one another.
The Word(s) of the Month for February will be: Thank you. We are also banning words or phrases and this month it is: 'I don't care' which is banned.
We look forward to sharing more of our ventures over the coming year.
Our new equalities members from year 2-6 for 2015/2016:
Danny, Rob, Leonie, Daniel, Lily, Ella, Erin, Roman, Amelia, Nicole, Liam, Maddison, Ava, Jude, Abigail.