Castle Eco Warrio

rs
Welcome to our webpage and thank you for taking the time to visit it. Here you will find out what we are working towards as a team.
We are a group of children from KS2 who are trying to make the school as green and environmentally friendly as possible. We are split into three sub-teams: Travel, Recycling and Energy. We are enthusiastic and eager to do our part in making a difference within the school and the local community. Keep an eye on our webpage to stay updated with our latest eco-plans!
We have taken inspiration from last year's Eco Warriors and want to build upon the fantastic work they completed last year. Here is a copy of their Eco-Code: Eco_Code.doc.
Reflecting on last year's Eco-Code and our own ideas, we decided as a team that our aims for this year are to:
Reduce our school's energy use.

Reduce emissions by promoting energy friendly - and healthier - modes of transport: walking, scooting, cycling to school.

Recycle more widely and promote positive feelings towards recycling across the school.
The Work of the Eco Warriors: Follow our activities throughout year...
TERM 6
This term we have been really getting to grips with how to tackle plastic pollution. As a school, we took part in a global initiative to help tackle this. It involved encouraging people to swap their plastics for more environmentally friendly solutions, such as trading plastic straws for metal ones and using a washable drinks bottle instead of buying multiple plastic bottles from the shops which then get thrown away.
The Eco Warriors signed up for a nationwide competition where members of KS1 and KS2 were taught about plastic pollution and designed a poster (illustrations only!) that encouraged others to think about how they use plastics. A winner from each Key Stage was picked and you can see their designs below: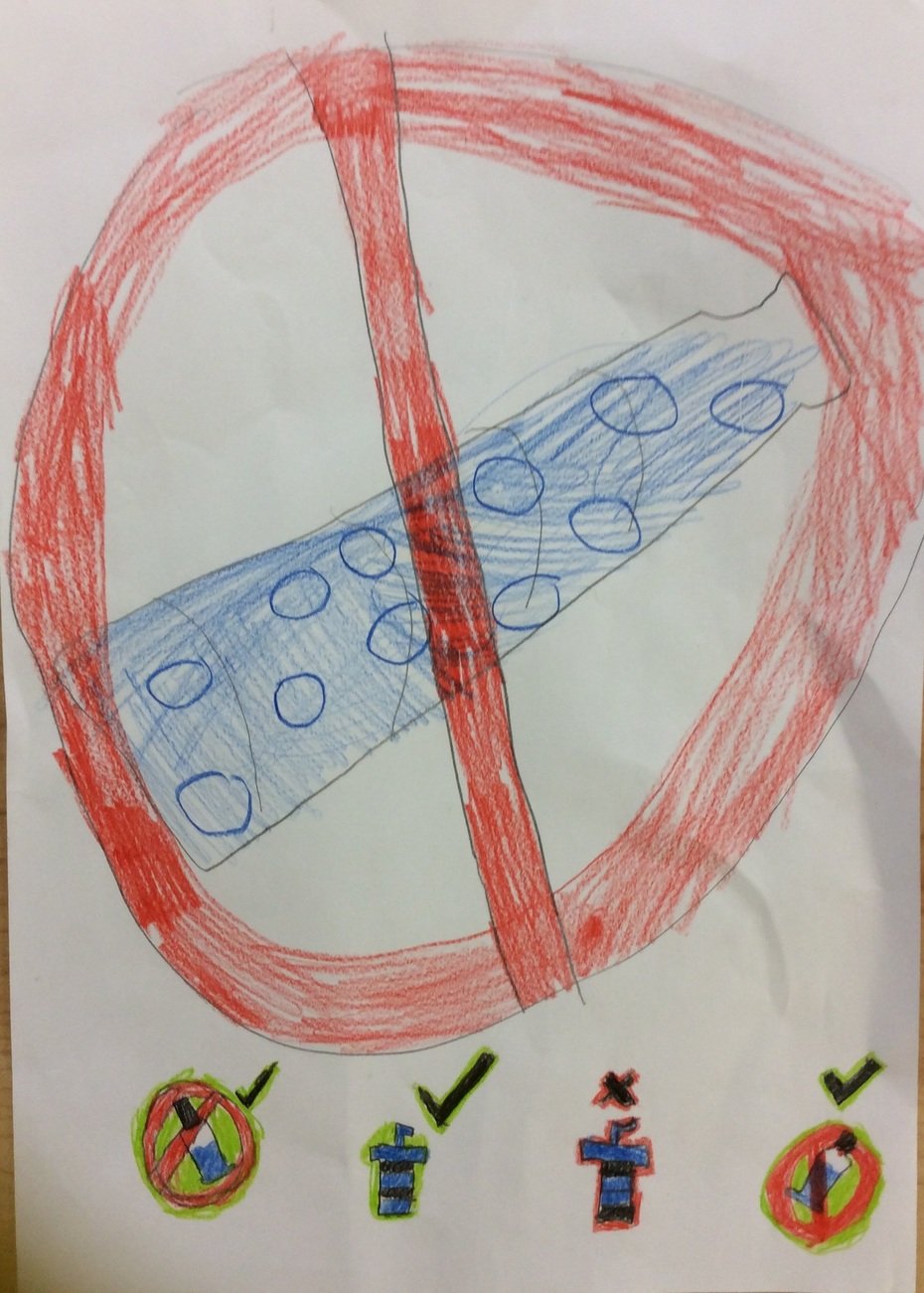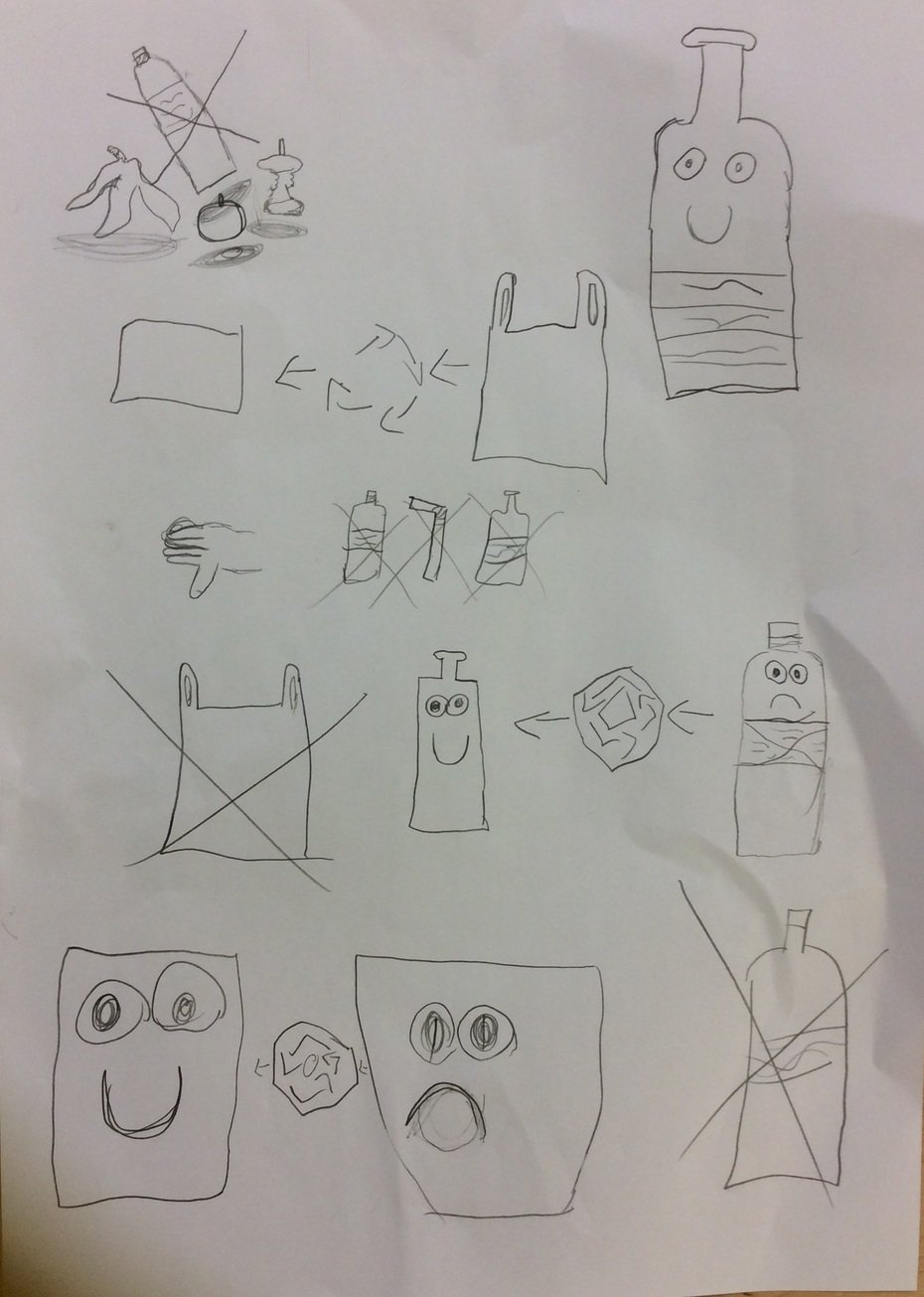 The winners will have their designs sent off to complete against other schools and the overall design will be printed on reusable bottles for use in schools across the country.
TERM 5
Week 4
A huge well done to all those who have participated in 'The Big Pedal' event over the past fortnight. The EcoWarriors were very busy on Friday, deciding the winners of the 'Bling Your Bike/Scooter' competition. It was a very tight competition and we were very impressed with the entries. We will upload a picture of the winners soon; however big congratulations to those chosen individuals - a fantastic effort put in by all!
Although the competition is over now, we urge you all to keep cycling, scooting and walking to school... Keep up the good work!
Weeks 1 to 3
EcoWarriors have been busy over the last couple of terms preparing for different Eco-events. In particular we have news regarding our status on the Energy Sparks league, where we came in third place - narrowly missing out on a cash prize for the school!
We have been preparing for our next eco-event which will be happening over the next fortnight... From Monday 23 April 2018 to Friday 4 May the school will be taking part in the Big Pedal 2018. During this fortnight over half a million pupils across the country (including us here at Castle!) will be competing to win amazing prizes for their school including new bikes, scooters and equipment, as well as a special BMX stunt show for the school with the most competitors. Therefore we are encouraging pupils to dust off their helmets and scoot or pedal to school over the next two weeks.
There will also be the opportunity for individual wins as well. Every day a mysterious lock will appear on someone's bike or scooter but don't panic- just head to the Office for the key... and a reward. To mark the end of our Big Pedal on Friday 4 May 2018, children are encouraged to Bling their Bikes/Scooters within a superhero theme, with prizes awarded to the most stylised vehicle. So if you've ever wanted to bike in on the Batmobile, scoot along like Superman or park up like a Power Ranger then grab the stickers, unroll the streamers and show us how you roll!
EcoWarriors are excited to be collecting, collating and uploading the results for the Big Pedal 2018, so keep your eyes peeled for any news... But most importantly, get involved!
TERM 4
Week 7
In EcoWarriors this week we thought about how we could get the message across to the rest of the school about using the correct bins so we can recycle more. We reiterated our understanding of what to put in each bin, for example food waste and general litter, and thought about how we could convey this to the rest of the school. We are considering an assembly to help spread our message…
Week 6
It's been another busy week for Eco-Club! We check our status on the Energy Sparks website and as a school we are positioned third in the league table. We are very proud of our achievements so far and are eager to earn more points to climb further up the table! This week we gained more points for completing a spot check on our thermometers. The club split into three different groups and with our teachers Mrs Exton, Miss Taylor and Miss Dean we visited each thermometer station to record and document the temperatures in each room. We noted that 18 degrees was a suitable temperature for most rooms, as described by the World Health Organisation (who state that although comfort cannot be defined, the standard for warmth is 18C which is a suitable temperature for people who are appropriately dressed completing an average level of activity.) When we completed our spot check we found that Stirling and Hazelwood was the hottest building on site, with a temperature of 27 degrees! We plan to talk to the teachers in Stirling and work together to lower the energy use within the buildings. Keep posted for updates of our eco-journey!
Week 5
Eco-Club have reconvened following the Christmas break and we were straight back to work! This week we discussed our previous efforts and what we could consider as our next steps. We decided that we needed to investigate temperatures around the school. To do this we have carefully considered where we can identify the highest/lowest temperatures within the school grounds and created a list of places to place our BANES thermometers following a walk of the grounds. We plan to regularly check the temperatures within the rooms and document any temperature changes over the terms. Stay posted for updates of our temperature mission!
Week 4
This week we finished off our posters for the food bins in the playground and then discussed our action plan, we wanted to consolidate what our three main aims for the year were. We decided that our aims for this year are to:
Reduce our school's energy use.

Reduce emissions by promoting energy friendly - and healthier - modes of transport, eg walking, scooting and cycling to school.

Recycle more widely and promote positive feelings towards recycling across the school.
We decided as a team that these were our most important areas for development within the school. We will be meeting after the Christmas holidays to continue our good work in Eco-Club.
Week 3
This week we had a note from Mrs Richards telling us we needed to take action – children have been putting plastic in the food bins in the playground! We discussed how we could stop this. We designed and created posters to put up around the school to promote accurate food recycling. We also received our snazzy new Eco-Warrior badges as a sign of our commitment to Eco-Club.
Week 2
This week we had a visitor called Mrs Towner from EnergySparks who she showed us how much energy we were using in the school. We were shocked by how much energy the school was using on the weekend! We were given thermometers to research the temperature in different rooms across the school. We are going to decide where we think each of the thermometers should go.
Week 1
We introduced ourselves and made mind maps of how we thought we could implement change into our three sub-categories: Travel, Energy and Recycling. We are all eager to make a difference within the school and excited about how we can make a change. We thought about:
Different ways to travel to school and how to promote healthier options.

Ways we can try to recycle more within the school grounds.

Ensuring we turn the lights off in spacesthat aren't being used.

Making sure the heating is not on when it shouldn't be.
These are just some of the ideas we discussed as a starting point.